Pros and Cons of Renting Your RV. You are finally ready to plan the big cross-country sightseeing vacation you've dreamed of your whole life. You're secure enough in a career to take an extended break. The kids are finally at an age where you think they can appreciate it. Your significant other has finally acquiesced, and a friend suggested you rent an RV. Their family rented a couple of years ago, and it turned out to be a vacation they will talk about for the rest of their lives. But is it the best option for you?
Is it worth it to rent an RV? Sometimes it is, other times it is not. This really depends on your specific circumstances, like:
Where are you going?
Who's going with you?
What does your vacation budget look like?
If you don't have the money to buy one, renting an RV can help you partake in amazing adventures, but it isn't for everybody.
Before you make a decision about how to travel, rest, and eat during your vacation, there are many things you should look into and factors to weigh. Here are 11 things to consider when deciding whether to rent an RV or not.
1. How Many People Are Coming?
The number of people traveling with you is one of the biggest factors to consider when determining if renting an RV is worth it. The more people you have in tow, the bigger an RV you will need. The bigger the RV, the more expensive it will be. Here are the different sizes of RVs:
I recently wrote an article on this site called "How to Choose the Right Size Travel Trailer: An In-Depth Guide".  In it, I mentioned all the details you need to consider.
Truck Camper: This is just a truck with a camper attached to its flatbed. It doesn't sound like much, but some are pop-ups, and others have fold-out sections that make the camper bigger once you park. A typical truck camper sleeps two or three, but some of the fold-out ones claim to fit seven. No matter what size you get, space is going to be tight, and your storage will be at a minimum.
Class B/Camper Vans: This is the smallest class of RV. They are essentially vans with a small living space in the back. Although most contain full kitchens and bathrooms, they are very tight and normally only sleep two. There is typically very little storage for more than two people.
Class C: This is the mid-sized RV. It is usually built on a truck or van chassis but has much more space and storage than a Class B. You can typically spot a Class C by the sleeping bunk over the cab. They usually have most of the amenities of the bigger models and more power than the smaller ones. They typically sleep 6 or 7, but some models boast that they can sleep 11.
Class A: This is the largest of the RV classes. Think fully equipped tour bus. It has the most interior space and the most storage room. They do, however, drink gas like crazy. Sleeping arrangements start at 4 and go up from there.
Travel Trailer: These are RVs that you pull with a trailer hitch. They come in all shapes and sizes, depending on your needs. You can get something small for just the two of you, an affordable pop-up for the family, or a Class A sized for luxury. How many it sleeps totally depends on which one you get.
Fifth Wheel: This is a gigantic camper trailer. It is the most luxurious in mobile homes. Some come loaded with fireplaces and two-tiered bedrooms. You are going to need something powerful to pull it, and some experience to drive it safely, but the huge space and storage should be reward enough. Most sleep 6 to 10 people, but there are some that will fit up to 12.
Once you have determined the best RV type for the size of your traveling party, you can begin to look at costs and compare to hotels to see if the prices are comparable.
2. How Much Does It Cost To Rent An RV Monthly?
How much does it cost to rent an RV monthly? The cost of renting an RV is much lower compared to the cost of a hotel room. On average, the cost of renting an RV is on average only $55 per night or $1500 per month. Of course, the price can vary depending on the season, size of the RV, etc.
Once you have determined what size RV you will need for your family, you can begin to look at cost and how it matches up to your budget and comfort level. A Class C might fit your whole family, but you may have the money to splurge for a Class A. Rental costs will vary, of course, for many reasons, including the age of the vehicle and area you are renting from, but here is an idea of what each type should run you:
Class B/Camper Vans: Vans 10 years old and overrun between $100-$200 per night. Vans under 10 years go for anywhere between $200-$350 a night.
Class C: These RVs over 10 years go for $100 to $200 a night. Any under 10 years could get between $225 and $400 a night.
Class A: These luxury liners over 10 years old get between $150 and $250 a night. While under 10 years can cost $350 to $450 a night.
Travel Trailers: These trailers go for $50 to $125 if they are over 10 years old and $125 to $200 if they are under.
Fifth Wheels: These luxury trailers can get $60-$150 per night if they are over 10. $150 to $300 if under 10. Remember, you are going to need something to tow it, which could be an additional cost.
It is not easy to find offers to rent truck campers, so it is hard to come up with a price range.
Some of these prices may come with minimum days you must rent the RV for or small discounts for taking it for longer periods of time, so it is essential to know how long you want to be on vacation before looking at prices.
Related reading: How Do RV Rentals Work: 7 Expert Tips
3. Where Can You Park An RV Overnight for Free? (Campground Fees)
Where Can You Park An RV Overnight for Free? There are a few possibilities to stay overnight for free. If you are really looking to cut costs, you can also try to find free RV parking, but remember amenities will be at a minimum. Below you can find our favorite free RV parks or places to stop overnight:
Camping World
Cabelas
Rest stops
Walmart
Cracker Barrel
Campground Fees & Charges
To accurately assess whether it is worth it to rent an RV, you are going to have to take a look at potential campgrounds that you may be staying in and the fees they charge for you staying there. You have to park the RV somewhere after all.
Campgrounds tend to average between $20 and $80 per night, but they can sometimes be in the $100 range depending on where they are. There are many factors that will determine the price. Here are some of them:
Size of RV: The smaller the RV, the lower the price. There are fewer spots for bigger vehicles, so the prices tend to be higher.
Where You Are: If there are not a lot of campgrounds where you are going, the prices will be higher because parking spots will be scarce and at a premium.
Time Of Year: Offseason is going to be cheaper because there will be less competition for spaces.
Length Of Stay: Campgrounds tend to give discounts for longer stays.
Amenities: The more the campground offers, such as Wi-Fi, bathrooms, and laundry, the higher the price will be.
Before you continue reading, here is an article I wrote about the Average RV Park Rates: Actual Campgrounds Prices per Night
4. Other Costs
If you are going to rent an RV, there are more costs than just the rental of the mobile home and the price of a place to park it. Here are some other costs to consider when you are trying to choose between renting an RV vs staying in a hotel.
Insurance: You are going to need some sort of coverage on the vehicle that you are renting. Sometimes you pay the owner a small fee to be put on their insurance. Sometimes you get coverage from the rental place. Prices vary greatly, but you are looking at $20 to $30 a day.
Security Deposit: If you are renting from a private individual, you are most likely going to have to put down a security deposit. In most cases, this will be returned in full when you bring back a clean, undamaged RV, but you need to figure it into the initial cost.
Overuse Charges: Many times, you will have limits to the number of miles you can drive and how much you can use the generator. If you go over these limits, there will be a per hour or per mile charge.
Optional Fees: If you are looking for more creature comforts, like outdoor furniture, a fully stocked kitchen, and satellite TV, there will be more charges added. These fees could be anywhere from $10-$100.
Gas: It's not going to be cheap. Although they are better than they used to be, not all Rv's do great with gas. Class A tends to get 8-13 mpg, Class C 16-23 mpg, and Class B 18-20. Expect a travel trailer to be in the Class A range. You will get slightly more miles with a diesel engine.
5. Who Are You Taking?
Traveling around the country in a movable living space is not for everybody. Before you go out and rent an RV, think about who you are going to be traveling with. Does your wife need to take a 20-minute shower every day? Is your husband 6' 5" tall, 250lbs? Will you be traveling with friends who don't know how to wash a dish or forget to wipe down the toilet?
You will be living in close quarters for a week or more with no one to help clean any messes that might occur. The bathrooms are small. The sleeping arrangements are tight. You may have no way to break away further than you can walk.
Think about all of this and then think about who you will be traveling with. If a small shiver just went up your spine or a small kernel of doubt just popped up, maybe you should be looking into hotel rooms.
6. Where Are You Going?
To really determine if an RV rental is worth it, you are going to have to know where you are going and what your vacation goals are. Here are some questions you can ask to help determine if your vacation is worth an RV rental:
Do You Have Many Potential Destinations?: If it's your dream to take a cross-country road trip, stopping at every Largest Ball Of Twine and Museum of Oddities you can find, renting an RV might be a good idea. If you are just looking to see the Grand Canyon or Mount Rushmore and you are on a tight budget, then maybe a hotel would be best.
Is There RV Parking Nearby?: Take a look at where you want to stop and see if there are campsites nearby. If there aren't many places close by, you may be spending more on gas and miles driven.
What Is The Weather Going To Be Like?: If you can only get away when the weather is rough, possible snow, tons of rain, and tornadoes, driving is going to be a pain and potentially dangerous. Unless you are confident, the weather will be good, maybe a hotel is the way to go.
Related reading: How to Prevent Travel Trailer Theft – 13 Steps that Work
7. How Do You Plan On Eating?
For some people, vacation means a break from everything, including cooking. If this is your philosophy, renting an RV might not be worth it. Almost all RVs come with a full kitchen, allowing you to cook as many meals as you want and keep them cool in the fridge. Many people will buy a week's worth of groceries and hit the road.
If you are looking to eat out there are a few things you should consider about taking an RV on vacation.
RVs Aren't Easy To Park: If you are renting a Class C or A RV, it is going to be a serious pain to park at any restaurant. You really aren't going to want to take it our once you have arrived at a campsite.
Hooking Up Can Be A Pain: Every time you park at a site, you are going to have to hook up your water, your electricity, and maybe your septic. Every time you leave, you are going to have to disconnect them. The more you do it, the better you will get at it, but you really don't want to spend that much time hooking up and disconnecting.
You Don't Want To Go Over Your Miles: You most likely paid for a set amount of miles. If you go over those miles, you are going to have to pay more, so nightly trips into town will end up costing you more than your meal.
Eating out will be easier if you stop for a quick bite while traveling from place to place or if you are able to bring a car. It also is more possible with a travel trailer that you can unhitch from a vehicle and then take that truck to the restaurant.
Related reading: Does Your Travel Trailer Have an Inverter? Here's How to Check
8. How Good A Driver Are You?
RVs are big. The smallest is the size of a large van. The largest is almost the size of a tractor-trailer. Big vehicles are not always easy to drive. The more experience you have with large vehicles, the better off you will be, but if the thought of being behind the wheel of a large vehicle makes you break out, try a hotel. Nothing could ruin your vacation quicker than having a rough first day driving and then realizing you have another week to go.
RVs are also hard to park. If you don't feel you have the skill or patience, stopping for things like food, groceries, or site seeing will be a major headache.
If you are unsure about driving, try to find a dealer that will let you take a test drive. This is a great way to get a taste of what you will be in for. As with any vacation, the fewer surprises, the better.
I recently wrote an article on this site called "Do Travel Trailers have Back-Up or Reverse Lights? (Is It Legal?)". In it, I mentioned why the use of back up lights is necessary since a full-sized camper or RV, can be difficult to tow.
9. Do You Want To Bring A Car?
A major factor in deciding to get an RV or a hotel room is mobility. How mobile do you want to be during your vacation? As mentioned before, eating out can be a pain, but so can site-seeing. A lot of big tourist destinations will have RV spots to park, but if you aren't graveling between campsites, this will mean hooking and unhooking, parking, and pulling out. It can get to be a bit much.
Also, as mentioned before, you probably have a miles limit and any miles over that limit are going to cost you. You really aren't going to want to be driving the RV around all day, every day.
It is possible to rent a trailer as well so you can take your car with you. Having a car will make fun dinners and tourist traps a much more viable possibility, but it will cost you more and make an already difficult to drive a vehicle, more difficult.
If you are planning on renting a travel trailer, then this becomes a moot point. You will have your car with you. Just unhitch the trailer and be on your merry way.
Related reading: Can You Rent an RV for a Whole Month?(Read This Before)
10. How Often Are You Going To Do This?
Something to think about when planning an RV vacation is, how often are you going to want to do this? If this is going to be a one time vacation of a lifetime, than renting an RV might make sense. But, if you think this might be something you are going to want to do on a regular basis, then maybe buying an RV would be a better choice.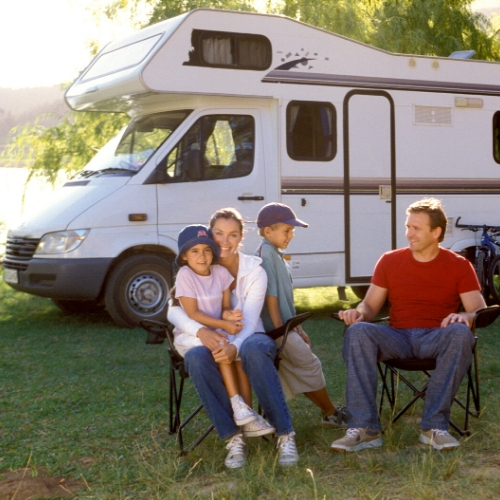 Is it Cheaper to Buy or Rent an RV? Cost of Buying
Brand new RVs have a wide variety of costs, depending on what your needs are. Travel trailers can be as cheap as $10,000, while motorhomes will run you anywhere from $70,000 to $300,000.
Here are some factors that will affect the price of the RV:
Manufacturer: Just like any product, if you want to go with the top names in RVs, you are going to pay the price. Manufacturers like Thor and Jayco will use their reputation to charge more for their products. If you stick to smaller manufacturers you may be able to save a few dollars with little loss in quality. Of course, you will also get more variety from the bigger more popular companies, giving you a better chance to find exactly what you are looking for.
Age: RVs produced in the current year are going to be the most expensive models on the market. Since they are such a high ticket item, it is sometimes possible to find RVs that were produced years ago but are still new, or very close to new. Looking at one of these models will save you hundreds, if not thousands of dollars.
Availability: While a name brand will cost you in some ways, it can help in others. The more available a model is or the easier it is to find, the cheaper it will most likely be. There are some manufacturers that will produce limited runs of models or only sell their vehicles in certain places. These rare types are going to cost you more.
Floorplan: This one seems obvious, but the bigger the floorplan, the more you are going to pay. If you want the king-sized bed instead of the queen, you are going to pay more. Full-sized bathrooms, complete kitchens, and larger dining, and living spaces are all going to add to your final price.
Extra Features: The ranges given were all baseline prices. There are plenty of extra customizable features that you can get. It is even possible for some manufacturers to choose specific flooring, decor, patterns, interior and exterior colors, and more. Some people can't go without high-tech equipment, like built-in TVs. Any of this is going to raise the price of the RV significantly.
If owning your own RV is appealing, but these prices made you turn white, there is always the used market as well. You can find a fairly priced model in good shape and decent miles on it for considerably cheaper than anything new.
There is also the possibility of you making some of the cost back by renting it out to others when you aren't exploring the country yourself.
11. How Are You Renting The RV?
This one is so obvious you might not think of it, but before you get too far into your planning, you should figure out how you are going to rent the RV. RV dealers aren't on every street corner, so you are going to have to do some research to find the right way to rent and the logistics of how you are going to get it.
Related reading: How Do RV Rentals Work: 7 Expert Tips
There are a few ways to find an RV to rent. The most obvious is to find an RV dealer. Most will rent RVs as well as selling them. If you think you might want to buy at some point, this is a good way to build a relationship with your local dealer. Hopefully, there is one nearby that will make picking up your RV easy. Unfortunately, because RV dealerships are not as common as typical car dealerships, some people have to drive hours to find a dealership to rent from.
If you do not have a dealership close enough to you to make a rental practical, there are other options. You can…
Rent From Your Destination: If there isn't a dealership close by, there might be one near your destination. Just like picking up a rental car, you can make arrangements to fly closer to your destination and pick up the RV there. You can drive the RV from vacation spot to vacation spot and then return it.
Rent From Campsite: Some of the chain campsites have rental themselves. You could potentially fly to a campsite, rent an RV from them, and make your way to a campsite closer to home to return it.
Related reading: Can You Rent an RV One Way? 24 Insider Tips
The newest thing in RV rentals is peer-to-peer websites. These sites connect you to RV owners across the country who are looking to rent their RVs to vacationers. Websites like Outdoorsy and RVshare make renting an RV as easy as booking a plane ticket. Just go to one of these sites, enter the dates you want to rent, and where you want to rent from, and a series of available RVs pops up for you to book.
Some of the people renting will even deliver the RV to you or your vacation destination. There are many filters so you can narrow things down to the perfect RV for you and your traveling party.
If you go with bigger websites, insurance, and roadside assistance tend to be included with your rental.
Related reading: Do RV Rentals Include Mileage? (Free Unlimited Miles)
Once you have considered these eleven things, you should know if renting an RV is right for you. Not every vacation might be worth an RV rental, but the ones that tend to be vacations of a lifetime. Once the details have all been figured out, there is nothing like enjoying North America behind the wheel of a mobile home. Find the right vehicle for the right vacation, and you will get to talk about it for the rest of your life.
Is Renting an RV Cheaper Than a Hotel?
Hotels are great! They offer room service and everything is clean and shiny. Yet, it all comes at a steep price.
Is Renting an RV Cheaper Than a Hotel? Yes, renting an RV is cheaper than a hotel. Hotel cost on average $400 per night for a family. RVs are especially ideal for large families who want to visit national parks and interesting spots. Yet they don't want to pay all that money dining out and sleeping in fancy hotel rooms. However, if you have no problem doing the work to reap the benefits, then renting an RV is the smart choice.
Hotel rooms may be necessary when attending business meetings or work seminars. They're also the better option if you're planning on visiting a large, bustling city.
On the other hand, RVs give off a feeling of comfort and reliability. They also seem to be the more affordable choice compared to other living arrangements.
Are RVs Worth It?
Renting an RV for your next vacation can be an exciting way to get the most out of your trip. RV travel isn't just for retirees anymore. It's becoming a growing trend for those interested in exploring both big cities and small, scenic towns.
Still, many people are wondering, 'Are RVs really worth it?'
So we asked RV owners and renters what they thought. They all agreed that comparing RVs and hotel rooms depends on these 4 factors.
Average Fuel Prices
Fuel prices are never constant. They depend on the size of your vehicle, and which state you're in.
Average Hotel Rates
It's a known fact that hotels raise their prices during the in-season because of the high demand. Just to get an idea of the average cost of a hotel room during both in and out of season, here are 4 cities across the US.
| City | Season | Hotel room cost/night |
| --- | --- | --- |
| Ann Arbor, Michigan | Summer / winter | $145 / $100 |
| Monterey, California | Summer / winter | $216 / $175 |
| Houston, Texas | Spring / Fall | $160 / $139 |
| Cambridge, Massachusetts | Fall / winter | $310 / $187 |
Average RV Rental Fees
July, August, and December are considered the peak rental season, so try to book your rental for a fall or winter trip. The average RV rental fee per day is:
$140 – $290 for Class A
$100 – $225 for Class B
$125 – $225 for Class C
Extra fees include:
Security deposit, ranges from $500 – $500
Set up and delivery costs around $150
Cleaning and maintenance costs between $100 and $200
Average Meal Costs
Even though you pay extra parking and maintenance fees when renting an RV, you save big time on lodging and meals.
The Benefits of RVs
While RVs may be a big responsibility, they come with several benefits.
Cheaper Than A Hotel
RVs are especially ideal for large families who want to visit national parks and interesting spots. Yet they don't want to pay all that money dining out and sleeping in fancy hotel rooms.
At the same time, not everyone is open to the idea of booking cheap hotel rooms just to save money. It can be hard after reading user reviews that describe them as being 'dirty', 'moldy', and 'gross'.
Gives You More Freedom
Besides knowing where everything is and not having to constantly pack and unpack, RVs are also your personal dining hall. Instead of having to sit in a restaurant, you can prepare your own food.
What's better than enjoying a delicious meal as you sit outside and enjoy the view. You control the price, the setting, and the meal itself.
Almost every single town you'll come across will have at least one campground. This way, you can spend more time exploring.
Save Money on Car Rentals
Another advantage of renting RVs on your next vacation is that you get to save on car rental fees. Nowadays, there's a variety of sizes and designs to choose from. So you can go as big, or small, as you want. Plus, you can find great rental deals during the late-summer or fall travel seasons.
On a Different Note
The final point of comparison between hotels and RVs is how much work you're prepared to do on your vacation.
RVs contain septic tanks that must be emptied and cleaned. Groceries, supplies, and gear must be bought and restocked. Meals must be cooked. Renting an RV is a serious commitment.
How to Empty an RV Sewage Tank >> Check out the video below
How Much Does It Cost To Travel The US In an RV?
The United States is known for its diverse regional differences. It's huge, with a lot of exciting places to visit and discover. Traveling across the country in an RV may sound like a dream only for the wealthy. But the truth is, RV travel is becoming more and more accessible.
How Much Does It Cost To Travel The US In an RV? On average you should end up spending a little less than $2,000 per month. So, traveling around the US will roughly take 12 months. This means that you'll spend around $24,000 for the entire trip.
Estimating the Costs
Before figuring out how much RVing will cost you, you need to ask yourself these questions first:
Do you have a spending budget?
How many people are going with you on your trip?
How long will your trip take?
Stick to Your Budget
Budget travel is smart travel! It's best to draw up a budget before you start on your cross-country adventure.
Whether or not you have a lot of money shouldn't be part of the equation. Many RV adventurers have traveled around the US while spending as little as possible. On average, you should aim for spending anywhere between $55 – $65 per day per person.
There's a good chance you'll probably go over this budget. Things happen, and emergencies creep up. It's a normal part of any trip, especially one that spans the width of an entire continent.
But, at the same time, you should be prepared for those extras that may occur. It could be doing fun touristy things, or treating yourself and your family to something nice.
Deals and Discounts
One tip to try is to buy a National Parks pass. For a one-time fee, you'll have unlimited access to all various national sites. Plus, you'll have access to campgrounds for parking without paying any extra fees.
Long-Term Renting
Another great idea is to rent your RV long-term. Many rentals will offer deals as little as $1000 per month if you rent it for 6 months or longer.
Off-Season Renting
Did you know that there's a higher demand for RVs during the months of July, August, and December? This means you'll pay less if you book during any of the other months. It's better if you book your RV during the off-season. It'll save you money on rental costs and even campground fees.
Cleaning and Cooking
To save money, you need to learn how to clean and care for your rented RV. You'll have to learn how to clean the septic tank and how to cook in a cramped space.
A Sample RV Rental Plan
Let's say you're going to rent a 2016 Class C RV in Ohio. Here's a sample pricing strategy to give you an idea of the average cost of renting an RV for a week.
It's listed at $200 per night, with a minimum of 2 nights.
The weekly rate is $140
Rental tax is 7% (266)
You get 100 free miles/day (you pay $0.35 for every extra mile/day)
You get 4 hours/day of free generator use (you pay $3 for every extra hour/day)
So if you were to rent the RV for two weeks, that'd be $2800. Then add in everything else, it'll come to a total of $3534.
Remember that doesn't take into account food, fuel, campground fees, and other expenses. You could also take a different route and go for a luxury RV trip. That is totally up to you!
Recommended reading
Do RV Rentals Allow Pets? (Pet Friendly Companies)
Renting an RV to Live In: Everything You Need to Know
15 Effective Ways to Stop Condensation in Travel Trailers or RV
How to Prevent Travel Trailer or RV Pipes from Freezing?
Recent Posts