If you are a travel buff, renting an RV to go to new destinations and sightsee should be on your bucket list; living on wheels provides the perfect combination of convenience, adventure, and excitement. However, if you're new to RVs or renting them in general, it's essential to understand how the process works, so you don't face any obstacles on your next vacation.
How do RV rentals work? Just like renting a car when on vacation, many factors go into renting an RV, such as knowing your travel dates, picking your desired RV, who you want to rent from, comparing rental fees, and adding on rental insurance.
If you've never rented an RV before but are considering it for your next trip, you probably have a lot of questions about the whole process, including how do the rentals work, how much does it cost, and when is the best time to rent. In this article, we will go over seven things you need to know before renting an RV.
What You Need to Know Before Renting an RV
Traveling in an RV is a great way to enjoy a vacation. It gives you the flexibility of being mobile all the time while enjoying the comforts of home. It gives you the option to stay right in the middle of nature or on the beach without spending a ton of money on expensive resorts and hotels. However, before you decide on renting an RV, there are certain things that you need to keep in mind.
Before you continue reading, here is an article we wrote about the topic: Can You Rent an RV If You're Under 25? [Read This Before]
1. Plan Your Trip
Before renting your RV, make a detailed plan of where you are going, what kind of roads you would be driving on, expected stops, etc. This will help you decide not only the type of RV you want to rent but the driving features you will need.
What's the purpose of your trip?
Knowing the purpose of your trip will help you understand your RV needs and reach a conclusion in terms of whether renting an RV is the right move or not. For example, if you are planning to go on a road trip and have multiple stops, renting an RV might be a good choice since it will allow you to stay on the road. It will also be a financially better option rather than staying in several hotels.
However, if you are planning to go on a metropolitan city tour or traveling for business or leisure, renting an RV may not be the best option. An RV is a big vehicle, so movement around the city in it might be a little tricky. Also, if you are planning to take a quick weekend trip, the investment in RV might be higher than that of renting a car and staying in a hotel instead.
RV Parking Spots and Campgrounds
Also, check for RV parking spots at your destination or along the way, depending on what your plan is. This will help decide whether you need a tow vehicle or if you will be able to get by driving your RV around. A detailed travel plan will help you nail down the minutest details of your RV and help you avoid any discomfort later.
Related reading: Do RV Parks Allow Travel Trailers? – Read This Before You Go
2. Choose the Right RV to Rent
Once you've made up your mind about traveling in an RV, the next step is to decide what type of RV would suit your purpose. There are many different types of RVs, but to begin with, you should know that they are basically classified into two categories: motorized RVs and towable RVs.
Motorized RVs
As the name suggests, these RVs come with an engine. This means that it is one wagon that has both the living and driving functions, so you don't have to attach or detach a vehicle from the rest of the RV.
This is ideal for first time RV renters and drivers because not only is the attaching and detaching process technical but maneuvering two separately towed vehicles is not easy. These are also good for when you are going to be spending more time where you park your RV instead of touring places at a distance. There are four types of motorized RVs to choose from:
Class A Motorhomes
These are the most common types of RVs designed with a bus or truck chassis. Since they are the largest RVs, they are more spacious and are ideal for people traveling in a large group of up to eight people. These come fitted with modular kitchens and separate sleeping spaces. Most times, you may need to tow a personal vehicle to make shorter trips or to run errands in-between stops.
The size of Class A motorhomes makes them less than ideal for first-time renters. Before you decide to rent one because of all the luxuries they offer, check the routes you'll need to take while traveling. These RVs can become difficult to maneuver, especially if you are not an experienced RV driver. Also, because of their size, they will need much larger parking areas, so check on that as well.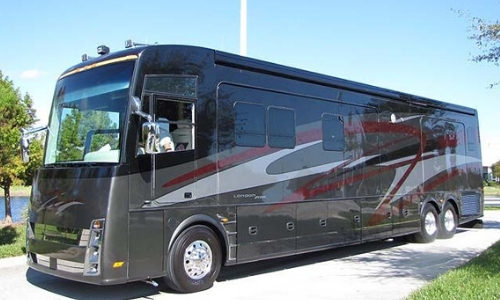 Class B Motorhomes
These are called campervans and are easy to drive and maneuver because of their 'van-like' structure. These can sleep up to four people with a queen-sized bed, plus additional sleeping for one to two people. They may not have all the amenities that a Class A motorhome offers, but they are convenient for a small family to take on short trips.
Class B motorhomes also are cheaper to rent and won't require you to tow another vehicle. However, they can get pretty small if you plan a long trip with more people or need to travel with a lot of stuff.
Class C Motorhomes
With the best features from Class As and Bs, these are the most common types of RVs. They are smaller than Class A motorhomes, but with similar amenities in terms of storage as well as sleep accommodations. However, they aren't as easy to maneuver as Class Bs.
Because of the difficulty in maneuvering Class Cs, you may need to tow a family car along or at least make sure that your destination has wide, straighter roads for comfortable driving. These RVs are very popular with seasoned RVers because of the amenities they offer.
Campervans
Perfect for one or two people, these RVs are vans turned into campers with a compact sleeping area and cooking facility for a quick getaway. These are ideal to be taken if there are bathroom facilities at the parking lots of your destination because they don't come with an in-built one.
Over the last few years, they have grown in popularity, especially for solo travelers because of the cheap rental and fuel costs, as well as the ease of maintenance, driving, and parking. Because of their size, these are perfect for trips within the city or in the wild.
Towable RVs
Towable RVs are trailers that are meant to attach to a tow vehicle, such as a truck or SUV. They do not have their own driving functionality.
To rent one of these, it is essential to keep in mind the size of the trailer as well as the size of the vehicle that you will use to tow it. Since towable RVs do not have an engine, they are often cheaper to rent than motorized RVs.
Towable RVs offer more liberty to the RVer since these can be unhitched and parked at a camping lot so you can explore an area or run errands in your vehicle. However, they can be challenging to drive with if you are not experienced with towing since maneuvering can be a little tricky.
Another critical thing to note here is that it is illegal for passengers to travel in the trailer while the trailer is being driven; therefore, you will need to plan for your RV's size and the tow vehicle accordingly.
There are five types of Towable RVs to choose from:
Travel Trailers
As the name suggests, these are ideal for travelers because they come in different sizes and functions so you can choose the one that best suits your needs. The larger models can come with more than one bedroom, a fully functional kitchen, and more, while the smaller models can come with makeshift beds, a portable cooking range, and some storage. Thus, depending upon your budget, needs, and the number of people traveling, you can size up or size down when renting one of these.
Related reading: Dogs in Travel Trailers: Here is What You Need to Know
Fifth-Wheel Trailers
Probably the most luxurious of the RVs, these are almost like houses on wheels. These tend to be larger with multiple bedrooms, a lot of storage space, a fully equipped kitchen with a washer-drier, and more.
They get their name from a fifth wheel that can be found at the back of a towing truck to help ease the maneuvering and driving capabilities of the RV. It is, however, important to keep in mind that due to their large size, they need a big towing vehicle, so your family vehicle may not make the cut.
Utility Trailers
These come with additional space for outdoor enthusiasts to haul their jet skis, motorboats, snowboards, etc. with the camper. The extra space can also be converted into an outdoor deck or an additional space to be used as a separate small bedroom or storage space. However, they have their own disadvantages, the biggest being difficulty in driving due to their more extended size and limited interior space.
Truck Camper
These are simply campers attached to a pickup truck, which makes them economical, practical, and easy to find and rent. These can house up to four people, providing decent living space, cooking space, and a small bathroom. It may not offer as many amenities as the fifth wheel camper or a bigger travel camper.
Pop Up Campers
Also known as "tent" campers, pop up campers are the new kind of campers on the block. They are part hard-bodied and part tent so you can add space if you need it. The kitchen and bathroom are usually found in the hard-bodied area. Since the hard part is limited, these can often be towed with smaller 4-passenger vehicles or jeeps.
3. Decide Where You Want to Rent an RV
When it comes to renting an RV, there are many options available today. While traditional RV rental companies offer a standardized experience, newer methods of renting like directly from individuals who own an RV provide a more personalized experience. Here are a few different ways you can rent an RV:
RV Rental Companies
There are many nation-wide and local rental companies that you can opt for. Usually, they have a lot of RVs to choose from, depending on your needs. They have a standardized process of charging by mileage or by day and offer little to no personalization in terms of the amenities you can choose from.
Related reading: Can You Rent an RV for a Whole Month?(Read This Before)
RV Dealerships
Many dealerships also offer RV rentals. Though dealerships may provide a personalized experience in renting an RV with a dedicated sales manager helping you with the process, as well as their rates being more affordable than the rental companies, they may not have too many options to choose from. Also, with limited choices in RVs available, you may not get all the amenities you want.
Renting from RV Owners
The third option is to rent directly from an RV owner. You could use websites like RVShare that specialize in matching an RV owner to a renter and give renters a lot of options to choose from, depending on what kind of RV you need.
These sites have the most comparable prices with a high focus on customer services, like roadside assistance and insurance. Using these rental sites can decrease your risk of not getting what you expected. You could also get in touch directly with RV owners through websites like Craigslist, though there are many limitations to that.
Understanding Online RV Rentals
To start, online RV renting is like Craigslist but for RVs. An RV owner adds a listing of their RV by adding its description, model, and amenities, along with a few photos of the inside and outside. They will often update their location and the time and date when the RV is available for rent.
When you log onto any of these online rental sites, you will need to add your location and the dates when you need the RV. After you provide this basic information, most places give you the option of filtering your search through the type of RV you want, the budget you have and the features you are looking for.
Once you've found an RV you like, you go through the booking process. All these sites require you to own a license and upload a copy of it. They all have an age limit on the renter, so make sure you qualify to rent the RV. Once all of that is done, you move forward with the booking process, which starts with entering your personal information and going into any information you'd like to share with the owner or ask questions.
Related reading: Can You Rent an RV If You're Under 25? [Read This Before]
The next step is confirmation and payment. Note that most of the websites have cancelable listings in case you decide not to move forward after speaking with the owner or some other reason. The owner also has a right to cancel the booking if they want. With this in mind, make sure you know the site's policies on cancellations or have read the FAQs from the rental company to know what the next steps are under such circumstances.
4. Compare RV Rental Costs
Once you've decided upon what kind of RV you want and explored the rental options that are available around you, it is essential to take a peek at the costs. Compare rental prices from different rent sources. Also, take into account:
How much the rental insurance will cost
What the parking fee is (if you plan on leaving a vehicle behind in exchange for a motorized RV or plan on parking an RV at particular campsites)
How much you estimate spending on the fuel
The ideal starting rates for RV rentals are:
| RV Model | Starting Rent Price |
| --- | --- |
| Motorhomes | At $250/night |
| Fifth Wheels | At $200/night |
| Travel Trailers | At $150/night |
| Campervans | At $140/night |
| Pop Up Trailers | At $100/night |
Understanding Hidden Costs
Always check for what's included and not included with your rental fees. Most times, the cost includes roadside assistance in case you need help like tire replacement, towing services, etc. Some rentals include a cancelation fee in case you want to cancel your booking later.
Other costs include damage protection and a security deposit in case there is any damage to the RV that is noticed after you return it. To avoid such charges, even if you have not harmed the RV, it's always a good idea to inspect the RV thoroughly inside and out. Make a note of any preexisting problems and share that with the owner/rental company.
Here is an article we wrote about RV extra cost: Do RV Rentals Include Mileage? (Free Unlimited Miles)
5. Test and Inspect the RV Rental
Before you actually make the deal or press confirmation on your rental RV, there are a few things you need to keep in mind. Whether you are at a dealership, visiting a rental company or booking online, make sure to do the following:
Take a Test Drive
You need to make sure you are comfortable driving an RV, so make sure to ask for a test drive. Dealerships will allow you to test drive the RV on a longer route, whereas rental companies may let you try it within the parking lot. Either way should give you a pretty good idea of how comfortable you are driving the RV.
If you are checking online through peer-to-peer rentals, make sure you still test drive the kind of RV you wish to rent. In terms of size or style, you will be able to get a similar RV at a local rental company to test drive. The idea is to make sure that you are comfortable maneuvering the kind of RV you are planning to rent.
Related reading: Do Travel Trailers Need Snow Chains? – Best Advice
Inspect the Interiors
You don't want to experience problems with the living spaces of your RV rental once you are on the road. Sometimes unforeseen issues may pop up at the last minute or while you are traveling, but to avoid any chances of that happening, it is always a good idea to inspect the RV for potential issues before you take it off the lot. This will be easier to do when you are at a dealership or getting it through a rental company.
If you plan to opt for the peer-to-peer rental, read the FAQs or contact the company to see how you can inspect the vehicle. Most of the peer-to-peer online options require you to rent first and then get your RV, so make sure that you can cancel the booking in case you don't want to go through with it.
Check the Living Space and Storage
This is a no brainer but so essential. Don't forget to check out the living space and storage one last time before renting your chosen RV. Keep an eye on the small things that could be a make or break for you. Make a list of the things you definitely need and check for those.
An RV may look big enough from the outside and have all the amenities you want but not have enough storage for you to carry all your essentials comfortably. Or, it may have a lot of storage, but the sleeping space may be a little cramped for four people to be comfortable.
Ask Questions
Don't just rent an RV because it suits your needs, and you felt comfortable during the test drive. Ask questions before you make your decision, especially if what you believed were the answers to them were not clear. For example, check if the owner would allow pets in the RV. If yes, find out if there is an additional cost for it. Does the RV come with an in-built GPS to help you navigate? What are the other features available?
Also, don't forget to ask about the driving features of your RV. Ask about reverse maneuvering features like reverse mirror assistance. Understand how much water storage capacity and dump storage capacity the RV has to ensure you won't have to make a stop every few hours to collect water. Find out what utilities it comes with, including bedding, dishware, etc., to determine if there's anything else you would need to pack of your own.
Before you continue reading, here is an article we wrote about pet friendly rental companies: Do RV Rentals Allow Pets? (Pet Friendly Companies)
Finally, find out about dump stations. One thing no one tells you is that you carry the black water (sewer water) as well as gray water (sink and shower water) in your RV and will need to dump it at dump stations. Most rental companies have their own dump stations or partnerships with a few, so when renting an RV, ask if they have a map for them and chalk them out on your route.
6. Learn Everything About Your RV Rental
Remember, you are going to be spending the next few days living in an RV, so you need to know how everything inside works. You will need to understand how to generate power, how the kitchen works, and how to store and fill water for daily use. In the case of towable RVs, you will also need to know how to attach and detach the trailer from a vehicle.
Practice driving and maneuvering in your RV before you hit the road for your long trip. You'll also need to learn how to secure all your items, so they don't fall while you are driving.
Related reading: Do Travel Trailers Need Snow Chains? – Best Advice
Get the owner or the rental company to show you how the RV would need to be set up at the camping ground, how the rig works, etc.; this is especially important if you're new to RVs. Know its gas and mileage, as well as its size: A lot of drivers overlook simple things like the height of the RV or the weight and then face problems at freeways, underpasses, drive-throughs later.
7. Get Insured
You are required to insure your rental RV by law, so learn about what options you have and what the insurance will cover. Different policies will cover different things, but it is ideal to go with the RV rental insurance that covers the renter as well as the RV and compensates for accidents, collisions, etc.
Don't Forget Roadside Assistance
Most rental companies provide roadside assistance at little to no cost. With that said, don't skip this option just to save a few bucks. You never know what will happen on the road and it's better to be safe than sorry.
Final Thoughts
This list seems a lot for a first-time renter, but if you plan the renting process systematically, chances are you will not make a mistake and regret your RV rental later. Remember, traveling in an RV is something very unique, and once you learn the nitty-gritty behind the rental process, it can provide a marvelous experience on the road.
References:
https://rvshare.com/how-it-works
https://www.tripsavvy.com/guide-to-first-time-rv-rental-4161000
https://koa.com/blog/10-tips-for-renting-an-rv/
Recent Posts