Summer is here, and it's VACATION time! Time to get away from it all, relax, and unwind. Many people would love to hit the road and see all that this beautiful nation has to offer. But not all those people own an RV and would love the opportunity to rent one temporarily. So, can you rent an RV for a month?
Can You Rent an RV for a Whole Month? You can absolutely rent an RV for a month. There is an entire industry built around the concept of short-term RV rental. You can rent from established "rental" companies or go with a "peer to peer" option. Rentals are available by the day, week, or month, depending on your needs.
If you were just looking for a simple, "yes" or "no," you would have researched it yourself. No, you're looking for more. You want some "meat and potatoes" information, don't you? I have you covered. We're going to look at the benefits of RV rental for your vacation, how much it costs to rent an RV, and I'll even give you some recommendations on where to start your RV rental hunt. Let's get started.
Benefits & Drawbacks of RV Rental.
Traditionally, when we plan a vacation, we identify a location we want to go to. We then find a hotel in the area, book some rooms and stay in that general vicinity the entire time.
Some adventurous souls want more.  They want to travel from location to location, stopping when and where they choose without worrying about hotel availability; they want flexibility and spontaneity. They dream of the open road.
Renting an RV comes with benefits and drawbacks (what doesn't?).
Benefits
First, let's go over the four main benefits.
Flexibility. Having an RV at your disposal means having the means to go wherever you want. Even if there is no campground in the area, most National Forests allow for "boondocking," which is also known as "dry camping." Though it lacks amenities like electricity and running water, your RV has batteries, water storage, and sewage storage capability.
Spontaneity. Heard about a great festival and want to go check it out? Go ahead! You can take your "room" and "restaurant" right with you. No need to search for last-minute reservations, no need to stand in interminable lines at the local café. Just hook up and go.
Intimacy. There is something very intimate and personal about sleeping amidst the trees at Yosemite or Yellowstone. You feel more connected to the area and immersed in the natural bounty around you. At the risk of sounding flaky, there is an "oneness" that you feel more a part of. Waking to the song of birds welcoming the morning is unsurpassed for stress reduction.
Comfort. Camping can be rough. Bugs, sleeping on the ground, cooking over campfires, lack of shower or toilet facilities can all conspire to make a camping vacation a nightmare. An RV offers soft bedding, security, running water, bathroom/sanitation facilities, electricity, and other amenities. Depending on size, style and location, air conditioning, cable television, and wifi are all available within today's RV.
Drawbacks
Now, let's look at the three main drawbacks.
Space. Depending on the size RV you rent, space can become an issue. That issue is underscored if you have fighting children, disagreements with your travel companions, or an overabundance of "toys." There is simply NOT a lot of room and nowhere to "go" to get away from people, should you feel the need to do so.
Maneuverability. If you aren't accustomed to operating an RV, it ain't your Nissan Celica. They tend to be large, bulky, slow, and poorly responsive. To access your site, if you choose to stay in an RV park, you may have to back in and then connect to "shore" services. That means attaching to electricity, water, and sanitation facilities. The sites are generally fairly narrow, and the correct placement of the unit is vital to get the connections correct.
Exploration. If you want to explore an area, like a National Park, for example, you may not want to use the RV. You could find it too cumbersome, particularly on narrow roads. If you've towed along a "toad" or small vehicle, then the problem solved. If you haven't, you may find yourself frustrated with the lack of transportation options.
How much does it cost to rent a small RV for a month?
That depends on what type of RV you rent and how you define "small."  There are multiple configurations to choose from, so let's start with that.  We are not including smaller units like teardrops, pop-ups, or conversion vans, as few people would choose something that small for a month-long trip.
Towables
You're renting an RV for a month, but that may come with other needs. What if you need to tow something like a vehicle or trailer for additional storage (let's be honest; you can't always pack light for a whole month).
Toy Hauler. So named due to the drop-down ramp in the rear, a toy hauler is designed to carry things like motorcycles, ATVs, UTVs, and the like within the safe confines of the unit. When parked, the ramp drops down, allowing access to the toys. Beds are frequently stackable and convertible. The biggest drawback is the smell of fuel in the unit.
Toy Haulers range in size from 8' to over 30' in length, so obviously, the number of people that can be accommodated varies greatly. The most common toy haulers are in the 24' and larger range. This is a major unit and will require a towing package and sufficient torque to manage the load.
Rental range $95 to $150+ per night.
Travel Trailer or 5th Wheel. These are configured comparably; the biggest difference is how they are towed. A 5th wheel requires a special receiver in the rear of the towing unit. If you don't already have one, you probably want to avoid this configuration.
A travel trailer can range from 12' to over 30' in length. The size will determine the number of accommodations, obviously. Like a toy hauler, this is a significant vehicle. Towing package and adequate torque are requirements.
Rental range $55 to $150+ per night.
Motorized Units
This type of RV does not require towing. It has the motor built right in and is the type most people think of when talking about an "RV."
Class B. This is also known as a camper van. It is an RV built on a van chassis with a gas or diesel engine. They typically measure 20' to 25' in length and have amenities like swivel toilets and fold away sinks. They are popular with solo vacationers or couples.
Rentals range from $70 to $195, with an average of around $130 per night.
Class C. This is the smallest of what is traditionally thought of as an "RV." Built on a truck frame, with a cab-over profile, they are generally less than 30' in length and can comfortably sleep 2 to 6, depending on the configuration. Most offer slide-outs for increased space.
Rental range $100 to $200, with an average of around $150 per night.
Class A. This is the big Daddy of RVs. Available in gas or diesel options, these bad boys range from 30' to 40' in length. They have en-suite bathrooms, multiple slide-outs, built-in generators, and just about every imaginable amenity. Experience driving large, high profile vehicles is highly encouraged.
Rental range $175 to $500+, with an average of around $275 per night.
Where Can I Rent an RV?
There are a couple of places to look, depending on the type of RV you choose. Towable RVs are primarily found in peer-to-peer locations, while motorized have both peer-to-peer and commercial rental options available.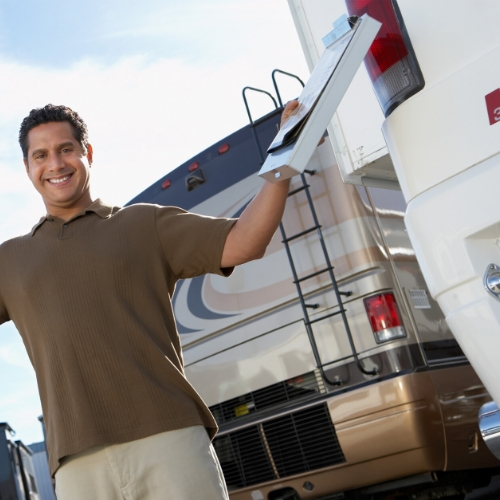 Outdoorsy.com is an excellent peer-to-peer rental platform. You select your originating city and your departure and return dates.  Up pops a menu for you to select your RV style. 
From this same menu, you can choose amenities and other options. Make your choices, and a selection of privately owned RVs is provided, along with pictures and reservation information. Think Airbnb for RVs. They have an A+ BBB rating and a nearly 5-star rating over 76 reviews.
Key benefits include:
Up to $1 Million Insurance on Approved Bookings
24/7 RV Rental Roadside Assistance
Over 5,000 5-Star Reviews
RVShare.com is another excellent peer-to-peer rental platform.  A key difference from Outdoorsy.com is that RVshare.com asks how many people you want to accommodate, then provides you will all configurations that match your needs, rather than asking you what style RV you are looking for first.
They have a B- BBB rating, with primary complaints about RVshare failing to respond to customer support requests. They have an average of a 4-star rating, over 472 reviews.
Some key benefits RVShare.com offers are:
Up To $500,000 Liability & $200,000 RV Value Coverage Insurance
24/7 RV Rental Roadside Assistance
5% Cash-Back Loyalty Program
Cruise America is a corporate RV rental company and handles primarily only motorized vehicles. You are unable to obtain pricing information from the website and must call a location directly. They are significantly more expensive than their peer-to-peer competition. I also must note that there is a BBB warning that they have received numerous complaints about the poor quality of the RVs.
Positives they offer are 1-way rental options and a clean, ready to go rig. There is also the comfort factor of a "company" standing behind you, rather than an individual you don't know very well.
They have a C+ BBB rating and a 1.75-star rating out of 10 reviews.
Final Thoughts
Renting an RV for a long road trip is a fun alternative to traditional vacationing.  There are hidden costs like mileage, fuel, site rental, and groceries—these generally more than offset traditional vacation costs of hotel, restaurant, transportation, etc. If you want to see more of the world, consider renting an RV and let the road lead you where it may. Safe travels!
Recommended reading
Can You Rent an RV If You're Under 25? [Read This Before]
Do RV Rentals Include Mileage? (Free Unlimited Miles)
Do RV Rentals Allow Pets? (Pet Friendly Companies)
Recent Posts