Renting An RV For A Month. Whether you're just looking for a quick getaway with the family or to spend months touring the country, your first step has to be finding the right RV rental. With several different methods of doing this available, finding the best, and importantly, the least expensive one can become quite a headache. However, there are ways to go about finding great deals on long-term or monthly RV rentals; you just have to know where to look.
How do you find great deals on long-term and monthly RV rentals? The best deals on long-term and monthly RV rentals are usually found on peer-to-peer renting platforms. Renting directly from a personal RV owner rather than a rental company removes the middleman, resulting in lower costs for the renter.
Ridesharing and peer-to-peer vehicle renting services are on the rise, so it should come as no surprise that this trend has hit the RV industry as well. Peer-to-peer RV rentals are a fantastic way to get a great deal on a long-term RV rental, so let's go over the best platforms to use, and take a look at exactly how they work.
The Best Peer-to-Peer RV Renting Platforms
The amount of peer-to-peer car rental services is becoming increasingly numerous, and there are equally many options for peer-to-peer RV rentals as well. These platforms all work in the same fundamental way: connecting RV owners to would-be RV renters using an online platform, but each forum has its own unique features and advantages over the others. So, let's look at the best options currently available for peer-to-peer RV rental platforms:
Anyone who has been looking for RV rentals has probably come across Outdoorsy. Outdoorsy is a traditional peer-to-peer service in that it allows RV owners to list their RV for rent on their online platform. It does a great job of giving RV owners a way to make money with their RVs when they're not using them themselves, and in turn, gives people interested in renting a great marketplace to search for RVs.
Outdoorsy is currently one of the leading platforms in the peer-to-peer RV rental space, earning the "best overall pick" for best RV rental companies from TripSavvy. This is mostly a function of their expansive network, with tons of options to choose from in most places throughout the country. Because of the breadth of choices available on Outdoorsy, you're likely to find something that suits your needs and is also within your budget.
Outdoorsy is excellent for renters for reasons beyond just having a wide selection, though. Outdoorsy has a media through which renters can write detailed reviews of their experiences renting with a particular person and RV, giving future renters an idea of what they can expect from the RV that they are renting. This can include things like how easy the owner was to deal with, how clean the RV was, and how well it runs and drives. These are all valuable insights for people looking to rent an RV, and Outdoorsy makes them easy to find.
Before you continue reading, here is an article I wrote about that topic: Can You Rent an RV for a Whole Month?(Read This Before)
Now, we would be remiss if we failed to mention what you can expect to pay when renting through Outdoorsy. This can be highly variable because of all the different options available. Following table shows the average rates on Outdoorsy for various classes of RVs:
| RV Types | Cost per night (USD) | Monthly Cost Average (USD) |
| --- | --- | --- |
| Class A | $175 to $275 | $6,750 |
| Class B | $100 to $200 | $4,500 |
| Class C | $150 to $200 | $5,250 |
| Travel Trailer | $50 to $125 | $2,625 |
| Fifth Wheel | $60 to $150 | $3,150 |
| Pop UP Trailer | $50 to $100 | $2,250 |
RVShare, like Outdoorsy, is a traditional peer-to-peer RV rental service that allows RV owners to make their RV available for rent to other people. RVShare also has an extensive network and offers many different choices for people looking to rent an RV.
However, RVShare is slightly different from other peer-to-peer RV rental platforms in that it also allows RV dealerships to list their inventory for rent. This gives RVShare a leg up on other peer-to-peer services in that it gives renters the option to choose between renting someone else's personal RV, or a nice and new RV off of a dealership's lot.
As you might expect, however, renting an RV from a dealership will be more expensive than renting from a private owner. This is because, according to RVShare themselves, the dealership has to invest more time and money into running a profitable business. In contrast, a private owner has much lower overhead costs related to keeping their "business" running. However, in paying a bit extra for an RV from a dealer, you are likely to get a nicer product.
All of that being said, you can still rent from private owners on RVShare if you prefer lower costs. Similarly to Outdoorsy, renting on RVShare can be as expensive or inexpensive as you would like, with prices ranging widely depending on your area and what exactly you are renting. The table below shows the same pricing data for RVShare as they do for Outdoorsy, so expect prices to be similar between platforms:
| RV Types | Cost per night (USD) | Monthly Cost Average (USD) |
| --- | --- | --- |
| Class A | $175 to $275 | $6,750 |
| Class B | $100 to $200 | $4,500 |
| Class C | $150 to $200 | $5,250 |
| Travel Trailer | $50 to $125 | $2,625 |
| Fifth Wheel | $60 to $150 | $3,150 |
| Pop UP Trailer | $50 to $100 | $2,250 |
You may be surprised to know that the above two options just about round out our list of the best peer-to-peer RV rental services. Outdoorsy and RVShare have just about satisfied the market when it comes to peer-to-peer services; however, they are not the only options when it comes to renting an RV.
Related reading: Average RV Park Rates: Actual Campgrounds Prices per Night
Corporate RV Rental Companies
While peer-to-peer RV rental companies are king when it comes to offering the lowest prices, there are other options available for people that may not just be interested in the lowest rates.
For some people, renting from a private owner can be a risk, as you're not sure how great the RV that you're renting will be. While the ability to read reviews on Outdoorsy can help with this, you still never know how well maintained and reliable the RV will be, or exactly what shape the last renter left it in.
This is where the corporate RV rental companies come in. The larger companies have locations throughout the country, and they buy and maintain a fleet of rental RVs. Think of it like this: RVShare and Outdoorsy are the Turo of the RV world, whereas the below corporate RV rental companies are the Hertz of the RV rental world.
So, now that we've laid out the differences between the two main methods of renting an RV, let's look at a few of the options for corporate RV Rental Companies.
El Monte RV
El Monte RV is a traditional RV rental company with a bunch of locations throughout the country, which should make it easy for would-be renters to find a place near them through which they can rent from El Monte. El Monte has a reasonably wide range of RVs to choose from as well, which should make finding an RV that is right for your trip quite easy to do.
A benefit of renting from El Monte as opposed to a peer-to-peer service like Outdoorsy or RVShare is that you can rent your RV, drive it across the country, and not worry about having to return it to the owner. This is because El Monte has locations around the most popular RV destinations and doesn't require you to drop off at the same place from which you picked up. This can be great for those that are looking to drive to their destination and then fly back home.
As can be expected with a traditional RV rental company though, renting from El Monte RV will be a bit more expensive than renting through a peer-to-peer service. RV Rental Scout found the following information regarding the price of renting from El Monte RV:
Class A: $200 to $300 per night
Class C: $95 to $175 per night
However, in paying a little bit more, you're all but guaranteed a rental that will be mechanically perfect, and the same cannot be said when renting through a peer-to-peer service. Also, it is essential to note that El Monte RV does not offer Class B rentals, whereas Class B rentals can be found on peer-to-peer sites.
CruiseAmerica
Just like El Monte RV, CruiseAmerica is a traditional RV rental company. They own and maintain a fleet of rental RVs, and rent them out through their various locations across the country. To be more exact, CruiseAmerica has a total of 132 locations throughout the U.S. and Canada, so you shouldn't have too much trouble finding a CruiseAmerica location near your starting and destination points.
Again, as a result of their status as a traditional RV rental company, renting with CruiseAmerica comes with some benefits that cannot be had when renting through a peer-to-peer service. Namely, you can drop the RV off at any of their locations across the country, whereas peer-to-peer rentals, of course, have to be returned to the owner after the rental is over.
Additionally, renting from CruiseAmerica gives you the same corporate fleet security that you would get from a company like El Monte RV as well. Because you are renting from a fleet, you are much less likely to get a rental RV that has problems that could potentially ruin your trip. However, as you probably expected, that does come at a slight premium, with CruiseAmerica's prices being similar to those of El Monte.
RV Rental Scout cites the following pricing structure for CruiseAmerica:
| RV Types | Cost per night (USD) | Monthly Cost Average (USD) |
| --- | --- | --- |
| Class A | $175 to $300 | $7,125 |
| Class B | $100 to $200 | $4,500 |
| Class C | $150 to $200 | $5,250 |
| Travel Trailer | $50 to $150 | $3,000 |
| Fifth Wheel | $60 to $175 | $3,525 |
| Pop UP Trailer | $50 to $125 | $2,625 |
Note that unlike El Monte, CruiseAmerica does offer Class B, travel trailer, fifth wheel, and pop up trailer rentals, whereas El Monte only provides Class A and Class C rentals. This can be a reason to go for CruiseAmerica as opposed to El Monte, as you have a more comprehensive selection of RV types to choose from. Additionally, some of these types of RVs are significantly cheaper than others, which is a bonus for those that want the security of a traditional company at the cost of a peer-to-peer rental.
Related reading: Is RV Rental Worth It? 11 Things To Consider
Traditional RV Rental Companies: Customer Reviews
When it comes to renting from these traditional RV rental companies, there have been startling reports from customers regarding their experiences with renting RVs from El Monte RV and CruiseAmerica worth mentioning.
Both above-mentioned RV Rental companies have horrific BBB (Better Business Bureau) ratings. El Monte RV has an F rating from the BBB, while CruiseAmerica currently has a C+. Both ratings seem to be related to both companies' poor customer service and failure to respond to emails and resolve customer disputes.
This can be especially concerning for a company that operates in the RV rental space, as people tend to spend a good bit of money with these companies. It can be unnerving to hear that they are unresponsive to customer complaints and do not resolve customer service disputes in a favorable manner.
However, after having said all of that, these are both very large corporate companies, and their bad BBB ratings are not because they are scam artists; it is much more likely that they have poorly run customer service departments, and if your trip goes smoothly, you shouldn't have to deal with these departments anyway.

With that in mind, be aware that if you do choose to rent with one of the companies mentioned above, you're dealing with some poor options in the eyes of the BBB, though they are unfortunately some of the only options if you're dead set on a corporate RV rental.
Alternate RV Rental Options
Now that we've discussed both peer-to-peer rental services as well as traditional RV rental companies, you may be thinking that we have completely exhausted all of the options available for people looking to get into an RV for their next adventure. Not so!
There is one more, unique option for people that are looking to rent an RV for cheap. It's a fascinating business model, and one that you're not likely to have expected, but one that we're sure you'll be glad to have found if you do choose to end up using it.
Transfercar
Transfercar is a tremendously unique service that has found a niche need in the RV transportation world, which allows the company to offer what they describe as (almost) free RV rentals.
Traditionally, if an RV company needs to move an RV or any inventory around the country, they will hire a third-party service to make that happen. Whether it's a truck that will tow the RV, or a paid driver to drive the RV to wherever the company needs it to go, this is typically an expense that the RV company more or less has to deal with. However, Transfercar has stepped in to turn this situation into a win-win for both the companies that need their RV moved, as well as anyone interested in renting an RV.
If you haven't already guessed, what Transfercar does is allow people that want to rent an RV to simply take the RV that a company needs to move for their trip.
Related reading: Can You Rent an RV One Way? 24 Insider Tips
For example, let's imagine that there is an RV company that has an RV in New Jersey, and they need that RV moved to Florida. Traditionally, they would hire someone to transport the RV for them. However, using Transfercar, they can list this trip on Transfercar's platform and hope that someone in the area happens to be interested in taking an RV trip from New Jersey to Florida. If they find someone, that person will pay a ridiculously low rate (sometimes as little as $5) to drive the RV from New Jersey to Florida. This means that the renter gets to take the road trip that they wanted to make, and the RV company gets their inventory moved as they needed to. Indeed, a win-win situation!
Renting an RV with Transfercar
Now that we know exactly what Transfercar is, and what makes it unique, let's find out exactly what it looks like when you take your trip with Transfercar.
The first step in doing this is, of course, finding a trip that meets your needs. For most people, a journey that departs from near home and ends up somewhere near the desired destination would be ideal. Or, you can simply look for trips that depart from near your hometown, and go wherever they need you to go if you're more of an adventurer type.
Regardless, finding a trip on Transfercar is done through their website, using a handy interactive map. You can search the map for trips that are leaving from around you and then look at the type of vehicle that needs to be transported, which are often various types of RVs. If you don't find the right trip on your first search, Transfercar recommends checking back daily, as new trips are added quite frequently.
After you've found your trip, you can look at what is being offered with the trip, as well as how many days are allotted for that specific trip. Sometimes you'll be lucky enough to find a company that will pay for the gas, and most trips will come with some form of insurance.
Once you've determined that the journey is a good match for you and what you're looking to get out of your next adventure, you can go ahead and book it, so long as you've considered how you'll get back home once your trip is complete.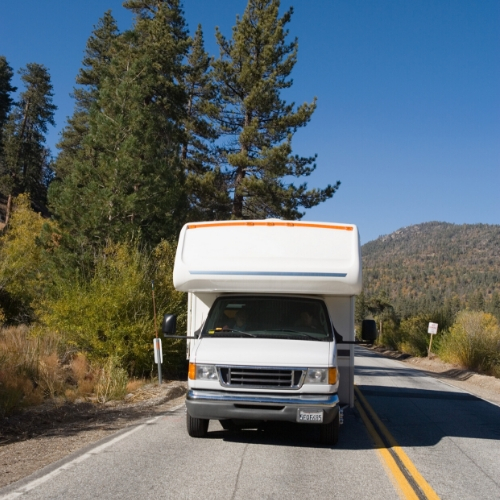 By nature, Transfercar can only offer one-way trips, so unless you're lucky enough to find a return Transfercar trip, you'll probably have to find a more traditional travel method to get yourself back home. Even so, you're still saving a tremendous amount of money compared to regular travel expenses, as Transfercar is practically a free rental.
The only downside to Transfercar is that it limits you to only shorter-term rentals. Corporations will use Transfercar to move inventory from one place to another, leaving renters with only enough time with the RV to get from point A to point B in a timely manner. This means that it is highly unlikely that you'll find a rental option that goes beyond a month.
Peer-to-Peer vs. Traditional vs. Transfercar for RV Rentals
Now that we've gone into great detail with all of the possible RV rental methods currently available, it's time to aggregate all of our information into making an informed decision about the best way to get a great deal on a long-term RV rental. This decision will be different for everyone, as some people may prioritize the benefits of one option over those of another, but looking at all the various considerations to make is an essential step for anyone looking to rent an RV.
Know Your Budget
The first thing that you need to do when deciding how you should go about renting an RV is to establish a budget for yourself. This is an essential first step, as creating a budget will limit your options quite a bit, making it easier to narrow down your choices from there.
Regarding budget, it is probably best to set a per-night budget, as this is how you will see most RV's prices listed. Being able to match your per-night budget to their per-night cost is a simple way to make sure that you're comparing apples to apples.
After you establish your budget, it's essential to know what options are available within your budget. The prices of the options listed above go in the following order, from least to most expensive:
Transfercar
Peer-to-peer (Outdoorsy and RVShare)
Traditional (El Monte and CruiseAmerica)
Let's say, for example, that you establish your budget as $100 per night. This immediately rules out most traditional RV rentals, and some peer-to-peer rentals as well. With this budget, you should begin looking at Transfercar and the less expensive, less luxurious peer-to-peer options available on the market.
See how much we narrowed down our possibilities just based on budget? That's why it's always important to make budgeting your first step when looking for RV rentals.
Establish a List of Priorities
Now that you know your budget and have a good idea of what you are able and/or want to spend on your trip, you need to establish a list of priorities, and know exactly what is most important to you when renting an RV.
For example, do you prioritize renting an RV whose reliability you can be extremely confident in? If so, it may be best to start your search with the traditional RV companies, as their corporate fleets are more likely to have reliable RV's as opposed to a peer-to-peer rental.
Another critical consideration to make is how much you prioritize the seamlessness of the renting process. In other words, are you willing to deal with a company that has almost laughably bad BBB ratings? If not, you should probably stay away from the traditional RV rental companies, as they are notoriously bad with customer service.
Instead, opting for a peer-to-peer rental with a person with high ratings may be an excellent option for you, as peer-to-peer rentals tend to be more pleasant and provide seamless experiences, as are most alternatives to dealing with larger corporations.
Another essential thing to consider is how attached to a specific route you are. If you're absolutely sure that you know exactly where you want to go and know exactly what you want your trip to look like, renting from Transfercar will be an impossibility, as you're very unlikely to find a journey that will exactly match your address to address agenda. Instead, choosing peer-to-peer or traditional rental methods is best, as you can go exactly where you would like to go.
Related reading: Do RV Rentals Include Mileage? (Free Unlimited Miles)
One-way Driving vs. Round-trip Driving
After you've established a budget, and have gotten your list of priorities in order, you're finally ready to finalize all of the considerations that need to be made by deciding whether you want your trip to be driven one-way or round-trip. This is an important consideration to make, especially if you're going to drive one way and then fly back home.
If you only plan on driving one-way, you cannot use a peer-to-peer rental service, as you obviously will not be able to return the RV to its owner. Instead, you'll have to opt for either a Transfercar trip or traditional RV rental, which will allow you to drive one way, and then fly back home (or stay at your destination).
Final Thoughts
Renting an RV can be a bit of a headache, especially when you're first trying to figure out what your options are, and how all of those options compare to each other. However, after going through all this information, you can consider yourself armed with everything that you need to know to find a great deal on a long-term RV rental.
For more helpful articles about RVing please check out our articles below:
How to Choose the Right Size Travel Trailer: An In-Depth Guide
15 Effective Ways to Stop Condensation in Travel Trailers or RV
4 Essential Reasons Travel Trailers Have Batteries [Must-read]
Setting Up a Travel Trailer to Live In: 20 Essential Steps
Recent Posts