Traveling with a trailer is the most economical way to begin gearing up for a recreational vehicle adventure. Travel trailers can be used only when needed and then stored for the rest of the year without having to worry about motor components or functions. Travel trailers also come in all different sizes. Depending on the type of trip you are planning on taking or how you will be using and storing your travel trailer, there will be a size option for you.
How do you choose the right size travel trailer? To figure out the size of the travel trailer you need, consider the following:
How long will you be traveling or living in your travel trailer?
How much storage space do you need?
How many people will be sleeping in the travel trailer?
How large of a vehicle do you have to tow the travel trailer?
Do you need food storage and cooking appliances?
Where do you plan to park your travel trailer?
Since there are so many features to consider, you have to determine how you will be using your travel trailer to figure out which size will best fit your lifestyle. This article will tell you everything you need to know to figure out the size of the travel trailer that you need. Read on to get more details about each travel trailer size.
How to Choose the Right Size Travel Trailer
When you are looking to buy or rent a travel trailer, you should focus on which activities you will be spending the most time using your trailer for. To determine the utility of your travel trailer, you will need to consider a few critical questions about size needs before you start to compare features.
Before you continue reading, here is an article we wrote about How Do RV Rentals Work: 7 Expert Tips
How Long Will You be Traveling or Living in your Travel Trailer?
The length of time that you spend in your travel trailer will determine how much size you need. If you are going on a cross-country trip that is going to require multiple weeks staying in the travel trailer, you may want a larger travel trailer that can hold more storage and includes lounging room and square footage for relaxation.
Also, if this travel trailer is going to be parked for an extended time and you will be calling it "home" for the foreseeable future, you may want to get some extra room for your belongings and living space where you can relax and even entertain. Most larger travel trailers also have better leveling systems and jacks for permanent placement.
On the other hand, if the travel trailer is only for shorter weekend trips, you may want to consider smaller travel trailer options that are easier to load up, clean, and take care of. If you don't think you will need a large amount of space because you just won't be spending long stretches of days in your travel trailer, do yourself a favor and save some time and money by choosing a smaller trailer.
Related reading: Can You Rent an RV for a Whole Month?(Read This Before)
How Much Storage Space do You Need?
Most people traveling with a trailer use it because of the comfortability and amenities. If this is you, you may not need much storage space. You could be perfectly content with less storage space in the smaller trailer options.
However, if you will be storing many items in your trailer for activities like hunting, fishing, or off-road vehicle riding, you may need to consider the more extensive travel trailer options with ample storage space. Some travel trailers, like Toy Haulers, even have built-in garages for off-road vehicle storage.
Storage space can be added on almost all travel trailers by:
Adding a tow-hitch to the rear of the trailer
Utilizing the roof of the trailer or car
Using bathroom square footage
Adding storage boxes under your mattress
Installing pullout storage in the closet
How Many People Will be Sleeping in the Travel Trailer?
This might be an obvious one, but the more people you have sleeping in your travel trailer, the larger the trailer will have to be. There is also a difference between quality sleeping arrangements and less than ideal ones. Sure, the pickup truck campers can sleep up to four people, but that might mean four people in one bed.
Beds in other campers might just be couch cushions on top of the table instead of actual beds. Most larger travel trailers like fifth-wheels and larger-sized tow behinds have at least one full-sized bed and often a second smaller mattress pull-out.
Sleeping arrangements should be considered in two categories: mattresses and total beds. Some beds are not mattresses, so the sleeping spaces may not be suitable for full-grown adults. Make sure to get the details about the bed types before considering if the sleeping area and arrangements will work for your family or party.
Related reading: Can You Rent an RV If You're Under 25? [Read This Before]
How Large of a Vehicle do You Have to Tow the Travel Trailer?
The size of your vehicle will determine the size of the travel trailer you can tow. Smaller travel trailers up to three-thousand pounds can be pulled by almost all trucks, most SUVs, and even some minivans.
The easiest way to make sure that your vehicle has enough power to pull the size of the travel trailer you are considering is to check the vehicle specifications. The max towing capacity is the top-rated weight that the vehicle can safely tow. Remember that the weight of the travel trailer is empty. If you load up with supplies and people, you need to consider that weight.
Finally, if your car is at the limit of towing capacity, there are other components you need to install on your vehicle if they are not there already. Some of the most critical components to add to a fully loaded down car are those that keep the engine, steering, and transmission cool. Make sure that you at least have a suitable transmission cooler rated for the amount of weight you will be pulling before deciding to tow anything with your vehicle.
Here, you can find an article from our website about the topic: Can you Tow with a Rental RV? (Company Restrictions)
Do You Need Food Storage and Cooking Appliances?
If a priority of camping and traveling with your travel trailer is to cook your meals in the comfort of your trailer, you will need to consider how much space is devoted to your food storage and what type of cooking appliances your trailer comes with.
Food storage comes in a vast range:
The smallest travel trailers have almost no food storage. There might be two or three small one-foot by one-foot box shelves to be used as a pantry and one compact refrigerator and freezer combo.
The smallest models of travel trailers might have one burner gas stove with no sink or room to prepare and cut. These models are for those looking for a minimalistic food preparation approach.
If you need food storage, the larger travel trailers have three-quarter-sized refrigerators, iceboxes outside for fishing and hunting storage, even full kitchenettes with a dozen or more drawers and cabinets for pantry and utensil storage.
Larger travel trailers may include microwaves, full-sized ovens, four-burner gas stoves, sinks with two basins, and plenty of counter space to prepare your meal.
Overall, trailers like pickup truck campers and pop-up trailers are less likely to have food storage spaces. They minimize the weight and maximize the space on smaller travel trailers. Other travel trailers like fifth-wheels and hybrids make you feel like you never left home and will typically have lots of food storage and full kitchens with many style sizes so you can find the perfect balance between roughing-it simplicity and gourmet kitchen style.
Where do You Plan to Park Your Travel Trailer?
Pretty much all of the travel trailers on this list are capable of being driven and parked at modern campsites with cement and leveled pads. These types of camping spaces can be utilized with limited leveling. Besides, entrances into these areas are usually paved and relatively well-maintained ground.
Related reading: Do RV Parks Allow Travel Trailers? – Read This Before You Go
However, if you are considering taking a travel trailer off of the grid or into the wilderness, you may want to consider options of trailer models that are easier to tow and drive and can be more precisely leveled. Rough roads and uneven ground are almost guaranteed if you drive your vehicle off of maintained trails and roads. You had better be prepared to adapt to the difficulties you encounter in the wilderness while camping with a travel trailer.
Tow-behinds, pop-up trailers, and large hybrid expandable travel trailers are all notoriously difficult to tow and maneuver. They are also being pulled behind your vehicle, making it tougher on them and your tow hitch. Finally, the smaller models (pop-ups and tow behinds) usually do not have very advanced leveling jacks, so you may need to purchase and install better ones before you head out on the trail.
The best travel trailers for traveling on rougher terrain and parking in less than level ground are pickup truck campers and fifth-wheels. Both of these trailers are more stable when you drive, even over rough roads, because they are attached to the bed of your truck and closer to the center of gravity of the vehicle towing it. Also, fifth-wheels tend to have more advanced systems of leveling jacks, and pickup truck campers don't require leveling jacks.
PERFECT TRAVEL TRAILER RV size for lower capacity towing Pickups >> Check out the video below
What are the Different Size Categories of Travel Trailers?
Categories of travel trailers have overlapping features, but all of them are ranked in this list by size and square footage. When choosing a travel trailer for size, consider the questions in the previous section and then compare price, features, and comfortability. Then, you will be able to find the travel trailer that will be the perfect fit for your adventures.
Read on to learn about the details of the travel trailer sizes from largest to smallest size below, which include:
Pickup truck campers
Pop-up or tent trailers
Tow-behind trailers
Hybrid expandable trailers
Fifth-wheels
"Toy haulers" or sport utility trailers
Pickup Truck Campers
For those looking to stay minimalistic and still enjoy the comfort and convenience of a travel trailer should consider getting an attached truck bed trailer on their pickup truck. Most models of pickup truck campers are hard-bodied camper shells with a small sink, a burner, and a bed. The pickup camper can even offer expandable space upwards or out to the side for extra sleeping and lounging space.
The best part about pickup truck campers is how easy they are to transport. Since the design of this travel trailer is bolted to the body of your truck, there is less swaying action and you don't have to worry about other axles or wheels.
The following chart describes the features of pickup truck campers:
| Trailer Feature | Pickup Truck Campers |
| --- | --- |
| Trailer Length | 6-12 ft |
| Trailer Weight | 1,000- 3,000 lbs |
| Trailer Features | Poor amenities. Bolted to the bed of your truck.Relatively easy to drive with. Offer seclusionGet you up and off the ground while traveling and camping.Most have small water spigots or sinks, a single or double burner, small refrigerators, and other electronic sockets for small things. |
| Comfortability | Limited square footage.Most can only fit two people comfortably. |
| Storage Capacity | Storage is limited and poor.Only a few small cubbies for storage. Storage can be seen on the outside and is not weatherproof. Vehicle is less aerodynamic and uses more fuel. |
| Sleeping Capacity | 2-4 people |
| Cost | $15k- $40k |
Pop-up or Tent Trailers
Towing behind your vehicle can be dangerous and put wear and tear on your engine. If you are worried about the size of trailer your vehicle can tow, you should consider a tent or pop-up trailer. This type of travel trailer gives you more square footage than the pickup truck camper with the benefit of less weight that your car or truck has to tow.
If you want to tow a travel trailer at the lowest weight limit, a pop-up or tent trailer design is perfect for you. These travel trailers are made to be sleek and aerodynamic while minimizing weight with canvas tent walls that can be "popped" up with a crank lever or small motor.
The best part about a pop-up or tent trailer is that they still provide you with most of the amenities that a normal-sized travel trailer will provide without the added weight making it possible to tow with smaller vehicles like minivans, small-sized SUVs, and quarter-ton pickup trucks.
The following chart describes the features of pop-up or tent trailers:
| Trailer Feature | Pop-up or Tent Trailers |
| --- | --- |
| Trailer Length | 8-20 ft |
| Trailer Weight | 1,000- 9,000 lbs |
| Trailer Features | LightweightCan be towed behind smaller vehicles.Some offer more insulation and durability with hard walls that pop-up.Most have heating, water storage, sink, and gas stove. |
| Comfortability | The sleeping situation is limited.Beds are usually made of lightweight foam or seat cushions that can be thin and uncomfortable.Insulation and cold air drafts can be a problem, and only some models come with air conditioning. |
| Storage Capacity | Limited because the trailer is folded down into its floor when traveling. When folded down, there is a clearance space on the floor of the trailer of about ten inches.Sometimes has storage boxes on the sides.Has cabinets built in that are accessible even when folded down through the front door. Storage under tables available in most modelsSinks fold back to allow for storage and function |
| Sleeping Capacity | 2-8 people |
| Cost | $10k-$30k |
Tow-Behind Trailers
Tow-behind travel trailers are great introductory recreation vehicles for those looking to go on fun camping trips. The tow-behind design is one of the leading travel trailer types for those who live long-term in their trailer. These trailers include everything from the iconic teardrop trailers to the easily recognizable smooth and rounded aluminum of Airstream trailers.
Most of these models offer at least water and sleeping accommodations for two, and most include much more. However, the downside to traditional tow-behinds is that no matter how long they are, they are going to be narrow. If you know that you will be lounging in the living space of your travel trailer or entertaining and watching movies with multiple people, you may want to consider a more comprehensive option.
The following chart describes the features of tow-behind trailers:
| | |
| --- | --- |
| Trailer Feature | Tow Behind |
| Trailer Length | 8-40 ft |
| Trailer Weight | 1,000- 10,000 lbs |
| Trailer Features | Fairly solid in durability.Does not require a truck bed to latch onto.Can be as long and heavy as fifth wheels, including amenities like televisions, showers, queen-sized beds, canopy shades, dining tables, kitchenettes, and even couches. Some offer amenities like air conditioning, and almost all have heating of some kind, sometimes central heating. |
| Comfortability | Comfortable, but space can be limited.Narrow. Some models are low to the ground and short. |
| Storage Capacity | It depends. Some of the larger tow-behinds have a large amount of storage space. There can be multiple cabinets and drawers for storing things. Some even have closets. However, other smaller models only have the floor space for your storage.Storage can be added under some seating and beds |
| Sleeping Capacity | 2-8 people |
| Cost | $10k-$150k |
Hybrid Expandable Trailers
Hybrid expandable trailers take the functionality and comfort of tow behinds to a newer and better level. You have all of the amenities and benefits of an average tow behind with a hybrid expandable trailer only with square footage.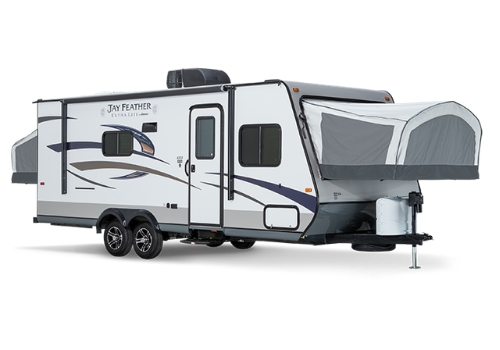 When you park your trailer, there are motorized pull-outs to the sides of the main living space that add square footage to the trailer. Some hybrids will even have two or three pullouts that add square footage to the living space and additional bedrooms to your travel trailer. Even though these motors and the slide outs can become fouled or even broken, they are a great addition to your adventure and experience with travel trailers.
The following chart details the features of hybrid expandable trailers:
| Trailer Feature | Hybrid Expandable Trailers |
| --- | --- |
| Trailer Length | 8-26 ft |
| Trailer Weight | 2,500- 5,000 lbs |
| Trailer Features | Gives you all of the amenities of a full-sized tow-behind with the added benefit of square footage because of the slide outside rooms.Lots of space allows for comfortable sitting, eating, and even entertaining. Models with multiple pull-out spaces also have multiple motors that can break. |
| Comfortability | Comfortable and spacious for a trailer.Some expandable models even offer additional sleeping arrangements with mattresses. |
| Storage Capacity | Slideouts do not offer any more storage space than a standard tow-behind trailer.Larger models have outside locker-style storage and space on the floor and in the cabinets of the kitchenettes.Has about as much storage space as a tow-behind trailer. |
| Sleeping Capacity | 4-8 people |
| Cost | $10k-$40k |
Fifth-Wheels
Fifth-wheel trailers are more stable and maneuverable than tow behinds. The stability of fifth-wheels comes from the fact that they are physically connected to the bed of the truck you are towing from, giving you a closer center of gravity and pivot point for the tongue.
Most fifth-wheel travel trailers are very much like larger tow-behind trailers with the added space for a small room above the truck bed. Fifth-wheels also tend to be a little more luxuries with the finishing of panels and cabinets and also taller inside. Overall, the fifth-wheel is one of the best choices you can make if you are looking for a larger travel trailer.
The following chart describes the features of fifth-wheel trailers:
| Trailer Feature | Fifth Wheel |
| --- | --- |
| Trailer Length | 20-40' |
| Trailer Weight | 7,000+ lbs |
| Trailer Features | Larger and more robust than other traditional tow-behinds.Headspace and length are greater than standard tow-behind travel trailers.Added bedroom space above the bed of the truck is a bonus room for privacy in two places on the rig.Most are luxury recreational vehicles with added amenities like outdoor showers, crown molding, and larger sized refrigerators. |
| Comfortability | Spacious and comfortable.Plenty of headspace and many places for lounging and sleeping. Larger entertainment centers. |
| Storage Capacity | Ample storage on the outside storage cabinets of the fifth-wheel body. All of them are lockable with personalized keys. Most come with closet space in the master bedroom and plenty of cabinet space for the kitchenette. More room for storage spaces and closets. Some cabinets may even require a step ladder to access. |
| Sleeping Capacity | 4-8 people |
| Cost | $20k-$150k |
"Toy Haulers" or Sport Utility Trailers
Toy haulers are for those that like to have off-road vehicles along with them while they visit the great outdoors with their travel trailer. Although some toy haulers offer less square footage inside the trailer's living space, they are a perfect option if you are thinking about bringing along your motorcycles, quads, or even off-road crawlers.
A toy hauler has a lockable garage space where you can park your off-road vehicles such as four-wheelers and motorcycles in the back of the trailer. Then, you can lower them when you arrive to unload the off-road vehicles down the ramp. Once you take the off-road vehicles out of the storage garage, you can use the garage space as a porch area for lounging and enjoying a shaded retreat.
Related reading: Do Travel Trailers have Back-Up or Reverse Lights? (Is It Legal?)
The following chart describes the features of "toy hauler" or sport utility trailers:
| Trailer Feature | "Toy Hauler" or Sport Utility Trailer |
| --- | --- |
| Trailer Length | 18-40 ft |
| Trailer Weight | 3,000- 10,000 lbs |
| Trailer Features | Has an attached garage that can store off-road vehicles and supplies. The back of the trailer acts as a storage space. Some of the best amenities are available in the larger sized toy haulers. |
| Comfortability | Space is limited. Larger models are formidable. Some have pull-out side rooms that increase the square footage and comfortability.Driving comfortability is not great. |
| Storage Capacity | Storage is the best feature because you have a large lockable garage space in the rear of the trailer.Most storage spaces can fit multiple vehicles, and even most of your supplies.Offer the most storage space of any of the travel trailers on this list. |
| Sleeping Capacity | 4-8 people |
| Cost | $10k-$150k |
In Conclusion
Choosing the right size of a travel trailer can be a great experience. You will have to think about why you need a trailer and then compare the brands and sizes for your adventure. Remember that the features of every travel trailer may differ and that these categories of sizes are generalized.
The best answers will come from the questions you ask yourself about how much time you will be using the travel trailer, how many people it needs to fit, where you will be taking your travel trailer, and how large the car you are using to tow is. All other considerations are about comfortability and recreation and are secondary.
Sources:
Recommended reading
Dogs in Travel Trailers: Here is What You Need to Know
Do Travel Trailers have Back-Up or Reverse Lights? (Is It Legal?)
Do RV Rentals Include Mileage? (Free Unlimited Miles)
Recent Posts