Much like the tiny house craze that hit the country, living in a recreational vehicle or RV has become very trendy. There are a few reasons why people might choose to sell their house or not renew the lease of their rental home or apartment in favor of an RV. However, since RVs can be pretty pricey depending on what you get, there is a trend towards long-term rentals.
Renting an RV to live in: everything you need to know is a guide to help you work through the process of renting an RV that you may be living in for a while. This is not a decision to be taken lightly because while it is cheaper to rent an RV than it is to rent a house or apartment, you don't want to spend unnecessary amounts of money.
We are going to even talk about the pros and cons of renting a long-term RV versus buying one, why you would even think about living in an RV, where to rent one, and everything else that you need to know. The hope is that we make this process less overwhelming to having anything you need to know right here.
Why Live in an RV?
Like we said above, there are many reasons someone might choose to live in an RV long-term.  While any reason can be a good reason to embark on this adventure, it will really depend on your circumstances.  This is a good time to stop and really evaluate why you are considering living in an RV for any period of time.
Related reading: How Do RV Rentals Work: 7 Expert Tips
Knowing the reason behind what you do is the first step in making a wise decision in any area of life. The same goes for deciding to become a long-term RV dweller. So, let's dive in and talk about some of the reasons you might be doing this. The list isn't comprehensive, so if your reason isn't on here, that is okay, we are sure it is a great reason.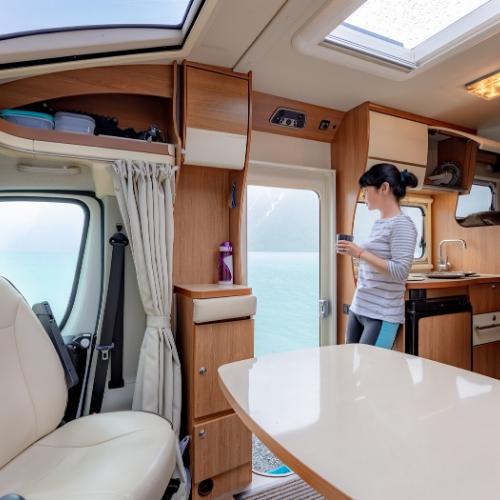 Traveling
Traveling and becoming a modern-day nomad is easier than ever now that we live in a digital world. You may be wondering what living in an internet-focused world has to do with RV living. Just stay with us, and we will explain.
Since it is so easy to access the internet from anywhere in the world (pretty much) remote employment and freelance work is a very popular way to make a living. Because of this trend, it has become very easy for people to realize their dreams of traveling around, whether it be by RV, flying from country to country, or anything else.
There are people now that have decided to sell their homes and rent an RV long-term to just travel from place to place.  Some are young families, some are single people or young couples, while others are retired and finally doing the traveling they have always wanted to do.
Save Money to Buy a House
This is similar to the tiny house movement. People abandoned high rent and mortgages to pay cash for a little tiny house while they got out of debt and saved money for a new big house. Saving money to buy a house can also be a reason why someone might rent an RV long-term.
Typically doing this is cheaper than paying rent or a mortgage on a home; however, it will really depend on the type of RV, the fees associated with the rental, and where you choose to park it. It is very important for you to do your research before committing to anything because you could end up not actually saving money if you get caught up in the fancy extras.
Related reading: Can You Rent an RV for a Whole Month?(Read This Before)
Interim Living Space
Another reason that you might rent an RV for a long period of time is for an interim living space. For example, if you have sold your home but won't close on your new house for a month or more and need a place to live in between. This would be cheaper and more convenient than trying to find a rental home or apartment.
Likewise, if you get a job transfer in a new city and don't have time to house or apartment hunt before you start the job, a long-term RV would be a really good option for you. Then you would have plenty of time to find the kind of home you would like to have in the price range that you need. It will really take the pressure off.
Traveling nurses sometimes rent RVs as they travel from job to job, so they don't have to pack up their belongings every couple of months when it is time to move.
You Want to Be a Full-Timer
If you are really wanting to be what they call a full-timer but want to try out different RVs or just test out the lifestyle first, you might want to try renting first. A full-timer is someone that lives in an RV all of the time and has no intention of not living in a recreational vehicle.
The full-time life is somewhat of an acquired taste, so it might be wise to test the waters first with a rental or two before you dive in.  Most full-timers own their RVs, so this is a good opportunity to narrow down the list of candidates and rent each one to try it out.
Purchasing an RV is a big investment and can be expensive, depending on what kind you end up buying. That is why it is so important to be sure you are buying the RV that is right for your life.
Is it Cost-Effective to Rent an RV?
One big thing to consider when you are looking at whether or not it will actually be cost-effective to rent an RV rather than buying one and being able to resell it at some point. Here is the thing, RVs are not like a brick and mortar home, so you can't think about the purchase or rental the same way.
While renting a house might be something that would be throwing money away and buying a home as an investment that could offer a return, an RV isn't the same. However, it is important to take all of the costs into consideration to see if it would really save you any money to rent.
What Does Renting an RV Cost?
If your plan is to live in an RV to save money while trying to buy a house, you may have to make some concessions on what you want.  There may be a lot on conveniences you have to forgo, and maybe you don't get the biggest or best RV on the market.  We say this because renting an RV long-term can range anywhere from $500-$1500 a month, depending on what you get.
This doesn't include any extras or fees associated with parking the RV. So, this may not be the best plan when trying to save money. However, for vacations, travel nurses, living space while waiting for your home to be ready, and other short term reasons, this isn't such a bad deal.
Also, when you are looking at rental sites, you may get a little bit of sticker shock.  You are going to see RVs that go for $200 or more a night.  Don't panic.  This is an area of life that allows for negotiation, and the RV owners are flexible.  There are a few reasons for flexibility. 
Competition is a big reason for how easy it is to negotiate with RV rental companies and owners. They are competing with each other. An RV that has a full rental calendar is more important for getting top dollar for a rental and have a ton of openings.
Incentives are also pretty easy to come by. The owners are very likely to have special pricing if you rent by the week or by month rather than by day. This is pretty common, and as a matter of fact, it is less likely for an owner to not offer incentive pricing.
Saves on Advertising and turn over are the underlying reasons why there is incentive pricing. Advertising the RV for rent can add up, and if the owner has a full schedule, then they don't have to pay for advertising as often. It also saves on the costs and time associated with turning the RV over to get it ready for a new guest. RV owners love long-term renters.
Pros and Cons of Renting vs. Owning
Now that we have talked about some of the details associated with renting an RV, we want to talk about the pros and cons of renting vs. owning an RV.
Pros

You can try out a few different types of RV if you are serious about buying. This can save you a lot of headaches later.

You don't have to worry about storing the RV when you aren't using it.

You haven't bought a depreciating asset.

It can be short term or long term.

Cons

It can be expensive, depending on how long of a rental you need.

You don't own the RV or anything in it.
What Does it Mean to Lease an RV?
This is a great question, and we can't wait to dive in and answer it. When we think about a lease, we are typically thinking in terms of an auto lease or a home lease. These are contracts that allow the use of the car or home for a specified number of years with a specified payment amount. In the end, you don't own anything, and you move on, whereas a rental on a car or home is typically more short term.
You can't actually lease an RV in the same way that you can lease a car.  You can rent them long term, typically by the week or the month, and you can negotiate with the owner or rental place on the length and final cost. But why can't you lease an RV like you do a car?
It is true that cars and RVs depreciate at about the same rate once you drive them off the lot.  The difference is that an RV costs quite a bit more than most cars that you would lease.  $100,000 depreciates at the rate of a car, but it is a significantly larger amount of money than the value that is lost in a car.  This is why dealerships don't lease RVs; they would lose too much money.
Where to Rent an RV
There are actually several different online rental services for RVs, and which one you choose really comes down to personal preference. However, there are some good options that we want to share to get you started. The three that we are sharing with you are what is called peer to peer rentals. So, think Airbnb for RVs.
Outdoorsy.com is highly rated and recommended.  Most users have great experiences and would use the service again. If you have ever used Airbnb, then you will be very familiar and comfortable with this setup. You can also usually find a coupon for 10% off your first booking.
RVshare.com is similar to Outdoorsy and is set up in a similar fashion.  This peer to peer service also comes highly rated and would offer a good experience for you and whoever is traveling with you.
Before you continue reading, here is an article we wrote pet friendly rental companies: Do RV Rentals Allow Pets? (Pet Friendly Companies)
Where to Park Your RV Rental Long-Term
We know that you probably think that all of this information is great, but what do you do with the RV once you rent it. Where do you park it? How do you know it a safe location, and what other things do you need to consider? You may also wonder how you are supposed to find a location. That is what we are here for, let us help. There are actually various options when it comes to finding a place to park.
Camp Ground or RV Park
This is the most obvious choice. Most people know of a campground or RV park in the area or can easily find one. Even if you are traveling in your rental and need to stop, RV parks are generally listed on the interstate lodging signs.
A quick google search will also bring up the available campgrounds or RV parks near your destination, but make sure you call first to make sure they are open and have availability. Checking the KOA website is great for finding one of their locations, and they are typically pretty safe and clean. They are also kid-friendly.
Related reading: Do RV Parks Allow Travel Trailers? – Read This Before You Go
Another good campground with RV parking is Jelly Stone. These are located all over the country. Just search online to find one near your destination. This place is geared toward kids and families, so if you don't have a need for that, you may want to look elsewhere, especially since this location can be a little bit more expensive.
State Parks
State parks are great because they are typically pretty affordable, as well as having things to do.  If you go to one of the bigger state parks, there is fishing, kayaking, hiking, swimming, and some other natural activities that can be enjoyed by the family or your travel companions. 
Calling ahead of time to make sure they have RV parking available for the dates you are needing is wise. They tend to have limited RV hookups, so don't get caught with no place to go.
Boondocking
Hear us out. We know the name is not that enticing, but this might be perfect for someone reading this. It is definitely the most adventurous and affordable option. It is so affordable because it is free. Yep, free.
Boondocking is when you park on public lands such as the beach, the woods, or the desert.  There are other options we are sure, but these are the most common.  There are no hooks up or electricity, so you are really camping in the truest sense of the word.  A term for this type of RVing or camping actually exists.  It is called dry camping.
If you are going to do this, make sure you are prepared with plenty of water, food, flashlights, firewood and starters, and anything else you might need if you have no amenities available. But hey, if you want an adventure and want to save money, then boondocking is for you.
Someone else's Property
This is the same concept as Airbnb or Outdoorsy but with RV parking and camping sites. There are websites that people list their land on. This land is available for people to rent to park their RV or set up a tent. There are a few that we would consider reputable.
HipCamp.com has a ton of campsites listed, and it isn't just camping or RV sites. There are also pre-setup sites with glamping tents or even people renting their tiny houses. This is a pretty neat site, and you are likely to find what you are looking for.
HarvestHost.com is pretty unique, and if you want to hook up your RV at a winery, farm, museum, brewery, or other listed attractions for free, then this is the place you need to visit. They have over 1000 listed sites, so there is probably something near you. You can't beat such a cool and free experience.
This may sound scary, but it really isn't. Make sure you go through a rental service because the people that list their campsites are screened and have to fill out extensive information before they are approved to list. Don't just camp in a random backyard because that isn't safe.
Things to Consider When Renting a Long-Term RV
Knowing all of the details and logistics that we have already talked about is important. Of course, you need to know where to rent, what to rent, how much it will cost, and where to park the recreational vehicle. If we just left it there, we would not be giving a guide to everything you need to know when renting an RV long-term.
There are a few other things that you need to consider when you are thinking about renting in an RV to live in. Now, if you are a single person that is just hitting the wide-open road on your own, then you might not need to give any thought to some of these things. However, most people will have to think about at least something that is on this list.
Related reading: Dogs in Travel Trailers: Here is What You Need to Know
How Many People and Pets
When you are planning to live in a house on wheels, it is important to realize that space is limited. But you do need to have a certain amount of living space and beds available depending on how many people will be traveling and living with you. Just one person can get away with a pretty small RV that won't cost much per week or month. However, if you have a spouse and children, then you need to think about that.
How many kids you have will determine how many sleeping spaces will be required in your long-term rental. You also need enough eating space as well as storage space for each person's clothing. Another thing to think about is toys, games, and other kid items that will likely be traveling and taking up space. None of these things are bad, but they do need to be thought about before you hit the road.
Do you have pets? Will they be with you on your adventure, or do you have a pet sitter or boarding facility? If you want to take your pets with you, then you make sure that the rental you choose is pet-friendly. Also, check with the RV sites that you want to use to make sure they allow pets. Depending on the size of your pet, you may need to get an RV that is bigger than you would have thought to accommodate them.
Plan Ahead if Possible
People love the idea of RVing because it gives them a certain amount of freedom. But there are still things that will need to be at least thought about if not planned. Where you are going to park the RV is one thing that needs to be planned. Whether you are parking long term in one spot or traveling from place to place, you need to know you have a spot to park your RV in for the duration of your stay.
If you are traveling in your rental, you might want to look into activities and fun things to do in the area. There are great websites to help you out with that. Also, is your rental for a cross country trip? Do you want it to be a one-way rental that can be dropped off at a location at your final destination so you can fly home? That needs to be planned in advance.
What Amenities do You Want?
Knowing what amenities are a must and which ones are negotiable is something that we recommend you think through before you start looking for your rental. It is important to have a dishwasher. Or a microwave? Do you need an outdoor TV or will you be fine without it? Is a shower fine, or do you need a bathtub?
When thinking about the amenities, you should take into account how long you will be living in the RV. Going without certain things for a short period of time might be easier than going without them for months on end. So really evaluate what you would consider deal-breakers in the rental RV.
This is not really an amenity, but where you not, you want a 5th wheel RV, a regular hitch RV, or an RV that you drive is important as well.
Extra RV Fees
If your main goal of renting a long-term RV is to save money, then this will be a very important section for you. The rental fee and parking fee are not exactly the end of the fees associated with long-term RV rentals. 
One of the other expenses that you need to think about is the gas if you have an RV that you drive. These take an insane amount of gas, so you need to add that to your monthly costs unless you are keeping in parked and not driving much. Also, propane is usually used for heating and cooking in an RV. This is an added expense that you, as the renter, will be responsible for.
Here, you can find an article from our website about the topic: Do RV Rentals Include Mileage? (Free Unlimited Miles)
It would be a good idea to ask the owner what the average cost for gas and propane is for the RV.  Also, if you are driving, make sure that the mileage is unlimited. If it isn't, then you could end up paying way more than you budgeted for.  If the mileage is limited, then you will be charged per mile that you go over.
Recommended reading
Can you Tow with a Rental RV? (Company Restrictions)
Dogs in Travel Trailers: Here is What You Need to Know
Do Travel Trailers have Back-Up or Reverse Lights? (Is It Legal?)
Recent Posts