Are you looking for RVshare reviews or asking yourself how good is this RV rental service really?
Look no more. We´ve got you covered.
As people are staying at home more and trying to save money on vacations, RVs have become exceedingly popular. However, purchasing an RV is still an expensive endeavor.
RVs have to be parked somewhere when you are not driving them, and some people do not want to have their driveways filled with a massive RV. That is where RVshare comes in.
RVshare is kind of like a vacation rental by owner or timeshare. The service connects clients to RV owners either in their hometown or in the area to which they want to travel.
Clients get to rent from fellow owners, rather than through an RV company, which definitely can have added benefits. But how good is RVshare? Is it worth it?
Company History
According to the company website, the idea for RVshare started when the owners purchased an RV for their honeymoon.
After realizing their honeymoon was over and they still had a large RV and all of the maintenance, they began to have second thoughts, and the idea of renting out the RV was born.
RVshare calls itself a "peer-to-peer" RV marketplace. So, it is more than just renting used RVs.
It is instead renting RVs from someone who will be inspired to take care of the RV because when it gets back to them, they will use it again.
RVshare's website stresses the importance of not leaving RVs sitting throughout the year. This was likely inspired by the founders of the company when they realized their own RV was going to sit unused for 90% of the year.
Today, RV share is available across the United States.
What is RVshare? What Services Do They Offer?
RVshare is an RV rental service that connects RV owners to RV renters. This includes several different services in an attempt to offer everything an RV renter may need.
Renting an RV from RVshare
When you rent an RV from RVshare, you are renting from a real RV owner. You can select your current location or your destination location.
If the RV you want is not available in either of those locations, some RVshare owners will deliver the RV to your starting location.
This is not offered for all of the RVs, so you will have to check on your own. 
When you select the RV you want to rent, you have the option to search with many filters. You can search by type, by price, and by capacity (how many can sleep in the RV).
Once you have narrowed down your options, you can compare the reviews of each RV.
There may be some rental rules for the particular RV you choose. These can be age limits, smoking/non-smoking, and any restrictions on pets.
You have the opportunity to contact the owner through RVshare to ask any questions you may. Finally, you can "request to book" and find out if you are approved to rent.
Renting An RV: As Explained By RVshare >> Check out the video below:
RVshare's Rental Insurance Reviews
One of RVshare's favorite features to highlight is their rental insurance. It is provided through RVshare for owners who rent out their RVs through the service.
It offers roadside assistance, liability, and collision coverage. This is only available for RVs that are no more than 15 years old.
If you are renting an RV, some RVshare rental insurance options are available for you also. Though, as with most things, there is a standard option and a premium option (which, of course, costs extra).
If the owner has selected to use RVshare's insurance, the standard insurance is applied immediately.
Standard insurance covers up to $200,000 in comprehensive and collision coverage. It also covers roadside assistance (which includes towing and/or flat tire assistance).
Read also: What Does RV Insurance Cover? A Comprehensive Guide
The last offering in the standard insurance is the state statutory limits on liability. This last offering is only available for motorhomes, not for trailers.
If you want to shell out the extra money for premium coverage, your deductible can go down. Also, you get protection from falling objects and/or broken glass.
While this feature is nice, it is frustrating to see it listed as a premium option when broken glass seems like a common problem to run across when renting RVs.
If you do not have insurance that would otherwise cover your rentals, though, this is a pretty nice service for RVshare to have.
It gives you extra peace of mind when renting, and the price is fair for what you get.
They do not share which RV insurance company they use, but in some ways, they do cut out the middle-man by dealing with that for you.
Read also: RV Insurance for Rentals: What You Need and Why
RVshare's Roadside Assistance
Roadside assistance is offered through RVshare's rental insurance and is included for all of the RVs, should the owners request it.
This includes just about anything that you can expect from roadside assistance offerings. There is a call center available to help walk you through any problems that may arise.
You also have access to towing service, tire service, battery service, lockout service, and extraction service. Extraction service is for vehicles that are stuck or off the road.
The last offering from RVshare's roadside assistance is emergency supply delivery. This means if you need more water, gas, or oil you can call and they will send someone to help you.
Since many other roadside assistance services do not necessarily cover RVs, this is a valuable service.
If you do not pay for another roadside assistance service, it is also great to have access to that service just during your rental.
This offering is great to help you enjoy your vacation and not worry about things going wrong.
Read also: Does Your Auto Insurance Cover a Travel Trailer? [Updated Rules]
RVshare Rental Rates
The fees on RVshare are listed as price per day, so much like a hotel room, you will get a price that covers each day, rather than a price for your total trip.
This is great if you are trying to plan your trip based on your budget.
RVshare claims to have rentals available for as low as $10. However, realistically you will likely not find many $10 rentals available. For example, a quick search in a random city (Wooster, OH was the selection), most RVs were in the $100-$150 per day range, though a few $20 per day options were available.
The reason for the various prices is due to the pricing tiers that RVshare uses. They classify trailers and RVs into six different categories that include price ranges.
If you're curious, the categories are Class A, Class B, Class C, Travel Trailers, Fifth Wheels, and Pop Up Trailers. Class A RVs tend to be the most expensive, with pop up trailers being the least expensive.
Class A RVs are listed between $175 and $275 per day. Pop up trailers are listed between $50 and $100 per day.
You can find those less expensive options given the age and quality of the trailer, and other options (pets, smoking, etc.) so there are budget options available, depending on your location.
Read also: Can You Rent an RV for a Whole Month?(Read This Before)
Extra Income For RV Owners
Tips for Renting Your RV on RVshare >> Check out the video below:
Pros and Cons to Using RVshare
Now that you have most of the information about using RVshare, we can look more practically at if this service is really worth what they are asking.
Pros of RVshare
RVshare offers deliverable RVs. This means if you find an RV you love that is not in your area, some owners will deliver the RV to you.
This opens the door to far more options when you are renting!
✔️ Roadside assistance and RV insurance offered through the rental service can give you added peace of mind and help protect both the renter and the owner.
✔️ RVshare encourages repeat customers by offering 5% cashback when you create an account and book future trips.
✔️ Some RVs are pet-friendly (you will have to check when you do your search), which many RV rental companies do not offer.
On the other hand, if you have allergies, you can rent a pet-free RV to avoid pet hair and dander.
Read also: Do RV Rentals Allow Pets? (Pet Friendly Companies)
Cons of RVshare
Because the RVs are offered by owners and not by a centralized RV rental service, the owners have the most control over the quality. This may mean that owners are not regularly inspected.
You have the option to leave reviews, which in itself is a pro. However, just because you can leave reviews does not mean that much can be done if you go to pick up the RV and find a problem.
This is particularly frustrating if there are not many rental options in your area.
❌ The insurance fees can be quite variable, which may be irritating if you want to have control over your budget when renting.
❌ Some reviewers on Trustpilot have complained that RVshare has little control over owners who are not offering what they say they are.
Reviewers mentioned renting an RV, only to find out it was not what was promised and RVshare did nothing to step in.
❌ This is a common complaint, particularly with the emphasis that RVshare tends to side with RV owners and not with customers.
❌ For RV owners, there are reported issues with removing listings and limited assistance until it is too late.
RVshare Customer Service: How to Get Help?
RVshare has a help page on their website that has frequent problems that you can search through. If you have questions or concerns throughout the rental process, you can search through their help center and find answers.
Furthermore, they have a company customer service number that you can call should you have any other unanswered questions or topics.
Through their roadside assistance, RVshare does offer roadside assistance that you can call. Their call center will help walk you through any problems you may have while on the road.
If you would like to speak with one of our Customer Experience agents, our phone support is available 24 hours a day, 7 days a week at 1-888-482-0234.
To contact us via email, please complete the following contact request form: https://help-rvshare.force.com/s/contactsupport
Read Customer Service Reviews of rvshare.com
Our first time using RV share was a…(5*) by Tom B.
"Our first time using RV share was a home run. WE had an excellent experience with the whole process of finding, booking the RV, and most of all, the RV we rented was perfect. Everything about our experience was spot on. We would use the service again for sure."
Everything was exactly as expected (5 Stars) by Isalah R.
"Everything was exactly as expected. No surprise is a great thing. The great owner was great to work with. The unit was in terrific shape. Excellent experience."
Beware of Them Holding Your Deposit!!! (2*) by Kevin H.
"This whole RV experience was great, right up to the point when it was time to release my $1500 security deposit.

The owner suddenly 'found' a broken kitchen cabinet handle after we did the walk around. She then charged $45 against my deposit but refused to release the remaining $1455 until it was resolved.

She and RVshare held my money for over a week after my rental was completed, and she never submitted estimates for repairs. This was after she told me she had released the deposit. I went to go pay someone money I owed, and nope, it wasn't there.

That was super embarrassing. She and RVshare turned a good rental into a horrible experience by not releasing my deposit and creating a mega hassle for me at the end.

Where do I go to get reimbursed for the many hours I spent on the phone, texting, and generally arguing for the return of my money.

I will certainly think twice about ever renting from them again!"
I love RV Share and have had great… (4*) by Keith T.
"I love RV Share and have had great experiences with them. The site is easy to use and communication is very good.

My only ding is the length of time to get your deposit back after a trip is completed.

They do tell you that on the site, but it just seems excessively long."
Listing an RVshare- What to Do
Listing an RV through RVshare is a pretty simple process. The link to list your RV is on the main page of the website.
You select the type of RV you have and add your contact information, so RVshare can reach out to you with the next steps you need to take.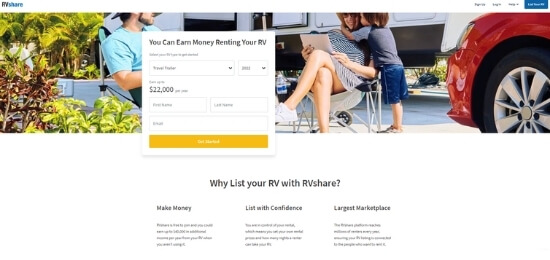 Maybe this explains some of those "bait and switch" reviews, as the owners themselves get to make the initial designation of Class A, B, C, etc.
Once you have submitted your rental request, you submit photos and set the security deposit amount you want.
If you are overwhelmed at needing to choose your own security deposit, RVshare does offer rental coaches, who can help talk you through some of the owner decisions.
RVshare will deal with all of the money handlings, but you will communicate with the customer about rules, add-ons, and any other expectations you may have.
RVshare verifies renters, so that can take a lot of the guesswork out of the process.
They will confirm the customers and offer some protection that may not be offered through other sites and options.
Once you have submitted your listing, you are ready to start accepting rental applications. When you have clients ready to rent, you go through the condition of the RV before and after the trip with the customer.
Overall, it seems like a pretty simple process to set up, though some of that is because the legwork is done by the owners themselves (with coaching available).
Outdoorsy vs RVshare
Outdoorsy is a similar service to RVshare. They offer a wide variety of RV rentals in your area. They also have the added benefits of delivery and roadside assistance.
While RVshare does not share who their RV insurance is provided by, Outdoorsy uses insurance through Liberty Mutual.
👉 The two companies have very similar structures and websites. The differences are primarily in the details. For example, Outdoorsy offers three different tiers of cancellation policies.
You agree to the cancellation policy before renting. RVshare has six different cancellation policies.
As an RV owner, you can determine if you would rather have more complexity but more options, or more simplified options.
👉 Outdoorsy has more positive reviews on Trustpilot than RVshare does, but their negative reviews tend to be over similar complaints.
However, Outdoorsy does have more complaints about the particular RV rented, not necessarily Outdoorsy as a company.
Furthermore, Outdoorsy has replied to all of these complaints and offered to help, which I did not find with RVshare's reviews (they selectively replied).
👉 With these reviews, we can see that Outdoorsy has a slightly wider reach with their customer service team, which definitely gives more peace of mind to the renters. Outdoorsy also has a "how it works" section of their website that includes explanations for topics like insurance, roadside assistance, renting and listing, etc.
This information is not as prevalent on RVshare.
While overall the companies seem to have similar offerings, Outdoorsy does seem to have better customer service, which is a huge plus for renters.
Read also: Campers for Rent | Get a Camper Rental From Outdoorsy Today!
RVshare Lawsuit
If you have an issue with one of your rentals through RVshare, they do offer options before things need to go to a lawsuit.
This is a good choice if you want to avoid the time and legal fees required by a court battle. The process can be a bit arduous but does seem to be efficient for conflict resolution.
RVshare calls this a "dispute case," and the process is handled largely between the owner and the renter. The renter has to fill out a form explaining the disputation and how they would solve the problem.
This form is sent to the RV owner who can choose to reject or accept it. If they reject it, they fill out the form and send it back to the renter.
This back and forth can go on a couple of times. If no solution is reached, THEN RVshare gets involved. Personally, I would love if RVshare were more involved throughout the process. RVshare will decide the final solution to the conflict.
RVshare does offer guidelines for the "dispute cases," which will hopefully keep things civil. These guidelines include rules like "respectful tone and language," "avoid personal attacks," and "be understanding."
Overall, while offering the "dispute claims" option, it does take a lot of the responsibility and place it on the renter and owner. While this may allow for better compromise, it may also put more strain and stress into the process.
Private RV Rentals
If you are renting your RV through RVshare, likely you are more interested in the practical costs and options available.
This is largely going to be dependent on where you live and the kind of RV you want.
You can easily search on RVshare to see what RV rental options are available at your location or destination.
What is the Average Cost to Rent an RV for a Week?
The motorhomes cost more than the trailers, but they do have added perks. On average, if you are renting a Class A, B, or C motorhome, you will likely need to budget around $1,300 per week. If you are renting a trailer, you will likely need to budget around $650 per week.
Although the cost may vary based on location, quality, year, and add-ons, we can still look at how much you can expect to spend when renting through RVshare for a week.
Motorhome Type
Average Cost day (USD)
Average Cost week (USD)
(incl. Insurance)
Class A
$175 – $275
$1600
Class B
$100 – $200
$1075
Class C
$150 – $200
$1250
Travel Trailer
$50 – $125
$630
Fifth Wheel
$60 – $150
$760
Pop up trailer
$50 – $100
$550
Average Cost to Rent an RV for a Week
Class A motorhomes are the most expensive, but also the most luxurious options available. Class A motorhomes have heavy frames, much like a semi-truck.
They have the most inside room, which will make your RV feel more like a house. They tend to be able to hold 2-4 people.
RVshare lists the average cost of a Class A motorhome ranging between $175 and $275 per day. If we assume you will rent somewhere directly in the middle, you would be looking at $225 per day, which is $1,575 per week.
Add the estimated cost of insurance, and it will be around $1,600 per week to rent a Class A motorhome through RVshare.  
Class B motorhomes are more like large vans. There is a much smaller inside space than you would find within Class A motorhomes.
These are the smaller RV options available. Their cost on RVshare is between $100 and $200 per day. If we assume the cost will be $150 per day and add insurance costs, that would amount to approximately $1,075 per week through RVshare.
Class C motorhomes are like a combination of Class A and Class B motorhomes. These include over-cabin sleeping areas.
While they have less inside room than Class A motorhomes, they do have more sleeping areas thanks to that overhead cabin.
Class C motorhomes cost around $150 to $200 per night on RVshare. If we assume an average rate of $175 per day and add an estimated insurance cost of approximately $1,250 to rent a Class C motorhome for a week through RVshare.
Using these same basic formulas, with travel trailers ranging between $50 and $125 per day, we can expect a weekly fee of about $630 per week to rent a travel trailer through RVshare.
Fifth Wheels on RVshare range in price between $60 and $150 per day. This would come to a weekly estimate of around $760 to rent through RVshare.
Lastly, Pop Up trailers range in price on RVshare between $50 and $100 per day, amounting to about $550 per week through RVshare.
What is the Smallest RV You Can Rent?
The smallest motorhome you can rent is a Class B motorhome. The smallest trailer would either be a fifth wheel or travel trailer, depending on the design of the particular trailer you are renting.
RVshare Reviews FAQs
Let's close out this page about RVshare reviews with answers to some of your most frequently-asked questions about them!
Who Owns RVshare?
RVshare's current CEO (as of 2019) is Jon Gray.
Is RVshare Legit?
Yes, RVshare is a legitimate company. It offers peer-to-peer RV rentals. They offer customer service and reviews, but each owner is up to listing and maintaining their own rentals.
Can You Make Money on RVshare?
Yes, It is possible to make money by renting out your RV. The amount you make is dependent on the type of RV you own, its model, and its year.
You will also be able to make more money if you live in an area where RV rental is particularly popular.
How Much is RVshare Commission?
How much is RVshare commission? RVshare charges a 25% commission on the rental rate. They also charge 25% on any other charges made "for profit" (for example, a cleaning fee that does not include an invoice for hired cleaners).
What Kind of Insurance do I need to Rent Out My RV?
What kind of insurance do i need to rent out my RV? You will need RV insurance to rent out your RV. This should include loss replacement, comprehensive coverage, and emergency expenses. RVshare does offer RV insurance should you agree to it.
RVshare Review: Conclusion
RVshare review is a great service if you own an RV and are looking to rent it out in order to make a little bit of extra money.
For renters, they have a lot of options and a lot more flexibility than you would get through other RV rental sites.
The RV insurance is a huge plus, as is the roadside assistance. The biggest problem would be the customer service, which is working to improve.
References
https://www.thewanderingrv.com/rvshare-review/
https://www.trustpilot.com/review/rvshare.com
Recent Posts