Ready to rent a camper for your next vacation in the US or Canada?
Or are you looking for campers for rent to live in? Outdoorsy got you covered. Search thousands of campers for rent by owner in your area. Outdoorsy is our top choice.
How much are average camper rentals? Renting a camper is affordable, on average you can expect to pay between $50 and $150 per night to rent a camper or campervans.
There's no better way to try before you buy than by renting a camper. You can rent a camper near home and journey to your destination or fly and pick up your camper at the other end.
Many people rent RVs simply for a change of pace by taking an RV trip to a special event or destination with friends and family.
In this article I will explain why Outdoorsy our first choice for camper rental is and for you the best RV rental company on the market.
What Are RV / Camper Rentals?
Any vehicle that rolls down the road with you that serves to also give you a place to lay your head at night classifies as an RV, camper, or motorhome.
Most folks that would like to make the "grand road trip" don't own the right type of vehicle to make it a great trip. This is where renting an RV or camper may be the perfect option for you.
Luckily, this market is growing, and there are many options out there to research and find the perfect road trip fit.
Can You Rent RV Campers?
Traveling via plane, cruise, even staying in resorts, all come with some worry with the turmoil and concern in today's travel industry.
However, this doesn't negate the need families have to travel and take time out of the stresses of everyday life in the highly unusual circumstances of the day.
Road trips are a great way to see places you've always wanted to visit but never the opportunity.
However, the expense of buying a travel trailer, camper, or motorhome just may not be in the budget for most. The great news is: buying is not your only option! Renting a camper is the perfect answer for a perfect family vacation.
You can rent just about anything on wheels from travel trailers (tow behind) to large motorcoaches – whatever is the best fit for your family.
Where To Rent A Camper: Outdoorsy
There is no lack of places you can find to rent an RV camper from in today's world.
Like with anything that has so many options, not all camper rental businesses are created equal. One of the best to use is Outdoorsy.
You can go to Outdoorsy and rent just about any kind of camper. They are not a straight rental place, and in fact, use peer-to-peer rentals.
You can go on there and either rent someone else's camper or rent out your camper.
If you are looking to rent, everyone who puts their camper up on the site must pass the application process and be trusted.
You can find many kinds of campers for rent on Outdoorsy, from traditional truck campers to truly unique campers.
They have plenty of satisfied customers, with 5-star reviews totaling over 5,000. They have up to a million dollars of insurance for approved rentals, and they have roadside assistance available 24 hours a day, seven days a week.
If you are interested in looking at their thousands of available, different campers, you can go to their site and do the whole process online, no need to talk to anyone.
Camper Rentals Pros
Some genuine people are not campers people. The sad thing is that many people have convinced themselves that they are "not an RV person" without even trying it – and they might be a total "RV person."
There are differences between a top of the line hotel and a top tier camper rental, but who says they are all bad?
Check out these pros AND cons before you decide on turning your back on a camper forever.
✔️ No place is off-limits – From the beach to the wild, you can go wherever you want. Just pick a spot on the map, drive there, pull into a parking space, and stay where you want.
✔️ More chance for adventure – This gives you more opportunity to do things you might not otherwise do. If you're going to camp but really can't stomach sleeping on the ground, this is your chance.
If you can't afford beachfront prices, you can rent your RV and find beachfront parking for a more affordable vacation. The world is your adventure.
✔️ Exploration meets resting – You will save time and energy because you can park closer to the places you want to explore.
This will allow you to rest when needed and not get overtired and miserable trying to fit everything in – including extended and repeated travel times.
✔️ Meet more interesting people – There are no more interesting people than those you will meet while RVing. They have the best stories, the loveliest souls, and the kindest hearts.
Camper Rentals Cons
❌ Can't hide from the weather – If you are in a camper and it rains, you are in your camper until the storms pass.
You will want to plan that out ahead of time because most sites have horrible internet connections, so download what you may want to read, watch or play on your electronic devices before you go.
❌ Maybe too much family bonding – If you are going RVing with a family and not just a couple, keep in mind that the camper is a tight space.
It is not easy to get away from each other on those days when you are stuck in the camper because you are traveling, or due to weather, it may be easier to break into bickering or full-on fighting.
Also, most campers have but one teeny-tiny bathroom, so though you will have access to facilities at the RV/camper grounds, but keep in mind they are not always the best.
❌ Still camping – so you will get bugs – staying in an RV is not a complete diversion from camping. Yes, you will have bugs come into your camper.
It is inevitable – you are still parking and staying in nature. This is not going to be an invasion.
No bugs will swarm you. You will see some flying around your doors, windows, and maybe your lights.
There is no better way to find the best part of nature than to take your vacation in a camper. For so many devotees, the pros are so much better than the cons, making any discomfort worth it.
You can feel freedom while traveling in your camper, moving your home away from home with you as you meet new and intriguing people and discover so much more of the world around you.
Browse Your Campers For Rent Now: How To Rent a Camper On Outdoorsy?
You will have to know what you are looking for when it comes to RV rentals. Outdoorsy can help you from the start of the process to the end.
They pride themselves on being the most polished and efficient camper rental site around.
They genuinely cared and built their brand on trust and community. To use the platform, you first need to go to the site and search for rentals in your area.
You will get a list that pulls up and to get the specifics of each listing. You will need to click on them. You can save the ones that you like for further review and comparison later.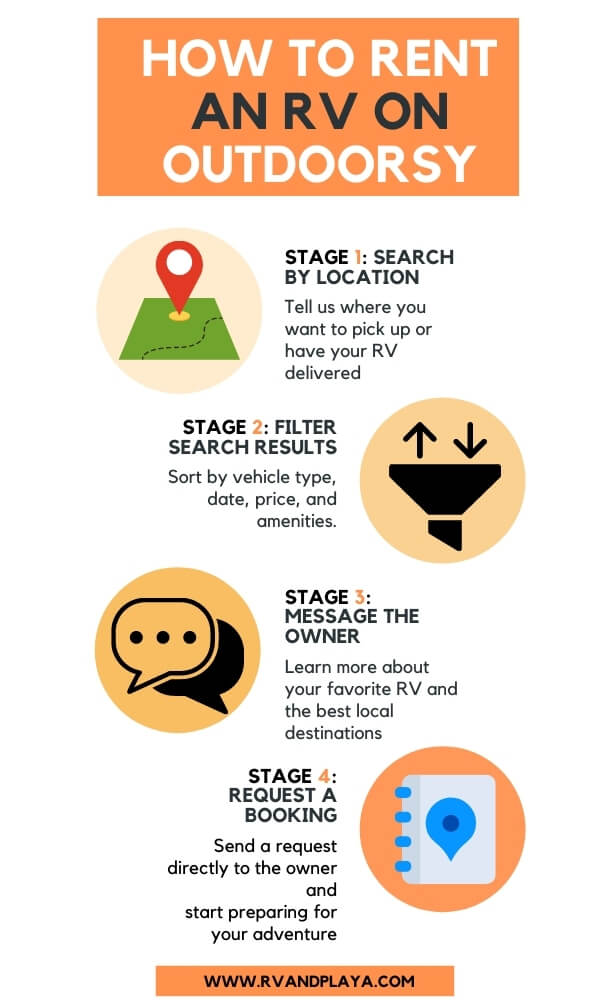 Once you have the perfect RV, you will send the owner a request ot book from the listing. This will open dialogue, and you can ask specific questions that weren't covered in the listing. You can also arrange the details of the rental.
Outdoorsy allows for rental delivery or pickup, with the owner doing a walkthrough key exchange to give you all information and answer last-minute questions.
You will then be off on your camper vacation, safe in the knowledge that even here, Outdoorsy is there for you with their all-day, everyday roadside assistance with every rental.
When you return, all you have to do is return your rental to the owner, in the same condition you took it in and on the terms agreed upon.
Average Cost For Campers For Rent To Live In?
What is the average cost for campers for rent? The average cost for campers to live in will be a little higher than that $50 to $150 per night to rent for travel. Having a trailer that you live in likely means that you will have to pay additional fees to have the camper parked and set up to live in. The average cost will be between approximately $100 to $200 a night.
Campers For Rent Monthly Cost?
For the most part, campers can cost anywhere from $50 to $150 per night.
If you are looking to rent monthly, you may get a deal for the amount of time, but the monthly rent cost will be approximately anywhere from $1,500 to $4,500. That is cheaper than some rental houses, or Air BnBs are for only a week.
Of course, the discrepancy comes in because the age, location, make, model, and type all play into the camper rental's total cost. Nightly, the camper will also be cheaper than a hotel room.
Related reading: Monthly RV Rentals: Easily Find Great Deals on Long-Term
How Much Does It Cost To Rent a Camper For a Week?
A night or two is usually not enough to take in all the wonders of traveling via RV or Camper, the places you want to explore, the locales you've always dreamed of seeing.
Most families that decide to rent an RV to hit the roads do so for at least one week.
When you travel somewhere by plane, you usually only have to account for short trips by car, and your overall flight time into your "travel time – the rest is spent on the "vacation" itself.
How much does it cost to rent a camper for a week? Like renting an RV for a month or more, you may be offered discounts through the renter, so the cost may range from $500 to $2500 for a week-long rental.
Are There Campers For Rent Near Me?
Are there campers for rent near ne or my area? Of course, there are. Outdoorsy has excellent options for trailers available all around the country. If there are RV owners in the area, there is the option to put them up on Outdoorsy.
Do not hesitate to go to the site and check out the great choices available in your area. There is no doubt that you can find exactly what you are looking for right near your home with thousands of options.
Do I Need Insurance When I Rent a Camper?
Do I need insurance when I rent a camper? Indeed! Renting a camper or RV is much like renting a car, or owning one. The experts over at Allstate highly recommend motorhome rental insurance to protect from the issues that some other insurances that you may have won't protect from.
They say "Phil Ingrassia, president of the RV Dealers Association (RVDA), says a motorhome's size — and the fact that many rental drivers are behind the wheel of these bigger rigs for the first time — can increase the chance that you sideswipe a pole, dent another RV, and more."
I have recently written an article in which I review Good Sam RV Insurance: "Is Good Sam RV Insurance Any Good? An Honest Review[Updated]" in more detail, follow the link to read this article.
Do I Need To Return My Rental RV with a Full Tank?
Everyone is familiar with most car rental company's policy of returning the car with a full tank of gas unless you like paying the astronomical per gallon price they will charge if you don't. Renting a camper or RV is typically no different.
Do I need to return my rental RV with a full tank? Yes. most RV rental companies will require you to return your rental full. In fact, the per-gallon price for filling those really big tanks up hurt much more to your pocketbook than just returning it filled, to begin with.
Are Camper Rentals Pet-Friendly?
Our furry friends are family too to most of us humans. One of the added benefits people see in traveling by RV or camper is the ability to bring their pets with them.
However, this usually means that there is a bit of extra cleaning to look forward to – by the renter and rentee.
Due to this touchy subject, many major rental companies prohibit pets in their rentals. This might be a benefit to using a peer to peer source, as you can weed out who will and won't allow you to take your Buddy with you.
Read also: Do RV Rentals Allow Pets? (Pet Friendly Companies)
Do RV Rentals Offer Delivery?
Do RV rentals offer delivery? Yes, you can hit the road sooner and right from your front door, there are several companies and peer to peer sources who have both pickup options and offer delivery services.
Especially if you are renting something that requires set up, it's often easier to have it brought to your door and set up for you. Several options will do this for a fee, and let you hit that road, Jack!
Pop-up Campers For Rent: What To Consider?
Pop-up rentals are their animal. However, they are a great experience to take on a camper vacation. These particular types of RVs will allow you to take your trip anywhere.
That being said, there are things to consider you won't have to think about other types of campers.
You will need a tow-hitch, and that will let you drag the trailer behind you. This makes it even easier to go anywhere, as you can detach your vehicle from it and leave the trailer behind if easier.
They are easier to get into more remote areas, making it easier to stay in those areas.
Remember, you also will have to set up and breakdown the RV every day, just like camp.
The pop-up will have no bathroom, so you will still have to stop at rest areas and go out to facilities in the places you park in the middle of the night.
Also, they are smaller than truck RVs and do not keep out the weather as well.
2 Best Pop Up Campers For Rent Today
2016 Forest River Rockwood Freedom 235xr
2016 Forest River POP UP Camper with Toy Hauler. Sleeps 4-6. Extra Storage for ATV, 4 bikes, paddleboards, etc…. Full kitchen setup and bedding provided. Blankets, Pillows, Sleeping bags.
Cool stuff we like about this camper: Hot water heater, Refrigerator, 3 burner stove, sink, furnace, toilet, heated mattresses (hookup required).
? Length 22ft 
? Sleeps: 4
? Pet friendly
? Rate: Approx. $100 per night
? Click here to see the full specs.
2019 Forest River Flagstaff Classic
This is a beautiful 2019, hard side A frame style pop-up camper. This trailer is awesome! You can sleep 4. There are two twin beds that can convert with an insert into a very large King size bed.
The dining area can also convert into a bed for additional guests. Sheets are provided for all beds. You will need your own blankets and pillows.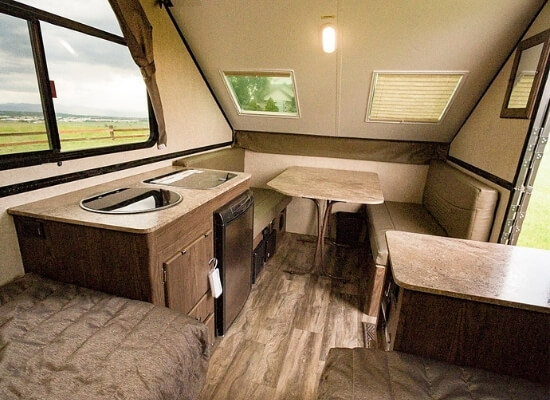 This unit is equipped with a 3 burner stove, a sink, a microwave (if you have shore or generator power, 30amp), refrigerator, radio, a/c (if you have shore or generator power, 30amp), an electric as well as a propane heater, a dining area, and a portable gas barbecue with an outdoor prep table.
There is even an outdoor shower if you need to rinse off.
? Length 21ft 
? Sleeps: 4
? Rate: Approx. $110 per night
? Pet friendly (Furry copilots are allowed on board.)
? Click here to see the full specs.
Truck Campers For Rent: What To Consider?
Truck campers are great vehicles and the ideal way to experience an RV vacation.
These campers are their vehicle, and they have connected living space and dining space. You have access to a kitchen, an entertainment area, and have plenty of places to sleep.
You can tow a vehicle behind most truck campers and have plenty of additional storage and packing ability. They have their bathrooms and are a great way to take a unique vacation.
They can be expensive. Luxury models can double that high end $150 of regular models and cost upwards of $300. Fuel costs are astronomical, and they go through their tanks quickly.
Though they are mobile and able to be taken on the road, they are not as quickly maneuvered and can take some practice to drive (and especially to park) well.
Make sure to consider how big you want and how big you need as well.
2 Best Truck Campers For Rent Today
2019 Four Wheel Campers Hawk
This is the ultimate Go-anywhere adventure vehicle with a truck large enough to comfortably accommodate the camper, passengers and cargo and is well below the manufacturer limits to allow you explore with confidence regardless of if you hit the more off the grid campsites or plan to travel to more established sites with hookups.
? Length 18ft
? Sleeps: 4
? Pet Friendly (Furry copilots are allowed on board.)
? Rate: Approx. $178 per night
? Click here to see the full specs.
2019 Palomino Real-Lite + Chevy Truck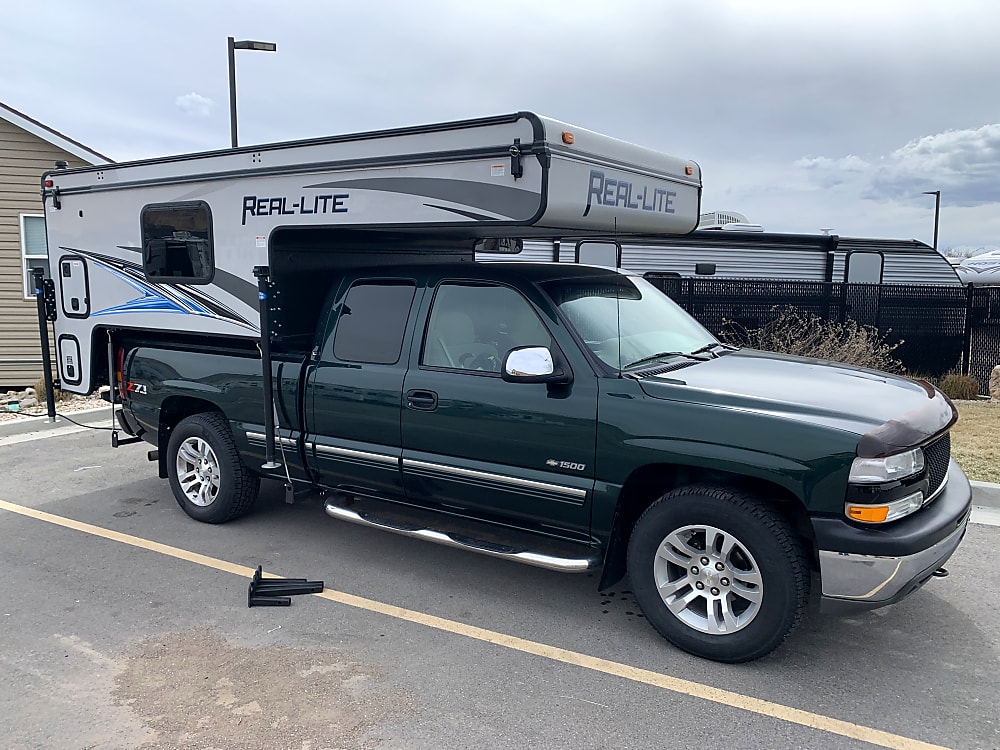 This brand new 2019 Palomino Real-Lite RL 1608 pop-up camper and well kept 01 Chevrolet Silverado with less that 60K will be perfect for your Montana adventure.
This pop-up camper/ truck combo is very easy to drive and park almost anywhere. The camper has an available generator for your boon-docking adventure.
Kitchen is stocked with plates, cups, mugs, cutlery and basic cooking equipment. Bedding included for one Queen sized bed and extra bedding upon request for the table bed most suitable for children.
The camper also features 2 USB plugs to keep your electronics charging. And plugins work if you have the Generator along.
? Length 15ft
? Sleeps: 3
? Pet Friendly (Furry copilots are allowed on board.)
? Rate: Approx. $229 per night
? Click here to see the full specs.
Campers for Rent FAQs
Let's close out this page about campers for rent with answers to some of your most frequently-asked questions about them!
Are There Camper Rentals With Unlimited Mileage?
Renting an RV can be done through multiple avenues. There are plenty of corporate agencies, like renting a car, that offer RV rentals.
Sometimes this may be the best option for you, as they tend to offer a little bit more assurance in being a larger company to ensure you have good roadside assistance, and that proper protocol is being followed between each rental. Another avenue is a peer to peer style rental.
These are folks who own their RVs, who don't travel in them year-round, and rent them out when they are not using them, While a few of the larger companies do offer unlimited mileage with their rentals, many do have a per-mile charge.
Most peer to peer rentals, however, do offer unlimited mileage. Figuring out mileage may be more trouble than it's worth to all parties involved, so including mileage in their per night fee may be just as easy.
How Many Miles Per Day Should You Drive a Camper?
How many miles per day should you drive a camper? Driving around 400 miles in an RV per day is usually a good point to try and achieve. Anymore and you risk rushing things, which can put a lot of stress on the rig itself, and the already nervous drivers.
Since many campers and RVs have lesser recommended speeds than your average car (think about how much larger they are), it is not feasible to assume that you will be driving the same as you would in a regular car.
Many campgrounds that you may stop at along the way have a great deal of fun and inviting things to do there, or any local spot you want to take in is not a full day adventure.
Getting to your campground and set up by about 4 to 5 o'clock to enjoy the remainder of the day is a great idea.
How Old Do You Have To Be To Rent a Camper?
How old do you have to be to rent a camper? Also just like renting a car, the average age for most rental sources is going to be 25 years old. This age means that the person renting the vehicle can provide their own source of insurance with the lower rates offered, so offers a bit more peace of mind to the folks renting the rig out.
Which States Require a Special License To Drive A Camper?
Each state has its own set of rules when it comes to renting a motorhome – most having to do with the size of the motorhome. 
Outdoorsy provides a comprehensive list of all states and their requirements. Most Class C vehicles weigh less than 12,000 pounds and do not require special licensing.
When you get into Class A and B vehicles – 13,000 to 30,000 pound big coaches – that's when special licensing will come into play.
Many states also require commercial licensing if it is over 26,000 pounds.  
Recent Posts