RV owners know the freedom, affordability, and convenience of using a recreational vehicle. However, most people use their RV only for the occasional trip, which means it is left to sit unused for the majority of the time.
For this reason, it's natural to start thinking about renting out your RV to make some passive income.
What kind of insurance do you need to rent out your RV? You'll want liability insurance and RV rental insurance to cover your RV while it's being rented. While you could theoretically have liability insurance only for your personal use, when renting to someone else, you'll also want RV rental insurance to protect you and your property.
You have a few options when deciding which insurance policy is right when renting out your RV, but note that your personal RV insurance policy is unlikely to cover your RV when it's being rented or used by someone else.
Types of RV Insurance Needed for Rentals
There are two types of insurance you'll need if you're planning to rent out your motorhome, regardless of whether you post on a peer-to-peer site, post a private ad, or just rent to a friend.
RV liability insurance: Covers property damage or injury to others while using the RV
RV rental insurance: Offers limited liability, collision, and comprehensive coverage
As with car insurance, your state will mandate the minimum liability coverage amount. Some states also require uninsured or underinsured motorist coverage.
In addition, almost every motorhome owner will want to have comprehensive insurance to protect their RV from accidents and other forms of damage.
Where Can You Get RV Rental Insurance?
When you decide to rent out your RV, you generally have a few insurance options. The correct choice for you will depend on multiple factors, including the value of your RV, where and how you rent it out, and your tolerance for risk.
| RV Insurance Options | Pros | Cons | Popular Providers |
| --- | --- | --- | --- |
| RV Rental Website Insurance | Easy for renters and owners No cost to the owner | The website sets coverage limits and conditions Only available when using these websites to rent | Outdoorsy RVShare |
| Commercial RV Policy | Covers RV specific needs Owner's choice of coverage | An additional expense to the owner Requires registering as a business | Triad Insurance ARRC (Auto Rental Resource Center) MBA Insurance Zurich |
| Rider to Auto Policy | Uses existing policy/insurance No cost to the owner | Limited coverage Not available on all policies | State Farm AAA USAA 21st Century AllState |
RV Rental Service Website Insurance
If you're using a peer-to-peer RV rental service, it will be easiest for both you and the renter to use their insurance. The two most popular sites are Outdoorsy and RVShare.
Both provide their own minimum required coverage, plus optional insurance upgrades for the renter to choose. They also do DMV background checks for all users.
When using one of these sites, read over the insurance details carefully to understand coverage limits and deductibles.
Peer-to-peer RV rental insurance is easy to use and costs are fully paid by the renter, but may not offer as much coverage as the owner would like.
Currently Outdoorsy offers up to $1 million in liability insurance and $500,000 in comprehensive and collision coverage. RVshare covers up to $1 million in liability and up to $200,000 in comprehensive and collision. Deductibles are paid by the renter, meaning there's minimal financial risk to the owner in case of an accident.
Aside from insurance itself, these websites provide 24/7 customer support and roadside assistance. RVshare includes towing and tire service in all their renter protection plans as well.
However, RV rental website insurance plans have a couple of drawbacks. Although they cover collisions, they don't necessarily cover damage that might occur for other reasons while your RV is rented.
Further, the insurance company involved is contracted with the website and not with you, so it might be challenging to get incidents resolved to your satisfaction.
Also note that there are restrictions on insuring older recreational vehicles. If your RV is 15 years or older, you might need to provide evidence of additional insurance depending on the website's insurance specifications.
RV rental website insurance is an easy, built-in solution for those who rent their RV out occasionally and are willing to take some risks in exchange for savings.
It doesn't cover everyone in all situations, so it may leave owners responsible for unexpected damage costs.  
Commercial RV Rental Insurance
Another option would be to purchase a commercial RV rental insurance policy. A third-party insurance provider provides basic insurance plus add-ons specifically designed to cover the unique circumstances of RV rentals.
Particularly risk-averse RV owners might even invest in a commercial policy on top of the coverage provided by the RV rental site. Commercial RV rental insurance can come with a high price tag, but offers peace of mind knowing a variety of situations are covered.
Compared with RV rental website insurance, you'll have the advantage of knowing that the insurance company is contracted with you, the owner. You can control the terms of the policy and decide how much coverage is right for you.
You can expect options to cover interior damage, personal belongings, and RV accessories that might not be covered under more basic plans.
The cost of commercial RV rental insurance (and many other expenses related to your motorhome) can be tax-deductible if you set yourself up as an RV rental business.
It takes some extra legwork to get started, but could prove worthwhile if you're planning to rent out your recreational vehicle frequently. 
If you do purchase commercial RV rental insurance, it can make your motorhome more attractive to renters.
Since your commercial insurance policy would cover them, they don't need to worry about trying to get a rider to their auto insurance or purchasing their own temporary RV insurance policy. This saves them trouble and keeps your price competitive.
Commercial RV rental insurance could be a great option if you're worried about having the best protection for your property, or if you are interested in renting out your RV frequently as a business.
It adds extra costs on top of what you pay for your personal insurance, but could pay for itself if you have just one incident where a renter damages the recreational vehicle.
Rider to Auto Policy
A third choice would be to add temporary RV rental coverage on top of an existing auto insurance plan. This is called a rider or a binder. Most often, an RV rental insurance rider is added to the renter's insurance plan, but there are disadvantages for the owner and the renter.
Not all insurance companies provide this service, so you'd have to check with the provider and see. Even those that do allow it don't cover as much as an RV-specific policy would.
Since they're extending your existing auto insurance to cover the RV rental, the monetary coverage limits probably won't be high enough to cover everything. RVs are more expensive than passenger cars, and are likely to cause more costly damage in an accident.
Also, unlike a regular car, there are usually appliances or plumbing elements in an RV. These could break or could cause injuries that wouldn't be covered under a typical auto insurance policy.
As with the RV rental website insurance policies mentioned above, using this option would mean insuring your motorhome's use with someone else's plan—in this case, your renter's.
While that saves you the trouble of obtaining and paying for the policy, it could also mean a hassle if you were trying to collect on insurance due to an incident.
If you and the renter disagree about what happened, the insurance company might not be inclined to take your side in the dispute since you are not their customer.
Using an auto policy rider alone to insure a rented RV is unwise. While a rider to an existing auto policy might be used to supplement other insurance, it's not comprehensive enough to make most RV owners feel comfortable.
Is RV Rental Insurance Expensive?
Regardless of whether the owner or the renter is paying for it, the cost of insurance is going to depend on multiple factors. RV rental insurance does tend to cost more than insurance for a car rental, given the higher cost of the RV itself.
Depending on the policy, it might also cover interior appliances, personal belongings, and RV accessories, all of which add to the insurance price.
Is RV Rental Insurance expensive? A general estimate for a renter's RV insurance would be between $10 per day for a basic, towable RV up to around $40 per day for a high-end, drivable motorhome. Regardless, the cost is generally passed on to the renter, apart from a commercial RV rental policy you might purchase as extra protection.
Some of the factors determining the cost of RV rental insurance include:
Age, value, and condition of the vehicle
Renter's driving record
Type and size of the RV
Towable vs. drivable RV
State minimums on insurance coverage
Deductible amounts
Coverage limits
Supplemental services like roadside assistance
Supplemental insurance options like personal property or emergency expenses
Making the Best Decision on RV Rental Insurance
There are many variables involved in deciding which is the best insurance option for you when renting out an RV. Think about your own priorities and the possible worst-case scenarios, and be sure to check several different options to be sure you're getting the best combination of affordability and protection.
If you're using a peer-to-peer website to rent out your motorhome, be sure to carefully review the details of their insurance policies so you'll understand what is and isn't covered.
You can also check the website's reviews with the Better Business Bureau to see if owners have had problems collecting on their insurance claims in the past.
Commercial RV rental insurance on top of other insurance policies will give you the best coverage but comes at a cost. You'll need to register as a business to be eligible to purchase it, which may not be worth the hassle if you won't be renting often.
Consider how much risk you're willing to tolerate compared with the cost. Compare the price, deductibles, and cover limits from several different companies to make sure you're getting the best deal.
An auto policy rider can be a cheap and easy option, but is the worst choice when it comes to protection. Using this alone is probably only suitable for people who are comfortable with risk, or for rentals to close friends or family who you trust.
Why RV Insurance for Rentals is Important
Even if there's no collision, there are plenty of things that can get damaged in and on your RV. Insurance doesn't always cover the interior of the RV, personal belongings, and accessories.
Most rental agreements include some kind of refundable damage deposit, but you might not always realize that there's damage right away. Minor damage like scratches to interior surfaces or a small stain might not seem worth addressing, but can add up to making your RV look worn. 
It's easy to understand the appeal of renting out your RV when it's not being used, and ideally, all your renters will be responsible people who share your enthusiasm for motorhome travel and use your vehicle carefully. In reality, though, accidents can happen.
The more often you rent it, the more likely you are to encounter an unexpected issue. That's why it's essential to understand all the potential hazards.
Is Renting Out an RV a Good Idea at All?
Is Renting Out an RV a Good Idea? Yes, owning and maintaining an RV is expensive, so renting it out to defray some of your costs can definitely be an attractive option. However this is a personal choice. On the other hand, it's not for everyone.
You'll want to think through all the elements involved in renting out your motorhome for someone else to use, especially if you're thinking about whether purchasing renter's insurance will be worth it.
Pros of Renting Out RVs
Obviously, the reason most people would even consider renting out their RV is to earn extra money. Depending on how often you rent out your motorhome and how much you charge, it's possible you could cover your payments and upkeep.
There's also the fact that you don't have to store the RV while it's in use by someone else, giving you some extra room in your driveway or yard. If you pay to park in an RV storage lot, you could save even more by avoiding that cost.
You can also meet people, and share the RV lifestyle with potential new friends. Renters might be your neighbors who want to take a trip nearby, or they might be visitors from out of town who incorporate an RV rental into their vacation plans.
Either way, owners who rent out their RVs report having overall positive interactions with their renters.
Cons of Renting Out RVs
On the other hand, although you can earn money, it's crucial to account for all the costs associated with renting out your RV. We've talked about insurance here, which could be an additional cost to you as the owner.
Beyond that, it will take some time to deal with the logistics of renting out your RV. You'll need to meet with renters to pick up and drop off the vehicle, and spend time explaining the motorhome to them.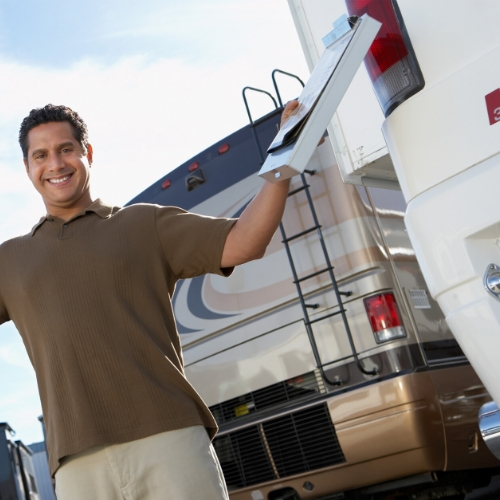 For most owners, you'll have personal property that needs to be cleared out before each rental. It can be a hassle to move things in and out, and to store it while the RV is being rented. Cleaning is also a consideration. Renters will expect to get a sparkling clean motorhome from you, but they might return it in less pristine condition.
Will you do the cleaning yourself, or will you hire someone to take care of it? Either way, it's going to take some of your time or your money.
Allowing someone else to use your motorhome also means adding miles and normal wear-and-tear. Renters probably won't be quite as careful with your RV as you are. Although you'd be getting paid now for the rental costs, your resale value will be depreciating with every use.
Finally, and the most worrying for owners, is the possibility that your renter could have an accident or otherwise damage your RV. Most renters won't have a lot of experience driving such a large vehicle, so they're more likely to misjudge the size of the RV and cause collisions.
Even with insurance, an accident will cause headaches. You'll have to be involved with filing the insurance claims and arranging for repairs.
If there's any dispute over what happened, the process can drag over months and cost you time and money. You could have additional lost income if the repair time makes you cancel other rental reservations.
Related reading: How to Choose the Right Size Travel Trailer: An In-Depth Guide
Final Thoughts
Having the correct insurance will give you peace of mind when renting out your RV.
Consider all the details in this article when deciding which RV rental insurance policy is going to be the right fit, and soon your motorhome will be making money for you.
References:
https://rvshare.com/insurance
https://www.outdoorsy.com/insurance
https://www.insure.com/car-insurance/rv-insurance-rental.html
https://www.allstate.com/tr/power-sports/motorhome-rental-insurance.aspx
https://www.rvrentalconnection.com/rv-income-tips/commercial-rv-rental-insurance-vs-website-offered-rv-rental-insurance
Recommended reading
For more helpful articles about RVing please check out our articles below:
Is RV GAP Insurance Worth It? [Guide for Nationwide Camper & RV]
What Does RV Insurance Cover? A Comprehensive Guide
Renting an RV With a Driver: What You Need to Know
No Or Low Water Pressure In Travel Trailer? Here's What To Do
Recent Posts