When RV accidents happen, they can cause serious injuries, damages, and in some cases, death. These are things that someone on vacation does not want to face. However, neither do insurance companies.
The cost can be outstanding. So, rightfully, many people wonder if their insurance covers their travel trailer.
Does your auto insurance cover a travel trailer? Yes, some auto insurance companies offer insurance to cover your travel trailer. Your insurance company may also offer separate insurance depending on whether you own or rent the travel trailer. The amount of coverage can vary state by state, but all states require that at least liability insurance is purchased for your travel trailer or motorhome.
Having insurance for a vehicle is required. However, it is not mandatory for a travel trailer.
Now is the time to look at the risk you are taking if you do not have insurance on your travel trailer. Read on to find out how you can avoid costly mistakes and keep you and your RV covered in the case of an accident.
Does Your Auto Insurance Cover a Travel Trailer?
Your auto insurance may cover a travel trailer. However, ask your insurance company about travel trailer insurance before assuming that they do.
You also may find that you can get a discount by adding an RV to your policy. Insurance helps with the cost against physical damage to your items and any injuries that may occur.
While you search, check for deals, such as:
Progressive offers coverage, no matter how you use your RV. Progressive can help you build a custom policy that will protect you and your RV in a way that fits you better. Progressive also offers discounts to lower your rate with bundles, deals, and rewards.
Geico offers enhanced motorhome and towable RV insurance policies. These are customizable as well to what you need and can be insured with more than one vehicle for a discount.
AARP allows you to customize your RV insurance to better fit your needs and cover more areas in detail than you may think. They help cover medical, collision, bodily, and property damage. If you are a part of AARP, you can get auto discounts and discounts for RV insurance as well. If you own the RV, you may be able to bundle, helping you save money.
If you are financing your travel trailer, your financing institute will tell you what amount of insurance you need on your travel trailer.
Financed travel trailers typically need full coverage to cover the trailer until it is paid off. This way, the institution can make sure that if you do not finish the purchase agreement, it has been taken care of, and the finance company is not losing money.
Insurance requirements for travel trailers vary from state to state. All states require that you at least have liability, however, do not turn your back on full coverage.
Find out your state's minimum requirements for your RV insurance. (Source: The Zebra)
Types of RV
The model and type of RV also depend on the amount of insurance you can get if you find some available and the amount that it will cost you. If you have a travel trailer, you may not need insurance.
However, if you have a motorhome, you are required to have at least liability on your RV.
Choose the insurance that will best cover you and your circumstances, such as whether you live in it or any other uses listed below:
Guest home for visitors
Portable bar/tailgating shelter
Hunting shelter
Food truck
Garage
Workman's portable shop
The age of your RV also determines the amount of coverage you can get. Just as a car, RVs lose value over time, and the amount of coverage is not quite as high.
Extra features and luxury aspects add value to your RV and can help gain more coverage on your RV.
Rental RVs
When you rent an RV, you will be getting insurance. This helps the owner or company know that any damages are covered if an accident occurs. This also helps you.
Even though your insurance rates will be raised if the accident is your fault, it will help keep you from having to pay out of pocket for damages that may occur the RV is in your use.
The type of RV or travel trailer that you rent and the damages incurred will determine how much it costs you to fix it in the case of an accident.
The insurance options available are:
You can get liability insurance in case someone else or their property gets injured or damaged.
You can get RV rental insurance, which serves as car insurance and offers a certain amount of coverage in case you get into a minor accident.
You can get coverage from the company if they offer it for convenience; some may provide roadside assistance.
Related reading: How Do RV Rentals Work: 7 Expert Tips
RV Accidents
According to Outdoorsy, it is stated that 75,000 people gained injuries from an accident involving an RV. This can become a scary statistic when you begin traveling the interstate at any given time, and there are RVs no more than a mile apart from each other.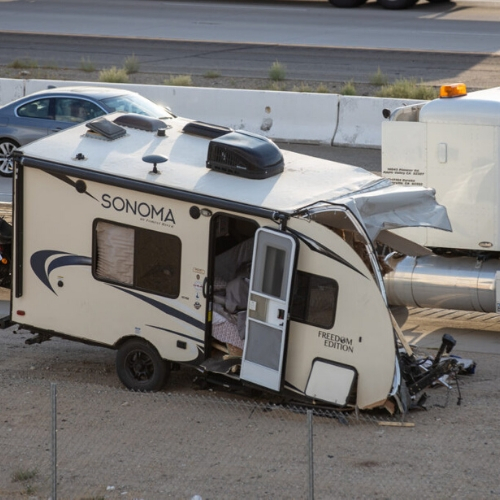 RV accidents are typically caused by the following:
Blind spots
Braking distance
Inability to maneuver the vehicle easily
While you would like to think that if you have insurance, nothing will happen, it is not true.
Insurance exists to cover the financial burdens of accidents, and you must go the extra step to help not only yourself but also your family stay safe. Traveling in an RV on vacation is fun, as long as it is also safe.
Save Yourself Money by Taking Safety Precautions
One thing that you should know is this: the fewer accidents you have, the more you can save on your insurance! If you have not had an accident, you can stay that way.
Just follow the tips below and you can rest assured that you are prepared for anything that comes your way while making sure that your insurance rates do not get raised any higher.
Newbies
If you are a newbie, become familiar and well researched before going on the road with others. Many times, individuals are not experienced enough to drive with a travel trailer.
Because of this, they can overreact and cause worse accidents. These are the types of mistakes that can cost you greatly after an insurance claim by making it nearly impossible to afford to pay your monthly premiums.
Here are some things to newbies can do to prepare themselves:
Research everything that you can about travel trailers.
Practice with someone who knows what they are doing.
Take it slow and pace yourself while you are learning.
I recently wrote an article on this site called:"Can You Rent an RV If You're Under 25? [Read This Before]"
Carelessness
One of the largest causes of RV accidents is speeding and pure carelessness. Being careless results in a risk to your physical wellbeing and even your life.
Here are some examples of carelessness while driving you should avoid:
Distracted driving – Pay attention while you drive. If you have a task that needs to be done, ask someone to do it for you, or wait until you stop.
Speeding – Slow down! Following speed limits is an essential safety rule.
Tailgating – Do not follow other drivers too closely. If someone suddenly brakes in front of you, you need adequate time to stop.
Sudden Braking – Try not to brake suddenly because someone could run into your rear.
Storms
Traveling through storms can also cause accidents. Things become more challenging to see in hazardous weather conditions.
Here are some tips on how to remain safe when traveling through storms:
Research the weather before leaving.
Try to avoid traveling during bad storms.
Travel slower than you typically would.
Avoid ice, snow, and fog.
Download a weather app or invest in a weather radio.
If you come upon a storm, sit and wait it out.
How Does Travel Trailer Insurance Work?
When it comes to getting travel trailer insurance, most people get travel trailer insurance as an addition to their existing auto insurance policy.
Many auto insurance companies also insure ancillary vehicles such as travel trailers, RVs, snowmobiles, motorcycles, boats, and more.
How Does Travel Trailer Insurance Work? There are varying levels of insurance for travel trailers, depending on what the travel trailer is used for.
For example, a travel trailer that carries human passengers will require a different level and type of auto insurance than a travel trailer that is used to transport livestock.
Types of travel trailer insurance include the following:
Liability: Liability insurance covers the damages that are incurred by another vehicle in case of an accident. In most regions and states, liability auto insurance is the bare minimum of insurance that is required for a vehicle to be legal on the road. Not only does liability insurance allow for a certain amount of monetary coverage for damages, but it also prevents a trailer owner from being sued in case of an accident.

Collision: Collision insurance is insurance that covers the costs of repairing (or, in some cases, replacing) a travel trailer in the case of an accident. Collision insurance is typically more expensive than liability, and collision insurance is usually voluntary rather than mandatory.
But without it, if your travel trailer is totaled in an accident, you'll be responsible for all replacement costs.


Comprehensive: Comprehensive insurance for a travel trailer covers both liability and collision, and more advanced forms of comprehensive insurance can also cover other damages that may occur on your trailer if it is either stolen or damaged in some way other than a road accident, such as hail or storm damage. (Source: Allstate)
While it might be tempting to go with the cheapest trailer insurance available, it's often not worth the trade-off in risk in the case of an accident.
Without proper insurance coverage, the cost of damages from a wreck or other accidents can be prohibitive, causing a trailer to be totaled and abandoned when it would otherwise be salvageable with insurance coverage.
There are a few different things you should consider when deciding which type of insurance you want for your travel trailer.
Here are some of the factors you should consider:
Total replacement insurance: Depending on which policy you choose to buy, you can choose to either insure the partial cost of the vehicle or the cost of total vehicle replacement in the case of an accident. The latter type of insurance is more expensive, but it can end up paying itself off if a file is claimed since total replacement covers the cost of a new travel trailer rather than the depreciated value of the old one.


Cost: Since the cost of a travel trailer policy can range so widely, you need to weigh the balance between choosing a monthly insurance cost that is financially feasible versus buying enough coverage for your trailer that you can be adequately compensated in the case of an accident. It's tempting to buy the cheapest insurance available, but the cheapest doesn't always mean the most effective.


User reviews: Reading and comparing user reviews between different insurance companies can give you a good idea of which insurance companies are best at handling claims quickly and not giving customers the run-around when it comes to claiming their monetary compensation in the case of a total loss.


Deductible cost: Another thing to think about when it comes to choosing travel trailer insurance is that the cheaper the annual cost of the insurance, the more likely that the deductible is going to be higher. Therefore, if you have a high deductible, you'll want to have plenty of money put away to help cover a more significant portion of the accident cost in case you have to file a claim. In contrast, people who pay a higher annual cost typically pay a much smaller deductible.


Multi-policy discounts. If you already have your auto insurance with a particular insurance company, there's a strong chance that you're eligible for a multi-policy discount on your travel trailer insurance if you buy a travel trailer insurance policy with the same company. It's worth it to check with your current auto insurance agent to see what kind of deal they're able to cut you, as you've got more pull with a company that is already taking your money.
There are tons of insurance companies available that cover travel trailers, so don't be afraid to look around and assess at least three or four companies before coming to a final decision.
It's also advised to shop around for quotes at least once a year since rates can change throughout the driving season, and other companies can run good deals on a policy that may tempt you to switch.
With digital technology, swapping insurance companies has never been less complicated, so keep an eye out for better deals even after you have a policy you like.
How Much Does Trailer Insurance Cost?
How Much Does Trailer Insurance Cost? On average the cost should vary between $200 to $2,000 even with added extras. The cost of a travel trailer insurance depends on the value of your travel trailer, the size of your trailer, the contents of your trailer, and the state you live in.
Your driving experience will also be factored in. More experienced drivers will pay less than new drivers.
Compared to standard vehicle insurance, the insurance for a travel trailer is a relatively inexpensive policy rider given the amount of coverage most RV insurance policies cover.
Though travel trailer insurance covers a majority of damages, most policies will include a deductible. This deductible is often a few hundred dollars and must be met by the owner before the rest of the insurance policy will activate in the case of an accident.
For example, if you get into an accident that costs $1,500 to repair, you may be asked to pay anywhere from $200-500, after which insurance will cover any additional costs.
Thus, it is crucial to have an emergency fund when you are operating a travel trailer even if you have insurance on it so that you can meet your deductible when you encounter trouble on the road and need to file a claim.
The following table shows the average RV Insurance Rates across 6 States:
| States | Insurance rates per year (USD) |
| --- | --- |
| North Carolina | $875 |
| Oregon | $895 |
| Massachusetts | $1,135 |
| Michigan | $4,485 |
| California | $4,085 |
| Texas | $1,435 |
The cost of trailer insurance varies wildly from company to company, so the best way to get a good deal on your travel trailer insurance is to do some shopping around.
Luckily, most auto insurance companies have set up systems for customers to get quick online quotes on a wide variety of different insurance options.
Which Companies Insure Travel Trailers?
Most of the major automobile insurance companies have policies available that cover travel trailers and RVs, but the conditions of the policies can be very different between companies.
Here are a few companies you can check for quotes to get a head-start on comparison shopping for the best policy for your travel trailer:
Along with major auto insurance companies, there are also smaller insurance companies and insurance companies that specialize in recreational vehicles for you to choose from. It's just a matter of looking around to find the right travel trailer policy for you.
GEICO
If you have a car insurance policy through GEICO, you're in luck. Everyone's favorite gecko-mascotted insurance company also offers RV insurance policies at a discount.
If you want to save extra, make sure to bundle your car and RV insurance together.
Progressive
Another major name in the insurance game that offers up Class A RV insurance is Progressive.
Much like what you might see with their car insurance policies, a single application on Progressive will let you compare policies from other providers and let you pick the most affordable one. Flo would be proud!
Travel Trailer Insurance Can Prevent a Catastrophe
Your travel trailer can be covered by insurance. How much it costs and how much of a discount you can receive depends on your insurance carrier, the insurance plan you choose, and the type of RV you own. You have many options to choose from.
With insurance on your trailer, you can rest assured that if an accident does happen, you, your family, and the travel trailer are all covered. Take the precautions above, and you can enjoy your travel trailer for years to come!
Things to Watch for When Towing a Travel Trailer
Safety is paramount when it comes to towing travel trailers and ignoring precautions can quickly cause your insurance rates to go up in the case of an accident.
The following things should be avoided in hopes to prevent you from facing an accident during a trip:
Poorly hitched travel trailers
Poorly hitched travel trailers are one of the biggest reason's accidents happen. In some locations, the law states that you need two chains to ensure that your trailer is safely and securely hooked.
If the trailer does come unhooked, it can be caught by the chains, preventing an accident and saving lives.
Research and become familiar with state laws and safety laws regarding hitching your RV. There are safety precautions that need to be taken. If you are not sure, research it and find someone who is experienced in traveling with RVs.
Having an RV or travel trailer overloaded can also cause a severe accident as they exceed the towing limit. This can cause damage to the tires, brakes, frames, and other areas of the RV, causing a series of breakages and other mechanical issues.
If any of this happens during driving on a highway or interstate at full speed, things can get nasty fast. Pack light. You do not have to take everything. Just take what you need.
While the weight of the RV may be correct, you have to make sure that your trailer and vehicle are evenly loaded. Uneven loading can cause fishtailing while traveling, which can pull and yank the vehicle and cause a rollover.
It can also cause a blowout, which can be deadly while traveling down the road.
Pay careful attention to where and how you load your items. If you load all of your things toward either end of the RV, it will lean wherever that weight is. This can cause a lean during driving, increasing the chance of an accident.
It is suggested to store heavy items on the floor throughout your RV and the lighter items higher in cabinets. You may also want to invest in sway controls and an equalizer hitch to help level out the weight.
Driving Tips for Travel Trailers
Travel trailers add length to your vehicle, and that tends to intimidate some drivers.
If you follow the recommendations of those who are experienced in traveling with travel trailers and do research along the way, you will find that it is not as hard or scary as it seems.
Nonetheless, safety is essential, so follow the driving tips below:
Give yourself time to brake.
A travel trailer, as with anything being towed, also needs time to brake. Be careful and keep an eye on what you are doing. If you are nervous, brake early. It is better to brake early than be involved in an accident.
Check your brakes before you leave and ensure that they are in safe condition along with any fluids that may be needed for your braking system. Slow down early before having to come to a stop. Slamming on brakes can be dangerous and cause wear and tear on brakes and tires.
Give yourself more space from others.
Do not tailgate! Following someone too closely can pose an extreme problem. If the individual in front of you slams on breaks for any reason, you are still going at full speed. You will not have enough time to stop. This can be a deadly situation.
Be aware of the vehicle's space in front of you so that if anything happens, you have sufficient time to react. This can save your life along with others that are traveling with you or around you.
Give yourself a larger turn angle.
If you are not used to towing travel trailers, then it is best to get familiar with it before going on a trip. You must find the depth of each turn and how much of a degree you need to turn out or at to turn without problems. Turning too much or too little in some situations can cause issues and accidents.
Be aware of the length of your RV or travel trailer. Always practice turns before going on a trip such as this so you can judge according to what is needed. Remember turning too hard or too fast can cause a travel trailer, and the vehicle with it, to roll over.
Adjust mirrors and be mindful of blind spots.
Blind spots are also a common cause of RV accidents, so take the proper measures in ensuring that your blind spots are located and minimized. This is much different than your vehicle and should be taken very seriously.
If you own the RV, install blind spot sensors and backup cameras. In many newer models, these are already installed, and this can be a big help to the driver.
However, if that is not the case, ensure that your mirrors are adjusted correctly to serve you best. Just because you are in a bigger vehicle or have a trailer does not mean you are more visible than other drivers.
Sleep when you are tired.
Trips are exciting, and sometimes on those trips, you are just trying to get as much of the driving done in one sitting that you can. However, this poses a problem.
Exhaustion creeps up quickly, and if you are extremely tired, chances are you are going to start dozing without realizing it. Approximately 72,000 crashes were reported to be caused by drowsy drivers in 2013.
The night hours and traveling can be a bit scary. No matter what vehicle you are in, it does not keep you from possibly hitting an animal while traveling down the road.
While smaller animals are not much of an issue, larger animals can cause severe damage to a vehicle and can cause significant injury. You could hit a person, or a car parked on the side of the road, as well.
If you have to drive at night, take extra precautions to ensure your safety. Make sure that you have lighting available for emergency cases. Ensure that you have your tools and first aid kits, and you have a way to contact someone if an emergency arises.
Taking all these precautions and following preventative safety measures can help lessen your risk of having an accident. When your trip remains accident free, no reports need to be filed, and you can save money.
Not to mention, with each accident you have, your insurance is affected and the price can go up.
Conclusion
Overall, in most instances, your tractor trailer can be covered by insurance. How much it costs and how much discount you can receive depends on your insurance carrier, the insurance plan you choose, and the type of RV you own. You have many options to choose from.
With insurance on your trailer, you can rest assured that if something an accident does happen, you, your family, and the travel trailer is covered. Take the precautions above and continue saving for policies to come.
Recent Posts