Taking out a travel trailer has become one of our favorite ways to vacation. Travel trailers allow you to combine all the best parts of home and the outdoors without paying for an expensive cabin or time share.
While travel trailers can be great at the best of times, you may wonder about the worst-case scenario. If your trailer were involved in an accident or damaged in some way, would you need insurance?
Do I need collision insurance on a travel trailer? No, legally it is not necessary to insure your travel trailer because you are not really driving it. However insuring your trailer separate from your vehicle will provide more comprehensive coverage of the trailer and its contents in a wider range of situations.
If your trailer were to be damaged or involved in an accident, it could totally ruin your vacation. Making sure that you've got the right insurance policy for the way you use your trailer will allow you to vacation worry-free.
Do Travel Trailers Need Collision Insurance?
There is no one size fits all answer to whether or not your trailer needs insurance. You need to identify how you will using the trailer and how comfortable you are with the associated risk.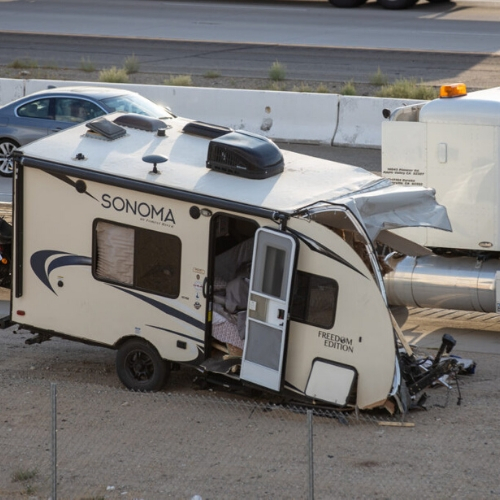 Won't My Car Insurance Cover the Trailer?
Most people don't purchase collision insurance on their trailers because they assume that it will be covered under their normal auto insurance policy.
The question is, will your auto insurance be sufficient coverage for your needs on a trailer travel?
What About What's Inside?
Again, the answer depends on how you use your trailer, but you may be surprised at how limited the coverage from your car insurance will be.
If you're headed out on vacation, your trailer probably isn't empty. You've likely got it loaded up with personal belongings and provisions.
These belongings can have a significant total value, but your auto insurance is likely to only cover your trailer, none of the contents will be covered. Purchasing insurance for your trailer individually can allow you to cover everything inside the trailer in addition to the trailer itself.
This can really save your bacon if you have valuable affected by an incident.
What About When the Trailer's Unhitched?
Your auto insurance is also likely to only your travel trailer while it's hooked up to your vehicle. This may not seem like a big deal as your trailer is only likely to be involved in a collision while it's actually being hauled, but it does leave you vulnerable in a couple instances.
If your trailer gets T-boned, sideswiped, or rear-ended—or if you run the trailer into someone else, your auto insurance is likely to provide adequate coverage.
However, it's more common than you think for trailers to become unhitched during transport.
Once unhitched, the trailer can easily become damaged or cause an accident. And remember, as soon as that trailer is no longer connected to your vehicle, your regular car insurance does not cover it.
In this situation, you're are only protected by insurance if the trailer has its own policy.
It's also possible, although less likely that your trailer could be hit while its parked. In this case, you also would need to have an independent insurance policy on the trailer to receive any kind of coverage.
Am I Required to Have My Trailer Insured?
Car insurance isn't optional in most states and is legally required to drive. Is there a legal requirement to purchase insurance on a travel trailer?
No. Most states do not require you to have insurance on your trailer.
Check the requirements for your area or contact your local DMV for more details. The choice is ultimately up to you and how concerned you are with protecting your investment.
Types of Insurance for Travel Trailers
Unlike a car, a trailer is going to be used for many different things besides driving. Because of this, they are likely to become damaged in ways unrelated to an accident.
Collision insurance is a good place to start, but you may want to consider other types of coverage as you decide how best to insure your trailer. Here are some different types of insurance available for travel trailers.
Collision Coverage – Collision coverage helps pay for repairs to your trailer in an accident that you caused. If you're going to be hauling your trailer back and forth a lot, collision coverage may be a good idea for you.
Liability Coverage – Covers the cost of paying for other' injury or property damage in an accident involving your trailer. If your trailer were to come unhitched and damage a home, another vehicle, or a person—liability coverage could save you from paying a hefty bill out of pocket.
Underinsured or Uninsured Coverage – If you are in accident and you are not at fault, there is no guarantee that the other driver is legally insured or able to pay for damages done to you or your trailer. This type of insurance covers you in such an event.
Comprehensive Coverage – Your travel trailer is like a portable home, and like your home is susceptible to more damages than just collision. Comprehensive coverage protects against non-collision damage such as fire, falling debris, vandalism, and theft.
Contents Coverage – You'relikely to have valuables in your trailer such as jewelry, electronics, and appliances. Contents coverage protects these items if they are damaged, lost, or stolen during an incident. However, you may not need contents coverage as these items may be covered under a comprehensive coverage policy or under your homeowner's insurance.
Campsite and Vacation Liability – While youare parked at a campsite or elsewhere, you become legally responsible for the area surrounding your trailer. If someone else were injured in your trailer or around it, campsite and vacation liability insurance would make sure that you weren't on the hook for their medical bills.
What Factors Do I Need to Consider?
So, how do you decide what type of insurance, if any, is right for your travel trailer? Well this is where you need to consider how you're going to use the trailer. Here's a few things to consider.
How often will you be hauling the trailer?
If you're going to take the trailer out on the road every weekend, then some form of collision insurance is a must. However, if the trailer is going to stay parked for long periods at a time, you may choose to rely on your existing auto insurance.
How valuable is the trailer and its contents?
A cheap trailer presents less of a risk to you than an expensive one. If you've poured tens of thousands of dollars into the best travel trailer money can buy, then you want to protect that investment.
If you inherited an old beater from Uncle Larry and keep little inside it, you might be less worried about the worst-case scenario.
Will the trailer spend significant time parked at a campground or other public space?
If the trailer will sit idle at a campground, then you'll want to think more strongly about vacation liability.
Also, consider that the trailer will be more exposed to the elements and more likely to be a target of theft. Comprehensive and content coverage both might be more attractive in this case.
How comfortable are you with the risk of financial loss associated with the trailer?
This is what it all boils down to. If you could lose the trailer and afford to replace the entire thing and all its contents and pay for any associated injuries out of pocket, then you don't need insurance.
If the loss of the trailer would be a devastating financial or personal loss, then you should insure more heavily.
Most likely, you fall somewhere in the middle, cover your trailer to a degree that allows you to fully enjoy the freedom and the pleasure of your home away from home without worrying about the worst-case scenario.
Which Insurance Company is Best?
There are tons of insurance companies that offer up RV insurance for just about every class. Some of the most popular insurance companies that offer RV insurance include the ones below…
RV Insurance Agency
Coverage Options
Good Sam (Top Choice!)
. 96% overall customer satisfaction rating
. Customers report average savings of $321 per year
. Total-loss replacement for motorhomes and travel trailers
. Specialized coverage for full timers or first-time weekend RV'ers
. RV storage option allows you to save even more by turning off coverage when your RV is not in use!
RVInsurance.com
. Customers report average savings of $321 per year
. Covers everything from class A motorhomes to pop-up campers
. Quote and buy online
. Speak to a professional, licensed agent
. Fully licensed, multi-line agency can quote your auto, home, boat and other insurance products
National General
. Top rated C=choice: A+ BBB rating
. "Turn Off" for liability & collision during storage – Save 53%
. Cover your personal belongings or attachments
. Full-timer coverage options
. Mexico insurance options
. Total Loss RV replacement
. 24-hour claims support
Progressive
. Progressive Insurance – Trusted by Over 18,000,000
. Competitive rates, tons of discounts (safe driver, pay-in-full, multi-car, multi-policy, quoting online & more)
. Name your price Tool®
. Comprehensive List of RV Covered Items
. Roadside Assistance Included
. Recreational Vehicles, Trailers & Fifth Wheels
Recommended reading
How Much Does Class A RV Insurance Cost? The Complete Buyers' Guide
4 Reasons RV Insurance Is Expensive [Must-Read]
How Much is it to Buy Back a Totaled RV From Insurance?
Recent Posts