When you first buy an RV, you probably have a lot of thoughts going through your head—where you want to go, who you want to bring along, what camping equipment to buy…The good stuff. But, if you have a class A RV, you need to make sure you have the right protection before you hit the road.
How much does class a rv insurance cost? Class A RV insurance can vary greatly in cost depending on where you live, the RV in question, your driving record, as well as your RV use. However, most families can expect to pay anywhere between $1000 and $4200 a year.
Sounds expensive? There might be ways to get lower rates or just get a better deal on your insurance coverage.
If you are planning ahead for a major trip or just want to know whether the upkeep on an RV is worth it, this guide will help you make the most of your time.
How Much Is Class A RV Insurance?
RV insurance is not exactly cheap, and it gets pricier as the size of your RV increases. Class A RVs are the largest RVs out there and can easily sleep up to 10 people with ease. Unsurprisingly, most insurance rates will reflect this.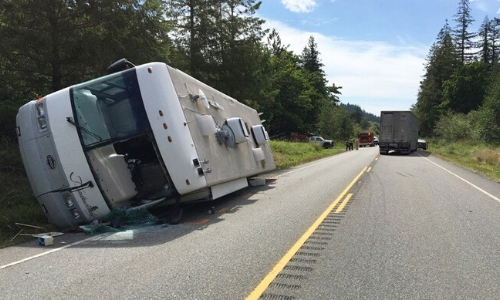 Your insurance will also change in price based on multiple factors, including:
Your RV Use
Your Driving History
The RV Model
The Type of Coverage Involved
The State You Live In
Special Discounts
Getting an exact quote for Class A RV insurance isn't going to be doable via a website article.
That being said, you should expect to pay anywhere from $1,000 to $1,300 a year if you use your RV 140 days per year. Most people pay closer to $1,000 a year.
The rate of your Class A RV insurance will change depending on your policy and also where you live.
Pricing regulations vary by state when it comes to insurance. In the table below you can find the Average RV Insurance Rates Across 6 States:
| States | Insurance rates per year (USD) |
| --- | --- |
| North Carolina | $875 |
| Oregon | $895 |
| Massachusetts | $1,135 |
| Michigan | $4,485 |
| California | $4,085 |
| Texas | $1,435 |
States with the Lowest RV Insurance Rates can be found in Oregon and in North Carolina, with $895 and $875 per year.
The state of Michigan has a mandatory personyl injury protection (PIP) coverage, which leads to higher cost, therefore Michigan is the state with the highest RV insurance rates, at a median of $4,485 per year.
How Does RV Use Impact Your Annual Insurance Rates?
Insurance companies work by creating a formula that predicts the amount you need to pay in order to keep their companies in business.
When you use your RV a lot, the chances of you getting into an accident increase rapidly. Insurance quotes will reflect this.
For example, if you are leaving the RV in your lot 99 percent of the time, chances are high that you won't have a very large premium. In fact, you might only need to pay $500 a year in order to insure it.
On the other hand, if you use your RV three months of the year, you can expect average rates of up to $1,300 a year. Daily use can increase your premiums even further.
How Does Your Driving Record Impact Your Insurance Rates?
It's important to remember that an RV is still a motor vehicle, even though we often think of it as a home. Since you are going to be driving your RV, the skill and care that you've been known for driving with will impact your rates.
A clean driving record is ideal, as is being over the age of 25. The following items are more likely to cause a drastic increase in your RV insurance rates:
Points on Your License. Even if you got points as a result of an accident that wasn't your fault, having points on your license can increase your insurance rates by as much as 20 percent.
Drunk Driving. Many companies will not insure a Class A RV if the owner has a drunk driving accident on record.
Accidents. If you have gotten in an accident in recent years, your RV insurance rate can reflect that. The more claims you have on your record, the more likely it is that you'll see a higher rate.
Youth. People under the age of 25 are more likely to get into accidents by statistics alone. As a result, having a younger age can result in higher premiums—even if you didn't do anything to earn it.
How Does The RV Model Impact Your Insurance Premiums?
Much like with cars, different RV models will have different safety features. An RV model that has a lot of safety features will get lower rates than one that is older, has known defects, or has a high risk of mechanical failure.
Models that are known for being pricey are going to be harder to insure, simply because one single claim can cost hundreds of thousands of dollars. RVs that are deemed to be "antique" or are heavily customized fall into this category.
How Does The State You Live In Impact Your RV Insurance Premiums?
Differing states will have different insurance rates, regardless of the RV type you're trying to insure. This means that the state you live in will have a major impact on how much you pay.
Michigan, for example, is the most expensive state when it comes to insurance rates.
On average, an RV owner in Michigan will have to pay around $4,485 in order to insure their vehicle—and that's for a smaller model! California's Class A RV insurance tends to be around $4,085 as well. On the other hand, South Carolina and Massachusetts are known for having dirt cheap insurance rates.
Understanding Discounts from Insurers
If this all sounds pretty confusing and accusatory, hang on for a sec! Insurance companies understand that insurance can get pricey, especially for a Class A vehicle. It's good to know that many insurance companies offer discounts to applicants. Common discounts include:
Bundling. Many companies offer discounts for people who buy both RV insurance and vehicle insurance through their group.
Safety Courses. With regular cars, insurers are known for offering a discount for people who take a defensive driving course. Similar RV safety courses are available for individuals who want to be better drivers. Much like with car safety courses, you can snag a sweet discount with most insurance companies through this opportunity too.
RV Association Membership. Some insurers will offer RV association members a specialty discount.
Storage. Do you put your RV in storage when it's not in use? That could lead you to a major discount. Companies will give you a premium discount of as much as 50 percent off the normal price for every month you keep your RV in storage.
Veterans Discount. Companies that support the troops are likely to offer a Veterans discount as part of their discount policies. Some companies also offer first responder discounts, too.
Can My Gender Impact My Insurance Rates, Too?
Yes, sadly. Gender, FICO scores, educational attainment, zip code, and other factors can all impact how much you pay for your RV coverage. Thankfully, most of these factors have a small impact at most.
Understanding Your RV Coverage: What to Know
RV coverage requirements vary from state to state, but virtually all parts of America will require you to buy some insurance for your Class A RV. Most states have mandatory minimum coverages that you will need to abide by, and these will be explained to you by an insurance agent.
If You Don't Drive Your RV, Do You Still Need to Buy Insurance?
Technically, if you aren't going to actually move your RV out from your own parking lot, you don't need to buy insurance. This is because you aren't driving and are therefore not going to be involved in a car/RV accident.
However, it's still a good idea to get insurance. Insurance isn't just about accidents that happen on the road. It also protects you from losses that can involve people tripping and falling, or from losses that involve natural disasters. It's better to be safe than sorry, isn't it?
How Much Insurance Do I Need?
State minimums aside, there are a couple of guidelines that we suggest people follow when they're shopping around for insurance. This is what we suggest:
If you are a full-timer you need full-time coverage. This really isn't negotiable, since the risk you face is much higher and your RV acts as your de facto home. The good news is that full time insurance acts as a combination of the basic RV insurance types to give you a more complete amount of protection against the unforeseen.
Full-timers should also consider getting renters' insurance for their motorhome. This protects your personal belongings, much like it would for an apartment. Many major insurers, including State Farm, are known to offer bundle deals on this as part of their menu of services.
Collision, medical, comprehensive, and RV liability coverage are all considered to be bare-bones minimums. These four insurance types handle most of the problems you might come across on the road. At the very least, try to get minimal coverage in these areas.
If you have additional add-ons to your RV, you may also need accessory protection. This is insurance that reimburses you if any accessories attached to your RV (such as awnings or satellite dishes) get damaged during your travels. Some may also offer a windshield deductible alongside this form of insurance.
People who bought new RVs should strongly consider getting total loss insurance or GAP insurance. This kind of insurance will help you recoup your costs in the event of a major accident that results in your new RV being totaled. Since newer RVs can cause larger losses, most insurance companies would strongly suggest getting it specifically when you are still making payments on your motorhome.
Incredible! RV Crash on Freeway Caught on Video >> Check out the video below
Types of RV Insurance: Your Guide
Not all insurance policies are made equal. RV insurance comes with a wide range of different coverages, each of which is designed to protect you or cover costs associated with an accident.
Some of the most common types of coverage for a Class A RV include:
Collision. If you end up in an accident, collision insurance will give you the money needed to fix your RV. This is a mandatory part of insurance for drivers in most states, which means that you will need to get at least some insurance of this type to hit the road.
RV Liability Coverage. If you end up at fault for a collision, the liability coverage will cover any bodily damage or property damage that ensues.
Total Loss. Let's say that you get into an accident or a fire that damages your RV beyond repair. Total loss coverage will cover the cost of replacing your RV, minus whatever personal possessions are in there.
Comprehensive Coverage. RVs can get damaged for reasons other than a collision. If your RV gets damaged due to a flood, fire, or theft, comprehensive coverage is what will help you recover your costs.
Medical Coverage. Collision coverage only covers so much of the potential medical bills you can get. Medical coverage is specially geared to help cover medical bills resulting from an RV-related loss.
Uninsured/Underinsured Motorist Coverage. Much like with collision coverage, this is often a legal requirement for people who want to drive their RVs. This protects you in the event that you crash into a motorist who has no insurance.
Full Time Insurance. If you use your Class A RV as your residence, you will need to get this form of insurance. Full time insurance gives you 'round the clock coverage and also expands to a wider range of regions. It's a bundle that's more "heavy duty" than typical part time insurance.
24/7 Roadside Assistance. Though not required by any means of the word, many policies will have this rider added on as a way to give people an added level of convenience.
This is just a list of the basic types of insurance that your RV insurer can provide. You can also get coverage for everything from personal belongings to pet injuries. How much coverage you get is, to a point, up to you.
How Much Insurance Do I Need?
This isn't a cut-and-dry answer, since every person will have their own unique needs. The state minimums for your RV's coverage can vary greatly, but generally will include some level of collision and underinsured coverages.
That being said, we strongly encourage RV owners to get the following types of coverage in their insurance packages:
Comprehensive Coverage. This is a must, simply because crazy things can happen while you're out on the road. This coverage is what will protect your RV during major camping accidents or weather-related problems.
RV Liability Coverage. If a camper trips and gets insured in your RV, it's going to be deemed your fault. RV liability coverage helps prevent you from dealing with serious losses as a result of accidents in or around your camper.
Uninsured/Underinsured Coverage. In most parts of the United States, this is mandatory for cars. Why wouldn't you want it for your RV, too?
Collision Coverage. It only takes a single accident to turn your life upside-down. We strongly encourage people to get more than the state minimum for your RV. Ideally, your collision coverage will greatly exceed your RV's price tag.
Personal Belongings. People who live in their RVs should consider getting a rider that protects personal belongings inside the RV. This can act as your go-to for "homeowners' insurance" in your situation.
Can All RVs Get Total Loss Insurance?
Total loss insurance is a nifty concept, especially if you are worried about losing your funds due to an RV accident.
However, it's not always accessible. Most insurers will only offer this form of coverage to RVs that are relatively new—or still under lease.
Why Should I Get Roadside Assistance?
When you have a car that breaks down on the road, things can get inconvenient quickly. Getting a tow truck can cost a fortune, but it's still fairly easy to do. When you're driving a Class A RV, things get dicey.
Many tow truck companies cannot handle the size of a Class A vehicle. Getting roadside assistance means that you can have a more reliable source of help in the event of a breakdown.
Which Class A RV Insurance Agency To Choose?
There are tons of insurance companies that offer up RV insurance for just about every class, and that includes Class A RVs.
I have listed some of the most popular insurance companies that offer RV insurance. To have a reliable RV insurance agency, you should do some research before buying the policy.
In the following table you will find the best rated RV insurance providers I have found on the market at the moment (customer services, ratings, coverage options, discounts, financial strength):
RV Insurance Agency
Coverage Options
Good Sam
. 96% overall customer satisfaction rating
. Customers report average savings of $321 per year
. Total-loss replacement for motorhomes and travel trailers
. Specialized coverage for full timers or first-time weekend RV'ers
. RV storage option allows you to save even more by turning off coverage when your RV is not in use!
RVInsurance.com
. Customers report average savings of $321 per year
. Covers everything from class A motorhomes to pop-up campers
. Quote and buy online
. Speak to a professional, licensed agent
. Fully licensed, multi-line agency can quote your auto, home, boat and other insurance products
National General
. Top rated C=choice: A+ BBB rating
. "Turn Off" for liability & collision during storage – Save 53%
. Cover your personal belongings or attachments
. Full-timer coverage options
. Mexico insurance options
. Total Loss RV replacement
. 24-hour claims support
Progressive
. Progressive Insurance – Trusted by Over 18,000,000
. Competitive rates, tons of discounts (safe driver, pay-in-full, multi-car, multi-policy, quoting online & more)
. Name your price Tool®
. Comprehensive List of RV Covered Items
. Roadside Assistance Included
. Recreational Vehicles, Trailers & Fifth Wheels
Good Sam (
Top Choice!

)

Good Sam is one of the only insurance companies in America to be totally devoted to RV insurance. Along with giving coverage to motorhomes and RVs, you can get coverage for awnings, accessories, and more.

They also offer full-time motorhome insurance and storage insurance, making them a great go-to for veterans of the RV lifestyle.
The Hartford
Known for their excellence in RV repair insurance, the Hartford has a slick 24-hour claims hotline and is designed to help RV owners get their repairs done as quickly as possible.
Any repairs done through a Hartford claim come with a lifetime guarantee, which is why people adore this company.
Eerie Insurance
Though it's not available nationwide, Eerie Insurance remains one of the most popular insurers to offer Class A RV insurance. While premium rates with Eerie are higher than average, people love their fast, friendly service and their excellent payouts.
GEICO
If you have a car insurance policy through GEICO, you're in luck. Everyone's favorite gecko-mascotted insurance company also offers RV insurance policies at a discount.
If you want to save extra, make sure to bundle your car and RV insurance together.
Progressive
Another major name in the insurance game that offers up Class A RV insurance is Progressive.
Much like what you might see with their car insurance policies, a single application on Progressive will let you compare policies from other providers and let you pick the most affordable one. Flo would be proud!
State Farm
Like a good neighbor, State Farm always manages to find a way to stay relevant in your life. Their RV coverage is on par with their car insurance policies. That's not a bad thing.
To sweeten the deal, they also have a nice array of discounts and a rapid response rate on claims.
USAA
If you're a service member who has an account with USAA, then you already know that they are proud to act as a major go-to for all things finance-related.
This includes RV insurance. Service members and families who go through USAA often remark at how affordable the rates can be.
How To Get RV Insurance
Getting your RV insured doesn't have to be an extreme matter. To get a good quote and a good price, use these steps below:
Figure out what additional coverage you want to have, if there are any specific issues you're concerned about. A little reading about different insurance riders can go a long, long way. If you have a unique situation (using your RV full-time, for example), you should look up specialty insurance riders before you approach them.

Asking for riders by name will make things easier in your search. Most RV insurers will carry only the basics, plus one or two extra coverage options, so choose the insurers you approach wisely.
Approach at least three different insurance companies with a request for a quote. Three is the magic number as far as minimum quote requests go. If you want to ask for more, by all means, do. Now is also a time to request the riders (extras) you want in your coverage.

Prepare to do a lot of paperwork here. Most companies will have you fill out a questionnaire for your RV usage before they give you a quote.
Research what you get for each quote. Different companies will offer different levels of coverage. They also will have different satisfaction records, which means that the service you get will change from place to place. It's good to take a closer look at what you get with each company.
Pick and buy the best package for you. Once you've made your decision, you only need to agree to purchase the insurance. Just like that, you got insurance for your RV.
Can I Be Denied Class A RV Insurance?
For the most part, motor vehicle insurance is not considered to be a necessity because vehicle ownership is not a necessity. This means that there is a slim (but existent) chance that a driver could be denied insurance.
In most cases, this shouldn't be a concern for you. You should only get worried if any of the following things are true, primarily because they can disqualify you from certain plans:
You have multiple DUIs. A single DUI charge can be enough to cause your insurance rates to skyrocket. Multiple DUIs will result in exorbitantly high rates, if not an outright rejection for coverage.
There have been an unsettling number of accidents you've been in. Insurers don't want to work with people who have an inordinately high number of claims. In some cases, too many claims on your RV can cause you to get existing coverage dropped.
The RV itself is not deemed safe for driving. If your RV is considered to be a road hazard, getting it insured will be difficult.
You haven't been driving for that long. Some companies will deny RV insurance if you have only been on the road for 12 months or less. Thankfully, most insurance groups will allow you to get insured, but will just charge a higher premium.
You've been charged with insurance fraud in the past. Committing a serious crime will involve consequences one way or another. If you committed insurance fraud, many companies will automatically blacklist you from their rolls. The can lead to you being permanently uninsurable.
What to Do If You're Denied Coverage
Getting rejected for RV insurance is rough, but that doesn't mean you should immediately give up on getting insured. The RV insurance world is not uniform when it comes to standards.
If you got rejected from one company, you still might be able to get insured through another company.
It's important to realize that most RV insurance companies have their own interests to protect. In many cases, you might be forced to get a cosigner for your insurance or to pay much higher rates than what's typically expected.
Final Thoughts
If you're looking to insure a Class A RV, you've definitely got your work cut out for you. The most important thing you can do when you're looking to protect your RV is to do your homework.
Learning about the type of coverage that's available to you can help you determine what insurance policies you want.
There are plenty of great insurance companies that carry world-class RV insurance for Class A vehicles. Most also come with optional add-ons that can help make your life on the road a little better.
It's worth stretching your budget for extra safety in most cases, so don't balk at a higher price tag right off the bat.
When you're shopping for insurance, make a point of trying several different companies out before you pick one. This way, you'll be able to get a good rate and also get the coverage you need.
Once everything is said and done, you should be able to enjoy quality coverage at a price that works for you.
Read Next
Can You Use a Humidifier in an RV and How to Control It?
Average RV Park Rates: Actual Campgrounds Prices per Night
Setting Up a Travel Trailer to Live In: 20 Essential Steps
How to Choose the Right Size Travel Trailer: An In-Depth Guide
Recent Posts