Interested in Winnebago rental near you or your area?
Where to find the best deals on Winnebago rentals today? Well, Outdoorsy got you covered. You can Book & save big on RV Rentals near you direct from local owners. Best rates guaranteed.
In this article, I will explain what makes Outdoorsy the best company to rent Winnebago and I´ll share some advice on motor homes and travel trailer rentals!
History of the Winnebago
Winnebago is one of the most famous motorhome companies in the world. The company was founded in 1958 by John K. Hanson.
It began as a small company that primarily focused on travel trailers. In the 1960s, the company started launching its famous RVs. In 1966 they launched their first motorhome, and their success was solidified.
Winnebago means "people of the muddy water." The name is for the Native American tribe who lived near the Fox River. This river is known for its muddy waters. Winnebago was started in Winnebago County, Iowa.
After its successful launch in the 1960s, the company has experienced ups and downs, but they have marked their place as one of the most successful motorhome companies around.
Types of Winnebagos
Winnebago makes both motorhomes and travel trailers, so it will not be difficult to find the perfect RV for your journey.
Motorhomes are will give you more of the "iconic" Winnebago look. Winnebago motorhomes are more like buses or vans. They have their engine, so you will not need to tow them with your vehicle.
Class A Winnebagos
Class A Winnebagos are the largest option available. They are built with the same design as a bus.
Class A motorhomes have the most inside space and often the most amenities. If you are looking for a luxurious way to take the comforts of home on the road, a class A is probably right for you.
Class B Winnebagos
Class B Winnebagos are roughly the same size and style as panel vans. They are the smallest motorhome option available, and they often have fewer amenities.
They are easier to drive and they do not need extra-long or extra-wide parking spaces.
Class C Winnebagos
Class C Winnebagos are somewhere between class A motorhomes and class B motorhomes. They have the front of a van with overhead sleeping spaces.
They have long backs like buses or class A motorhomes. They are great if you do not need all of the luxuries of home, but you would like more sleeping spaces.
👉 Winnebago also offers camper trailers. While you will need to be careful while towing a trailer, they give you the flexibility of being able to park your camper at a campsite and then detach your vehicle to go into the city.
👉 Winnebago offers travel trailers, fifth wheels, and toy haulers. Fifth wheels have many of the luxuries of motorhomes in a trailer form.
Travel trailers are smaller, but still furnished and offering luxury. Toy haulers are designed to let you have a camper to sleep in but still bring your motorcycles, bicycles, and other toys.
New Winnebago Features
Winnebago has been popular since the 1960s. While their 1966 design has become iconic, they have certainly not stopped developing new features to keep your RV up-to-date.
Many new Winnebagos offer hybrid cooktops. This means you can cook with an electric cooktop or a gas cooktop. This gives you wider flexibility given your cooking priorities and electricity availability.
Winnebago is also adding lights to in-drawer cabinets. If you need to wake up and find something in the night, you will not have to get out a flashlight.
Another popular new feature is the MBUX Entertainment system. It offers voice commands, so you can control music without taking your hands off of the wheel.
There is also a touchscreen with USB connections, so you can play music from your favorite devices.
Renting a Winnebago vs Other RV Rentals
Winnebago is one of the oldest motorhome manufacturers in the nation. Those extra years mean they have had plenty of time to refine the RVs they make.
When you rent a Winnebago, you can be sure there will be great attention to detail.
Winnebago has a wide variety of options. Some brands specialize in only motorhomes or only travel trailers. Winnebago has high-quality campers and trailers.
It will not be difficult to find the right Winnebago for your needs and budget.
Brands like Fleetwood and Hurricane are starting to collect negative reviews about their interiors breaking down.
Winnebago is still taking great care with the construction of their interiors, so even when renting a used Winnebago, you will not need to worry about too much interior damage.
Winnebago Pros and Cons
Weighing the benefits and drawbacks of any RV rental is important if you want to find the best value for your money.
Pros of Renting a Winnebago
✔️ Winnebagos are incredibly high-quality machines. You can be sure that your Winnebago rental will run well and stay strong throughout your entire vacation.
✔️ Winnebagos are safe. They have secure chassis and wise designs that will keep you and your family safe on the road.
✔️ When you rent a Winnebago, you save on the cost of upkeep that you would need to spend if you owned the Winnebago.
✔️ Winnebago camper trailers are relatively easy to tow. Many other brands will struggle over somewhat rough terrain or slopes. Winnebagos are designed to withstand these difficulties.
✔️ Many Winnebagos have stainless steel sinks and cabinet handles. These are easier to clean and maintain. They are also stronger to avoid damage.
✔️ Winnebago has been around for years. They have some of the most well-refined RVs that you can find on the market.
✔️ Winnebago is consistently developing new features to make their RVs up-to-date and enjoyable to drive. If you are looking for high-class amenities and modern appliances, Winnebagos are a great place to start.
✔️ Winnebago trailers offer extreme weather packages to help keep you warm, even when you camp during winter weather. While no camper will be as warm as a house, Winnebagos will likely be warmer than most other RVs.
✔️ Winnebago has a wide variety of layouts. You will have so many options that it will not be difficult to find a Winnebago that fits what you want. They also have unique layouts that give you great options for space management.
✔️ Winnebagos are robust. The exteriors are designed to help withstand scratches and dents. You will not have to worry as much about accidentally damaging the exterior of the camper.
✔️ The layouts of Winnebago campers are accessible. It is easy to find places for your gear, and you do not have to sacrifice prime storage space to have enough room for everyone to sleep.
Cons of Renting a Winnebago
❌ Because Winnebago has become somewhat of the face of motorhomes in the United States, it is often more expensive than other options. While you do get high-quality RVs and a wide variety of options, you will pay more for those luxuries. It is not the best low-budget option.
❌ Some Winnebago owners and renters do report issues with the sinks and faucets leaking. The solution is quite simple and chances are the owner or rental agency will already have handled it, but you do not want to deal with leaks while on the road.
❌ Some owners do complain that the mattresses included in most Winnebagos are fairly thin. For maximum comfort, you may need to bring a mattress pad. This is an extra hassle and an extra expense. Otherwise, you can just make the thin mattress work.
❌ Winnebagos may have loud water pumps. If the pump is running at all while you sleep, it may be somewhat disruptive.
❌ When renting an RV, the owner who is renting their RV can make or break the experience. While Winnebagos are high-quality RVs, if you are renting from someone who does not take care of their RVs or their customers, the experience may still be soured.
Winnebagos in general are high-quality options. While there are a few features that are less than perfect, there are plenty of pros that help explain why Winnebago has stayed as one of the giants of RV production for so many decades.
Winnebago Rental Prices: How Much Does a Winnebago Cost to Rent?
The price of a Winnebago can vary based on several factors. You will need to consider the year, make, and model of the camper.
In many cases, you will also need to consider the location. It is often more expensive to rent campers in places like national parks where camping is incredibly popular.
How Much Does a Winnebago Cost to Rent? In general, you can expect a Winnebago rental to cost between 120 and 300 dollars per night. Trailers are less expensive, closer to 100 dollars. Larger, newer closer motorhomes are closer to 250 or 300 dollars per night.
You can save money if you rent a class C Winnebago, as these are smaller motorhomes. Because Winnebagos will also last for years, you may be able to save money without sacrificing quality by renting an older Winnebago motorhome or trailer.
Where to Rent a Winnebago (Huge Discount NOW!)
Because Winnebagos are so widely popular, it is not difficult to find an available Winnebago near you. If you are looking to rent, one of the most standard ways to rent is through an RV rental agency.
You will have to call and see if they have Winnebagos if that is what you want to rent. Not every rental agency will carry every kind of camper or trailer.
With the advancement of technology, though, renting through a standard rental agency is no longer the only way to rent a quality RV.
Through the internet, there are now peer-to-peer rental sites. These allow you to rent from an RV owner directly.
These sites will give you more variety in makes, years, and models, so it will be easy to find the right camper for you.
It is often easier to find a quality RV through these sites as well. RV owners rent their personal RVs, so they have more incentive to keep them in good shape.
You can filter based on which amenities are most important to you, so you can be sure to find a Winnebago that has everything you need.
Renting a Winnebago with Outdoorsy
Outdoorsy is one of the best peer-to-peer rental agencies available. It works similarly to Airbnb. RV owners list their RVs for the days that they are available.
They list special amenities or any special features. RV owners have the option to decide if they want their RVs listed as festival-friendly or pet-friendly.
Outdoorsy lists RVs by location, so you will start by searching for RVs wherever you want to start driving. Likely this means your current location, but it could be your destination if you plan to do a one-way drive.
Outdoorsy has plenty of filters so you can find exactly the right RV for you. If you are looking for a Winnebago, you have the option to search by manufacturer, so you can filter your results until you only have Winnebagos as options.
From there, you can search for Winnebagos and filter by size, special amenities, or price.
Once you have found the Winnebago that you want to rent, you can contact the owner to set up a rental. You will coordinate if you need the Winnebago camper delivered to you, or if you will meet somewhere to pick it up.
The owner will likely walk you through to show you proper use of the amenities and ensure that you know their policy for cleaning and refueling the camper before you return it.
Then, take your Winnebago on the road and get to exploring!
Luxury Winnebago Rentals: What You Need to Know
If you are looking for a glamorous camping ("glamping") experience, you will want to find a luxurious Winnebago with all of the amenities.
This option will not be as budget-friendly, though there are certainly ways to save money while enjoying a comfortable, luxury Winnebago experience.
👉 If you want a true luxury Winnebago experience, you will want to find a camper with all of the amenities.
It should include an oven, a stove, a toilet, a shower, a sink, and a microwave. This should allow you to cook whatever you want and stay clean.
👉 With these extra amenities, you will need to fill the water tank if it does not come pre-filled. You will also have to empty the gray and black water (wastewater) tanks when they are filled.
This step is not glamorous, but it makes it possible for you to have all of the luxuries of home on the road with you.
Let's Tour the Most Luxurious and Expensive Motor Home on the Road >> Check out the video below:
👉 If you are not sure where to start, the Winnebago Horizon 40A is a fantastic, luxury option. It has a beautiful design, and it is incredibly comfortable to ride in.
👉 It has stainless-steel sinks and refrigerators and an outdoor patio awning. The awning is powered, so you will not have to fight with it to unfold it and set it up.
Add in the enhanced entertainment system, and you are sure to have a luxury trip.
Small Winnebago Rentals: What You Need to Know
Small Winnebago's are perfect if you are planning a shorter trip, hoping for more flexibility, or looking for a more budget-friendly option.
Many of the best small Winnebagos available for rent are class C motorhomes like the Winnebago Minnie Winnie or class B motorhomes like the Winnebago Era.
Many of these Winnebagos are narrower, so they can drive easier through national parks where there may be width restrictions.
You will likely need to cut down on gear to make the most of your small motorhome rental. This may mean stopping for groceries more frequently rather than buying them all at the beginning.
It could also mean that you leave bicycles and other toys at home or rent them at stops along the way.
How Much Does It Cost to Rent a Small Winnebago?
The specific floorplan provided in your Winnebago and the year can both influence the overall cost. However, small Winnebagos are still a great budget option.
How Much Does It Cost to Rent a Small Winnebago? On average, you can expect to spend between 80 and 200 dollars per night. The more expensive options are generally newer with more amenities.
Are There Winnebago Rentals Near Me or in My Area?
Winnebagos are some of the most popular campers on the market. This means it is quite easy to find Winnebagos for rent in your area.
The easiest way to see if there are Winnebago rentals in your area is to begin a search on Outdoorsy.
You can search by your location and then filter using "more" to specify that you are looking for a Winnebago.
If by chance, there are no Winnebago rentals in your area, you can search for deliverable Winnebagos on Outdoorsy.
Some owners make their campers deliverable, so even if it is not in your location, you can pay a small fee to have the camper brought to you.
3 Best Winnebago Models You Can Rent
Finding the best Winnebago can transform your vacation into a true adventure. These options have great amenities, are safe, and have glowing reviews from real owners.
Winnebago Forza
The Winnebago Forza is a comfortable option that is great for large groups. It has four different floorplans available, so you can find a Winnebago Forza in various sizes.
The Winnebago Forza is perfect for groups because you have the opportunity to slide out sleeping spaces as necessary. Some of the floorplans can sleep up to nine people.
The Winnebago Forza also boasts a beautiful interior and a great living space. There is a wonderful television set and the option to set up for theatre-style viewing. Renting a Forza will make sure everyone has fun!
Winnebago Navion
The Winnebago Navion is a wonderful class C motorhome with an upscale layout and a dependable, comfortable design.
It is available in 3 different floorplans and can comfortably sleep up to four people.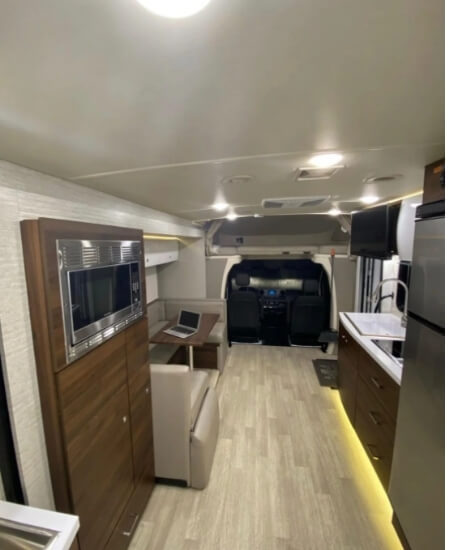 The Winnebago Navion is a safe option that is easy to drive and includes all of the toys to make a great vacation. It offers lane-keeping assistance, Wi-fi, and an interactive voice interface.
On top of that, the overhead cabin sleeping space is insulated to keep everyone comfortable during the night.
Winnebago Vista
The Winnebago Vista is a great way to connect with the iconic Winnebago design that has remained steady for so many years.
It has 5 different floorplans, and you can find floorplans that sleep up to 5 or 7 people.
The Winnebago Vista offers bunk beds and a transformational interior that allows you to convert the lounge area into an additional sleeping space.
It also offers an exterior entertainment set, so you can enjoy the outdoors with the luxury of the indoors. The Winnebago Vista is a great, flexible option for any family.
Is a Winnebago Right for Me?
Winnebagos are incredibly versatile. They are available in many different kinds with varying floorplans. Chances are it will not be difficult to find a Winnebago that is right for you.
They are tried and true and have developed to be some of the highest-quality travel campers on the market today.
Winnebagos are great if you are looking for some of the most user-friendly RVs available. They are easy to drive and have excellent safety features.
The only downside is that sometimes they are more expensive than other models. If you are looking for a bare-bones camping experience, you may not want to pay extra for the amenities offered as standard in most Winnebagos.
If you are hoping to get a good value for your money, though, Winnebagos are excellent.
Which Type of Winnebago Should I Rent?
With so many quality options, it can be easy to get overwhelmed when deciding on a rental Winnebago. Consider how many people will be traveling with you and what your vacation goals are to help make this decision.
Class A Winnebagos are great for people traveling in large groups or for people looking to take all of the luxuries of home on the road with them. They are more expensive and more difficult to drive because they are so large. Some of the most popular models are the Forza, the Journey, and the Vista.
Class B Winnebagos are great for people traveling in smaller groups and looking for more flexibility. They are less expensive, but they include fewer amenities. In general, these can only sleep two people. The most popular models include the Era, the Travato, and the Revel.
Class C Winnebagos are perfect for people who want more luxury or have more people but do not want the full class A experience. In general, they can sleep around four people. The most popular models include the Minnie Winnie, the Spirit, and the Navion.
Winnebago travel trailers are perfect for those with trailer-pulling experience. In most places, you cannot ride in a travel trailer while you drive the towing vehicle, so it may also require smaller groups. Travel trailers are more budget-friendly than many motorhomes. The most popular Winnebago trailers include the Micro Minnie, the Hike, and the Voyage.
Top RV Rental Destinations
Things Winnebago Lovers Can Do in New Jersey
New Jersey is a popular vacation destination in the Northeastern part of the United States. It is a wonderful destination for enjoying the beautiful cities in Northeastern USA.
One of the most popular destinations for Winnebagos is the Hospitality Creek Campground. This campground is right by the beach, so you can enjoy gorgeous views while you camp.
You can also swim and try some watersports.
They have a volleyball court, so you can sweat it out. They also have an Olympic-sized swimming pool.
From New Jersey, you can easily take public transportation to some of the most bustling cities in America. Try restaurants and enjoy the culture while you enjoy your vacation.
Things Winnebago Lovers Can Do in New York, New York
New York City is a fantastic vacation destination, though as a big city it may not seem like the most RV-friendly vacation spot.
You will want to park outside of the city, but there are camps with easy access to public transportation to take you to the heart of everything.
One option is Cheesequake State Park. From here, you can enjoy fishing and marshes. Then you can take a bus into New York City to shop in Soho or catch a show on Broadway or at the Metropolitan opera.
 New York City's Central Park is another great destination to visit. You can explore the various sites in the park for a day without getting bored. Then head back to your camper and get some rest to try another neighborhood the next day.
Things Winnebago Lovers Can Do in Houston
Houston Texas is an incredibly popular camper destination. They have dozens of camper parks, so you will not struggle to find one that is near the activities you want to enjoy.
From resorts like Northlake RV Resort, you can enjoy all of the activities provided by lakes: swimming, boating, fishing, and more! They also have hot tubs and swimming pools.
When you head into Houston, there are great sites for the space enthusiasts in your family. You can see the Houston Space Center and then head to other museums in the area.
Houston also has amazing food, so be sure to try some of the local Tex-Mex restaurants.
Things Winnebago Lovers Can Do in Charlotte, North Carolina
Charlotte is another popular camping destination. One of the reasons for this is its proximity to the Charlotte Motor Speedway.
If you are passionate about car racing, visiting Charlotte in a Winnebago is perfect for you. There are campgrounds within walking distance of the speedway, so you can enjoy races and then head to the campground for a restful night of sleep.
Another popular destination is the Carowinds Camp Wilderness Resort. It is near an amusement park and a water park, so there are games and rides for the whole family.
You can enjoy fun-filled days and then try some BBQ in the city at night.
Things Winnebago Lovers Can Do in Los Angeles
Los Angeles is similar to New York City in that it is a large city with excellent nightlife and shopping centers. It may not be the first city to come to mind when you think about camping in a Winnebago.
Check out Venice Beach for some Los Angeles culture. There is street music and street food. You will also see skateboarders and basketball players. It is vibrant and colorful.
Next head over to the Hollywood Walk of Fame to see the stars of your favorite "stars."
If you want a day trip outside of the city, try Joshua Tree National Park for some fantastic hiking trails.
Things Winnebago Lovers Can Do in Minnesota
Minnesota is a great vacation destination for people looking to step away from the hustle and bustle of cities. There are many state parks with gorgeous hiking, swimming, and biking options.
One of the most beautiful places to stay is the Split Rock Lighthouse State Park. It offers a historic lighthouse and some fantastic biking trails.
If you are interested in exploring the flora and fauna native to Minnesota, try Bear Head Lake State Park. You can see moose, wolves, black bears, and bald eagles.
Minnesota is a great vacation space for those looking to take their Winnebago out for a breath of fresh air.
Conclusion
Winnebago is one of the most trusted camper companies in the world. They have been around for decades, and they have refined their process to make every camper special.
They have so many options available, that no matter where you want to go, there is a Winnebago for you.
Renting through Outdoorsy makes Winnebago rental easier than it has ever been. You can rent a Winnebago and hit the road to see gorgeous sites without all of the hassle and expenses of other travel methods.
References
https://www.usadventurerv.com/
Recent Posts