If you've recently cracked open your RV's owners manual, you may be wondering if the height it lists includes air conditioners or other upper attachments like antennas and roof racks.
This is an important detail to be aware of as it can be quite dangerous and possibly even illegal, to drive your RV in certain areas if it is too tall.
Does RV height include Air conditioner? No, RV height does not include the air conditioner or any other mounted additions such as roof racks, antennas, or satellites. Further, you should ensure you are aware of your state laws. States like Georgia dictate that the maximum height for any vehicle be 13.5 feet.
Depending on the size of your RV, you'll want to avoid local routes with low bridges or overpasses.
If you would like to explore the significance of your RV's height and class, this article has you covered. Below we will breakdown the three major classes of RV, why exactly your RV height is important, and what state laws you will want to be aware of.
With the info we've gathered you'll be on your adventure in no time!
What Does RV Height Include?
RV heights are usually divided between interior height and exterior height. The interior height is akin to the measurement from the floor to the ceiling in your house.
It should give you an idea of how roomy your RV will be, which is especially important if you happen to be tall. Interior heights are usually six feet or higher in most RVs regardless of class.
Just as the name implies, exterior height tells you exactly how tall your RV is on the outside. Exterior heights usually do not include anything that may be mounted on top of the RV such as air conditioners, satellites or roof racks.
It's always a good idea to break out the old tape measure and make sure that your RV is as tall as you think it is.
What is the Average Height of an RV?
RV's can range in height anywhere from seven to over thirteen feet depending on the class and model you are dealing with.
It is important to know the height of your own RV because it will affect what roadways you can go down both safely and legally.
Your owner's manual should tell you what your vehicle's height is minus any attachments on top.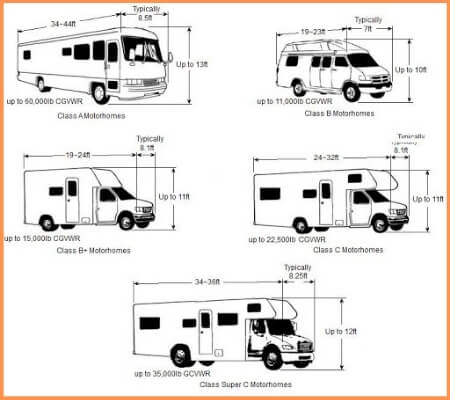 What is the average RV height? on average the height of RV will vary between 7 feet for class B to 14 feet for class A motorhomes, below you can find some examples:
13 to 14 feet for Class A motorhomes
7 to 9 feet for Class B motorhomes
10 to 11 feet for Class C motorhomes
10 to 12 feet for travel trailers
11 to 13 feet for fifth-wheels
In the table below you can find the height examples of some popular RV models and makes:
| RV Model / Make | Height |
| --- | --- |
| Winnebago Forza | 11+ feet |
| Forest River Inc. Berkshire XL | 12,5 feet |
| Newmar Dutch Star | 12 to 13 feet |
| Winnebago Travato | 9+ feet |
| Roadtrek Zion SRT | 9,5 feet |
| Thor Gemini RUV | 10 to 11 feet |
| Thor Four Winds | 11+ feet |
| Winnebago Navion | 11+ feet |
| Forest River Inc. Sunseeker | 11 feet, 3 inches |
| Keystone RV Company Cougar Half-Ton | 11+ feet |
| Starcraft RV Mossy Oak | 10 and a half feet to 11+ feet |
| KZ RV Escape Mini | 8+ feet |
| Keystone RV Company Montana | 13 feet, 4 inches |
| Northwood Arctic Fox | 13 feet, 3 inches |
| Winnebago Minnie Plus | 11 feet, 11 inches |
RV's are generally categorized into three different classes of motorhome by their weight.
Below we have listed the average heights for each class of RV and given a brief description of what might make them taller than their listing in the owner's manual.
Class A Motorhomes
Class A RVs tend to be the tallest, with an average height of 13 feet, 6 inches. There are even some class As that reach all the way up to 14 feet.
This class of RV is the heaviest on the market and usually includes the kind of luxury you'd see a rock star traveling in.
If you have any additions on top of your class A RV you should really double-check the height before you bring it on any kind of trip.
Related reading: How Much Does Class A RV Insurance Cost? The Complete Buyers' Guide
Class B Motorhomes
Class B RVs are the smallest on the market. Their exterior height comes in at an average of 7 to 9 feet, while their interior height is around 6 feet, 3 inches.
A camper van is a prime example of a class B motorhome. Usually, these smaller vehicles are likely to have additions like antennas or roof racks mounted on top if they have anything at all.
You're not as likely to run into any problems with the safety or legality of a class B RV's height.
Related reading: How Much Does Class B RV Insurance Cost? Complete Buyer's Guide
Class C Motorhomes
Class C RVs are usually smaller than class A but bigger than class B. It is important to note that though it's not the average, there are some class C RVs that are just about as tall as shorter class As.
A Lot of times this is just due to the attachments that are placed on top of the RV itself. Without anything attached class C motorhomes average at around 10 to 11 feet in height.
Many class C motorhomes include an over cab loft for extra sleeping space that may extend their height.
Related reading: How Much Does Class C RV Insurance Cost? Complete Buyer's Guide
Is It Dangerous to Drive a Tall RV?
Most of the time the height of your RV should be safe regardless of where you are driving. This is because there are laws on how much space vehicles need for clearance under bridges and overpasses.
Those laws were set up specifically so that large vehicles like RVs and Semi-trucks could pass through as smoothly and safely as any other vehicle.
Interstate laws prevent any overpass or bridge from having a clearance under 16 feet. Therefore on its own, your RV should have no problem passing under it.
If you have a large class A RV, with an attachment you have added to it, you may want to double-check that it is still under the limit.
Over regular roadways–be they urban or rural–overpasses and bridges are required to have at least 14 feet of clearance.
Again, you'll want to make sure that you've factored in whatever attachments you have on top of your RV if you are driving a Class A motorhome.
It is possible that the attachment has you slightly over 14 feet in height but still unlikely.
Related reading: Is Good Sam RV Insurance Any Good? An Honest Review [Updated]
Regulations Regarding RV Height
There are some states like Georgia that require that if you're driving on their roadways your vehicle must be at or under 13.5 feet tall.
However, even in Georgia, you can drive with a vehicle that is 14 feet tall or less if you are on the interstate. Bear in mind that Georgia is only one of several states in the US that has laws like this.
Any time you are getting ready to go on a trip in your RV, you should double-check state and federal regulations so you are fully aware of what is legal in your area.
Any kind of specialty vehicle like a tall RV is more than likely to have special regulations attached to it somewhere.
It might seem like a bore to check the legality at the time, but if you get pulled over for something as mundane as the height of your RV, you'll wish you had.
RV Height Restrictions
Are there any RV height restrictions? yes, the maximum height for motorhomes varies from states to states. In the table below I have summarized the main restrictions for US states and for Canada:
RV Height Restriction Chart
| States (Canada) | RV Height Restriction |
| --- | --- |
| QUEBEC | The maximum height of any trailer, load included, is 4.15 meters |
| SASKATCHEWAN | maximum height allowed is 4.15 meters |
| YUKON | height: 4.9 meters. |
What Is The Minimum Height For RV Garage Door?
As RV's come in different sizes, the rule of thumb is that you should have 2 feet of room between the top of your garage door and the eave of your garage.
So when you are choosing the correct garage door height, you need to take your garage height into consideration.
Roll-top doors need an extra clearance of 1 foot to house the canister. The door size requirements, according to your RV size, are as follows:
| RV/TRAVEL TRAILER TYPE | RV SIZE | DOOR HEIGHT |
| --- | --- | --- |
| Class A | 34'-44' | 14' Sectional |
| Super C | 34'-36' | 14' Sectional |
| Class C | 24'-32' | 12' Sectional |
| Class B+ | 19'-24' | 12' Sectional |
| Class B | 19'-23' | 10' Sectional |
| 5th Wheel | 30'-35' | 12' Sectional |
| Travel Trailer | 25'-30' | 12' Sectional |
| Pop Up Camper | 20'-23' | 10' Roll-Up |
| Light Trailer | 18'-20' | 10' Roll-Up |
| Truck Camper | 16'-21' | 14' Sectional |
How Much Clearance Is Needed For A Roll-up Garage Door?
To measure your required clearance for your roll-up garage door, you should follow these steps:
Measure the height and width of the opening that you intend to install your roll-up door in feet and inches
Measure the space on either side of the opening. The side space measurement can not be less than 12' either side (it can be greater)
Measure the clearance or amount of space between the header opening to the ceiling or between the header opening and any obstacles such as ledges or ferndowns. For doors up to the height of 10' tall, your minimum clearance should be 16''. For doors more elevated than 10', you should have a clearance of 24''
Ensure that your door will be mounted to have the strength to bear the weight of the door without crumbling or cracking. If the material is weak, then you might need to support structures
What Are The Advantages of RV Height Sensors?
RV height sensors work through a transducer mounted on your RV and a digital display on your RV dashboard. The sensor sounds an alarm when the RV encounters a lower structure than the height programmed in the RV sensor.
The display shows the height calculations in real-time, which can save the RV from damage such as:
Driving under a solid structure or objects that becomes lower as the vehicle passes through it. Often in remote areas, structures can have shifted over time or be build off square. In this situation, the driver may calculate the entry height and fail to assess the lowering of clearance beneath the object.
Overpass signs may be incorrect, damaged, or missing. Secondary roads may contain hazards for RV drivers such as unmarked or unreliable signage. However, most rural interstate highways require warnings for structures lower than 16', that might not be the case in more remote areas.
Height sensors take the guesswork out of entering gas stations.
If your trailer is tall or you have a Fifth Wheel that exceeds 13'6'', it is recommended that you should have an RV height sensor to protect your vehicle.
If your RV is under-11', height sensors are an optional security measure, unless you plan to travel extensively in areas with lots of covered bridges or low railroad overpasses.
How to Easily Measure The height of Your RV?
There are easy ways to measure your RV height, but RV forums' consensus is the best way to use a laser level.
Park your RV alongside a wall that is higher than your RV, with enough side clearance for you to move comfortably.
Climb on a ladder and alongside your RV and place the laser level at the highest point of your RV (Including antenna, dishes, etc.)
Climb on the roof of the coach and hold a whiteboard facing the laser beam. You should be within a couple of inches.
Measure up or down from the beam to find your correct RV height.
Alternatively, a quick way to measure your RV height is:
measure the from the roof to the ground on a level surface.
Climb on top of your RV and measure the highest point on your RV roof, including antenna or dishes.
Add the two figures to record the height of your RV.
Measure the distance from the ground to the laser point to record your RV height.
What Are the TOP 3 RV Height Clearance App?
1. RV Parky 
RV Parky offers low bridge warnings as part of its RV navigation system. This free app also includes rest areas, fuel stops, and features such as RV friendly stores and park areas.
If you program your RV dimensions, the app provides you with low bridge clearance warnings and will even help you calculate your fuel costs for your trip based on the current fuel price and your average petrol consumption.
The RV Parky is available for free download on both iOS and Android.
2. CoPilot GPS for RV
CoPilot offers an RV navigation app that offers voice-guided offline route navigation, traffic, and route planning. You may enter your RV dimensions and specify road restrictions to customize your route.
This app is an excellent alternative to RV owners who do not have a GPS. The app is available on iOS and Android.
3. RV Life Network
The RV Life Network App turns your phone into an RV safe GPS. The app alerts you to mountain passes, low clearance obstacles, weight limits, and propane restricted tunnels.
You may customize the app to the height and weight of your RV, and it offers voice and lane guidance even when you are offline.
The app is available on iOS and Android.
6. How Tall Is a Camper With AC?
RV heights differ from model to model and so do RV air conditioners. There are low-profile ACs available for your RV, but generally, they are more pricey than the average RV AC.
The best way to ascertain your RV and AC's combined height is to measure your RV height (on level ground) and then add the installed dimensions of your AC.
Bear in mind that most states have a federal maximum height of 13′ 6'' and you should not exceed these height restrictions when installing your AC.
Conclusion
Always remember that RVs are categorized into three different classes of motorhome by their weight. Class A is usually the tallest whereas class B is the shortest.
Therefore if you're driving a class B RV, your height is probably okay no matter what, but if you're driving a Class A or C RV with a large attachment on top, you'll want to check the height for safety and legal reasons.
Keep in mind that the RV height listed in your manual does not include any attachments you put on top of it. This consists of things like air conditioners, roof racks, antennas, satellites, and whatever else you can imagine mounting up there.
With that in mind, you can double-check the height of your own RV, get inside and rev up that engine. It's time to head out on a road trip! Safely of course.
Recent Posts