Traveling in an RV can be a great way to tour the country without breaking the bank in travel fees; this is especially true for Class B RVs, which are the smallest of the three primary types of RVs.
And, while traveling in a Class B RV (often referred to as a campervan) can be a great way to save some money and be more adventurous as opposed to flying, there are still some expenses that need to be accounted for, namely insurance.
How much does Class B RV insurance cost? Like traditional car insurance, class B RV insurance can vary depending on how comprehensive your coverage is, with less comprehensive policies being less expensive. However, typical rates for Class B RV insurance fall between $500 and $1,000 per year.
Making sure that you have a good insurance policy in place before traveling in your camper van is very important to protect you from potential liability.
And, as we all know, the world of insurance is unfortunately very complex, with lots of things that you need to know and understand before taking out a policy.
What is Class B RV insurance?
Before we get more into the details about different insurance policies, it is essential first to understand what class B RV insurance is.
RVs can fall into one of three different categories, and the insurance rates for each type are different (luckily, Class B insurance is cheapest). The different categories of RV, according to Classic Vans, are:
Class A: full-size RVs
Class B: smallest size; campervans and converted cargo vans
Class C: midsize RVs
Somewhat confusingly, Class B RVs do not fall in the middle of the other two classes in terms of size or insurance cost, as they are the smallest type of RV, with class C being more of a middle ground.
Regardless, it's important to know what kind of RV you have before you start thinking about policy types and pricing.
Getting an accurate quote for a Class B motorhome insurance policy will not be possible via an article on the website.
However, you should expect to pay between $500 and $1,000 per year if you use your motorhome 140 days a year. Most people pay close to $800 per year.
The rate of your Class B RV insurance varies according to your policy and also according to where you live. Pricing regulations vary from state to state when it comes to insurance.
In the table below you can find the Average RV Insurance Rates Across 6 States in the US:
| States | Insurance rates per year (USD) |
| --- | --- |
| North Carolina | $875 |
| Oregon | $895 |
| Massachusetts | $1,135 |
| Michigan | $4,485 |
| California | $4,085 |
| Texas | $1,435 |
Oregon and North Carolina are states with the lowest RV Insurance rates.
How do insurance companies classify Class B RVs?
While it's easy enough to say that Class B RVs are just camper vans, insurance companies would never agree to such a logical and straightforward explanation.
Instead, they prefer to use various complex categorizations to make the process as confusing and cumbersome as possible. Such is life when it comes to insurance companies, unfortunately.
With that being said, here are a few of the different vehicle characteristics that insurance companies use to classify a vehicle as a Class B RV, according to Trusted Choice:
Related reading: 4 Reasons RV Insurance Is Expensive [Must-Read]
Usage of the Vehicle
Insurance companies can be very particular about how a vehicle is used, as the vehicle's purpose can vastly alter the amount that they'll quote for a policy.
For example, cars that are driven less than a certain number of miles per year can be considered "weekend cars" (insurance companies will use a more technical term) and thus be insured for less because they are not driven as often.
This is to allow people with multiple cars to avoid spending a small fortune on insuring them all.
Insurance companies use a similar characterization when they classify vehicles as Class B RVs. To most insurance companies, a Class B RV will be a vehicle that is used for camping, short trips, or a family vehicle.
This characterization allows the insurance companies to assess that the RV will likely not be used daily, and is actually being used as a campervan should typically be used.
The Vehicle's Features
Another way that insurance companies characterize Class B RVs is by assessing the features that the vehicle is equipped with.
Most Class B RVs will be provided with features that distinguish it from a cargo van or other type of vehicle, and insurance companies use these distinguishing features to identify the vehicle as a Class B RV.
Some of these features include but are not limited to: an extended or raised roof, a small kitchen area, sleeping accommodations, a 110-volt electrical system, and a toilet. The features on this list will vary from insurance company to insurance company.
Still, generally, these are the features that insurance companies will look for when identifying a vehicle as a Class B RV.
Size
Another essential characteristic that is used by insurance companies to classify campervans is their size. As we discussed briefly above, Class A and C RVs are much bigger than Class B RVs, with their size difference being their primary distinguishing feature.
Insurance companies are, of course, aware of this, and will use the differences in size to identify what class an RV should fall into easily.
The typical range for Class B RVs is somewhere around 16 to 21 feet in length, though this will vary from insurance company to insurance company slightly.
For example, Protective Agency insurance classifies vehicles up to 25 feet in length as Class B RVs.
Sleeping Accommodations
Another way that insurance companies identify Class B RVs is by the number of people that it can accommodate for sleeping arrangements.
According to insurance companies, a Class B RV should be able to accommodate between two to four people for sleeping arrangements, with anything falling outside of that range not eligible for classification as a Class B RV.
Space
Another characteristic that insurance companies may use to classify a Class B RV is the amount of space within the vehicle.
Similar to the different sizes outlined above, Class B RVs will have quite a bit less space inside compared to their larger Class A and C counterparts, and insurance companies will use this is a way to identify the vehicle as a Class B RV.
As previously mentioned, there may be other characteristics that insurance companies use to classify an RV as Class B; these are just a few of the more common ones.
Related reading: The Smallest and Biggest RVs You Can Rent (2020 Updated)
Which Class B RV Insurance Agency To Choose?
Many insurance companies in the US offer RV insurance for almost every class, and this includes class B RVs too.
I have listed some of the most popular insurance companies that offer RV insurance. To have a reliable RV insurance agency, you should do some research before buying the policy.
In the following table you will find the best rated RV insurance providers I have found on the market at the moment (customer services, ratings, coverage options, discounts, financial strength):
RV Insurance Agency
Coverage Options
Good Sam (Top Choice!)
. 96% overall customer satisfaction rating
. Customers report average savings of $321 per year
. Total-loss replacement for motorhomes and travel trailers
. Specialized coverage for full timers or first-time weekend RV'ers
. RV storage option allows you to save even more by turning off coverage when your RV is not in use!
RVInsurance.com
. Customers report average savings of $321 per year
. Covers everything from class A motorhomes to pop-up campers
. Quote and buy online
. Speak to a professional, licensed agent
. Fully licensed, multi-line agency can quote your auto, home, boat and other insurance products
National General
. Top rated C=choice: A+ BBB rating
. "Turn Off" for liability & collision during storage – Save 53%
. Cover your personal belongings or attachments
. Full-timer coverage options
. Mexico insurance options
. Total Loss RV replacement
. 24-hour claims support
Progressive
. Progressive Insurance – Trusted by Over 18,000,000
. Competitive rates, tons of discounts (safe driver, pay-in-full, multi-car, multi-policy, quoting online & more)
. Name your price Tool®
. Comprehensive List of RV Covered Items
. Roadside Assistance Included
. Recreational Vehicles, Trailers & Fifth Wheels
Different Types of Coverage
Now that we understand precisely how insurance companies classify vehicles as Class B RVs, we can take a look at what will likely hold the most significant bearing on the amount that you end up paying for your campervan insurance: the type of coverage that you get.
Just like with car insurance, there are a lot of different options, with prices ranging quite widely between them.
Understanding the differences between each is a crucial step in finding out exactly what insurance policy will be best for you, and exactly how much you should be paying.
Liability Coverage
Liability is the most basic form of insurance coverage and is the one that is required by law just about anywhere you live.
According to RV-Dreams, liability coverage simply absolves you from being legally liable for any property or bodily harm and/or damage that you do to others.
What it does not cover, however, is any property or physical injury and/or damage that you inflict upon yourself, your property, or the occupants of your vehicle.
Within the category of liability coverage, there are still different coverage variations. Liability coverage is typically broken down into two distinct categories: split limit or combined limit. The limit that is being referred to is the monetary limit on the extent of the coverage. For example, a combined limit policy may have a limit of $80,000 and will cover liability up to that amount.
Conversely, a split limit policy will have separate limits for the different categories of damage or injury.
RV-Dreams gives the example of a split limit policy with the following coverage matrix: "$25,000 bodily injury coverage per person, $50,000 aggregate bodily injury coverage for all injured persons, and $10,000 worth of coverage for property damage." On a policy, a split limit coverage plan may be expressed as follows: 25/50/10.
The limits of your liability coverage policy are essential things to know, as states set a predetermined threshold as a minimum for insurance plans.
It's important to make sure that your policy meets the state's minimum limit, and it's probably best to go a bit over the minimum as well, just to be safe.
Here's a quick summary of what you should know about liability coverage:
It's the most basic legally required coverage
Only protects you from liability for damage done to others
Doesn't cover damage done to your own person or property
Is broken down by limits, with states requiring a minimum limit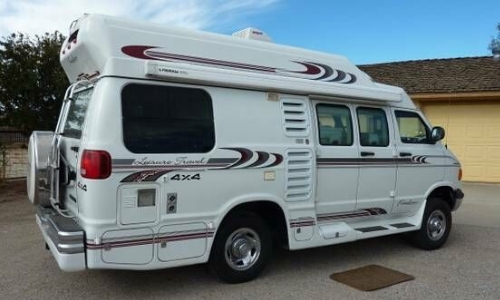 Collision Coverage
Collision insurance is what we typically think of when we think of car insurance, and that same concept applies to Class B RV insurance as well.
Basically, collision insurance covers the damage done to your campervan when you get into an accident with another vehicle.
Additionally, collision insurance will cover damage done to your Class B RV when you collide with any other non-living object, like a tree or a telephone pole.
What it does not cover is any damage done during a collision with an animal or damage that is not the result of a crash. For example, if you have your campervan up on jack stands and it falls off, that damage will not be covered.
Collision insurance will provide coverage regardless of who was at fault for the accident.
To sum up the concept of collision insurance:
Covers damage to your vehicle that is the result of a collision
Doesn't cover collisions with animals
Doesn't cover non-collision related damage
Related reading: How Much is it to Buy Back a Totaled RV From Insurance?
Under or Uninsured Motorist Coverage
The next type of coverage to be discussed is known as underinsured or uninsured motorist coverage.
Underinsured or uninsured motorist coverage (henceforth abbreviated as UIM) will cover you when someone without adequate insurance hits you and causes bodily harm or damage to you, your passengers, or your property.
Many states do require that people have some form of UIM insurance, just as states require many campervan owners to have some sort of liability coverage.
The best way to describe the function of UIM coverage is by again referring to RV Dreams, who describes UIM insurance as an effective opposite of liability coverage.
Liability coverage covers others when you hit them, whereas UIM insurance covers you when other people hit you, and their insurance is inadequate or non-existent.
To sum up, UIM insurance:
Covers you when under or uninsured drivers hit you
Is legally required in certain states
Can be thought of as the opposite of liability coverage
Comprehensive Coverage
The last primary type of coverage to be discussed is known as comprehensive coverage. Comprehensive (or full) coverage is the most exhaustive type of insurance coverage when paired with collision.
It is best for campervan owners who want complete and total peace of mind regarding their insurance policy.
Comprehensive coverage will vary on what it covers depending on the policy and the insurance company, but generally speaking, full coverage covers damage not caused by a collision. Among other things, comprehensive coverage will cover damage caused by the following situations:
Damage from animal impacts
Explosions and earthquakes
Fire
Malicious mischief or vandalism
Missiles or falling objects
Riot or civil commotion
Theft
Windstorm, hail, and flooding
Non-collision related broken glass
So, if you're worried about someone launching a ballistic missile at your campervan, comprehensive coverage is for you! In all seriousness, full coverage is an excellent option for people that actually use their campervan for outdoor activities and camping.
While it may be unnecessary for many car owners, comprehensive coverage is more critical for Class B RV owners, as campervans are more likely to be subject to damage from the above causes than most cars are.
This is a result of their frequent usage in off-road and outdoor environments where extreme weather is more likely to be encountered.
The above four types of coverage outline the basic forms of Class B RV insurance, and most RV'ers will opt for a combination of multiple of them in some way.
However, that does not entirely cover all the different types of Class B RV insurance, as certain alternate types of coverage may be worth considering as well.
Alternate Types of Class B RV Insurance Coverage
While the above-mentioned four primary types of insurance coverage will likely suffice for most average RV'ers, there are options available for those with specific circumstances, or simply want to have additional peace of mind in knowing that they are protected in less common situations where damage to their RV may occur.
So, let's take some time to go over the different types of other coverage that are available for Class B RVs.
Full-Time Coverage
Full-time coverage is reserved for people that use their RV as a full-time residence. This is probably less likely to be true for campervan owners and is more applicable to the other classes of RV, but it is worth discussing, nonetheless.
Full-time coverage can be thought of as a homeowner's insurance policy for RV's, and it replaces the liability coverage that we went over earlier.
Full-time coverage is in place to protect against damages that may occur both while the RV is being driven, and/or while the RV is stationary or at a campsite.
Another thing to note about full-time coverage is that if you take out this type of policy, your insurer will know that you intend to use your RV as a residence, and may adjust rates accordingly.
Some will argue that for this reason, people who use their RV as a residence should not get full-time coverage because it is more expensive, but this is a bad idea.
You should always get full-time coverage if you use your RV as a residence because standard coverage will not cover damages related to full-time use, whereas full-time coverage, of course, will.
To sum up full-time coverage:
Only for people who use their RV as a residence
Replaces liability for full-timers
Like a homeowner's policy for an RV
Related reading: Setting Up a Travel Trailer to Live In: 20 Essential Steps
Vacation Liability Coverage
Vacation liability coverage is very similar to full-time coverage, except it's for people that only use their RV as a residence sometimes as opposed to full time.
Vacation liability insurance covers the RV while it is parked, though only when being used for a vacation or part-time residency, rather than a full-time residency.
Effectively, vacation liability coverage is full-time coverage for the people that don't live in their RV full-time.
Personal Item Coverage
This is one aspect of insurance coverage that is overlooked far too often. Most of the time when we are thinking about RV insurance coverage, we just think of policies that will cover the cost of damage done to the RV, and the cost of the bodily harm that may have been caused as a result of the accident.
However, in some instances and accidents, this type of coverage can leave out a portion of things that can have some real monetary significance: personal belongings.
When we travel in our campervans or RVs, we often bring a lot of personal belongings with us.
Whether it be clothes or camping supplies, these items are usually plentiful, and in aggregate, worth a good bit of money. As a result, it may be a good idea to get these things covered by insurance, and luckily, that is where personal item coverage comes into play.
Personal item coverage will cover not only the market value of things lost or destroyed from damage, but it will also cover the cost of replacement.
So, say that your brand-new set of golf clubs was damaged in a fire, your typical comprehensive coverage wouldn't cover the clubs. However, if you have personal item coverage, you will be paid out an amount enough to fund the purchase of a replacement set.
This can be a tremendously useful thing to have for people that want to make sure their items are covered, and especially for people who travel with a lot of valuable items in their RV or campervan.
Another thing worth noting is that, like with all insurance policies, the extent of coverage within this class of coverage will vary from policy to policy.
More specifically, most personal item insurance policies will have a limit on the amount able to be paid out per item. In light of this, it is imperative to pay specific attention to each limit and plan out your policy—and perhaps the things that you bring along—accordingly.
In summary of personal item coverage:
Usually associated with comprehensive coverage
Covers the value of a replacement for an item damaged in the RV during a covered event
Has limits on per-item payout amounts
Emergency Expense Coverage
Emergency expense coverage can be a great thing to have for those that want extra peace of mind should something go awry with your campervan during your trip.
And, while it is worth noting that many policies will include emergency expense coverage at no extra charge if you want more exhaustive emergency expense coverage, you will probably have to pay a little bit extra for it.
Regardless, emergency expense coverage will cover things like temporary living arrangements for those whose RV is their full-time residence, or pay for the same and transportation and shipping of the RV should it break down for people that do not live in their RV full-time. It's a relatively simple concept, but it's a great thing to have for peace of mind.
In summary of emergency expense coverage:
Covers housing for full-timers in the event their RV is unusable
Covers transportation, housing, and shipping of the RV in emergencies (non-full-timers)
These are just some of the more common alternate and supplementary insurance coverage options for Class B RVs and campervans and does not include all the numerous other supplemental coverage options.
However, for most people, all of the coverage that they will need can be found somewhere on the above lists.
Factors that Affect Class B RV Insurance Cost
Now that we've thoroughly discussed all the different insurance coverage options, the next step is to look at the various factors that will affect the cost of your insurance policy.
There are quite a few things that go into the final premium and deductible of your insurance coverage, and each of them needs to be considered to ensure that you're paying the right price based on your circumstances.
Type of Coverage
It should come as no surprise that the type of coverage you get will have a significant impact on the amount that you end up paying for Class B RV insurance.
This is because insurance companies must demand a premium for more comprehensive coverage, as this coverage has the potential to require more massive payouts compared to less comprehensive coverage plans.
In terms of cost, it is generally true that the less comprehensive the coverage, the lower the cost of the policy. For example, basic liability coverage will be far less expensive than a plan that includes comprehensive and collision coverage.
So, in choosing what policy is best for you, it's essential to know exactly what you'll need, and if the cost of the plan is worth the added coverage.
Here are some more things that may affect the cost of an insurance policy, according to Trusted Choice:
Location
Just like with basically everything that has to be paid for, the cost of Class B RV insurance will vary depending on the location that the RV is registered in. Generally speaking, the high cost of living areas will have higher insurance rates, and lower cost of living areas will have lower insurance rates.
It is also important to note that the cost of insurance can sometimes vary on a scale as small as zip code, with coverage being priced differently in even neighboring regions.
For this reason, it may be wise to store your RV in a zip code other than your own to get less expensive insurance.
The Type or Class of RV
The cost of RV insurance will vary depending on the type of RV, and luckily for you, Class B owners, Class B RVs are the least expensive to insure.
This is likely because class B RVs are the smallest and thus easiest to drive, making them less likely to get in accidents. Class A and C RVs are much more expensive to insure compared to Class B RVs.
Frequency of Use
Another factor that will affect insurance rates is how frequently the RV is used. If the RV is only used once per year for a weekend getaway to a nearby campsite, this RV will be far cheaper to insure than one that is used as a primary residence.
Your Driving Record
Naturally, your driving record will have some bearing on the cost of your insurance policy. If you have a history of getting into accidents and damaging your campervan, insurance companies will seriously hike up your rates to protect themselves from a potentially costly customer.
However, if you have a clean driving record, you may enjoy the luxury of lower rates as a reward.
Final Thoughts
It should be abundantly clear at this point that Class B RV insurance can be quite a complex topic, with tons of different variables affecting both the cost and level of coverage.
These are all important to know when you're considering insurance policies and when you ask yourself whether how much you're paying is too much, not enough, or just right.
Recommeded reading
For more helpful articles about travel trailers please check out our articles below:
How Much Does It Cost to Install a Trailer Hitch? (with 9 examples)
Can I Park an RV at Walmart? [Recent Law & Rules]
4 Reasons RV Insurance Is Expensive [Must-Read]
How Much is it to Buy Back a Totaled RV From Insurance?
Recent Posts