Are you looking for an airstream to rent for the family vacation?
Or would you like to rent an airstream near you or your area at the best prices to live in? Outdoorsy got you covered.
How much does it cost to rent an airstream travel trailer? Well, airstream trailer rental rates will depend on the rental location, model, season and size of the trailer. On average you can expect to pay between $100 and $150 per night for small travel trailer and if you want to rent big and luxury airstreams, the rental rates will be up to $450 per night.
There's no better way to try before you buy than by renting a camper. You can rent a camper near home and journey to your destination or fly and pick up your camper at the other end.
Many people rent Airstream travel trailers simply for a change of pace by taking an RV trip to a special event or destination.
In this article I will explain why Outdoorsy our first choice for Airstream rental is and for you the best RV rental company on the market.
Where to Rent an Airstream (Easy and Secure)
Airstream trailers are popular for travelers looking for flexible, fun, inexpensive road trips. They are lightweight and easy to tow, so they are perfect for anyone looking to road trip. Renting an Airstream has never been easier.
With technological advances, you can rent an airstream and hit the road without hesitation.
Peer-to-peer rental services take the hassle out of airstream rentals. Outdoorsy is a peer-to-peer RV rental website that connects you directly to RV owners who want to rent out their vehicles.
It works like a vacation rental by owner home. The owner decides when the trailer is available and lists it. You (the renter) search for the camper that fits your needs based on location, price, and amenities.
Outdoorsy is a great service for renting campers because you have a wider variety of options and more flexibility.
Outdoorsy helps provide roadside service and insurance, so you can travel worry-free. You can work with the owner directly, so you can personalize a trip that works best for you.
Outdoorsy lets you filter for pet-friendly or family-friendly RVs. You can also filter by size so you get the perfect camper for you.
If the Airstream of your dreams is not available in your area, Outdoorsy also offers delivery options for some campers. You are not bound by the available campers in your area.
Outdoorsy is available in most parts of the United States. If there is no camper in your area that fits your dreams, and you do not want to pay for a delivery, Outdoorsy will also recommend campers in your area that may be a good fit for you.
You can explore reviews written by previous renters, so you will know you are getting what you pay for.
Outdoorsy is great because you can pay for the amenities and sizes you want, which can save you money in the end. With Outdoorsy, the rental process is also quick and easy so you can rent and get on the road!
Read also: RVshare Review — How Good Is This RV Rental Service? (Honest Opinion)
How Much Does It Cost to Rent an Airstream?
Airstreams are popular campers to rent because they tend to be less expensive than other kinds of campers. They are also durable and user-friendly for camper beginners.
The cost of the rental will change depending on the particular model, age, size, and location of the rental. However, we can approximate a general cost to rent an Airstream camper.
👉 Smaller airstream trailers (around 16' in length) usually cost around 130 dollars per night to rent. Newer models may cost slightly more.
👉 Larger models (22'+) are also popular. Some of these have more amenities and options, which is important if you are hoping for a particularly long voyage or if you are interested in more of a "luxury" option.
These Airstreams generally cost between 300 and 400 dollars per night. Particularly "decked out" Airstreams may cost even more.
When budgeting, do not forget to account for the cost of gas. Because Airstreams tend to be more aerodynamic and lighter than other brands, you will likely save gas money by renting an Airstream.
Why Should You Rent an Airstream?
Why has Airstream been popular for so many decades? Why should you rent one? Airstreams are specifically designed to be easy to tow.
They are lighter and more aerodynamic than other brands. They have a lower clearance, so you are less likely to brush the roof on signs, bridges, and overhangs. All of this makes them a perfect choice for anyone looking to save money.
As a travel trailer, Airstreams offer you increased flexibility. You can park your trailer at the campground and detach your vehicle to explore a nearby city or other site-seeing adventure. This is not possible with motorhomes.
Airstreams are also renowned for their beautiful interiors. They have more windows that allow you to see the beautiful nature on your trip.
The appliances and interior are all beautiful, so when you leave nature, you can step into a truly luxurious camper. You can enjoy the beauty of nature and the beauty of a glamorous camper all on the same vacation.
Walkthrough RV Tour of the Most Popular Airstream Trailer >> Check out the video below:
Airstream Trailer Pros and Cons
While Airstream Trailers are flexible, durable, and fantastic luxury options, there are still many considerations to examine when deciding which trailer rental is right for you.
Airstream RV Pros
✔️ Airstreams offer a lot of flexibility- Airstream trailers offer a lot of flexibility. They are light and can be pulled behind a wide variety of vehicles.
On top of that, Airstream trailers can be parked at a campground while you take your vehicle to explore.
This can help you take in more sights without constantly trying to park your large trailer or motorhome.
✔️ Airstreams are aerodynamic-Airstream trailers are designed, as the name implies, to easily move through a stream of air.
They experience less resistance than other trailers, so you will not need as much fuel to tow them.
This aerodynamic design also makes them easier to tow, as they will offer less resistance to the wind.
✔️ Airstreams are easy to tow- The aerodynamic design of airstreams makes them easy to tow. They also have a very low center of gravity.
This means as you are driving, the trailer will sway less. In an emergency, the trailer is also less likely to tip over. This means Airstreams are particularly safe for inexperienced trailer renters.
✔️ The design is fashionable– Many trailers look aged, even when you are working with the newer models. Airstreams all look streamlined with their signature Aluminum look.
The interior is also usually handled with care, so you are more likely to find a beautiful interior in an Airstream.
✔️ Airstreams have great views– Airstreams are designed with more windows than many other travel trailers.
This means on a rainy day when you do not want to get drenched, you can still enjoy the beauty of nature. You can stay warm and still see the forest. With an airstream, you never have to miss the view.
Airstream RV Cons
❌ Airstreams can be more expensive than similarly-sized trailers-Airstreams are incredibly high quality.
This means you may pay more for an Airstream than another camper trailer of the same size. You can, however, save gas money thanks to Airstream's unique design.
❌ Airstreams are small- There is less space inside Airstreams, and they do not have expanding sides.
This may not be a problem if you are only traveling with a couple of people. However, for large groups, this can greatly limit the number of people who can sleep inside the trailer.
❌ Temperature can vary more in Airstreams– The beautiful windows in an Airstream give you a gorgeous view of your surroundings.
However, windows do not insulate as well and they let in more sunlight. As a result, your Airstream may become very hot in the summer and may not warm as easily in cooler weather.
❌ Airstreams have smaller amenities than many other camper trailers- Because Airstreams are narrow, they do not have as much room for amenities as other camper trailers.
While this does add to their lighter weight, it means your cooktop, counter, and sink space may all be reduced.
Read also: Are Airstreams Insulated? (Best R Value Insulation)
One Way Airstream Rental- What You Need to Know
What is one way rental?
One way rental is a rental that allows you to drop off the camper in a different location from where it was picked up.
It allows you to fly somewhere and drive home or vice versa. It can also be helpful if you want to drive along a coast or cross-country while seeing as much as possible along the way.
How to Arrange a One Way Rental for Your Airstream
Before renting your Airstream, you will want to confirm with the rental agency if a one way rental is possible.
If you are renting through a peer-to-peer rental site like Outdoorsy, you will have to confirm with the RV owner if a one way rental is possible. It will vary from owner to owner.
Other Considerations
When budgeting for a trip with a one way rental, you should confirm the pick-up fee with the owner before finalizing your budget.
Take note that the farther you drive, the more it will cost the owner to pick up the Airstream.
Luxury Airstream Rental- Where and How to Rent?
Airstream has been making camper trailers for decades, so it should not be too difficult to find an Airstream in your area.
If you are looking for specific amenities, things may get more complicated. However, there are still plenty of options to help you find the best RV for you.
Renting through a peer-to-peer RV site like Outdoorsy or RVshare is a great place to find luxury Airstreams.
Because owners are renting their campers, they are more likely to take special care of the trailers. Owners may have also splurged on amenities for their camper.
When you search through peer-to-peer sites, you can filter for specific amenities. If you want a pet-friendly camper or you want a camper with a bike rack and a kitchen sink, you can set your search to only show trailers that will fit those requirements.
Once you have found the Airstream you want, you can contact the owner to inquire about rental and set up the lease.
Read also: 30+ Best Retro Campers For Sale: Vintage Camper and Retro RV For Sale
Are There Airstream Rentals Near Me?
The easiest way to see if there are Airstream rentals near you is to either call an RV rental agency or search on Outdoorsy.
Outdoorsy makes it convenient for you to search specifically for Airstreams from the comfort of your own home.
You can search generically for trailers in your area, and then you can use a filter to search specifically for Airstreams.
If there are no Airstreams available in your area, you are not out of luck yet. Many RV owners offer delivery, so you can pay extra to have an Airstream delivered right to your door.
Delivery availability is based on whether or not the owner decides to offer it. If you are interested in that option, you can search for it specifically.
When budgeting for your vacation, make sure to set aside extra funds for delivery, if you decide to go with that route.
With delivery, even if there are not Airstream rentals near you, you can find one to take on your next road trip.
3 Best Airstream Travel Travels
1. Classic Airstream
The Classic Airstream trailer is perfect if you are planning on a longer trip. It offers plenty of amenities, so you can have everything you need to be comfortable on your trip.
The Classic Airstream offers plenty of room and can sleep up to five people, so you will be able to stay together.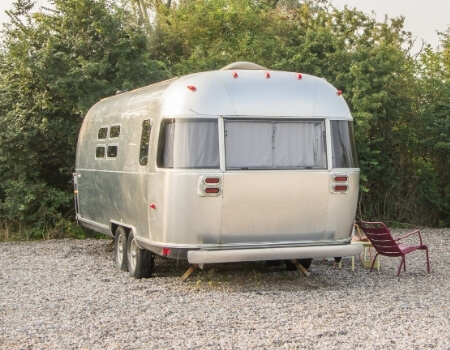 Classic Airstream trailers range between 30- and 33-feet options. They offer kitchens, dining rooms, bedrooms, and bathrooms.
The Classic Airstream offers the most storage out of all Airstream trailers, so it is great if you need a lot of gear for your trip.
2. Airstream Globetrotter
Globetrotters are great if you are looking for a beautiful, modern, yet timeless camper.
The Airstream Globetrotter design is sleek and smooth. It is reminiscent of campers from the 1960s, so you can camp in style and modern luxury while remembering bygone days.
The Airstream Globetrotter is a perfect choice for anyone looking for a glamorous, luxury camping experience.
The Globetrotter has incredibly high-quality appliances and electronics. It has Wi-Fi capabilities, so you can stay connected to the shows, music, and books that you love. It can sleep up to 6 people, so there is plenty of room for everyone.
3. Airstream Bambi
The Airstream Bambi is the smallest travel trailer offered by Airstream. The Bambi gives you the flexibility to park in a wide variety of parking spaces, which can save a lot of hassle while you travel.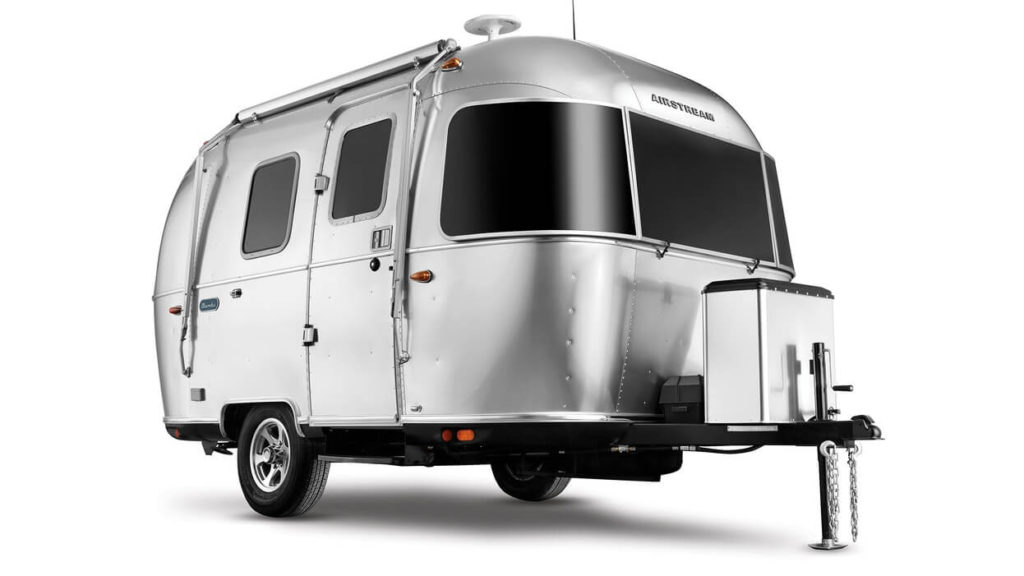 The Bambi can also be towed by almost any SUV, which means it is great for those just getting started with trailer camping.
The Airstream Bambi does not force you to sacrifice luxury. It includes a bathroom, dining area, kitchen, and bedroom.
Everything is carefully stored to maximize space without sacrificing efficiency and ease. The Bambi also offers a retractable awning, so you can relax outside of the camper as much as you relax inside it.
Read also: 55 Best Small Travel Trailers / lightweight Travel Trailers For Sale
How Much Does an Airstream Weight – Average GVWR
The weight of an Airstream varies from 3,500 lbs for 16 foot Airstreams up to 10,000 lbs for 30 foot Airstreams.
| Airstream length | Gross Vehicle Weight Rating (GVWR) (lbs) |
| --- | --- |
| 16 foot Airstream | 3,500 lbs |
| 20 foot Airstream | 5,000 lbs |
| 25 foot Airstream | 7,300 lbs |
| 30 foot Airstream | 10,000 lbs |
Towing Capacity Chart – Average Towing Weight
In the table below you can find the towing weight or maximal towing capacity of 10 popular vehicle models and types:
| Vehicle Model – Types | Towing Capacity (lbs) |
| --- | --- |
| Toyota 4Runner (with V6 engines) | 1,500 lbs |
| Subaru Outback | 3,500 lbs |
| Toyota Tacoma | 3,500 lbs. to 6,800 lbs |
| Ford f150 SuperCrew Lariat with a diesel engine | 10,100 lbs |
| Highlander | 1,500 and 5,000 lbs |
| Jeep Wrangler | 2,000 to 5,000 lbs |
| Tundra | With ratings from 8,800 pounds to 10,200 pounds, it should be easy to pick the truck that works best for you |
| Audi Q7 | 6000 pounds fully loaded |
Towing capacity chart
Top Airstream Travel Trailer Destinations
Things to Do with an Airstream Trailer in the Bay Area
Northern California is a beautiful place to visit. It is full of rich culture, beautiful scenery, and great adventures. You can park at one of the many campgrounds in the wine valley. From there you can go to wine tasting events and explore the vineyards. Lake Sonoma is not far, and from there you can enjoy boating, swimming, hiking, and canoeing.
There are also plenty of options for seaside camping if you are hoping to spend some time by the beach. Parking at a seaside campground like Moon Bay State Beach will allow you to wake up every day and try surfing or beachcombing.
San Francisco is also a great location for an Airstream because their travel trailers give you the flexibility to explore the beauty of the city.
Check out one of the shopping centers in the area. Visit the zoo and take pictures by the Golden Gate Bridge. Catch an opera at the San Francisco Opera.
The beauty of taking an Airstream means you can take in the city one day and learn paddle boarding and lay on the beach the next day, all with your camper waiting by the beach.
Things to Do with an Airstream Trailer in Los Angeles
Los Angeles is famous for being one of the busiest cities on the West Coast. It is full of glam, luxury, and celebrities. However, that does not mean there are not amazing things to do away from people while vacationing in the Los Angeles area.
Los Angeles is a perfect vacation spot for anyone hoping to get in some beach time. You can stay right by Malibu beach.
There are beautiful places to go for a walk, especially if you have dogs that need to run around. You can try out surfing and swimming at the beach and then tuck into your Airstream for a restful night.
If you want to try other activities, you can park your trailer and head into the city. You can also get away from people and stay at Castaic Lake. Swim in the reservoir and enjoy the gorgeous sun.
Another benefit of a family trip to Los Angeles is you will be close to Disneyland. You can spend a day at the park and save money by staying in your camper rather than shelling out hundreds of dollars for a hotel room.
Things to Do with an Airstream Trailer in California
Airstreams are great in California. There is so much to see, and the flexibility of these travel trailers means you can see it all. You can travel to the beach, hike through the desert, and even journey into the mountains.
There is no need to be limited when you can travel with so much ease and bring everything you need with you.
You can drive to Yosemite and hike in the famous National Park. It is great if you are looking for a more "traditional" camping experience.
From Yosemite, you can travel to Southern California and visit Crystal Cove, which is one of the most beautiful sites in California. Then explore the Redwood forest for a view you will never forget.
Airstreams are great for visiting California because they give you the opportunity to visit a variety of different climates and sites.
You can stay longer in one location if you fall in love with one site, thanks to the flexibility of the Airstream trailer.
Things to Do with an Airstream Trailer in Chicago
Chicago, Illinois is a bustling city in the American Midwest. Chicago is an unorthodox destination for RV camping.
It is not a forest, beach, or national park, like many other popular camping destinations. That does not mean it is impossible to vacation in Chicago with an RV.
If you want to stay in Chicago itself, you will likely need to "dry camp" (park in a parking lot for the night) or stay outside of the city.
This will mean you will need more stops to replace water and dump sewage, but it also means you will be right in the center of the action.
Chicago has tons of museums, so it is a great option for an educational vacation. You can spend one day at the Art Institute of Chicago and the next day at the Museum of Science and Industry.
Next, catch a game at Wrigley Field. You will not be bored!
Things to Do with an Airstream Trailer in Florida
Florida is a popular spring break destination for people from all over the United States. There are beautiful beaches and national parks that make it great for a visit in an Airstream.
You can park at a campground and then take your vehicle into Miami if you want a city experience.
Visit the Florida Caverns State Park for a unique camping experience. You can explore the caves and see their beauty.
There is also a golf course if you are a fan of the sport. The nearby Chipola River offers opportunities for hiking, biking, and kayaking.
Visit St. George Island State Park to visit one of the most beautiful beaches in the United States. You will love the view and all of the fantastic seaside activities.
Things to Do with an Airstream Trailer in Seattle
The Pacific Northwest is a classic camping location. Everything is lush and vibrant, and while Seattle does get more rain than many other areas, it just opens the opportunity to explore beautiful rainforests.
Stay at an RV park near the beach and you can explore the tidepools and see some magnificent sea life. You can also visit the Hoh Rainforest in Forks, Washington, which is only a short drive from Seattle.
The rainforest is beautiful and has magnificent hiking trails that walk you by waterfalls and through lush greenery.
Take a day trip with your vehicle into Seattle. Catch a Mariner's game. Eat clam chowder from Ivar's on the boardwalk.
Visit the Seattle Aquarium. Finish off the day by window shopping and enjoying a delicious meal. Then head back to your camper in nature.
Airstream Trailer Rental FAQs
Let's close out this page about Airstream Travel Trailer rental with answers to some of your most frequently-asked questions about them!
Airstreams are easy to tow?
Airstreams are some of the easiest trailers to tow. They do not offer much resistance, and they are easy to set up. With the larger models, you will need to leave extra turning and stopping room for safety.
Are Airstreams Good in Cold Weather?
Airstreams offer heaters and insulation, so they will work in colder weather. They are not the warmest option in cold weather, though, due to their aluminum design and the extra windows they have.
Read also: Are Airstreams Insulated? (Best R Value Insulation)
Do Airstreams Get Hot?
Do Airstreams Get Hot? Yes, with extra windows, if you are parked in the sun, your Airstream may get hot.
They do offer Air Conditioning if this is a concern. If you park in the shade and cover the windows in the heat of the day, the heat should be manageable.
How fast can you drive when towing an Airstream trailer (Airstream towing speed)?
Staying around or under 60 mph is the safest option when towing an Airstream trailer.
Does Airstream length include hitch?
The length measures from the rear bumper to the center of the hitch.
What happens if you go over your towing capacity?
You can strain your engine and transmission. You can also damage the breaks and accelerate their breakdown. Exceeding towing capacity can also damage the chassis.
How do you increase towing capacity?
You can use a weight-distribution hitch to increase towing capacity. Upgrade your braking system and replace your axles with heavy-duty axles to help them withstand the extra weight.
Some vehicles are not meant to tow, so before you make expensive alterations, ensure that your vehicle is prepared to tow a trailer.
What is the ideal tow ball weight?
The optimal tow ball weight should be between 6 and 10% of the trailer's gross mass. This will prevent trailer sway and protect both your trailer and the vehicle with which you are towing it.
Conclusion
Airstream trailers have been popular for RV campers for decades. The trailers feature an iconic metal "silver bullet" design. Airstreams are high-quality and designed to look good and offer luxury camping experiences.
They are efficient and smooth, so they will not pull and make your vehicle sway against the wind resistance.
Airstreams will also save you gas money because they are so efficient and aerodynamic. These aerodynamic trailers are smaller and narrower than others, so they are easier to tow for beginners just starting with trailer camping.
Airstream trailers also grant you increased flexibility, because you can park them at a campground and then take your vehicle to explore for the day.
There are plenty of things to do when camping in an Airstream, so you are sure to never be bored!
References
Recent Posts