Have you ever wondered how much does a 40 ft RV weigh? Look no more. We´ve got you covered.
Camping in a recreational vehicle (RV) is fun for the entire family! RVs give you the flexibility to take the luxuries of your house on the road with you.
There are spacious options for those looking for more space and more amenities. There are compact options and trailers for those looking for smaller or detachable options.
So, how much does a 40 ft RV weigh? On average for a 40-foot camper which is likely a class A motorhome or a class C(+) motorhome, you can expect a weight between 12,000 and 30,000 pounds.
Knowing the weight of your RV is crucial if you are pulling a trailer. Knowing the weight of a motorhome-style camper is important if you want to pack appropriately and maximize your fuel efficiency.
Staying within the weight of what your RV can manage will also help it last longer. The style of RV you have can affect the weight and the carrying capacity.
What Kinds of RVs are Available?
Class A motorhomes
Class A motorhomes are the largest option of RVs available on the market. If you have an RV that is 40 feet long, it is likely a class A motorhome.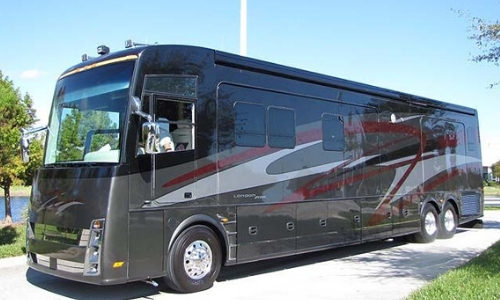 Class A motorhomes are not trailers, they have their engines. Class A motorhomes look like buses. They are the most difficult to drive because they also tend to be the widest.
Class B motorhomes
Class B motorhomes are the smallest option of motorhomes available. They are roughly the size of panel vans.
They are some of the easiest RVs to drive because they are smaller, they do not include trailers, and they have better visibility out of the windows.
Class C motorhomes
Class C motorhomes are roughly between the sizes of class A and class B motorhomes. They have their engines.

Class C motorhomes range between 21 and 40 feet in size (the 40-foot campers are often called class C+).
The front of the motorhome is constructed like a van. If you have a 40-foot RV, it may be a class C or class C+.
Read also: Top 35 Best Pop Up Camper: Pop Up Trailer Tents You Need To Know
Average Weight of Motorhome?
What is the average weight of motorhome? On average you can expect weight between 4,000 pounds for class B to 30,000 pounds for Class A motorhomes. With the various sizes of motorhomes available and their varying amenities, there are different weight ranges.
Each of these motorhomes will have an individual weight, given the specific amenities that they provide, but these ranges can give a general idea of the weights in these motorhomes.
In the table below you can find the average weight of motorhomes:
| Motorhome | Average Weight (lbs) |
| --- | --- |
| Class A | 16,000 to 30,000 |
| Class B | 4,000 to 14,000 |
| Class C | 12,000 tö 20,000 |
👉 Class A motorhomes range in weight from 16,000 pounds to 30,000 pounds, with longer campers weighing more.
👉 Class B motorhomes range in weight from 4,000 to 14,000 pounds.
👉 Class C motorhomes range in weight from 12,000 to 20,000 pounds, with class C+ being closer to 25,000 pounds.
The wide ranges are caused by differing amenities, different designs, and the methods by which the company created them. For example, RVs made with Aluminum will usually weigh less than RVs made with other metals.
If you are wondering if your RV is on the lighter or the heavier end of this range, look at what materials it is made of. Aluminum RVs are lighter, and "stick made" RVs can be as much as 800 to 1,000 pounds heavier.
Read also: How Much Weight Can an RV Roof Hold? (RV Roof Weight Capacity)
Examples Of Motorhomes And How Much They Weigh
Let's take a look at a few motorhomes (Class A, Class B and Class C) and what kind of weight range they have:
| Motorhomes | Models | Average Weight |
| --- | --- | --- |
| Class A | Newmar Bay Star Sport 2020 | 18,000 to 22,000 lbs |
| Class A | Thor Motor Coach Windsport 2020 29M Model | 18,000 to 23,000 lbs |
| Class A | Thor A.C.E 27.2 Bunk Model 2020 | 16,000 to 23,000 lbs |
| Class B | Winnebago Travato 59G 2020 Model | 11,500 lbs |
| Class B | 2020 23TW Thor Compass | 10,360 lbs |
| Class B | Leisure Travel Serenity 2020 Model | 11,030 lbs |
| Class C | 2020 Coachmen Leprechaun | 14,200 to 22,000 lbs |
| Class C | 2020 Thor Chateau 22B | 18,500 to 22,000 lbs |
| Class C | 2020 Jayco Redhawk SE | 14,200 lbs |
Average Weight of Motorhomes
What is Dry Weight and How Does it Affect My RV's Weight?
When we talk about the varying weights of these RV motorhomes, we are usually referring to the dry weight.
What is Dry Weight of a camper? The dry weight of a camper means the weight of the camper itself without gas, propane, water, or gear added. When you plan for the weight of a camper, you will likely need to understand the weight with all of the gear and other supplies you will need.
👉 When accounting for the added weight of the gear and the water, one of the primary sources of added weight comes from the fuel for your camper.
The average camper can hold about 80 gallons of gas. A gallon of gas weighs roughly 6 pounds. This means with a fully-fueled tank will add about 480 pounds to the weight of your RV.
👉 The water in your camper is also crucial. It is a large source of added weight. Plus, if you want to camp with an RV, the luxury of the added water is key.
Most RV water tanks can hold about 48 gallons of freshwater. With water weighing about 8 pounds per gallon, this will add about 384 pounds to the weight of your RV.
If you are concerned about weight limits, it is also good to note that you will have added weight from the passengers in the RV. Four people will add about 600 pounds to the weight of your camper.
Reducing the Weight of Your RV
While you cannot reduce the weight of the materials used to construct your RV, if you are worried about weight, you can do some things to mitigate extra weight.
👉 Plan how much food you will need. If you will be stopping for groceries, you do not need to bring everything with you at the beginning.
👉 Plan for how much bedding you will need. If it is cold, you will need more. If it is warm, you can leave your air-conditioning unit at home.
👉 If you are going on a short trip, you may not need to fill your water tank.
👉 Can anything serve multiple purposes? If you can sit on coolers or campground logs, you may leave the camp chairs at home.
Weigh Your RV Without a Scale
WATCH THIS FIRST >> Check out the video below:
Take Note of the Floorplans
You have likely noticed that so far, the weight of a 40-foot RV can range anywhere from 16,000 pounds to 30,000 pounds.
There is a lot of variance within those weight ranges. If you are unsure where your RV falls, you can look at the floorplan and available amenities for a better clue.
Some RVs, even large ones do not include a shower. Take note that with a shower, you will likely use more water, and it will add more weight than if that space were left empty.
👉 Furthermore, if your RV does not come with an air-conditioning unit, you may want to get one installed. An RV without air conditioning will weigh less, but if you plan to camp in warm climates, an air-conditioning unit can make the trip significantly more comfortable. RV air-conditioning units will add between 40 and 120 pounds.
Read also: Does RV Height Include Air Conditioners? (Average RV Height & Regulation)
Another amenity that can add a decent amount of weight to your RV is the weight of bedding. An RV that sleeps more people will require more bedding.
If you want sleeping pads, blankets, and pillows, you can easily add close to 100 or more pounds.
👉 In the kitchen, look to see if your RV includes an oven, a stove, and a microwave. Most come with ovens and/or stoves, but not all come with microwaves. A microwave will not add too much weight, but when combined with other amenities, the weight can add up.
Check the size of the refrigerator in your RV. Larger refrigerators will, understandably, weigh more than smaller refrigerators.
They will also hold more food, so you can carry more weight in produce, beverages, and other food items. This can add 100 pounds or more to the practical gross weight of your RV with gear.
👉 When looking at the floorplan of your RV, also look if your RV has sides that slide out and expand. A 40-foot RV with slides will weigh more than a 40-foot RV that does not have sliding sides. Those sliding sides can add 800 pounds.
These added amenities create some of the glamorous relaxing aspects of RV camping.
If you are looking for a more comprehensive understanding of the weight of your camper, you will want to look at the amenities and the added weight that comes with them.
With a fully "decked-out" RV, you can add 1,000 pounds or more.
Outdoor Items and Additional Options
There are also plenty of items you may want to bring camping that are not included with the RV, but that will make the journey more comfortable.
These items will also add weight, so if you are hoping to look at the weight of your camper to consider your gas mileage, consider these items as well.
👉 Grilling is a popular pastime for many campers. After a long day of hiking, fishing, biking, or swimming, a beautiful hamburger or grilled vegetables can just top off the perfect day. Most camping grills weigh around 20 to 50 pounds.
You will also need charcoal or propane, which will add another 30 to 50 pounds of weight. It will add even more if you plan on grilling every day!
👉 Bicycling is a great hobby for people who enjoy RV camping. It gives you a chance to leave the campground and see the beautiful sights of your destination.
While bicycles are not heavy, if you are concerned about the weight of your RV, it is important to consider the weight that your bicycle(s) will add.
👉 If you plan to bring lawn chairs or an awning/umbrella for sunbathing or enjoying the scenery, this can also add a decent amount of space. Some RVs have awnings included, so those RVs may naturally weigh more.
While it is not a weight concern, extra lawn chairs and umbrellas or portable awnings can take up a decent amount of space in your storage areas.
Read also: 85+ Must Have RV Accessories & RV Supplies (Best RV Accessories Online)
Conclusion
A 40-foot camper is likely a class A motorhome or a class C(+) motorhome. You can expect a weight between 12,000 and 30,000 pounds in an RV of this size.
To determine where yours falls within this range, look at amenities, the materials with which it was constructed, and any additions you will bring.
References
https://www.pplmotorhomes.com/
Recent Posts