Understanding how much weight an RV roof can hold is not something you typically think of.
But when it comes time to check on your seals or wash your roof, it is important to know your RV and the roof.
You need to know exactly how much weight it can hold before you step foot on it.
How much weight can an RV roof hold? How Although it is dependent on the roof material, RV roofs can typically hold 200-300lbs. On average an RV roof will support up to 4 people. It is always best to revert to your owner's manual if you are hesitant.
Also, as a general rule of thumb, if the RV has a ladder, there should be a max weight rating stamped on the ladder.
Depending on the type of roof, there are so many different variables for an RV roof. Most manufactures will provide you will a manual or a link to their website to access online.
It is best to always check with the manufacturer if you can't find the information you are looking for. Many questions can be answered specifically by the type of roof your rig has.
Is it ok to walk on an RV Roof?
It is safe to walk on an RV roof. You, or a professional, should check your roof on a regular basis for maintenance purposes.
Related reading: Can You Pressure Wash an RV Rubber Roof? [Practical Tips Inside]
When you do climb up to check on the roof or to secure something up top, you need to make sure that you follow proper safety protocol. Make sure to do the following any time you need to get on the roof:
Make sure you can walk on it before attempting to get on top. RV roofs are made with different types of materials, and some do not allow a person to walk on top of them.
When attempting to get on the roof, make sure that the ladder is secure to the rig before attempting to climb it.
Once you find the ladder to be safely attached, begin to accent up the ladder, always holding on with two hands, one step at a time.
Once you reach the roof, slowly crawl on top of the roof from the ladder and slowly stand up while maintain your balance.
When you walk on the roof, make sure that you take your time, waling slowly across the roof. Do not get too close to the edge, so you don't slip off.
Once your task is complete, carefully walk back to the ladder and start you decent the to ground.
Different materials roofs can be made out of
There are many different types of RV roof construction, as well as the materials they are made of. Here is a list of the top three materials that are used:
Rubber
The majority of the of RV roof are made of rubber and are typically softer and flat. Rubber roofs typically have a life span of 10-12 years and require regular maintenance.
There are a few types of rubber that your RV can be made out of.
If there is damage to your rubber roof, most of the time, the entire rubber roof needs to be replaced due to the nature of the material, so try and avoid low hanging branches that may puncture it.
Read also: RV Sidewall Delamination – Crucial Guideline & Helpful Facts
Fiberglass
Fiberglass RV roofs are typically hard to the touch and slightly curved with a slight hump in the middle.
These types of roofs are less common because they add material and weight to the RV or travel trailer, which in turn reduces gas mileage.
Fiberglass is a fiber-reinforced plastic that is woven with glass. It is stronger than rubber, and it takes a little less to maintain due to its more rigid structure.
Aluminum
This is the rarest type of roof for an RV. The main RV brand and one that comes to mind for most when they think aluminum is Airstream.
The travel trailer that is all metal and shiny. Aluminum is becoming more popular in-vehicle as it is a strong material that is lightweight and improves fuel economy.
Aluminum panels can be repaired and can be removed but need its own set of tools and a special welder.
It is very temperamental and very important to follow guidelines for repair and replacement of panels.
It is important to keep in mind the structure of the roof as it can be important in certain situations.
RV Roof Materia: Different Weight Capacity For The Roofs
Because of the different materials and structure of the different roofs, there is a different weight capacity for each:
| RV Roof Material | RV Roof Weight Capacity (lbs) |
| --- | --- |
| Rubber | Max. 250 lbs |
| Fiberglass | 300 lbs |
| Aluminum | Max. 250 lbs |
Fiberglass: Around 300 lbs – This is for one spot on the roof, but if the weight is distributed evenly, it can support multiple spots of 300lbs. Meaning a couple people could be on the roof as long as it is spaced out accordingly.
Different roof types have different capacities because some materials are much stronger and more stable than others.
RV Roof Maintenance
With the different type of roof materials, it comes a no surprise that there should be different maintenance for each type or roof.
Related: The 4 Best RV Insurance for Full-Timers: A Dollar-Saving Guide
Properly taking care of your roof can save you from very costly mistakes, ones that typically are not covered by insurance due to improper wear and tear.
Rubber
It is important NOT to use cleaners that contain petroleum or citrus on rubber roofs. The chemicals in them can actually start to break down the material.
Depending on how you store your rig, either indoors or out, you will want to make sure you clean it often. If you keep your rig inside, it is recommended to clean every 3 months, and more frequently when stored outside.
Checking seals – this is HUGE and can prevent a massive amount of damage. Seals are the only things that keep the water out of the inside of your RV. Check every 6 months. Your insurance requires you or a professional to check annually.
Fiberglass
It is recommended to clean every 6 months if stored inside and 3 months if outside. Because the material on an RV is different than most cars, it is important to clean an RV more often, as the materials can stain and breakdown easier overtime.
Checking seals – again standard to check every 6 month and insurance requires an annual check.
Once your roof is clean, it needs a little extra protection due to its more porous material and to prevent oxidation. Waxing or polishing is recommended as it will also aide in repelling some debris and build up
Aluminum
Recommended to wash twice a year, again if storing outside best to cut the time in half as it is exposed to more elements and can have more build up.
Checking seals. Again, twice a year by yourself of a professional. Keeping these seals its extremely important. Keeping unwanted moisture out of your RV is key. You do not want mold starting to grow from a seal leak as it is costly to repair, not covered by insurance and can be unhealthy.
It is important to keep up on maintenance on your rig. If you are not sure what to do or how to do it, always refer to your user manual.
Snow Fall on an RV Roof
If you store your RV outside, and not in a facility, you may want to monitor the snowfall (if applicable) in your area.
As snow falls and accumulates, it gets heavier, in turn, putting more stress on your roof structure. If it is possible, it is best to not let it accumulate.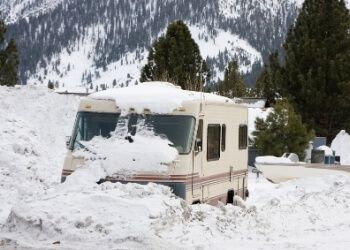 If you can, you should remove snow frequently if you live in a climate with generally heavy snowfall.
How Long Does An RV Roof Last?
How long does an RV roof last? RV roofs tend to last a pretty long time — around 20 years is a good estimate. At this point, you need to replace the entire roof (yes, that's expensive). However, around the 10-year mark, you should expect some leaks as part of general wear and tear.
Although, if you use your RV a lot, these leaks might appear after 5 years. 
Bear in mind that the above applies to new RVs only. If you have purchased a used one, then you should expect issues a lot sooner.
Having said this, if you take proper care of a 3 to 4 year old camper roof, you can put off leaks for a bit longer (not forever, of course, but you can dream).
How Much Snow Can An RV Roof Hold? (RV Roof Weight Capacity)
For those of you who live in a snowy area or who like to travel to freezing climates, it is worth knowing the answer to this often anxiety-provoking question.
How much snow can a RV roof hold? In general, most RVs can handle up to 2 feet of snow pile up on their roof before things start to get a bit hairy. Trust us. If you ring your tech support up, they will tell you the same thing.
If you see major snow build up happening, you need to grab your boots and head outside to scrape it off.
Yes, it is a pain. We get that. But it's far easy to deal with before it turns into a nasty interior leak.
Not to mention that it costs absolutely nothing to take the snow off your roof!
How Do You Keep Snow Off Your RV Roof?
There are three ways you can keep the snow off your RV roof during the winter (if you aren't going to be using it too much). Let's take a look at each one in turn.
1. Rent an RV Garage
By far, this is the best option. Not only will it protect your RV roof from snow build-up, but also cold temperatures and harsh, blowing winds.
2. Put a Cover Over Your RV
For some, renting a storage unit might be a bit overkill. A cover, on the other hand, is budget-friendly and super convenient.
Once you have acquired one, ensure you follow these rules:
Ask someone to help you put it on
Clean and dry your RV before putting it on
Flatten antennas
3. Maintain Your RV Yourself
By this, we mean to get out in the cold and scrape the snow off the roof! It costs the least amount of money but does require close monitoring.
RV Roof Weight Capacity
Generally speaking, RV manufacturers don't write the weight capacity of their RV's roof in their manuals. However, they can usually handle one person at a time.
Having said all of this, if your RV has a ladder fitted to the side, then there should be an RV weight capacity limit written on the side of the van.
As you might expect, this tends to be around 250 pounds to 280 pounds which is the weight of an average human.
Remember, any weight limit in the manual of your Arctic Fox or otherwise will be the capacity of the ladder and not the roof.
How Much Does It Cost to Replace the RV Roof?
Thanks to the internet, researching the price of your RV roof replacement ahead of time is as easy as pie.
But don't worry, you won't need to spend too much of your life looking it up as we've got all the answers right here.
How much does it cost to replace the RV roof? To replace your RV roof, you should expect to pay between $300 to $325 per linear foot. So, depending on the size of your RV, you could be paying up to $12,000! Yup, it will make a pretty big dent in your pocket.
How Much Does It Cost to Reseal a Camper?
Resealing your roof will add more years to your RVs lifespan so it's an essential part of maintenance.
However, the exact cost depends on the size of your RV, any damage currently present, and which garage you take it to.
How much does it cost to reseal a camper? Most dealerships and repair shops will charge you approximately $1,000 to reseal your roof. For the bigger models, you should expect to pay around $2,000! But don't stress, you can cut the costs by doing it yourself.
You have to buy the materials and put in some of your precious time, but other than that it's free! This is the way to go if you're on a budget.
Conclusion
Whether you have a rubber, fiberglass or aluminum roof, it is always best to learn how to properly care for it and know how safe it is to walk of before attempting to walk on it.
Make sure to maintain proper safety protocol, as you could injure yourself if not careful. If you plan to walk on the roof, check the ladder for the weight rating!
Reference:
Recent Posts