Each and every year more than 60 million people grab their rod and reel and head out to their favorite creek, river, pond, lake, causeway, or head out into the ocean to catch fish – and almost all of those anglers purchase fishing licenses.
The only hitch that a lot of fishing enthusiasts have to deal with is finding a place to buy a fishing license in the first place.
Can you legally buy a fishing license from Walmart? Yes, you can legally buy a fishing license at any Walmart in the USA. The price varies from $6.50 for a one-day license to $60 for an annual license.
However, your age also plays a role when it comes to the price you have to pay. People over the age of 65 pay $10 (on average) for their fishing license, and junior licenses (if a state even requires one) will also cost about $10.
In the rest of this detailed guide we are going to break down everything you need to know about buying a fishing license from Walmart to cover all of your bases, letting you cast your line on any waterway (aside from private waters) to land your favorite kind of fish.
Let's dive right in!
Do I Need a License to Go Fishing?
As of right now (late 2020) every single state in America requires you to purchase a fishing license if you're going to attempt to catch any fish within state boundaries.
There is no such thing as a nationalized fishing license (the way there is a federal waterfowl stamp, for example) which can make tracking down your fishing license a little bit more challenging.
As highlighted earlier, though, Walmart makes getting your hands on that fishing license a lot easier – regardless of whether or not you are looking for a resident, nonresident, sporting, or limited time fishing license (or any of the other special classes your state may have available).
The bottom line is this, though:
If you are over the age of 18 (in most jurisdictions) you are going to need to have a valid fishing license to fish anywhere in your state.
Junior fishing licenses are available in some states as well for kids as young as 14, though most of the time youngsters are able to go out fishing with a licensed adult without having to have a license of their own.
On top of that, the overwhelming majority of fishing licenses in America are only good for a 12 month block of time.
You'll have to renew and repurchase your fishing license every calendar year, with a lot of anglers choosing to purchase their new fishing license on the same day in January – even if they are going to skip out on icefishing and instead wait until late spring to start up again.
Can You Legally Buy a Fishing License from Walmart?
Most states have a Department of Fish and Wildlife (DFW) – or something comparable – that handles licensing for anyone living in the state or nonresidents that want to do a bit of fishing.
But Walmart is able to sell 100% legal, 100% valid, and 100% legitimate fishing licenses as well.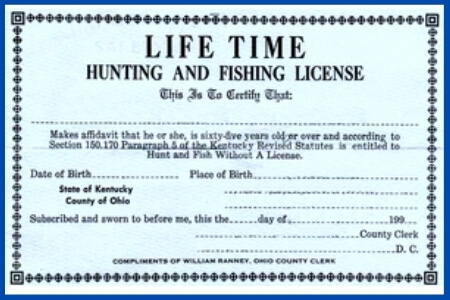 The license that you get from Walmart is going to be identical to the one that you have purchased from a DFW official, looking exactly the same and entitling you to the exact same rights while also holding you to the exact same responsibilities.
For all intents and purposes, consider the Walmart checkout counter in the sporting goods section (usually where you'll find the fishing licenses) to be a miniature office of your state's Department of Fish and Wildlife.
Can I Buy a Fishing License Online at Walmart?
Can I buy a fishing license online at Walmart? Yes, a few years ago, getting a license online at Walmart simply wasn't possible. But, they have recently given their software an upgrade allowing you to purchase a fishing license online!
You will need to have a form of photographic identification to hand during the process. This needs to be a government-approved version so pick from the following list:
State-issued driver's license
Non-driver's license
US passport
Native American tribal photo ID
Enhanced tribal cards
Green card
US military ID card
Of course, you need your debit or credit card within reach too so you can pay for your license. After that, you can easily print it out and you're all set to start fishing!
Buy A Fishing License Near Me
In America you can buy a fishing license in all states. The procedure varies from state to state. The easiest way is to buy your fishing license from Walmart.
You can get it online or directly at any Walmart location. Walmart has an agreement with the states and is therefore authorized to sell fishing licenses in all stores in the USA.
Check the link below to find where you can buy a fishing license from Walmart near you: Buy a fishing license near me
Why Buy a Fishing License from Walmart in the First Place?
There are a couple of different reasons you might want to buy a license from Walmart as an angler, including (but definitely not limited to):
Walmart business hours are usually a lot friendlier to those that work overnight shifts, early mornings, etc.
Walmart locations are usually easier to find and get to than local wildlife departments
You can get everything else you need to do a bit of fishing in the same department of Walmart as your fishing license
You pay the exact same price for your Walmart fishing license that you would anywhere else
It's tough to beat heading out to Walmart to grab a new rod and reel, a couple of new lures you'd like to try, some stink bait, some extra line, and maybe a new tackle box while picking up your fishing license for that year, too.
There's a lot of convenience in grabbing your license from Walmart that a lot of sportsmen and anglers can't overlook!
In Which States You Can Get Walmart Fishing License?
below you can find the states that are offering fishing license at Walmart:
Alabama,
Alaska,
Arizona,
Arkansas,
California,
Colorado,
Connecticut,
Delaware,
Florida,
Georgia,
Hawaii,
Idaho,
Illinois,
Indiana,
Iowa,
Kansas,
Kentucky,
Louisiana,
Mae,
Maryland,
Massachusetts,
Michigan,
Minnesota,
Mississippi,
Missouri,
Montana,
Nebraska,
Nevada,
New Hampshire,
Ohio,
New Mexico,
New York,
North Carolina,
North Dakota,
New Jersey,
Oklahoma,
Oregon,
Pennsylvania,
Rhode Island,
South Carolina,
South Dakota,
Tennessee,
Texas, Utah,
Vermont,
Virginia,
Washington,
West Virginia.
What Kind of Fishing Licenses Does Walmart Offer?
Depending on your state there may be a variety of different fishing license available for you to purchase, with the overwhelming majority of Walmarts offering at least two "standard" fishing licenses.
The first fishing license that all Walmarts will offer universally across the board is the resident fishing license.
This is the fishing license you want to purchase if you live and are a citizen of the state that you are fishing in, and you'll usually find the price of this license to be (sometimes significantly) less than the other standardized license available – the non-resident license.
Junior licenses may be available if your state has that kind of program, and you might also have to purchase separate licenses for freshwater fishing, saltwater fishing, icefishing, and even certain species.
This kind of license combines your hunting and fishing license together, giving you an opportunity to hunt and fish within your state for a discounted rate.
Just remember that you may still have to purchase other licenses, stamps, or certifications (like salmon stamps, fresh/saltwater stamps, etc.) on top of your sporting license if you're into that kind of fishing.
How Do I Buy a Fishing License from Walmart?
The actual process of going to buying your fishing license from Walmart is unbelievably simple and straightforward.
All you have to do is visit your local Walmart during normal business hours and head over to the sporting goods section.
Simply ask the clerk that works in this department or a fishing or sporting license.
They'll confirm your identity and residency status, fill out the paperwork, and hand over your license. Now you're good to go!
What Do You Need For a Fishing License at Walmart?
The only item you need to bring with you is a government-approved photo identification card.
If you live in the same states as the Walmart you are visiting, you should also bring a document that proves where you live. This just avoids any confusion but it is not required.
The person you speak to will ask you a multitude of questions. This includes:
Where will you fish? They need to check whether you plan to fish in lakes or oceans or both.
How long do you want your license? You can choose from a day, week, season, or year.
How old are you? This is to determine your fee. Senior citizens and children are given discounts.
Who will you be fishing with? This is to ensure everyone that needs a license has one.
Can I Get a One Day Fishing License at Walmart?
If you live in (or are visiting) a state that offers single day fishing licenses you'll find them available at Walmart just like any other license options.
Some states make these limited time offers available to folks that want to give fishing a try, people that will only be in the area of a short amount of time, or parents/kids/siblings that want to do a bit of fishing with a traditional license holder every now and again.
You'll have to provide the same information for this license you would with any other, though you can expect to pay only around $5 for this extremely short duration license.
How Much Is a Lifetime Fishing License at Walmart?
To tell you the truth, the cost varies depending on how old you are and the state you live in. We should note here that you are going to pay roughly 50 cents more when you buy a fishing license from Walmart.
Why? Because they whack on a processing fee. This isn't too much of a problem for most people. But, if it bothers you, it's time to look elsewhere.
Anyway, here is the rough price list for fishing licenses from Walmart (just remember that it can vary across the country):
For one state resident aged between 16 and 65: $19
For one state resident aged 66 and over: $10
For one non-state resident for a year: $40
For one day (resident or not): $11
Three-day tourist: $19
If you lose your license (i.e. it is stolen, misplaced, or destroyed), then you can get a new one for $4.
How Much Do Fishing Licenses Cost?
Because there is no such thing as a universal federal fishing license you'll find that the actual cost of your fishing license at Walmart is going to differ across the board.
Some states offer fishing licenses for as little as $10 with other states charging as much as $40 – with a whole bunch of prices in between for states across the country.
How much do fishing license cost? On average, though, nonresidents are going to spend about $19 for their fishing license as long as they are between the ages of 16 and no older than 65.
Nonresident fishing licenses average about $60 for the entire year, though short-term fishing licenses (seasonal and even "day pass" style fishing licenses) can usually be had for nonresidents as well.
Those kinds of short-term licenses usually cost between $15 and $30 depending on the duration.
Specialty licenses – including specialty permits to fish waters not usually available, saltwater fishing, etc. – are going to be charged independently of the main fishing license itself.
These costs can be all over the board, but are usually no more than $10 or $15 per specialty.
The good news is that all of that money is going to be funneled directly into conservation in your state, helping to improve the fishing waters and the outdoors that you enjoy so much.
Prices of Fishing Licenses in Walmart, Tennessee (TN)
There's plenty of great fishing in Tennessee to be had all year round.
Residents of this great state will be able to get their annual license from Walmart for the low price of $34 each. This license is good for statewide waters, too.
Those that only need a license to fish in their county can grab a deeper discounted license for just $11, and there's even a single day license for $6.50.
Veterans in Tennessee can get a fishing license every year for just $10, with minors between the ages of 13 and 15, those that are blind, or those in a wheelchair paying the same price.
Out of state anglers will need to pony up $50 to get in on the fishing action. Three day and five day licenses can be secured for $20.50 and $30.50, respectively.
Special trout licenses need to be purchased in Tennessee, too. Those will set you back $20 a year.
Prices of Fishing Licenses in Walmart, Oklahoma
Oklahoma anglers have some of the best deals on fishing licenses anywhere in the country, with residents only paying $25 to fish waters all over the state every year.
Two day fishing permits can be had for $15, too – whether you're living in the state or just visiting. Junior memberships are available for $5 and are required for all anglers that are between the ages of 16 and 17.
Any child younger than 16 gets to fish for free!
The real special deal for Oklahoma residents is the five year license. You can pick this up for just $88 at any local Walmart, saving $37 off what it would have cost buying an annual tag every single year.
Non-residents should expect to pony up a little bit when visiting the state. This license will cost $55 for the year, $35 for a six day pass, and $15 for a one day license.
Prices of Fishing Licenses in Walmart, Georgia Atlanta (GA)
State residents of Georgia get an even better deal on annual fishing licenses than the folks in Oklahoma get.
Pop down to your favorite walker in Atlanta (or anywhere else in Georgia, for that matter) and you'll get able to get a license good for the year that only sets you back $15.
Discounted deals are available for those that need short term licenses, with offers for one day up to ten day licenses on a sliding scale.
A basic, single day fishing license for non-residents can also buy a $10 permit to fish all over the state.
Cost of Fishing License in Walmart, Florida
An annual fishing license (freshwater fishing only) will cost you $17 as an adult in the state of Florida.
You can also pick up a resident five year pass for just $79 (definitely the better deal if you've got the money in your pocket).
Non-resident freshwater fishing will cost $47 a year, with day and multi-day passes available as well. A three day freshwater fishing license will run you about $17 at Walmart.
If you want to do a bit of saltwater fishing from docks or the shore, though, you'll need to get a free saltwater shoreline stamp on your license.
Deep sea fishing will cost $17.50 for residents, with combo offers available for $30 that include the free shoreline stamp.
It's very important that you make sure you have the right license for the water you are fishing on. There are a lot of creeks and springs that people think are fresh or saltwater but are actually the opposite.
You can end up paying some pretty hefty fines for making that kind of mistake!
Cost of Fishing License in Walmart, Texas
Texas has some of the best fishing in the country, but it also has some of the most varied license options to pick and choose from, too.
Residents, for example, can buy three different annual licenses depending on the type of fishing they want to do.
A freshwater option for the year costs $30, a saltwater option costs $35, but a combo for residents that offers both will only set you back $40 total.
Non-residents have single day, multi-day, and year long options to sift through. Their annual freshwater pass is $58, saltwater is $63, and their combo is $68.
Day passes can cost as little as $10 and as much as $30 dollars or more, depending on the fishing you're looking to do.
Senior fishing passes, junior fishing licenses, veteran offers, and a whole host of specialty water licenses (like Lake Texoma fishing access, for example) can all be purchased at your favorite Walmart, too.
All in all, expect a bunch of different choices to pick from when you head out to grab a fishing license when you're in the great state of Texas!
How Soon Will I Have My New Fishing License After Buying It?
Another beautiful thing about buying your fishing license directly from Walmart is that you are going to walk away from the register with your fishing license in hand.
When you order a fishing license online from your state wildlife organization (or purchase it online from any other business, for that matter) you will inevitably have to wait a couple of days until it arrives to go fishing.
With your license from Walmart, though, you can grab that rod and reel combo you had your eyes on, a little bit of bait, and a cooler with ice and something to eat and drink and head out to a fishing hole straightaway.
It really doesn't get much better than that!
How Old Do You Have to Be to Buy a Fishing License from Walmart?
State-by-state rules will vary regarding how old you have to be to actually purchase a fishing license, but most kick in around 14 years of age to 16 years of age.
Any younger than that and you'll usually need what's known as a junior license, but some states allow anyone under the age of 16 (or so) to go fishing as much as they like without spending any money whatsoever.
Your standard fishing license for those older than 16/18 (or thereabouts) covers you all the way up until about the age of 65.
This is when standard fishing licenses are no longer necessary and a senior license (applicable) come into play.
Senior licenses are dramatically discounted, sometimes by as much as 90% or more, if a state charges seniors to go fishing in the first place. Many of them do not and it's worth checking out for sure.
Does Walmart Sell Fishing Licenses in Colorado?
Yes! For those of you who live in Colorado, you can head down to your local Walmart and pick up a fishing license. Make sure you talk to the employees in the Sports and Outdoors section though!
But what if you don't feel like trudging down to the supermarket? Well, you have three other options. Let's go through each one in turn, shall we?
Online
We already talked about this method in lots of detail earlier. Just see the questions above to find out how!
Mail
If you don't fancy using the web or hiking to your nearest Walmart, the mail is the next best thing. You will have to provide a copy of your photo ID card (see above for what qualifies) and prove your address.
Telephone
If you don't mind having a chat on the phone, this is the option for you. Just ring up the store, give all your details, and purchase. It's that simple!
Who Needs a Fishing License in Texas?
If you live in Texas, you may not need a fishing license at all! While people will tell you that all residents who fish in Texas's public water need a fishing license, they are wrong. The exceptions are as follows:
People who are under the age of 17 years.
People who are born before January 1st, 1931.
People with intellectual disabilities who are using fishing as part of their therapy. These people must do so with the supervision of qualified staff who are employed by a residence, hospital, surgery, or school for those with an intellectual disability.
People with intellectual disabilities who are under the supervision of an angler holder a license. This supervisor could be a family member or a friend. The person with intellectual disabilities must have a doctor's note stating that the person is officially diagnosed.
What are the Penalties for Going Fishing without a License?
Each and every year there are thousands of people that jump out on the water and do a bit of fishing without a license, and many of them discovered just how bad an idea that is almost straightaway.
While your average fishing licenses only going to set you back less than $50 for the entire year the financial penalties, fines, and punishments for fishing without a license can add up to hundreds if not thousands of dollars in a hurry.
All it takes is one fish and game warden to spot you on the water without a license and you are spending a mountain of money to fix an issue that shouldn't have been a problem in the first place.
That $40-$50 fishing license is worth its weight in gold compared to the financial penalties you can face if you get caught fishing without one.
Important Things to Remember After Buying Your Fishing License
The first thing you want to remember about your fishing license is that it's only good for a calendar year.
This is why so many anglers by their fishing license in January, getting set for the next 12 months without any headache or hassle whatsoever.
It's not a bad idea to get in the habit of springing for that license early just to make sure that you don't have to worry about anything when the itch to go fishing overtakes you.
Remember this, though.
Buying your fishing license late in the year (say, October) isn't going to cover you all the way through to the next October.
It's only going to be good until December 31 of the same year and then you'll need to buy another fishing license all over again.
Secondly, you are going to need to keep your fishing license on you at all times when you head out to the water.
You'll need to be able to furnish that fishing license if a fish and game warden ever asks to see it.
If you aren't able to provide it on the spot you're likely going to be in as much trouble as you would've been if you didn't have a fishing license at all.
It's not a bad idea to slide that license into the little plastic slip that Walmart provides, attaching it to your favorite fishing hat or your fishing vest, and making sure that it is on you 100% of the time when you're going to go fishing.
Finally, unlike a hunting license (or a firearms license/permit) you don't have to take any kind of special test or examination to get your hands on a fishing license.
Anyone (and we mean anyone) has the same opportunity to walk into their favorite Walmart, buy a fishing license, and go out on the water that same afternoon without headache or hassle.
Pop down to your local Walmart today and get your hands on a fishing license if you haven't already!
Frequently Asked Questions
Here are a few common questions people often have about fishing license:
What Is The Penalty For Fishing Without a License in Texas?
In Texas, there is a very hefty fine if you get caught fishing without a license. You will be expected to pay a whopping $500. This also applies to hunting but that is beside the point in this case!
Alongside this, there is a civil restitution charge for the fish you take while fishing with no license. This can be incredibly expensive.
How much, we hear you ask? It could be up to thousands of dollars. However, it is far more likely for it to be a few hundred instead. Still, this isn't something that most people just have in their back pocket!
Where Can You Fish Without a License in California?
In California, it is legal to fish without a license in some areas. Specifically, you are allowed to fish from public ocean piers and seaward harbor jetties!
If you are someone who likes to catch crabs and lobsters, then you can do so with hoop nets from public piers and jetties. You are also permitted to catch finfish by hook and line from these places too.
However, you need to check local regulations too.
If you don't, you might be caught out by some fine print you forgot to read.
Can You Buy a Colorado Fishing License at Walmart?
Absolutely! Just go to your local Walmart and head to the "Sports and Outdoors" section. You will need to bring a photo ID card with you and prove that you live in the state of Colorado.
They'll ask you a few questions. Then, you will pay and they will hand over your legal fishing license! It doesn't get easier than that.
References
https://travel.state.gov/content/travel/en/passports/how-apply/identification.html
https://tpwd.texas.gov/regulations/outdoor-annual/licenses/fishing-licenses-stamps-tags-packages/fishing-licenses-and-packages
Recent Posts