Have you ever wondered who owns forest river RV? We´ve got you covered.
Forest River, Inc. is one of the largest producers of towable recreational vehicles (RVs), with 15 manufacturing facilities throughout the United States.
With a variety of products ranging from towable RVs to Park Models, Forest River has something that would fit almost any lifestyle.
From folding dinettes to flatscreen TVs and a fully equipped kitchen to a private bathroom and shower, each Forest River RV provides the comfort and convenience you need for an enjoyable outdoor experience.
So, who owns Forest River RV? Forest River RV Company is owned by Berkshire Hathaway. On August 31st, 2005, Berkshire Hathaway purchased Forest River. However, in 1996 Peter Liegl purchased assets from Cobra Industries, where he worked between1985 and 1993 and founded Forest River Inc.
Who Owns Forest River RV?
In1996 Peter Liegl purchased assets from Cobra Industries, where he worked between1985 and 1993 and founded Forest River Inc. Twenty years later, Forest River has solidified its place as the industry leader in the recreational vehicle industry.
A privately-held company, Forest River has become a Rockwell Automation System Gold Certified Status Company and added continuous process improvements to accommodate their high levels of production.
From innovative new products to custom design/build manufacturing and dealer-focused service after the sale, Forest River is at the forefront of redefining recreational vehicles.
The Berkshire Hathaway deal
On August 31st, 2005, Berkshire Hathaway purchased Forest River.
👉 The Berkshire Hathaway Home Services business was built on the foundation of the values and reputation of Warren Buffett, chairman of Berkshire Hathaway.
Forest River was a strong fit with Berkshire Hathaway Home Services, with its leadership position in recreational vehicles and its reputation for quality products.
👉 Forest River provided an excellent complement to Berkshire Hathaway Home Services' existing brands of communities across the United States and Mexico.
This is why the deal was completed in record time! After receiving information about Forest River on June 21st, 2005, Warren Buffet made an offer straight away and by June 28th an agreement was reached.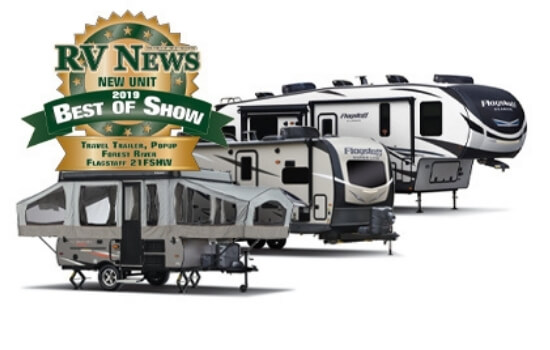 👉 Championed by Buffett for its innovation and simplicity, Forest River has several core brands: Berkshire, Forest River, Dutchmen, Greyhawk, Laredo, Palomino, Sunseeker, and Redwood.
These brands appeal to customers who seek an alternative to traditional RV manufacturers.
👉 The Berkshire deal meant that Liegl didn't have to worry about finding money to buy more factories or compete with deep-pocketed rivals who might buy Forest River.
He'd already proven he could compete by building one great factory in Elkhart. And with Buffett's capital behind him, he could build others.
👉 Although Forest River was a small business in 2005, it had significant potential. Berkshire officials saw its acquisition as part of a transition to an acquisition strategy focused on cash-generating companies with sustainable competitive advantages.
The RV industry faced cyclical and structural threats, but at the time of the Berkshire deal, it was experiencing an unprecedented upswing fueled by new consumer interest in motorized recreation and growing fears of terrorism.
Industry analysts were forecasting that sales would continue to improve.
The Forest River RV Plant, Come See The Tour >> Check out the video below:
Who's part of Forest River?
Today, Forest River continues to manufacture and market a wide variety of recreational vehicles. They are the industry leader in both the production of cargo utility trailers as well as tent campers.
The goal at Forest River is to build quality RVs at competitive prices and to make your purchase experience enjoyable while offering world-class customer service.
The parent organization has grown by acquisition to include:
US Cargo, a utility trailers manufacturer; 
Starcraft Bus and Flaval Bus
Coachmen RV, travel trailers, and motorhomes company in North America since 1964
Dynamax Corporation for luxury motorhomes
StarTrans Bus, another bus company
Trifecta Pontoon line
Playing a vital role in the development of the Skyline brand of travel trailers and fifth wheels, Forest River is one of the industry's most recognized brands.
Today, we continue to develop the Skyline brand and building RVs that take you further into the great outdoors.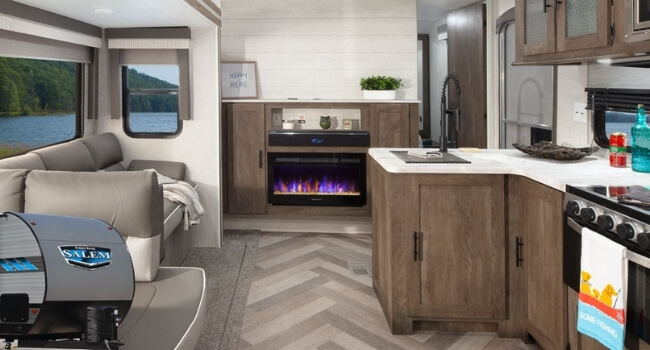 Today the Company operates three manufacturing facilities and generates revenue domestically from product sales as well as from engineering, building, and selling new and used Fifth Wheels, Travel Trailers, Pop-up Tent Campers, Park Models, and Cargo Trailers.
The Company is also a distributor of parts for motor homes made by other manufacturers.
In addition to products sold through its Company-owned retail stores, Forest River sells vehicles through independent dealers who are committed to quality and value.
Forest River's Philosophy
Forest River is known for consistency of delivery, quality attention to detail, and an uncompromising commitment to excellence.
Forest River has grown into the nation's most comprehensive manufacturer of recreational vehicles.
👉 Forest River, Inc. is a leading national manufacturer of high-quality, award-winning RVs and buses, providing an innovative variety of products designed to fit your family's needs and lifestyle. Forest River RV models are available in the ever-popular Class A, B, C, and Travel Trailer RVs.
Featuring luxurious styling, plush furnishings, and spacious floor plans, Forest River vehicles provide the ultimate comfort for entertainment today's on-the-go families.
👉 Forest River strives to not only meet but exceed our customer's expectations by offering quality products and exceptional customer service.
We construct each and every one of our travel trailers and motorhomes to provide exceptional value while paying a great deal of attention to detail. Nothing leaves our doors if it doesn't meet our high standards.
👉 Each Forest River product is designed and built according to a philosophy of "building better" which means innovation in features, functionality, construction methods, and materials combined with exciting design, durable construction, and attention to detail.
Underlying this philosophy is a set of core values—innovation, people, quality products that are Better Built by Forest River.
At Forest River, we're more than a manufacturer. We're family. Every Forest River employee is a partner in the business, and we understand that without customers we have no product to sell
We take pride in our ability to provide you with world-class products, an exemplary customer service experience, and a work environment second to none.
The ownership group
Forest River Owners' Group (FROG) was formed in 2011 and now counts over 130,000 members.
👉 One of FROG's top priorities is to give back to its members in the form of incentives and special programs.
FROG accomplishes this by hosting rallies and tours throughout North America, as well as offering a special rewards program for being an active group member.
Because Forrest River owners are dedicated to RVing, these group members make friendships and memories that will last a lifetime.
👉 The FROG is committed to the education of RV owners, and to help make all aspects of RV ownership better by supporting the industry with rallies, tours, and educational seminars.
Plus, they offer the Forest River Owners' Group Magazine, a comprehensive resource for everything about RVing.
👉 The FROG offers owners something that no other RV company can.
The chance to meet other owners of the same model as yours, enjoy rallies and tours outside of everyday life, gain access to a large collection of resources for their recreational vehicle, and ongoing technical support from Forest River's qualified service technicians. 
👉 Imagine surrounding yourself with like-minded people who are passionate about life on the road, and finding out everything you need to know about living comfortably in your trailer or 5th wheel.
The FROG is filled with members of all ages who share exciting stories, tips on how to make your trip more adventurous, and introduce you to other outdoor enthusiasts.
References
https://forestriverinc.com/Our-Story
Recent Posts