Have you ever wondered how to take over payments on a motorcycle? Look no more. We´ve got you covered.
Due to the high cost of quality bikes, many people will obtain a motorcycle (e.g Harley Davidson) either with a lease or a loan.
It is important that you know this because, if you plan on purchasing a motorcycle, then you may have to take over the lease or loan contract that is in place.
So, how to take over payments on a motorcycle? Before taking over any payments, you will need to show your credit history to the company you will be paying back. After you have been approved, you will be able to speak with the seller about taking over their payments.
We are going to split this page into two sections. We are going to begin by talking about taking over a motorcycle lease, and then we are going to wrap up by talking about taking over a motorcycle loan.
For the most part, the process is similar. However, there are a few differences that you may need to be aware of.
Taking Over a Motorcycle Lease
Let's start by talking about taking over a motorcycle lease. This is because it is a little bit trickier to do, and there are some special things that you really need to know about owning a lease.
Thankfully, most bikes nowadays are not leased. This means that you may not run into these issues quite so much.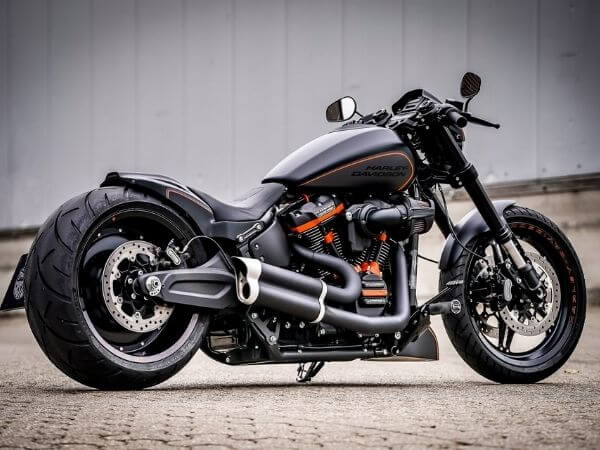 What is a Bike Lease or Motorcycle Lease?
Perhaps the best way to think of a motorcycle lease is as a long-term rental of a motorcycle.
Each month, the leaseholder will make payments to the motorcycle leasing company. They will do this for the duration of the lease.
This is not a loan. You are not purchasing the vehicle with your payments, you are merely renting it for a pre-defined period.
Leases are often the cheapest way to obtain a motorcycle because you are not paying for the full cost of the vehicle. This means that the monthly payments are going to be lower.
Those with leases will often jump between a variety of different motorcycles too. Once they have returned a motorcycle, they can lease a new one. It is a great way to have a brand-new motorcycle available at all times.
Do You Own the Vehicle at the End of the Lease?
It depends on the lease. Although, in all cases, you will not have outright ownership of the vehicle upon the conclusion of the lease.
As we just said, leases are not loans. You are essentially 'renting' the vehicle. At the end of the lease period, you may have the option to purchase the motorcycle outright. This will be for a reduced sum.
If you do not purchase the bike outright, you must return it to the company that provided the leased vehicle.
There may be a small fee to pay when you return the motorcycle in order to cover wear and tear.
However, this is rarer with motorcycles in comparison to larger vehicles like RVs. If there is a fee, then it is likely to be a small fee unless the motorcycle is severely damaged.
This applies whether you have your own lease, or you take over the ownership of somebody else's lease.
Can You Take Over Somebody's Motorcycle Lease?
In some cases, yes. However, you won't be able to take over all leases.
If you want to take over a lease, then you need to find somebody with what is known as an 'assumable lease'.
In the contract somewhere, it will state whether the lease can be passed on. It is a fairly common term. At least in comparison to assumable loans (we will talk more about those in a short while)
Do remember that it is not simply a case of handing over the lease to somebody, though. There are very specific steps that need to be followed.
The Pitfalls of Taking Over a Lease
What you have to remember is that when you have the lease on a vehicle, a motorcycle, or otherwise, you do not actually own that vehicle. This means that there may be restrictions in place.
Obviously, you will not be able to sell the vehicle. You may be able to pass the lease onto somebody else with permission, but that is about it.
Your big concern, however, is that leases will come with a mileage limit. This means that you are only allowed to drive the vehicle a certain distance. If you go over the mileage limit, then there will be huge fees.
If you take over a motorcycle lease, this mileage limit does not reset. You will be left to use up any allowed mileage that the original leaseholder had.
So, before you sign any sort of lease agreement to pass the lease over to you, then you need to make sure that there is enough mileage left to allow you to enjoy that vehicle because you are going to be the one suffering from heavy fees if there isn't.
Yes. There are some people that will be a little bit underhanded and pass on their lease for vehicles with barely any mileage on them just so they can avoid these extra fees.
Are There Alternative Options to Taking Over a Lease?
You do have the loan options which we will discuss shortly. However, the only alternative to taking over a lease is obtaining your own lease.
Because leases tend to be easier to obtain, and quite often there isn't a down payment, most people will not actually take over leases. Instead, they will seek out a lease of their own.
There are only a few reasons why somebody would want to take over a lease.
The major one is that they do not want to be roped into a new multi-year leasing contract. If you take over a lease from somebody else, several months, or even years, may have run on that lease already.
This means that you have fewer repayments to make.
Some may have a specific motorcycle in mind, and they have discovered that the only way to obtain that bike is by assuming a current lease. This is because companies may no longer be leasing that vehicle out.
Some may even take over leases in a bid to help a friend or family member out.
Steps for Taking Over Lease Payments on a Bike
Your first job is to find a leaseholder that is attempting to pass on their lease. Luckily, there are plenty of websites online for this, and thus we won't go into that too much.
In fact, chances are that you are reading this article on how to take over payments on a motorcycle (e.g. Harley Davidson) simply because you already have a lease in mind.
Your next step is to read through the lease contract that the leaseholder has. These will likely be the terms that you have to follow. You will want to pay special attention to the following information:
How much time is left on the lease
Mileage limits (and fees)
The cost of the lease
Whether you have the opportunity to purchase the motorcycle at the end of the lease.
Any other specific terms that restrict how you can use the motorcycle.
It is vital that you understand the contract before you proceed with obtaining the lease. There are many people that have been wildly excited about obtaining a lease for a vehicle, only to not read the terms and conditions properly. They then end up with a vehicle that is useless to them.
At this stage, we want to point out that most lease takeovers will be a straight lease takeover. You won't be paying a premium to the original leaseholder at all.
This is because they have not actually paid anything toward the vehicle. That being said, there are some people that may try to obtain a premium from the original leaseholder if the currently used mileage is disproportionate to the length of the lease i.e. if the original leaseholder has used 50% of the mileage when there is more than 50% of the contract left.
Although, this is up to you to negotiate.
The next step is both you are the leaseholder getting in touch with the leasing company. Each leasing company will have its own process for this, so make sure that you follow it. The process will always involve a credit check.
This is because the leasing company needs to know that you are going to be able to cover the lease payments. Most leasing companies require a credit score of at least 600.
After the leasing company has approved you, you sign a contract and the lease is now yours.
How To Buy a Motorcycle From a Private Seller with a Loan
If you want to buy a motorcycle from a private seller with a loan >> Check out the video below:
What Banks Give Motorcycle Loans?
Some banks offer motorcycle loans at competitive rates in the US. However, you may find that their requirements are much higher than online lending institutions and require a higher credit score.
These banks don't generally allow pre-qualifications, so you would need to visit the bank in person.
What banks give motorcycle loans? Here are a few of the established banks that offer bike financing:
LightStream
MyAutoLoan
Motorcycle Lender
Harley Davidson
| Lender | APR | Min. Loan | Max. Loan | Best For… |
| --- | --- | --- | --- | --- |
| LightStream | 4.29% – 11.89% | $5,000 | $100,000 | Same-day funding |
| MyAutoLoan | 3.49% – 4.69% | Varies | Varies | Bad credit or no credit |
| MotorcycleLender | From 6.99% | Not listed | $40,000 | Unsecured loans |
| Harley Davidson | From 3.99% | Not listed | Not listed | Best for HD enthusiasts |
Taking Over a Motorcycle Loan
Loans are different from leases.
You are not renting the vehicle. You legally own the vehicle, assuming that you keep up to date with the motorcycle loan repayments. So, once that loan has been paid off, that motorcycle is yours.
Of course, because of this, motorcycle loans are going to be more expensive than a lease.
What is a Motorcycle Loan?
Pretty much what it says on the tin.
A company provides you with a loan for your vehicle. They then attach a lien to your title which essentially says "this person owes money on this vehicle".
Each month, you may your repayments. At the end of the loan term, you own the vehicle outright.
Unlike a lease, you can sell a vehicle that you purchased with a loan. However, you will need to still keep making payments on that loan until it is paid off.
That is assuming that you have not passed the loan onto somebody else.
Can You Takeover a Motorcycle Loan?
Yes. But it is a bit trickier than with a lease.
When somebody takes out a loan, the terms of that loan are going to be decided based upon their own personal circumstances. So, credit score, income, expenditure, etc.
This means that when you plan to take over a motorcycle loan, you may not know exactly how much the lender is going to ask you to pay each month toward the loan.
Once again, you will only be able to take over that contract if it is assumable. A lot of motorcycle loans are not assumable due to how much they vary based upon who was taking out the loan in the first place.
You will need to have a far better credit score to take over a loan than with a lease.
Taking over a motorcycle loan for a used vehicle is often cheaper than obtaining a new loan for yourself. This is because the remaining term on that loan is likely to be a lot less, and there will be far less money to pay.
It is essentially just taking out a loan to purchase a used motorcycle. Although, as we said, it is going to be a lot more expensive than taking over a lease due to the ultimate goal of a loan to be ownership of the motorcycle.
How To Get Rid of a Financed Motorcycle
If you want to get rid of a financed motorcycle (Trade A Motorcycle With A Loan) >> Check out the video below:
The Process for Taking Over a Motorcycle Loan
We are assuming that at this point, you will have checked whether the motorcycle loan that you plan to take over is assumable. If it is not, then skip to the next heading.
If it is assumable, then you can start to negotiate with the current loan holder. You will have to pay a premium to the current loan holder.
This is because they will have paid off some of the money toward a vehicle that you may eventually own.
Obviously, you will want to try and negotiate a price that is fair for both of you. Although, we wouldn't suggest that you negotiate a firm price until you get in touch with the lender.
This means that the next step is to get in touch with the lender. As before, each company will have its own process.
You will need to make sure that you follow it. They will absolutely carry out a credit check on you. You will also be asked about your income and expenses each month. They need to know that you have the ability to make your repayments.
You will then be given the terms of your loan. This may be for a higher amount than what is currently outstanding on the loan.
Most lenders will work a small premium into things to cover the risk of a loan assumption. It will also include interest on the loan, etc.
If you have a poorer credit score, then you may even be disapproved for the loan. Move onto the next heading if this is the case.
You will now need to return to the idea of discussing the premium with the original loan holder. Now that you know how much you will have to pay on the loan, you will be able to negotiate a fair price to buy the loan off of the other person.
By fair price, it will take into account the fact that they have already had significant use of the motorcycle. Therefore, you won't be paying them everything that they put into the loan. That would be ridiculous.
Once everybody is agreed, you can sign the contract. You are now responsible for paying off the loan yourself.
Are There Alternatives to Taking Over a Bike Loan?
In some cases, the loan may not be assumable. However, this does not mean that you can't buy it. You will just have to go about it in a different way.
This means obtaining a loan from a different lender. You can then hand this money over to the current loan holder. They will use it to pay off the remaining money due on the contract, and then give you the legal title to the vehicle.
It is up to the two of you to come to a fair price here. It will normally be a fraction of what they have already paid, plus the full total remaining on the loan.
If your loan application was originally declined due to a poorer credit score, then you can use the same process. You can seek out other lenders that may be able to offer you a loan.
if you do go down this alternative route, then it is vital that you check that the original loan holder has paid off the loan.
This will remove the lien on your vehicle's title. If they do not pay off the loan, and then they do not keep up on the monthly repayments for the vehicle, then your motorcycle will be seized.
This is because it technically would not belong to you, it would belong to the lender.
Can I Lease A Motorcycle
In the past few years, the motorcycle industry has caught up to the car world and started offering motorcycle lease programs, so this seems like a good time to cover how to lease a motorcycle.
You can lease a motorcycle but remember this is not common. The vast majority of buyers prefer cash when buying a motorcycle or bike since these are not expensive when compare to cars. Not all dealerships will offer leases, so you need to find the one offering lease.
Lease a Motorcycle? Motorcycle Leasing Explained >> Check out the video below:
Can I Sell My Motorcycle Back to The Dealer
If you want to sell your motorcycle back to the dealer >> Check the video below:
Final Thoughts
If a motorcycle loan or lease contract says that it is assumable, then that contract can be passed on to somebody else. Sometimes, this is going to be the most affordable way to obtain a motorcycle.
However, you do need to make sure that you read through the terms and conditions of the contract that you are assuming. This way, you will know exactly what is expected of you.
References
https://www.motorcycle.com/features/motorcycle-leasing-is-it-even-an-option.html
https://money.com/break-a-car-lease-best-options/
Recent Posts