Have you ever wondered if Coleman a good brand is? Look no more. We´ve got you covered.
Camping is one of the most enjoyable outdoor activities, and how much fun you will have on a trip depends solely on the quality of your gear.
The most important piece of equipment is certainly the tent, it supposed to protect you from the elements and give you privacy, especially on crowded campsites.
Depending on the weather and other conditions in the area where you are planning your camping trip, it is important to appropriate gear that will provide you its benefits on a suitable level.
Whether it is a tent, camping stove, sleeping bag, or something else; you will want it to be made by a reputable brand, known for its products' durability.
So, is Coleman a good brand? Yes, Coleman is one of the best outdoor product companies you can find out there. Coleman is a brand best known for giving you the most bang for your buck when it comes to camping gear.
Many people describe Coleman products as "good enough", and that is their main strength, their products are good enough. There are brands that offer products that can withstand harsher conditions, but unless you are planning polar expeditions or a camping trip on the Himalayas, you actually do not need them.
So, let's talk about Coleman and what makes them a good brand.
HISTORY
Coleman Company Inc was founded in 1900 by William Coffin Coleman in Kingfisher, Oklahoma. The very first product they brought to market was gas lamps. Over the years they have developed many products, and one of the more notable ones is the original G.I. Pocket Stove.
This product will be their first entry into the camping and hunting gear market but will be discontinued in the late '40s.
In the 1960s they will start with manufacturing products they are the best known for today, tents and sleeping bags. Since then, these camping products will be the calling sign of the company.
The '70s will bring reintroduction of the pressure-gas stoves, while in the following decade they will sell their 40 millionth gas lantern.
The turn of the century will bring establishment as one of the leading brands and expansion of product range to include portable camping grills and camping gear.
PRODUCTS
Today Coleman makes a wide range of camping products, from tents of various sizes to headlights and gas lamps, but also features many branded products manufactured by other companies.
Read also: 85+ Must Have RV Accessories & RV Supplies (Best RV Accessories Online)
Tents
Coleman makes a wide range of tents aiming to meet a wide range of requirements from their customers. Their size ranges from 28 square feet and up to whopping 170 square feet. What sets them apart from other camping gear companies is the price-quality ratio.
Granted, these tents are not suitable for extreme weather conditions, such as gale strength winds and torrential rain.
But for 99% of people who purchase tents the over-engineered and overpriced tents are unnecessary. Ranging from 2-person and up to 12-person tents made by Coleman will provide you exceptional durability at a very affordable price.
Their focus is on a family camping experience, and that is noticeable from the fact that you will not find multi-person tents from other manufacturers that offer a similar level of functionality in a similar price range.
Sleeping Bags
Coleman's sleeping bags are firmly set as customer favorites in the class of budget camping gear. While they are not rated for some crazy temperatures such as 0° Fahrenheit, they perfectly fit the needs of campers in temperatures above freezing.
Because of this, they are among the best consumer-grade sleeping bags you will find on the market. Their main goal is to provide comfort in sleeping outdoor.
Canopies And Shades
The know-how of making tents, Coleman has translated into the production of various pop-up canopies and shades. While keeping their promise to their customers of providing the best bang for their buck, they make some excellent products. Many of their products are made from high-quality materials, and 150 denier canopies are water-resistant.
Besides the surprisingly high durability of their products, Coleman canopies are characterized by the unrivaled ease of setting them up and taking them down.
Literally, there are no other products that can match the ease of use of the Coleman shades. In just a few short minutes they can go up or get packed away.
Camping Stoves And Grills
When it comes to camping stoves and grills, whether you are camping in extreme weather conditions or enjoying balmy days outdoor, you want them to be easy to use and to be reliable.
Coleman's camping stoves give just that, simplicity and reliability. The majority of their products are not the most powerful on the market, don't expect from them something like 50,000 BTU of thermal power.
What they will give you and your family is a very convenient way of preparing food during camping trips, and will never fail to do it.
If you wish to be grilling on your camping trip with your family, both Coleman's charcoal and gas grills are a perfect choice.
You will be hard-pressed to find such products that combine practicality, portability, and build quality; while keeping the price affordable for casual campers.
Their range of products can be described as uncomplicated but still great. And furthermore, they often cost considerably less than the competition of comparable quality.
Coolers
Whether you are camping, enjoying a day at the beach, or tailgating; having your drinks properly cooled is what can make or break your day.
With half a century of experience in making coolers, Coleman's engineers are experts in creating some of the best and most durable products.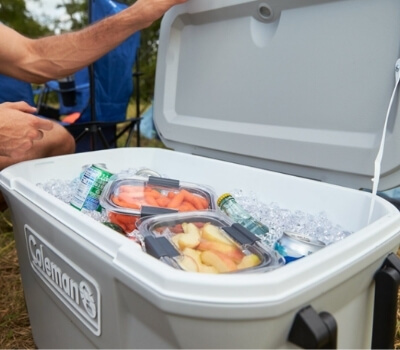 In their product range, you will find both hard and soft coolers, ranging from 20 to over 100 quarts capacity. Their large-capacity hard coolers are also among the best on the market when it comes to the ability to keep the ice.
If you are planning a week-long trip in nature with your family, they will keep the ice for almost the whole trip.
Besides the outstanding performance of their hard coolers, their soft range boasts a very stylish design and capacities that can reach over 36 cans.
Same as the rest of their range of products, their coolers are budget-friendly and offer unmatched price to quality ratio.
Lighting
For more than one hundred and twenty years Coleman is producing gas lamps, it was actually the first product. Their gas lamps were used for illuminating football games more than a century ago. And today they are used to illuminate the campsites and tents around the world.
Their gas lanterns are among the most fuel-efficient ones on the market, while still being among the brightest ones.
Whether you are looking for a kerosine, camp fuel, propane lantern, or battery-powered; Coleman has at least one model and at an affordable price.
PRICE AND QUALITY
Two main strengths of Coleman's brand are the price and quality of their products. A long time ago the company has made a strategic decision to provide value to its customers.
👉 You will find many products of their competitors that in some regards offer superior products. But the reality is that such products are always over-engineered and overpriced.
👉 Coleman's products are geared toward the family camping audience, people who do not need gear that can withstand hurricane-strength winds or Arctic temperature.
Because of this many people often describe Coleman's as average quality products. But the reality is that they provide to their customers exactly what they actually need, products that perform their basic functions reliably and consistently.
👉 You will be ill-prepared to scale Mount Everest with their products, but they are perfect for spending a weekend with your loved ones in nature.
What is today very rare on the market of camping goods, Coleman's products are made in the USA. So, you actually shouldn't be surprised with the quality of their products.
👉 Another characteristic of Coleman's brand that often leads people to doubt the quality of their products is the price.
With many products and brands on the market applies the rule that you get what you pay, or that for good quality you must pay the top dollar. Coleman breaks these rules, and they do it intentionally.
Coleman is a brand dedicated to providing its customers with affordable products, and when looking at its competitors, you may find yourself comparing their products to some that come with a price two times larger.
👉 When it comes to camping gear, many companies are specialized in making gear for extreme weather conditions and professional use.
Their products usually come with a huge markup which makes them accessible only for customers who absolutely need such a level of performance.
But most of the campers will never find themselves in such extreme conditions and need products that will reliably perform their basic function.
Coleman is a brand geared toward such customers but goes a step further by offering its products at prices much more reasonable than competitors that offer products of comparable quality.
Coleman doesn't make products that are flashy and loaded with features you very likely will never use. What makes them a great brand is that their products will serve you well, and for a long time, without costing you an arm and a leg.
References
https://en.wikipedia.org/wiki/Coleman_(brand)
Recent Posts