Travel trailers are the most popular type of non-motorized RV. The birth of the first travel trailer came about because an outdoor enthusiast named Arthur Sherman wanted to bring more convenience and luxury during his outdoor excursions. Now, travel trailers are popular both as a weekend get-away or a permanent home.
How to compare travel trailers? Several factors will determine which model, manufacturer, or brand best suits you. For example, how long do you plan to keep your travel trailer? Will you vacation in your travel trailer for an extended period or use it just for weekend travel? How much is your budget? All of these questions matter in picking the perfect travel trailer for you.
The purpose of this guide is to inform and direct you towards the best matching travel trailer for you. Also, the guide will go into detail on features you should consider when you purchase your travel trailer, maintenance guides, and top travel trailer manufacturers out there. Good luck!
Questions to Ask
Before deciding which on which travel trailer is the best fit for you, ask yourself questions that will narrow down the ideal travel trailer. This will hopefully give you an idea of what type of travel trailer fits your lifestyle.
Weekend Getaway or Long-term Stay?
How Much Attention Does It Need?
Is My Current Vehicle Capable of Towing?
Parking Spot or Storage Unit?
What Do Other People Say?
Weekend Getaway or Long-Term Stay?
If you will only be using the travel trailer for a weekend or short periods, then space might not be an issue for you. For those who are considering traveling full-time or regularly, you might require a larger travel trailer which offers additional space and commodities
How Many Passengers?
Consider how many people will be staying in the trailer with you. In addition, think about things such as:
Equipment
Commodities
Essentials
Tools
Basically, all the necessary things you will probably be traveling with. This will give you an idea of how much storage and living space you will need.
I recently wrote an article on this subject, have a look at it:How to Choose the Right Size Travel Trailer: An In-Depth Guide
How Much Attention Does It Need?
The bigger the travel trailer, the more attention it will need. More things can go wrong with a larger travel trailer. If you seem to be a handyman yourself and capable of taking good care of your large travel trailer, then by all means! If not, it would probably be smart to stick with the smaller travel trailers.
Related reading: The Smallest and Biggest RVs You Can Rent 
Is My Current Vehicle Capable of Towing?
The personal vehicle you currently own plays a large factor in choosing your travel trailer. If you do have a smaller-size vehicle, you might want to have it replace if you plan to tow the new Wildcat Maxx trailer you just bought.
Pick a travel trailer that is suitable for your vehicle. In addition, find out the tow capacity rating of your vehicle to determine what size of a travel trailer it would be capable of towing.
Related reading: Can a Minivan Pull a Travel Trailer? [Must-Read]
Parking Spot or Storage Unit?
If you are planning to purchase a large-size travel trailer, consider where you will be parking it. Do you have a large enough driveway when you are not using it, or does your neighborhood rely on on-street parking? Another option than storing it on your driveway is to pay a monthly fee for storage facilities that will no doubt keep it safe from harm's way.
Learn More About: Average RV Park Rates: Nationwide Campgrounds Prices per Night
Can You Afford It?
The Price of the travel trailer is an important aspect to consider. The larger the trailer is, the more expensive. Another thing to consider is if you would like to purchase a new travel trailer or a second-handed one. If you are on a budget, consider purchasing a good quality used travel trailer instead.
What Do Other People Say?
Most first-time travel trailer owners begin at the dealer level when shopping for a travel trailer and will quickly get interested in a particular design. However, this is the wrong approach and usually leads to you having a certain level of regret.
It is highly recommended that you do a little bit of homework by looking at reviews from the travel trailer community. In addition, go ahead and compare different types of models and manufacturers, see which is best for you, and suits your traveling style.
What Are Travel Trailers?
Travel trailers are the most popular towable RV. Prices of travel trailers vary from quality and features. Some travel trailers come with solid non-adjustable walls, while others would have features such as a slide section of the wall that either pulls or motors out, giving more space inside the travel trailer.
Travel trailers come in a variety. They range from shapes, size, design, and aesthetics such as:
Teardrop Trailers
Small-Molded Fiberglass Trailers
1.Teardrop Trailers
Small, retro-inspired travel trailers that are essentially a tent and bed on wheels. If you love the outdoors but want some of the essential amenities of home, the teardrop trailer is most likely the perfect choice for you.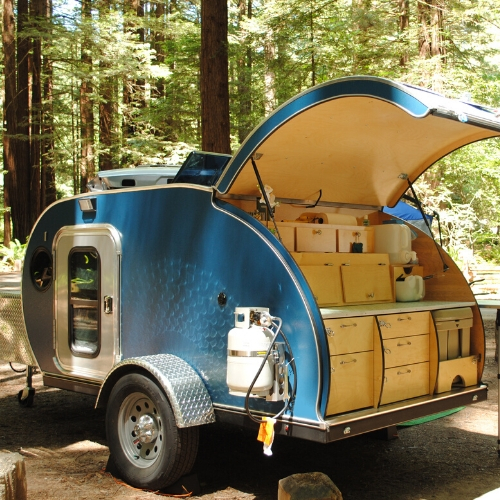 2.Small-Molded Fiberglass Trailers
The Casita and Scamp are a great example of these types of trailers. The fiberglass trailers are considered to be minimalistic and low maintenance. In addition, fiberglass is a better material for insulation than aluminum. Therefore, the interior of the trailer will maintain temperature consistency effectively (e.g. Heat during winter, or cold temperature during hot summers).
3.Classic Travel Trailers
Classic travel trailers come in several varieties. However, they are generally the type of trailer that will include the largest and most luxurious models to date. These types of trailers can be pulled by any car with a high enough towing capacity. But there are large, elite-class trailers that usually only heavy-duty trucks can pull. Examples include the EVO 208RD and the Wildcat MAXX 262RGX
4.Pop-up Trailers
Pop-up trailers are travel trailers that are a combination of tents and RVs. These travel trailers mostly resemble a smaller version of the classic travel trailers. In addition, these trailers have sections that extend outward; foldouts that are usually enclosed by a layer of canvas.
5.Toy Haulers
Toy Haulers are the perfect travel trailer for outdoor sports enthusiasts. These types of trailers are capable of hauling all sorts of toys. The toy haulers feature a rear garage where you can
In addition, there are designs where living spaces are merged or separated from the garage space.
Related reading: Travel Trailer vs. Toy Hauler: 17 Differences That Matter
What to Look for in a Well-Built Trailer
Everyone wants to know if they are not making a mistake purchasing their travel trailer of choice. Are they constructed well? What material are they made from? Will they stand through harsh summers and cold winters? Is it going to explode?
You have to do your research and familiarize yourself with built features that would reflect a reliable structure for your travel trailer. A well-constructed travel trailer will last you a lifetime. Here are some things you should consider being familiar with when browsing for your new travel trailer:
Plumbing & Electrical Systems
Frames & Structure Materials
Exterior Wall Construction
Travel Trailer Features
Travel trailers come in numerous varieties. These different types of travel trailers include features that makes them unique. Below include some features that you should take a look in order to find the perfect travel trailer that matches your needs.
Towing Capability
1.Towing Capability
Most travel trailers are required to attach themselves onto the rear bumper of your vehicle. You would need to purchase a conventional ball hitch system and attach it securely. However, some SUV's and trucks already have these features.
A fifth wheel, however, attaches itself onto the bed of your truck through a specially designed hitch system. Many travel trailer owners feel that fifth wheels are easier to tow than other types of travel trailers because the fifth wheel hitch system offers more control and is easy to attach to the truck bed.
Related reading: How Much Does It Cost to Install a Trailer Hitch? (with 9 examples)
2.Roof Height
Some travel trailers offer less vertical height than others. Classic travel trailer and fifth wheel hitch can be higher and are usually taller than most travel trailers. Therefore, these two types of travel trailers are known to be spacious, luxurious, and more comfortable living space. But do be careful about traveling in low clearance areas.
Travel trailers are compact and are not as high as the classic travel trailer or the fifth wheel. Many travel trailers are usually 9-foot or less making; it easy when traveling into tight spaces or areas where you need to maneuver.
3.Size and Weight
Travel trailer comes in many shapes and sizes. From small, minimalistic, and compact trailers such as the teardrop trailers to the larger fifth wheel and classic travel trailers.
4.Floor Level Designs
Classic travel trailers and fifth wheels will generally have a more spacious living area. Most units feature a bedroom, full-set kitchen, a large bathroom, and will even fit in stairs. Travel trailers, on the other hand, are going to be a one-level design and offers less space with only essential built-in commodities.
5.Storage Space
Travel trailers come in different shapes, heights, and lengths; therefore, storage rooms are different. Some have little to no room, while others have more than enough space.
Travel trailers such as the fifth wheel and a few classic travel trailers sometimes come with stairs? That is due to the fifth wheel's two-level design. But stand-up trailers, teardrop trailers, and most classic travel trailers are usually a one-layer design. Hence, less storage room.
Fifth wheels and luxurious classic travel trailers also offer larger tank sizes and special compartment below the bedroom as extra storage space. Smaller travel trailers would also have special compartments for extra storage space. However, these special compartments would usually be located on the exterior of the smaller travel trailers rather than on the inside.
Related reading: Setting Up a Travel Trailer to Live In: 20 Essential Steps
6.Price
Price points are another aspect that buyers need to take a look at. You do not want to go over your budget, but you want to have the best "bang-for-your-buck" when you purchase your first travel trailer. Ask again the questions at the beginning of the guide, make sure your travel trailer suites your lifestyle. Also, be open to used or older models as they might function as well as new ones.
7.Fuel Economy
Size matters in terms of fuel economy. The bigger your travel trailer is, the larger the towing vehicle should be hence it reduces your fuel economy. The pop-up, teardrop and small-molded fiberglass trailers offer the best in fuel economy due to
You can expect about a 2 to 3 mpg better fuel economy. And especially with the choice of using a smaller vehicle to tow with.
Best Travel Trailer Brands and Models
The best and most well – known travel trailer manufacturers mainly come from the United States and Canada. Many brands offer a variety of travel trailers. Explore the manufacturer and see which travel trailer fits best for you. Below are one of the top manufacturers in the travel trailer industry which include:
The Airstream
1.Airstream
The Airstream is an iconic brand within the travel trailer industry. Airstream trailers are manufactured in Jackson Center, Ohio, USA. The brand is considered one of the first pioneers of travel trailers and capitalized the market during the golden age of interstate traveling in the US.
Airstream travel trailers have a reputation for a strong quality rating and a unique trailer design. The Airstream design is so popular and iconic, that there are communities and airstream trailer enthusiasts who collect early classic models.
Their iconic models include:
The Classic: The Classic is considered as Airstream's flagship. Known as the Land Yacht by many airstream enthusiasts, the Classic ranges from 30 – 33 feet. It provides a kitchen, dining area, lounge area, bathroom, and spacious bedroom. The Classic is top of the line and starts at $149,900.
The Globetrotter: Another popular travel trailer of Airstream. The interior design has a European influence. The exterior of the trailer itself is Airstream's classic aerodynamic aluminum shell
Tommy Bahama: Airstream's special edition is considered a luxurious set up with an island-inspired design and décor to it. The special edition airstream goes around $75,900.
The Flying Cloud: One of the Airstream's more expensive models which cost around $67,000. The Flying Cloud has dual axels and can sleep between four to eight people depending on the trim level. Also, it has a reputation for being easy to tow.
The Airstream is currently under the Thor Industries which has helped to modernize the newer airstream models while still preserving the unique and original airstream aesthetics.
For travel trailer prices, the Airstream models tend to be above the average market, especially when it comes to newer models. Even Airstream older classics still cost above average due to demand.
2.Winnebago
The Winnebago travel trailer brand is another well-established name and considered one of the best quality travel trailers within the industry. Winnebago made its name by producing great-quality travel trailers but with an exceptionally affordable price. Thanks to Winnebago, travelers who have the money to purchase travel trailers within budget are now able to do so.
Winnebago's headquarters is located in Iowa, USA. However, their market has expanded, reaching the entire United States and Canada. Therefore, coming across a Winnebago trailer will prove easy, as there are units to rent and purchase all over the US.
Most of Winnebago's towable trailers come with a 3-year warranty. The warranty covers the workmanship manufacturing and assembly of the structural portions of the travel trailer.
Structural Warranty includes:
Steel Frames with Outriggers and Cross Members
Skeletal Framing; including Wall Studs, Floor Joists, and Roof Rafters
Throughout the years, Winnebago has grown to become a strong presence in the travel trailer industry. Their popular travel trailers include:
The Minnie: Winnebago's most popular and best-built travel trailer. It is designed for small families of four. The Winnebago Minnie is lightweight in design and is mostly popular for comfortable camping trips in the woods or national parks. The price begins at $31,000
The Micro Minnie: A tiny trailer with big capabilities. The Micro Minnie is lighter and thinner than its older sibling, the Minnie. It is 7-feet wide and proven to be a perfect pair for small SUV and Crossovers. The price starts at $21,862.
The Minnie Plus: One of Winnebago's bigger models. The Minnie Plus is a luxurious travel trailer that features queen-sized beds, full depth slide-outs, and private bathrooms. Also, the interior design of the trailer includes solid surface countertops, stainless steel sinks, and extra storage room inside and outside of the trailer
3.Dutchmen
The Dutchmen manufacturer offers a wide range of trailers such as:
Like the Airstream, Dutchmen were acquired by Thor Industries. The Dutchmen headquarters are located in Goshen, Indiana.
The Dutchmen travel trailers are known to have great storage space and overall comfort. The Dutchmen trailers are known for their quality, using high-strength aluminum for their design.
The Dutchmen trailers are a great brand if you are looking for high-quality aluminum travel trailers. Most of their trim levels weigh roughly around 5,500 – 7,500 pounds. It strives to provide trailer owners with a proper living space and standard amenities you find at your actual home including:
Solid-Surface Countertops
The Dutchmen's vision is to give trailer owners an elevated experience through the innovative designs of their trailers. Below is an example of some of their most popular trailers:
Aerolite: One of Dutchmen's most popular travel trailers. The Aerolite has a lightweight aluminum construction design, making it lighter for your vehicle to tow as well as your gas mileage. In 2017, the Aerolite won an award for Top RV Debut.
Kodiak: Like the Aerolite, the Dutchmen Kodiak features an aerodynamic profile in the Kodiak Ultimate. The ultra-lite technology leader, the entire Kodiak line is light enough to be towed by most SUVs, minivans, crossovers, and light trucks, making it very fuel-efficient.
Coleman Light: The Dutchmen's Coleman Light series features aluminum framed construction. The Coleman light includes amenities such as power stabilizer jacks, 60" x 80″ queen bed, and many other luxuries. In addition, there are numerous floorplans to choose from, including aluminum-framed walls, vinyl flooring, and hardwood maple cabinet doors.
Just like the Winnebago, the Dutchmen travel trailer warranty is included for all the travel trailer purchases. During the first year of ownership, the items within the purchased travel trailer are all covered (excluding normal wear and tear items).
Also, two more years follow for the major structural items you have within your travel trailer. To add another bonus within the 3-year warranty, the warranties are transferable to a second owner if you decide to sell your travel trailer within the first year of your purchase.
Travel Trailer Maintenance
Maintenance is key for your travel trailer's quality and longevity. Treat it as if it is your own home (it could be one). To keep your travel trailer in its best shape possible, there are a few routine maintenances to keep in mind:
Water Tanks: Travel trailers have their built-in freshwater tanks. You will want to completely clean the tank and flush out your blank tank at least once every six months. Use the appropriate chemicals to make sure your water tank stays in great shape.
Water Heater: Make sure that you check your Anode Rod every six months to see if it needs to be replaced. Also, use compressed air to clean and clear out the burner tube or burner chamber.
Roof: An area of the trailer that is overlooked by some. First and foremost, make sure the roof on your trailer is walkable. Wash your roof with water and then apply a chemical solvent. In addition, inspect all your seals, vents, AC, and around slides at least once a month.
Read next: Can You Pressure Wash an RV Rubber Roof? [Practical Tips Inside]
Slide Outs: The slide outs are great features of the trailer to give extra space, so it is essential to maintain this function. There are different types of slide-out designs. Therefore, check your travel trailer manuals to make sure it matches what you have on your trailer. Clean and lubricate the seals and slide-out mechanisms at least once a year.
Manual Stabilizers: After every trip, you go to with your travel trailer, make sure you clean your stabilizer jacks. In addition, for every 6 months, lubricate the jacks in several different positions at least 4 times with a dry lubricant.
Awnings: Once every month, extend your awning to air out. While extended, inspect for:
This is especially true during the beginning of each season. If you decide to store your travel trailer for any reason, use a chemical cleaner on both sides of the awning and let it dry completely to maintain its quality.
Electric Steps: Check for hydraulic leaks once a month. In addition, add lubrication as well to maintain proper function.
Tires: After every trip, be sure all tires are holding the manufacturer-specified pressure. This is especially true when you take your trailers out on an outdoor adventure. A Tire Pressure Monitoring System (TPMS) is a handy tool for this type of maintenance work. In addition, before every trip, check the sidewalls of your tires for any wears and tears. If you decide to store your travel trailer, lift your tires off the ground and cover them with tire covers.
Related reading: Can You Use Truck Tires on Travel Trailers?
Storage: Always take the proper precautions when putting your trailer in storage to maintain quality and avoid any wears and tears. Travel trailers don't realize that having your trailer sitting in a storage unit can be harmful if not stored properly. These steps will ensure that you can enjoy your travel trailer for many years to come.
Travel trailers are probably one of the best and intimate way to see the country while spending time with family and friends. Attempt to make the most of your investment by keeping your travel trailer well-maintained.
Related reading: How to Choose the Perfect Cover for Your Travel Trailer [Read This First]
Travel Trailer History
Back in early 1900, adventurers would build makeshift "traveler trailers" by placing their tents on platforms with wheels attached. These makeshift constructs would be the first unofficial traveler trailers. During the 1900s, most cars also could tow the tents constructs and drive them home, despite only reaching 15mph.
By 1915, travel trailers with solid walls became available as trailer camping increased in popularity. Also, many early travel trailer enthusiasts and campers would build their removable trailer bodies to fit a Ford chassis. With the removable capability, campers could simply remove their car body to replace them with the trailer body.
In the 1920s, travel trailers began to look more like what we commonly see today. Some of these earlier model trailers even had kitchens and living rooms. In addition, camping became increasingly popular as paved roads were more common, making mobile camping a comfortable hobby for many.
In 1929, Arthur Sherman built the first modern travel trailer and called "the Covered Wagon". Arthur Sherman was inconvenience setting up a tent trailer during a heavy rainstorm in Northern Michigan. Sherman knew he was capable of creating a simpler trailer that does not need much work to set up and was easily transportable.
Sherman began The Covered Wagon's mass production and sold them for $395. By the end of his first year of production, Sherman's sales totaled $56,000. And by 1936, Sherman and the Covered Wagon was the largest manufacturer in the travel trailer industry.
Now, travel trailers are still as popular as ever. Experience and adventure-craving millennials, with the combining forces of retiring baby boomers, are helping fuel a boom in sales of recreational vehicles. In 2017, both travel trailers and RV sales have increased by more than 15 percent in the U.S.
The History of RV's and Trailers >> Check out the video below
How Long Will a Travel Trailer Last?
Many retirees end up calling a travel trailer home sweet home, but the lifespan of a travel trailer is much closer to a vehicle than it is to a home. Unlike houses on a property, RVs only depreciate (similar to a car). Even if you end up putting thousands of dollars of upgrades and sweat equity into your RV, you aren't likely to recoup your expenses. (Source: Kiplinger)
Overall, a travel trailer only lasts an average of 10 to 12 years, although some can last up to 15 or 20 if they are meticulously maintained and kept in indoor conditions while not in use. (Source: Camper Grid) The main factor that influences how long a travel trailer lasts is how well it's taken care of.
Here are some ways that you can prolong the life of your travel trailer:
Keep it clean. It may be difficult to clean an RV, especially the high roof area, but this must be done periodically whenever the RV is uncovered. Without regular washing, a build-up of road grime can inevitably damage the paint and finish on the vehicle.


Get it inspected (and repaired) regularly. No vehicle on the road should be limped along if it is developing mechanical problems, and this goes double for RVs, which are even more difficult to get repaired in a conventional auto repair shop if they break down. Many smaller auto repair shops don't have the equipment to handle larger vehicles like RVs and motorhomes, so make sure that your RV is adequately cared for and mechanically inspected before you travel.


Keep it covered up. A badly-fitting RV cover can indeed cause damage if it isn't installed correctly, but a good RV cover that is snug over the RV's frame can prevent a large variety of things from damaging the vehicle. If an RV cover isn't used, then the RV should be kept indoors in a garage area to prevent environmental damage.


Keep your generator up. Generator maintenance is an integral part of maintaining your RV's functionality since the break-down of an RV can mean the loss of electricity in camping areas that are off the grid. This can impact everything from cooking to leisure activities, greatly diminishing the quality of life in the RV if the generator goes down.
Pay special attention to the brakes. Of all the mechanical elements on your travel trailer, the brakes are the most critical to keep maintained. This is not just for the safety of your passengers, but also the safety of everyone else sharing the road with you. (Macklin Truck and Trailer)


Watch the seals and tires. Any part of an RV that is made of rubber will inevitably deteriorate from temperature fluctuations, road wear, and weather, so it's vital to check these parts of the RV regularly before they become issues like leaks and tattered tread. Tires are especially important to keep in good condition since a tire blow-out can be a dangerous situation on the road. (Source: Do It Yourself RV)
If you take care of your RV, you can often keep it in good condition several years past the average age when an RV begins to break down and lose its integrity.
Frequently Asked Questions
Here are a few common questions people often have about travel trailer:
Recent Posts