Cimarron Trailers are a company that perfectly sums American individualistic entrepreneurial spirit.
Two decades ago, Cimarron trailer founders', Michael Terry got tired of working in the horse trailer industry that was characterized by outdated designs, lack of innovation, and tone-deafness for the needs of customers.
So he set out to create his own custom trailer manufacturing company that antithesis of widespread complacence in the industry.
The design philosophy of Cimarron custom trailer is highly flexible but modular engineering solutions.
This approach allows them to listen to the feedback of their customers and continually improve their products.
Where Are Cimarron Trailers Made?
Where are Cimarron trailers made? Cimarron custom aluminum horse trailers are produced in the city of Chickasha, Oklahoma. Their 90,000 square feet production facility employs more than 130 workers, and to date has produced more than 13,000 horse and livestock trailers.
Their dealership network spans the whole continental United States, from the East Coast to the West Coast, but also includes dealership locations in Canada.
Because it is located in the city known for the abundance of experienced horse trailer workers, they were able to recruit the best talent that is driving continuous innovations of their products and services.
Cimarron Trailers Lights:
Cimarron Trailers are a company that is best known for its innovation and use of the best and most advanced technology, which the most apparent when it comes to the design of the safety devices of their trailers.
By using the LED technology in their trailer lights they provide the best to their customers when it comes to passive safety on the road.
Their lights, both interior, and exterior are superior to industry-standard incandescent design and come with a lifetime warranty.
The fender markers on their trailers are always placed on the widest points, which improves how visible your trailer is to other drivers during nighttime driving.
Cimarron Norstar 3 Horse Trailer
Norstar trailers are fully customizable products. With more than 250 individual options to choose from it is hard to find two of the same layout. The 3 horse models feature removable dividers per two stalls that have quick-release slam latches.
Cimarron Norstar is engineered and manufactured in a way that doesn't sacrifice safety, durability, or style; in favor of convenient manufacturing.
CIMARRON NORSTAR 3-HORSE GN LQ TRAILER  >> Check out the video below:
They are built with an aircraft-grade aluminum frame, and the gooseneck or bumper hitch structures are integral parts of it.
This design feature very evenly distributes the load over the whole undercarriage making the trailer much easier to tow, and more durable.
Cimarron Norstar 2 Horse Trailer
With a Cimarron Norstar 2 horse trailer, you are getting the same build quality and customization options as with the 3 horse option. Industry-leading design made out of highest quality materials.
While 3 horse option comes only as a gooseneck model, 2 horse trailer is available as a bumper hitch as well. Both of these are available as horse slant load and straight load options.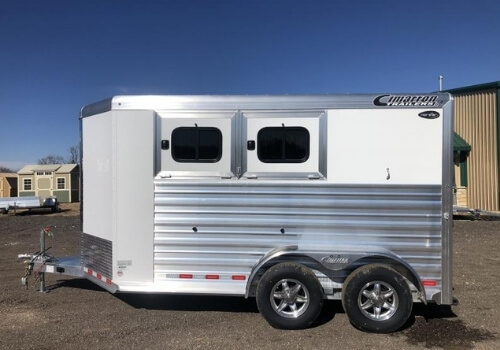 In the bumper hitch setup, Norstar 2 horse trailers are available in a side-by-side configuration. With stalls 42 inches wide, though three inches more than industry standard doesn't sound all that much, it is an advantage over their competition.
Cimarron Trailers Toy Hauler
Cimarron's Freedom line of living quarter toy haulers is designed around the Freedom line of interior packages. It features the same industry-leading all-aluminum construction that provides these haulers with an unmatched level of sturdiness and longevity.
Both roof and walls feature insulation with an R-3 rating, promising protection from both hot and cold weather. Haulers feature Dexter Torsion axles, that provide a smooth ride and increased rigidity.
Two axles are in the spread configuration, which offers higher stability and maximum load capacity compared to the tandem axle's setup.
These toy haulers are available in two widths, 8' 4'' and 7' 10'', while many other options are available for customization.
Cimarron Horse Trailer weight
What is the weight of Cimarron horse trailer? The smallest, two-horse trailers start at around 2,700 lbs of dry weight and are just north of 15 feet in length. In length, depending on selected options, a Cimarron trailer can go up to 36 feet, and on average their weight increases by 500 lbs for each foot of extra length beyond 16 feet. The largest trailers can reach well above 13,000 lbs.
Cimarron is a manufacturer of a fully customizable range of horse trailers that can accommodate from two up to eleven horses. In addition to this, there are more than 250 options you can choose from when building your own configuration.
The weight of the trailer depends on the options you choose, both capacity and any additional compartments and gear, such as concealed hay lift and tack compartments.
How Much Does A Stock Trailer Weigh?
How much does a stock trailer weigh? Depending on the options and their combination, the weight of a stock trailer ranges from 3500 lbs to 4500 lbs. Various other configuration options can increase their length over 31 feet and weight above 6800 lbs.
Cimarron besides horse trailers also manufactures the Showstar line of livestock trailers that feature configurable pen dividers. The innovative design of their other products is employed in manufacturing these low-profile stock trailers.
The Showstar line comes in two widths, 7 feet 6 inches and 8 feet, which can be combined with two length options, 20 or 24 feet.
How Much Does A 2-Horse Aluminum Trailer Weigh?
How much does a 2-Horse aluminum trailer weigh? The weight of their two-horse aluminum trailers starts at 2,700 lbs for a barebone configuration. The addition of various add-ons and compartments can increase their weight up to 7,000 lbs.
The aluminum two-horse trailers made by their competitors, generally fall in the 3,400 to 8,000 range.
Cimarron Trailers makes some of the sturdiest trailers on the market, and this they achieve while at the same time decreasing the overall weight of the trailers thanks to many innovations in their design and manufacturing process.
How Much Does A 4 Horse Trailer Weigh?
How much does a 4-horse trailer weigh? Some industry standard for four-horse trailer weight is between 4,000 lbs and 12,000 lbs, depending on the various optional add-ons, the material they are made of, and equipment.
A barebone four-horse trailer made by Cimarron usually has around 4,100 lbs of curb weight. The addition of various storage options, equipment, and living quarters can take this weight all the way up to 9,500 lbs.
Because of the wide range of options for configuring your trailer, the weight can vary considerably.
What Is An Acceptable Trailer Tongue Weight?
What is an acceptable trailer tongue weight? In relation to the weight of the trailer, acceptable tongue weight for bumper pull trailers should be in the 10-15% range of their loaded weight, while for the gooseneck trailers it can go as high as 30%.
The exact tongue weight is controlled by the distribution of weight inside the trailer, by moving it closer to the front you will be increasing it while moving it in opposite direction decreasing.
When you connect the trailer to your truck's towing tongue part of the trailer's weight exerts pressure on it. This load is called tongue weight and can greatly impact the safety and handling of towing.
The acceptable tongue weight firstly depends on the characteristics of your towing vehicle, exceeding its maximum rating is very dangerous.
Are There Cimarron Horse Trailer With Living Quarters?
The Cimarron horse trailers are custom aluminum horse trails that can be configured in an almost unlimited number of variations.
Their highly modular but flexible design allows them to have more than 250 customizable options. Out of Cimarron's factory horse trailers exit in a living quarters-ready state, and interiors are installed by independent specialized companies your dealership will help you choose.
This type of arrangement allows their customers to fully customize and personalize their living quarters, and available options are unmatched by other companies.
Whether you want a rustic charming interior or a modern high-tech-loaded one, you will be able to create a literal home away from home.
Read also: Is a Horse Trailer With Living Quarters Considered an RV?
Do Horse Trailers Hold Their Value?
While cars have numerous mechanical parts that over time degrade due to forces they are experiencing during normal use, which makes their value over time go down at a predictable rate, horse trailers are a different story when it comes to holding their value.
So, do horse trailers hold their values? Yes, some rough estimate is that horse trailers with an 8-year warranty in the first year will depreciate by 10% to 20%. In each subsequent year, it will depreciate by 5% to 10%, but the exact loss of value greatly depends on the exact wear and tear state and actual material it was built from.
The aluminum trailer will lose less value over time, as the blemishes are just cosmetic, but on steel trailers, the blemishes can be a sign of decreased structural integrity, which knocks down their price.
Read also: RV Depreciation // How Much Do Campers Really Depreciate?
Is There a Blue Book For Horse Trailers?
Is there a blue book for horse trailers? Yes, PrimeMedia publishes the Horse Trailer Blue Book that can be purchase for $80 at www.pricedigests.com. It provides information about the manufacturer's suggested MSRPs for both horse trailers and individual options they may have, whether they are interior, exterior, living quarters, or dressing-room ones.
But it is not a perfect source of information.
It contains the sticker prices for various options, which do not necessarily reflect the actual price some horse trailer was sold by a dealer.
The actual price and starting point of depreciation could be much lower. It also doesn't reflect a potential loss of value due to damages to various parts of the trailer.
Are Aluminum Horse Trailers Safe?
There are many facets of safety when talking about whether aluminum horse trailers are safe or not, and how they fare in this regard compared to their competitors made of steel. Generally speaking, aluminum is a much lighter and much softer material than steel.
This means that in the case of an accident, aluminum trailers may provide considerably less protection than comparable steel designs.
This problem manufacturers solve by using engineering solutions borrowed from the airplane and car industry.
So, are aluminum horse trailers safe? Yes, aluminum horse trailers are safe similar to the trailers made of steel. Advanced types of aluminum alloys can offer equal impact protection as steel, while the different designs of parts can actually increase it beyond that of steel.
The considerably lower weight of aluminum also provides increased safety when it comes to maneuvering on the road and breaking.
Read also: RV Accidents Statistics: 19 Facts You Should Know (Explained)
How Long Does An Aluminum Trailer Last?
How long does an aluminum trailer last? The rule of thumb is that a high-quality steel horse trailer will last in the range of 10 to 15 years, with proper care and maintenance. Even with proper corrosion treatments and the use of the most corrosion-resistant steel alloys, steel has a finite lifespan that is not very long.
Especially when it comes to an environment rich with substances that cause corrosion, such as horse urine.
Aluminum as the material doesn't suffer nearly as much from corrosion. Pure aluminum is much more chemically reactive than steel, and it will very easily oxidize.
While rust on a steel part will make water easier to reach healthy metal, a corroded layer on top of aluminum actually creates a protective layer that water can't pass.
Because of this, aluminum trailers can last longer than comparable steel ones.
Conclusion
The story of Cimarron is probably as American as the apple pie. It is a story about a manufacturer of equipment that is closely related to the industry which is iconic for the wild west, cowboys, and independent life on frontiers.
It is also a story about American individualistic and entrepreneurial spirit, about a man who set out to make his own future on his own terms.
Since it was founded two decades ago, Cimarron Trailers has become the manufacturer of arguably the best, but certainly the most customizable horse and livestock trailers on the market, all thanks to the vision of its founder, Michael Terry.
References
https://cimarrontrailers.com/trailer-models/norstar-horse-trailers/
Recent Posts