If you're planning on booking a trip to go camping, you may have come across Cherrystone Campground in your search.
This campground prides itself on being a place where you can have a vacation to remember.
While there are so many different campgrounds to choose from, you will want to make sure you choose one that fits your idea of a quality vacation.
Many people would consider Cherrystone Campground one of the best campgrounds in the country. However, everybody has different wants and needs when it comes to booking a camping trip.
Today, we're going to go over 12 facts about Cherry Campground so you can decide if you would like to book a trip there.
Staying Safe
Before getting into 12 facts about Cherrystone Campground, you may be wondering how the company is staying safe throughout the pandemic.
They will remain open during the season, however, there are guidelines in place for everyone's safety. Extra spaces have been open, but they will not allow more than 250 in the campground.
Due to limited availability, it's important that visitors make their reservations as early as possible.
Many of the activities at the campground can still be enjoyed while social distancing, but the pool, shuttle bus, and Clam Tram will be closed until further notice.
12 Facts About Cherrystone Campground
If you want to book a camping trip at a comfortable campground that has activities that the whole family can enjoy, then Cherrystone Campground is worth looking into.
With so much to do at this campground, guests can never get bored. Here are 10 facts you should know about Cherrystone Campground:
Where Is Cherrystone Campground?
Who Owns Cherrystone Campground?
Type Of Accommodations Available
Cherrystone Campground Rates
The History Of Cherrystone Campground
What Activities Are On-Site At Cherrystone Campground?
Is Cherrystone Campground Pet Friendly?
Are There Amenities At Cherrystone Campground?
How Old Do You Have To Be To Stay At Cherrystone Campground?
Cherrystone Campground Reservations
Cherrystone Campground Military Discount (H2)
Cherrystone Campground Reviews (H2)
Fact #1: Where Is Cherrystone Campground?
If you're interested in going camping in Virginia, Cherrystone Campground is the place to go. They are located in Cape Charles, VA at 1511 Townsfield Drive. Most people can locate it once they reach the Chesapeake Bay Bridge Tunnel. The campsite is 11 miles north of the bridge tunnel.
Cherrystone Campground is on 300 acres of waterfront property, giving visitors one of the most peaceful views in Virginia.
On the campgrounds, there are over 700 sites and each one is beautifully shaded by trees so guests remain comfortable.
Cherrystone Campground Map
Below you can find the map of Cherrystone campground: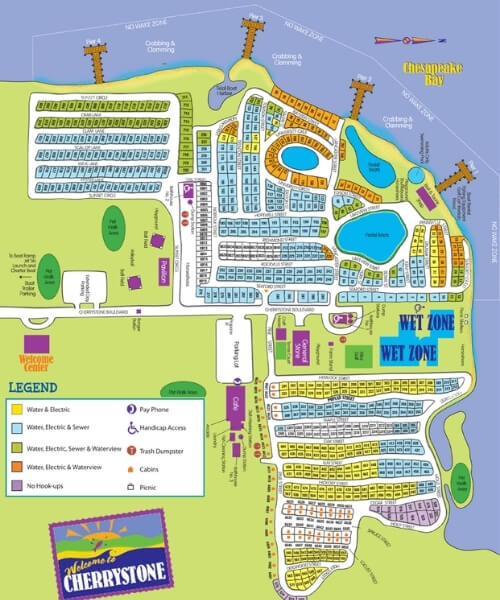 Fact #2: Who Owns Cherrystone Campground?
Cherrystone Campground is owned by Sun RV Resorts. The company has been in business for 57 years and it was family-owned until Spring 2021 when the Ballard family made the decision to sell the company.
Chad Ballard III and his family had kept the business running successfully, but they decided it was in the company's best interest to sell.
The Ballard family is excited to see what improvements and expansions that Sun RV Resorts will bring to the well-loved campground.
They believe that this is the right company to keep the campground's traditions alive so families can continue making memories there every summer.
Fact #3: Type Of Accommodations Available
When they say there is something for everyone at Cherrystone Campground, they mean it. Guests can rent a luxury cottage or rent out a lot to park their personal RV.
Cherrystone Campground offers a variety of accommodations to keep their guests happy. Let's take a closer look at what they have available:
Cherrystone Campground Cabins
If you're in the mood for a rustic camping experience, these cabins set the tone. They are the perfect size for 4 to 6 people, and they are located in the woods to give the right setting.
All cabins have electricity, air conditioning, and are fully furnished. They come with a relaxing porch, charcoal grill, and a picnic table so guests can enjoy the outdoor scenery.
Below you can see some of the most common cabin at Cherrystone campground:
Cottages
These cottages are a great choice for visitors who like to take in the beauty of nature but don't want to leave the comforts of home.
Each cottage has a full kitchen (even the coffee maker is included) and a full bathroom.
There is a separate bedroom with a double bed and the living room couch can be turned into a double bed.
Campsites
Whether you come with a tent or have a luxury RV, there are many different styles of campsites to choose from at Cherrystone Campground.
They offer several 30 amp full hookup locations, as well as no-hookup sites for those with tents.
Deluxe Camper
If you've always enjoyed camping in an RV but don't own one for yourself, you can still get the experience at Cherrystone Campground.
Each luxury camper has separate bedrooms, a kitchen area, full showers, and a larger living space. They are built for comfort.
One family can fit in these campers, as they are designed for 2 adults and 4 small children.
Deluxe Cottages
Deluxe cottages are a great choice for those who want more spacious accommodations during their stay.
They come with two bedrooms, one with a queen-size bed for the adults, and the other with a set of bunk beds for the kids.
There is a full bathroom and kitchen with all the appliances needed. The living room has a TV and couch that folds into a double bed.
Glamping Tents
Glamping tents are the ultimate way to camp in style. These tents are air-conditioned so guests can sleep comfortably on those hot nights.
These tents can sleep up to 6 people. They come with a half bathroom and a dorm-size refrigerator. Each site will have a picnic table and fire ring.
Fact #4: Cherrystone Campground Rates
Cherrystone Campground has a variety of different packages available. Since they have such a variety of different sites and accommodations, they don't have a set rate per night.
The rates will vary depending on which site is rented out and how many visitors are in your party, as well as their age range.
Rates may also change per season and peak times as well. Anyone who is interested in the rates will need to contact Cherrystone Campground directly at (757)331-3063 or reserve a site directly online.
Read also: Average RV Park Rates: Nationwide Campgrounds Prices per Night
Fact #5: The History Of Cherrystone Campground
Chesapeake Bay is one of the most beautiful spots in Cape Charles, VA. The Ballard family owned a chunk of waterfront property that has been in their family since 1938.
Over the years they made many memories on this prime spot of land, and Chad Ballard III wanted to share those experiences with other families.
One of his favorite pastimes was camping, so he decided to turn the land into a campsite. On Mother's Day in 1964, he opened up Cherrystone Campground.
It has been a family favorite camping resort that has continued to grow over the decades. Chad made the decision to sell in 2021 to Sun RV Resorts because he knew they could continue his legacy.
Fact #6: What Activities Are On-Site At Cherrystone Campground?
Cherrystone Campground is known for being one of the most fun camping resorts in all of Virginia. If your kids are always whining that they are bored, this is the place to bring them.
There are so many fun activities, you won't run out of things to do. Some of the fun activities you can look forward to are:
Daily Activities
Jumping Pillows
Mini Golf
Craft Shop
Horseshoes, Shuffleboard, and Cornhole
Playground
Arcade
Boat Rentals
Fishing Piers
Wet-Zone and Swimming Pools (temporarily closed due to COVID)
The campground is always coming up with new ideas for theme activities. They have an event calendar on their official website to keep guests in the loop about what exciting things they can expect.
Fact #7: Is Cherrystone Campground Pet Friendly?
There are pet-friendly rentals available at Cherrystone Campground, but there are rules that come with bringing your furry friends along.
Each rental has a maximum allowance of 4 pets, and each one must be wearing a valid name; rabies tag. Unless you are outside with them, the pets must stay inside your rental unit.
Visitors may walk their pets outside their unit's parameters, but they are not allowed in common zones or public indoor areas. They also must be kept out of the swimming pools.
All animals must be approved before entering the location because attack dogs are not allowed.
Read also: Do RV Rentals Allow Pets? (Pet Friendly Companies)
Fact #8: Are There Amenities At Cherrystone Campground?
There are many amenities available at Cherrystone Campground so people can get everything they need for a comfortable stay.
The general store has a wide variety of food, as well as ice and firewood. There is also a great selection of fun souvenirs and gifts available as well.
Many people are attracted to this campground because they want to go fishing on the waterfront property. There is a bait and tackle shop on site so they can get everything they need for a great fishing experience.
When visitors get hungry, they can stop into Little Neck Cafe for a bite to eat. They have plenty of guest favorites on the menu as well as a great selection of signature coffees and lattes.
You can also cool off with one of their delicious ice cream cones.
However, for guests that want to grab a bite to eat on the go, Snack Shack has plenty of tasty items to choose from, including local seafood.
Visitors don't have to worry about getting dirty, because Cherrystone Campground also has coin-operated laundry facilities on the location.
Fact #9: How Old Do You Have To Be To Stay At Cherrystone Campground?
Cherrystone Campground has fun for all ages, however, campsites will only be rented to adults over the age of 21. When it comes to their rates, anyone who is over the age of 18 is classified as an adult.
If you are sharing your rental site with other adults who may arrive at a different time than you, their name(s) should be added to the reservation to avoid any complications with the check-in.
Guests are also allowed to have visitors on site as long as a visitor's pass has been purchased.
Fact #10: Cherrystone Campground Reservations
Sometimes things don't go as planned, and guests have no choice but to cancel their reservation.
"As long as the reservation has been canceled 7 days ahead of time for campsites and 14 days ahead of time for cabins, campers, and cottages, customers will receive a refund of their deposit."
If they have paid in full, then they will receive their payment back.
One thing to keep in mind is that there will be a $10 processing fee for all cancellations. The refund will be placed back on the credit card that the guest paid with.
Unfortunately, if you are unable to make your reservation, you can not give it to someone else.
Fact #11: Cherrystone Campground Military Discount
On average the military discount at cherrystone campground is between 5 and 10%.
#12: Cherrystone Campground Reviews
Below are reviews from people who have visited Cherrystone Campground:
Shanon & Michael: "We come back each year and it never disappoints. Weather doesn't always cooperate but we have great fun anyway.

Nicely run campground. Sunsets are spectacular. We stayed in a 40 foot fifth wheel in the 600 section."
Maren & Andy: "We recently spent a weekend at Cherrystone. The sites are very close together. The beach area and sunsets are awesome. We ordered breakfast from the Little Neck Cafe.

The two cartons of milk we got were old- they expired over a week before! We didn't realize it until after my son drank an entire carton. We tried to drive around and explore the campground but were met by a rude worker who told us to not drive around because they had "work to do."

This was our first visit to Cherrystone and we will not be back- there is such a big hype for this campground and we were extremely disappointed."
Lindsey: "Apparently if your over 10 they don't care about you nor do they let you do crafts because the younger kids are more important.

Don't let activities be for all ages of your staff is rude and doesn't care about anyone.

The pool, arcade, and craft shop has been repeatedly shut down so there's nothing to do unless the staff feels like doing it. Honestly won't come back"
Final Thoughts
Now that summer is here, many people can't wait to take a trip to the campgrounds.
Cherrystone Campground is one of the most popular camping sites in Virginia because they have comfortable camping sites that suit everyone.
People can get the full experience by camping in a tent or have a luxury stay in one of the deluxe cottages.
There are so many different activities, it's impossible to get bored when you bring the family here. If you just want to relax, this is the place to do that as well.
After all, Cherrystone Campground is located on one of the most beautiful waterfront locations in Virginia. This is the spot to go to make the best camping memories.
References
https://www.cherrystone.com/virginia-campgrounds/
Recent Posts