Have you ever wondered what size PVC pipe for RV sewer hose you should use and are all RV sewer hoses universal or the same size? Well, I got you covered.
What size PVC pipe for RV sewer? The size of the PVC pipe to be used for an RV sewer should be 4 Inches, and since standard RV sewer hoses are 3 Inches in diameter, you will need to use an adapter.
This adapter will transition from the standard 3 inch black water connections on the RV to the 4 inch threaded PVC.
Prepare Your RV for Long Stays, Harsh Weather Conditions
Recreational vehicles can be wonderfully fun and rewarding – but new owners can find the maintenance that comes with it overwhelming especially when dealing with the sewage system.
What the RV industry calls black water tanks and lines must be emptied and cleaned consistently, to ensure proper flow and operations and to avoid odors wafting into the cabin area.
To stabilize and protect sewer-draining hose systems, many RV owners turn to plastic pipework, and a question often arises: what's the proper size of PVC pipe for RV sewer hose improvements?
Sizing PVC piping for RV sewage systems can vary depending on the make and model of the RV or trailer, or due to modifications by a previous owner.
That said, many industry experts agree that a 3-inch connection is pretty much standard for the undercarriage pipe carrying water from inside drains to the side of the vehicle.
It is at this point a hose is connected to drain waste to a nearby waste-dump pipe in the ground.
If most on-vehicle drain pipes are 3 inches wide, it means PVC piping of 4 inches in diameter is most often used, along with widely available adapters to secure the connection.
Plastic pipework is long-lasting and versatile, with a great variety of accessories like joint-connectors at 45- or 90-degree angles, adapters and fittings, allowing RV owners to connect their vehicle or travel-trailer in any which direction.
The first step is deciding which size (or even sizes) of the tubular plastic cylinder is needed.
Are RV Sewer Hoses Universal?
Are RV sewer hoses universal or the same size? Yes, RV sewer hose size is the same for all RV. A typical RV sewer hose, which connects to the black-water tank, has 3-inch diameter tubing. This is the universal diameter. Most RV sewer hoses also have 3-inch bayonet connections, as well as twist-and-lock type fittings.
Many connections can be added to sewer hoses with lug-type connection points.
However, before purchasing, you should still double check measurements to be sure the hose meets those standards.
Gray-water hoses have more variation. Some of them have only 1.5-inch diameters, and some are 3-inch diameters.
Beginning Steps to Hard-Pipe RV Sewage Lines
The first step in bolstering your RV's sewage system and flow is determining the size of the out-flowing pipe from the vehicle's black-water or grey-water tanks.
Black water refers to waste draining from toilets; grey water comes from showers and sinks. These tanks need to be drained consistently; how often depends of course upon usage.
The typical black-water drainage pipe is 3 inches in diameter; grey-water pipes can be 1.5 to 3 inches.
Some RVs have just one drainage pipe for both types of waste water, but many separate the two.
Novice RV owners might be informed that the best practice while dumping is to do the black water, with its solid materials, first. Then, dump the grey water which helps rinse hoses and pipes in the process.
Once the pipe diameter is determined, draw out how the PVC pipes will be arranged from RV to the dump hole, and measure out how much plastic pipework will be needed, as well as joints, couplings, plumber's tape for leak prevention at thread points, etc.
Black Water Drains Transitioning To 4 Inch PVC Pipe
What is the recommended Black Water Drains Transitioning To 4 Inch PVC Pipe? If you want to connect your RV to a 4 inch PVC pipe, you should consider using a coupler 4-in-1 Threaded RV Sewer Adapter with 90-Degree Elbow Fitting.
The adapter will transition from the standard 3 inch RV black water connections to the threaded 4 inch PVC.
While 4-inch diameters are the norm for hard-plumbing RV sewer lines, some savvy operators think bigger.
That is, use a 6-inch diameter pipe so black water and its solid contents can more easily flow out of the vehicle or trailer.
Others might use 4-inch or 6-inch square PVC piping typically used for outdoor vinyl fencing, to encase the flexible sewer hose that came with the RV.
It shouldn't matter if you go with a PVC pipe diameter size more than an inch larger than the pipe drain from the RV or trailer.
Major hardware stores like Lowe's carry a variety of adapters to transition from a 3-inch drain pipe to, say, a 6-inch PVC pipe.
Larger sewage hoses or pipes just ensure fewer potential blockages along the line – and clogged sewer lines are to be avoided at all costs for RV travelers.
Just be sure your vehicle's undercarriage is high enough off the ground to avoid damage from bumps and other road hazards.
? I use this Camco RhinoFlex RV Bayonet Elbow Fitting with 4-in-1 Adapter.
Purchase: If you are interested in this Camco RhinoFlex RV Bayonet Elbow Fitting with 4-in-1 Adapter then just follow the link to Amazon where you can see current pricing.
Why PVC Pipe for RV Sewer Connections?
Standard sewer hoses on recreational vehicles are designed to be very flexible, so they can be rolled up or squished accordion-style for storage, and allow options for tricky layouts when connecting with dumpsites.
However, to maintain flexibility these standard RV hoses are made of thin material and reinforced with small wires so visually they kind of resemble the Slinky toy of our childhood, only covered in a mesh-looking material.
Because standard-hose coverings are so thin they do not do well in harsh, cold winters, or if left outside for many days of heat and/or cold.
Many RV owners can't bear to think about replacing the standard hose every year – nor do they want to consider the Slinky hose failing.
Hard-plumbing the RV sewer line with PVC pipes provide peace of mind because of the plastic material's strength and durability.
With adapters, couplings and valves easily accessible at most hardware or do-it-yourself stores, arranging the RV sewer connection with PVC can be as easy as putting together a large TinkerToy project.
Measure and plan ahead, and the project is not difficult.
Plastic pipework has been applied to construction, landscaping and sewage projects for over 50 years, and industry studies claim their projected lifetime to be more than 100 years.
It's no secret why so many RV enthusiasts tackle this simple improvement project.
RV Sewer Hose Size Diameter
On average the RV sewer hose size diameter is 3 inches.
RV Sewer To PVC Adapter
How To Plumb in a Seasonal RV or Camper With PVC Pipe >> Check out the video below:
Where Do You Store Your RV Sewer Hose?
Some RVs have hollowed-out bumpers, which are marketed as a place to store sewer hoses. However, beware the possibility of bumpers rusting over time.
There are other options for storing RV sewer hoses if you don't want to take that risk.
Heavy-duty plastic RV sewer hose bins or bags are made just for this purpose. They're a great option if you have storage space available.
Sewer hose carriers can be mounted on the back of your RV, or underneath the bumper of the vehicle.
There are many different kinds of mounting kits out there, with everything you need.
You can also take a DIY approach and create your own discreet storage location for your RV sewer hose.
Some RV owners mount hollow fence posts, drilled with drainage holes, inside a storage space or underneath the RV.
? I use the "Camco RV Equipment Storage Utility Bag with Identification Tags for Organization" It's not terribly expensive but gets amazing reviews.
Purchase: If you are interested in this Camco RV Equipment Storage Utility Bag, then just follow the link to Amazon where you can see current pricing.
What Size PVC Pipe For RV Sewer Hose Storage
The size PVC pipe for RV sewer hose storage should be between 4 to 6 Inches.
Best RV Bumper Caps
The best RV bumper cap is the Camco 4-in-1 Magnetic Bumper Cap with Lug Fitting End. It's not terribly expensive, you can get it on amazon.
Magnetic Bumper Cap for RV Sewer Hoses >> Check out the video below:
How Do I Clean My RV Sewer Hose?
Always dump and clean your RV sewer hose at a dumping station, which can be found at campgrounds in commercial sites, RV parks, or many local, state and national parks.
Flush your black-water tank first, then your gray-water tank. Your gray water (especially if its hose is the same diameter as your black-water hose) will further rinse out the black-water hose.
After flushing both tanks, use a sewer hose cleaner attachment with a utility or garden hose to rinse out the black-water hose for an additional few minutes.
Make sure you also clean the sewer hose fittings. Disinfect them by soaking them in bleach and water overnight, then spraying them down in the morning and allowing them to air dry before storing or reattaching.
You can also disinfect your sewer hose with a similar bleach-and-water solution.
Soak the hose solution overnight, then close off both ends and shake the hose. Allow it to soak longer before rinsing and air drying.
How Many Hoses Do I Need For My Travel Trailer?
How many hoses do I need for my travel trailer? Depending on the tanks available in your RV, the length of your trip and the type of vacationer you are, you'll have anywhere from three to six hoses for your trailer.
A drinking water hose, flushing hoses and a black-water sewer hose are necessities.
Other hoses you may have for your RV are:
Gray-water tank hose (internal shower and sink water)
Propane hose
Exterior shower hose.
Your drinking water hose should be a minimum of 25 feet long, but 50 feet is more convenient.
A sewer hose should be a minimum of 10 feet long. However, having two 10-foot sections is ideal, in case you need to lengthen your hose to reach the dumping site.
What Is The Best Sewer Hose For RV?
? I really like this Lippert 359724 Waste Master 20. It's not terribly expensive but gets amazing reviews.
Just follow the link to Amazon where you can see current pricing.
You might also like:
? Camco RhinoFLEX 15ft RV Sewer Hose Kit
Purchase: If you are interested in this Camco RhinoFLEX 15ft RV Sewer Hose Kit then just follow the link to Amazon where you can see current pricing.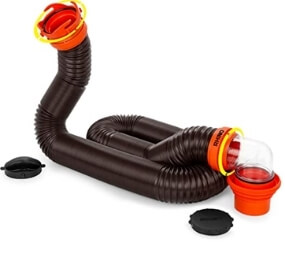 More Information
? Some RV parks require hard piping or hard plumbing if you plan to stay 30 days or more.
? It is important to note that PVC piping comes in a product style called "sewer grade," meaning the plastic material was created especially to handle repeated contact with human waste.
So-called sewer pipe is designed to resist corrosion from chemicals found in sewage; and the inside of the tubing is smoothed more than regular PVC pipe to allow solids to flow through easily.
Summary
In the end, the right size to fit PVC piping on your RV sewer line's drain pipe, or over the flexible hose, comes down to the diameter of the existing sewer drain pipe.
With that measurement, simply buy PVC piping at a larger size and get the right adapter to make the connection.
Plastic pipework is advantageous if you plan to keep your RV or trailer in the same place for an extended amount of time, of if you plan to park the traveler in an area with harsh weather conditions.
The last thing you want when traveling or camping with an RV is a sewage line clog, break or spill. Make the effort to improve upon the system, such as with PVC pipes, and erase a major worry.
Most RV hard-pipe projects require 4-inch diameter PVC pipes, but savvy longtime RV owners have been known to opt for 6-inch plastic pipework to avoid the potential for clogging.
References
Recent Posts