Looking for travel statistics or trends?
Traveling has long been a popular pastime among all groups and demographics around the world. Whether it is taking a relaxing vacation at the beach or seeing an exciting cityscape, traveling really is one of the best ways to relax and experience new sights.
One growing travel trend in recent years is solo travel.
Solo travel is whenever one travels completely by themselves to new locations. Since the pandemic began, solo travel has become more popular than ever, to most people's surprise.
Important solo travel statistic: Based on global bookings statistics, 18% of travelers fall under the category of solo travel. This means that solo travel has increased by 7% over the past year.
Because solo travel is becoming so popular, many studies have been conducted to learn about the type of people who participate in solo travel and what they think about it.
In this article, we are going to look at some key statistics to know about solo travel. This includes its growing popularity, demographics, and more. Let's get started to learn more about solo travel statistics today.
Solo Travel: A Growing Trend
Because of COVID-19, the travel industry has experienced a large setback as travels have decreased dramatically, but the same is not said for solo travel.
In fact, solo travel has become the second most popular type of trip post lockdowns. This is true on both the domestic and international scale.

Solo Travel Demographics
Most solo travelers are American
Most solo travelers are female
Those aged between 25 and 54 are most likely to travel solo
Baby Boomers are traveling solo more than ever
The majority of solo travelers have some form of college education
Nationality
| Nationality | Percentage (%) |
| --- | --- |
| American | 64% |
| Canadian | 21% |
| Australian | 5% |
| British | 4% |
👉 Based on a study conducted by the Solo Traveler, the overwhelming majority of solo travelers are American. About 63% are American, 21% are Canadian, 5% are Australian, and 4% are British.
It is important to note that this study was conducted by an English-speaking magazine about solo travel. Because it is English speaking, non-English speakers were not questioned.
As a result, other non-English speaking countries are not included in the nationality demographic, which is why other popular traveling countries (like Germany or France) are not included here.
Gender
| Gender | Percentage (%) |
| --- | --- |
| Female | 55% |
| Male | 45% |
👉 In addition to nationality, there is a division between female and male solo travelers. According to the same study, 81% of their readers were female, but this differs dramatically from Google estimates. Google estimates about 55% are women, whereas only 45% are male.
This percentage matches other worldwide trends as female solo travels are becoming more and more popular.
Because the majority of solo travelers are female, the growing interest in female solo travel has increased online as well.
👉 For example, the Google search 'female solo travel' increased by 230% in 2019. Similarly, Pinterest had a 350% increase in the same phrase.
👉 Tour companies have especially noted the disparity between the genders traveling solo. In 2016, the VBT Bicycling and Walking Vacations reported about 68% of their female guests to travel solo.
👉 Similarly, Country Walkers reported 87% of their females as traveling single. To put that in perspective, that is about 3.3 single women to every single male.
👉 Similarly, over half of UK women, 51% to be exact, are more likely to travel by themselves in comparison to five years ago.
Read also: Travel Statistics By Gender: 19 Facts Trends To Consider (Explained)
Age Group
| Age Group | Percentage (%) |
| --- | --- |
| 18 – 24 | 17% |
| 25 – 54 | 56% |
| 55+ | 27% |
👉 As for age groups, the vast majority of solo travelers belong to Generation Y and Millennials. About 56% of solo travelers are between 25 and 54 years of age.
👉 The second most common age group to solo travel are those over 55 years old. They make up 27% of solo travelers. Only about 17% fall between the ages of 18 and 24.
👉 Even though Generation Z travels the least, most likely because of their financial instability, about 33% of them actually prefer being alone when they travel. In fact, 1/5 of Generation Z would like to take a solo trip or gap year.
👉 Similarly, about 58% of Millennials claim that they are willing to travel solo. This is 11% higher than Generation Y and Baby Boomers who are willing to travel alone.
👉 Millennial women were especially prone to travel alone, with about 26% of them saying they have already done it.
Even though Generation Z and Millennials like the idea of traveling solo more, Baby Boomers are becoming more interested in the trend as well.
👉 Based on a study performed by booking.com, 40% of Baby Boomers around the globe reported taking a single trip during the year 2017. The same study also reported that 21% planned on taking a solo trip in the future as well.
Education
| Education Level | Percentage (%) |
| --- | --- |
| None | 13% |
| College or University | 49% |
| Master's or Doctoral | 38% |
👉 Finally, the last demographic looked at was education. Of the respondents, 49% have college or University degrees, and 38% of them have Master's or Doctoral degrees as well.
Solo Travel Destinations
Although personal preference is the number one determiner as to where solo travelers would travel, certain destinations are more popular than others.
So, what are the 15 Best Destinations to Travel Alone for the First Time? Here are our favorite solo travel destinations:
Thailand
Malaysia
Iceland
Finland
Costa Rica
California
Germany
Botswana
Peru
Sweden
Canada
Belfast, Ireland
Austin, Texas
Portugal
Singapore
In addition to personal preferences, the type of experience and safety features are also ranked high for consideration, especially among female solo travelers.
Because of the emphasis on safety, Europe is considered the number one location for female solo travel. It is also coincidentally considered the safest location for solo travel.
👉 Even though most females prefer Europe, Australia as a whole is the most popular, with 71% of solo travelers wanting to visit that destination.
America is another popular destination for solo travelers. Despite Australia being the number one choice for many solo travelers, about 21% view the United States as their first choice in terms of solo traveling destinations.
👉 When talking about the type of traveling experience, 88% of solo travelers want to visit a location that is unique and offers non-tourist experiences.
👉 More so, 53% of solo travelers want to engage with locals, causing them to steer clear of traditional tourist destinations.
👉 The consensus about the type of trip is much more split. Around 23% of travelers want to take solo trips for city experiences. Around 30% would prefer to go on an adventurous trip as opposed to a city trip.
Understanding The Statistics
Because solo travel has been growing so much over the last few years, many statisticians have begun asking the question why.
One of the most common answers is that this era has seen an unprecedented amount of single-person households.
Because there are way more singles than there have been in the past, it makes sense for solo travel to have increased.
This increase in single households, mixed with increased safety for women, makes solo travel a more popular form of recreation for people of different demographics.
Does Solo Travel Get Lonely?
Does solo travel get lonely? Whether or not solo travel gets lonely depends purely on you. If you do not communicate with the locals or make friends along the way, it can certainly be lonely. However, there are ways that you can travel while still remaining social and happy.
The best way to solo travel without being lonely is to make friends along the way. Be sure to talk to other travelers and the locals. Do not be standoffish at any point of the trip.
Although you should be safe and not give out too much personal information, you can make friends while still remaining guarded and keeping yourself safe on the road.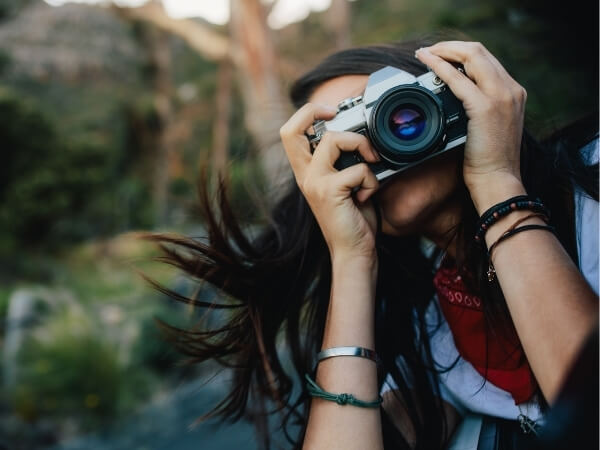 Another way that you can remain social while traveling solo is to communicate with friends and family. One of the best features of the modern era is that we have cell phones and Internet connections. Keep in touch with your family and friends even while you are traveling solo.
What Are The Disadvantages of Traveling Alone?
Even though traveling solo is an enriching experience, it does come with some disadvantages. Most importantly, it can be more dangerous.
What are the disadvantages of traveling alone? Whenever you travel alone, you make yourself more of a target for theft and acts of violence. Because of this fact, you need to be incredibly careful about where you go and be aware of your surroundings. This is especially true for women.
In addition to safety risks, solo travel is actually more expensive than group travel. Whenever you travel by yourself, you do not split the bill. Instead, you are forced to pay for everything on your own, resulting in a higher overall bill.
Traveling alone can also be lonely if you are not used to being alone. Whenever you are visiting new destinations by yourself, you do not have anyone to share the experience with.
You need to be OK with spending time by yourself, and more importantly, eating by yourself. There are ways that you can travel without being lonely, but this is a struggle for some people.
Read also: Travel Stress Statistics: 9 Facts You Should Know (Explained)
Where Can I Travel Solo as Female?
As a solo female traveler, it is especially important to consider safety. The number one thing you should consider when it comes to safety is traveling destinations.
As terrible as it is, women are at more risk of experiencing theft and acts of violence, especially when they are alone.
Where can I travel solo female? Today, there are plenty of safe destinations that women can travel to alone. Europe is commonly considered the number one destination for female solo travelers because it offers a fun and unique experience, but it is also safe.
Australia and America are two other popular destinations for female solo travelers.
These three countries are some of the safest and most popular destinations for female solo travelers because they offer sites and experiences for just about any person's preferences.
At the same time, the locations are developed, meaning that they offer much more safe experiences than off the trail sites.
Read also: RV Crime Statistics: 9 Facts You To Know (Explained)
Is Solo Female Travel Safe?
Is solo female travel safe? Solo female travel is safer than it has been in the past, but most women still do not feel safe on the road. About 76% of women noted that they did not feel safe whenever they were traveling by themselves for a holiday.
Because of this fact, solo female travel is not as safe as solo male travel. There are things women can do to remain safer on the road, such as picking safe locations and being aware of one's surroundings.
It is also a good idea to invest in a self-defense class and other self-defense tools before hitting the road as a female solo traveler.
Which Is The Safest Country For Females?
Which is the safest country for females? The safest country for females is Finland. Finland is not just safe for women, but it is a great destination for solo travelers too. It offers beautiful scenery and is home to the midnight sun and Northern Lights.
These facts make it a great location for female travelers who want a more natural or nature scene.
If you want something that offers both big cities and great scenery, Canada is the second most safe country for females.
Canada offers beautiful countrysides and lakes, but it also has great cities. In fact, most of Canada's cities are ranked as the safest cities for female solo travel.
Final Thoughts
Solo travel is more popular than it has ever been. Currently, it is most common and popular among Millennials, especially Millennial females. Still, solo travel is becoming more popular for older generations as well.
One of the biggest concerns for solo travelers is safety. Today, solo travel is safer than it ever has been, but people still need to be safe.
Women specifically must consider their destinations and excursions carefully to ensure a safe and fun trip.
As a whole, it will be interesting to see where solo travel stands next year. It seems that the pandemic has made solo travel more popular than ever.
Coming out of the pandemic, we may see a decrease in popularity as more people start going back to work, but we do not know until the stats tell us.
References
https://solotravelerworld.com/about/solo-travel-statistics-data/
Recent Posts