Travel trailers are a great way to take the whole family on a vacation and to explore the countryside. But how do you know when these multi-axle and multi-wheel vehicles need to be serviced, and if they need to be aligned. Do travel trailers even need alignments or are they pretty much safe to drive until they need to be replaced. Travel trailers are different from regular utility vehicles, so the question might be more complicated than it seems.
Do travel trailers need alignments? Travel trailers will periodically require their axles and wheels to be realigned. With regular up-keep, realignments will not be necessary very often, but they will eventually be necessary. Normal wear and tear exerted from the road to the vehicle will require the need to realign the axles and tires at regular intervals.
There is a difference between aligning your axles and your wheels, and there is a difference between frequent realignment and regular realignment. It can be tricky to tell how to service your travel trailer, and how often that servicing needs to take place. But rest easy, with the right information, knowing how and when to realign your vehicle is a breeze.
How Do I Check My Alignment?
The easiest way to determine if your travel trailer needs alignment is if you've noticed that it pulls to one side or weaves. If you notice your trailer not following your car, chances are it is not properly aligned. Fixing this solution is simple, but sometimes it can be more difficult to tell if your trailer is misaligned.
Follow these steps to check the alignment of your travel trailer:
Materials Required
4 axle extension tubes
Twine
Fishing weight
Tape measure
Trailer owner's manual
Step 1
Park your trailer, and connect the trailer tongue to your vehicles' hitch. Keep in mind, you must be on as level a surface as possible when you are doing this procedure. Ideally you will be in your driveway with chalked tires, but not every alignment check can happen before you leave your home.
You might have to lower your trailer tongue jack stand to level in order to accomplish this task. Simply lower the jack stand until the travel trailer is completely level to the ground. Ideally the trailer will be empty at the time, but it is possible to check the level if your cargo is securely fashioned to the trailer.
Step 2
Attach fishing weight to the end of the fishing line, then tie the fishing line to the bottom of your vehicles' tow-hitch. The weight should now hang freely from the tow-hitch.
The weight and line will hang right below the middle of the trailer tongue ball hitch coupler. The line and weight will serve as a guide so you can properly assess the level of your travel trailer.
Step 3
If you need to, now is the time to unscrew the hubcaps on your trailer's wheels. You can then screw an axle extension tube to the center spindle on each wheel.
Step 4
Now is where the real checking and leveling comes into place. Carefully measure the fishing line and weight at the end of the axle extension tubes. Measure the distance of the weight from the right left wheels. If the distances vary by more than 1/8", chances are your wheels are misaligned.
If your travel trailer has more than one axle, repeat the following steps for each axle. Measure the right side and left side, then compare. If your measurements differ by more than an 1/8" of an inch, your axles are most likely misaligned.
RV Trailer Axle Straightning and Alignment >> Check out the video below
Does A Misaligned Travel Trailer Pose A Safety Hazard
It's easy to think that a misaligned trailer can simply mean a nuisance that you can ignore. Unfortunately, a misaligned trailer axle or a misaligned trailer wheel can and will pose a threat to you either immediately or down the line.
If you determine that your travel trailer is misaligned, it's important to nip the problem in the bud as soon as possible. Not only will a misaligned axle or misaligned wheels spell trouble for you, they could spell trouble for other people driving behind you or in front of you. A misalignment could spell trouble at any point in time.
How Do I Align My Wheels?
Once you've determined that your axle or axles are in need of realignment, the real work begins. But rest assured, it's much easier than you might think!
To begin, make sure that your travel trailer is unloaded. If you are not at your house when you are doing your alignment, make sure you are either at your campsite, or somewhere else safe where you can unload.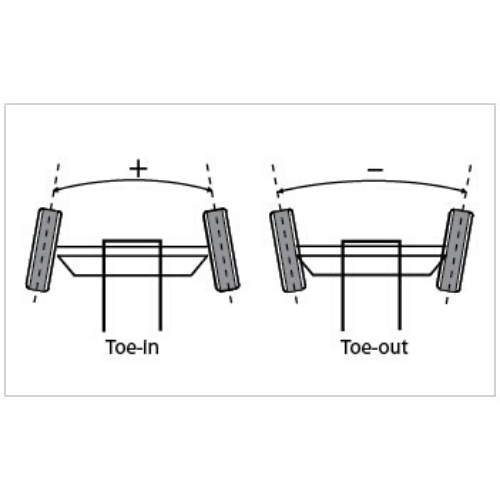 Here are steps to follow to realign your travel trailer axles:
Step 1
Inspect the leaf spring assembly, which is the component that suspends and protects your axles. Inspect the U-bolts and retainer brackets that hold the springs to the axle to make sure they are not loose or cracked — if they are, they will need to be replaced. If cracked or bent, replace the front and rear shackle brackets that secure the leaf spring ends to the undercarriage. If they are sagging, cracked or twisted, you will need to replace the leaf springs.
Step 2
Carefully inspect both the wheels and the tires. A bent wheel rim, low tire pressure or even worn treads can interfere with how the trailer will handle. An especially bent wheel rim can require professional attention, depending on the severity.
Step 3
Repeat these steps if your trailer uses more than one axle.
How Do I Align My Travel Trailer Axle(s)?
Before we begin, determine how many axles you are working with. This is the easiest part of the job. Single, tandem, or triple axle travel trailers are the most common types. We will be dealing with the latter two types, tandem and triple, and how to align the axles.
Preparation
Park and support the trailer and follow your owner's manual for the best practices in properly grounding and supporting your travel trailer.
Make sure your wheels are blocked on one side.
Remove the wheels on the un-blocked side of your trailer. Using jacks to support the axles, remove the spring bolts from the hangers.
Use jacks to lower the axles to roughly 2 inches.
Place a hanger plate on the outside of one of the hangers. Align the center hole with the bottom hole of the hanger.
Make sure that the sides of the hanger and plate are properly aligned.
Use a 9/16" drill bit as a guide and score the hanger at the bottom of the vertical slotted hole.
Use a 1/4" drill bit to drill a pilot hole in the hanger.
Do the same to the other side of the hanger.
Repeat steps 2-9 for the rest of the hangers.
Drill the 1/4'' drilled holes to 9/16".
Installation
Insert the 2'' x 3'' x 1 ⅞ '' spacer in the center of the hanger. Align the middle hole of the plate with the bottom hole of the hanger and insert a 9/16" x 2.82" bolt through the plate, spacer and hanger. Install a nut on the backside and tighten it up.
Use a 9/16" x 2.82" bolt and a washer to go through the upper slot, hanger spacer and drilled hanger holes. Install a nut and washer on the back end and tighten it.
Repeat steps 1 and 2 on the remaining hangers.
Use jacks to raise the axle in order to bring the spring eye back into the hanger area.
Place an octagon cam on the plate on the hanger. The cam should hang down with the hole in the center from left to right. Place a second octagon cam on the plate on the other side of the hanger. Make sure the cams are locked in place between their side rails.
Bolt everything together using a 9/16'' x 3.32" bolt and a nut. Tighten the nut — no less than 30 foot pounds of torque and no more than 50.
Repeat steps 5 and 6 on the remaining spring hanger(s).
Tighten the nut to a minimum of 30 ft-lbs. of torque, up to a maximum of 50 ft-lbs. of torque.
Make sure that all nuts and bolts are properly tightened.
Reinstall your wheels.
Repeat the steps for the other side of your travel trailer.
Fixing RV Axle Alignment (Correct Track) >> Check out the video below
How Often Does My Travel Trailer Need To Be Realigned?
This can be a difficult question that can depend on a variety of factors. You must first ask yourself how often you hook up your travel trailer to your car.
Frequency
If you use your trailer every weekend, you will most likely want to inspect your trailer frequently. Regular trips will require regular inspection, and therefore regular realignment. Even if you have the top of the line model of travel trailer, you will still want to inspect your rig as often as possible, and even consider realigning your trailer every six months, to every year.
Weight
Are you simply towing your supplies for a camping trip, or are you hauling ATVs that can weigh up to thousands of pounds? This is a very important question that often goes overlooked by many travel trailer users. If you tend to haul a heavy load, you will want to realign your trailer as regularly as you can.
Distance
Do you drive your trailer to your local campgrounds a few dozen miles away, or do you take cross-country trips? If you're just doing a quick trip with minimal weight, you will likely be fine in only realigning your wheels every six months or so. If you are taking longer trips, you will want to inspect and realign your trailer every time you use it.
Best Hitches To Use
Hitches are a fundamental part of any travel trailer rig. The hitch is what connects your vehicle to your trailer, meaning it's incredibly important. Many people think that all hitches are one in the same, but that is not the case! A bad hitch can spell disaster on a long trip or a heavy load. Here are our list of the five best hitches on the market.
Should My Trailer Axles Be Bowed?
Many customers complain that they notice an odd bow in their trailers. This is completely normal! You actually want your suspension and axles to have a "wishbone-like" bow to them. This means that your suspension is functioning perfectly.
If you are well-versed in suspensions and notice something that looks unusual, that's when you will want to take your travel trailer in for an inspection.
A bow in your axles is what keeps them from absorbing every bump in the road and causing damage to your trailer and your vehicle. Without this bow, your trailer could catch a bad bump and even detach from your vehicle. Not good! The bow in your axles is a fundamental part of your trailer's design. Too much of a bow can lead to problems, but always remember that they are designed to be bowed.
If your trailer's axles look off, simply do the alignment test. If the axles don't differ by more than 1/8", you're fine and your axle is exhibiting the bow it was designed to have. If they differ by more than that, you might need to bring your trailer into the shop.
Travelers
Realigning your axles and wheels may seem like a daunting task, but if you simply follow the procedure, you will be done in no time. If your travel trailer is severely misaligned, however, you will want to take it into the shop.
Safety
When your trailer's axles or wheels are not aligned, problems will occur. From your wheels breaking off, to your trailer outright jacknifing and spinning out of control. It bears repeating that checking your trailer's alignment is a much easier and safer task when done in your driveway than when done on the side of the highway.
Always make sure that your travel trailer is actually rated for the amount of weight that you are towing. If your trailer is rated for 5,000 pounds, you ideally shouldn't be towing anywhere near that 5,000 pounds. To be safe, allow up to 1,000 pounds of wiggle room. If you know that you are going to want close to 5,000 you probably need to get a trailer with a safety rating of 7,500. You will only put excess strain on your wheels and axels at best, and you will be endangering yourself and others.
Solutions and Advice
We hope we have provided you with some great solutions to checking and maintaining your axles and wheels for your journey, but what about once you've arrived at your destination? There are a variety of incredible products and ideas to help you have the best trip possible! One such product is an automatic jack leveler.
These one-touch automatic levelers are incredible! Simply hit one button and your trailer will automatically lower to the perfect height so that you can unload all of your cargo. They work on electric-hydraulic technology that smoothly lowers your entire load without the need to crank them down yourself – which can be a very painstaking process, especially if you're traveling with a heavy load.
Keep it Aligned
A travel trailer is the beginning to a great adventure. As long as everything is properly aligned, nothing can stop you!
Recommended reading
Do Travel Trailers Need Snow Chains? – Best Advice
Do RV Parks Allow Travel Trailers? – Read This Before You Go
Does Your Travel Trailer Have an Inverter? Here's How to Check
Recent Posts