Have you ever wondered if a Subaru Forester can tow a camper or a small pop-up camper? Look no more. We´ve got you covered.
Subaru Forester is a compact-size crossover that comes with a naturally aspirated 2.5 liter four cylinders boxer engine which produces 182 horsepower.
It is an excellent vehicle to get people from point A to point B, with the addition of some light off-road capabilities, courtesy of Subaru's legendary all-wheel-drive system that is enhanced with two X Mode settings.
If you are planning on traveling through the great outdoors, it is a very usable vehicle though it comes with some limitations.
You will not be able to pull gigantic RV campers and you shouldn't expect it to where rock-crawlers tread easily.
So, can a Subaru Forester tow a camper or a small pop-up camper? Yes, you can tow a camper or pop up camper with a Subaru Forester if the weight of your camper does not exceed 1,500 lbs. However, In Europe and Australia, Subaru Forester is rated for 4,400 lbs towing capacity. But over there legal towing capacity is determined by top speed, not acceleration as in North America.
And also, it comes equipped with better transmission cooling, bigger brakes, and a tow bar which is differently mounted to undercarriage, making it much sturdier.
Can A Subaru Forester Tow A Camper
A Subaru Forester can tow some campers, and only those that fall inside its maximum towing capacity of 1,500 lbs.
Forester simple doesn't have enough power to pull greater loads, and the available OEM and aftermarket towbars are not suitable for towing high weights.
In addition to this, the CVT's transmission cooling plate is not very efficient.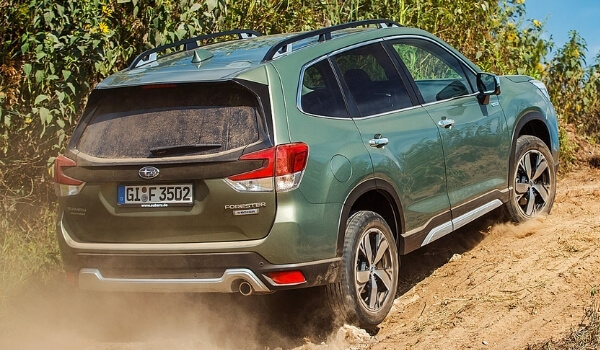 Subaru Forester Towing Capacity
A modern Subaru Forester has a somewhat low towing capacity of just 1,500 lbs. This is mainly due to changing of the standards of certifying the tow weight capacity of vehicles.
Where it excels compared to the competition is the hitch weight rating. Forester is arguably the only compact crossover that is rated for as much as 10% hitch weight.
It has a hitch weight rating of 150 lbs, which is a huge improvement compared to many competitors that have a 100 lbs rating, even in cases when their tow weight rating is higher.
This is an important fact, as a higher hitch rating is necessary for better weight distribution and better and safer handling of vehicles when towing.
With a tow rating of 1,500 lbs, Forester can pull many different things. Numerous smaller boat trailers can carry fishing boats or kayaks, pop-up campers, and even some teardrop campers.
What Types Of Campers Can Subaru Forester Tow?
Because of the 1,500 lbs tow capacity, Forester is limited to towing only the smallest types of trailers, the pop-up campers, and teardrop trailers.
Pop-up campers
Pop-up campers are campers that can be expanded for camping and folded down in much smaller dimensions when traveling.
These are very popular among people who don't have the experience needed for towing large campers, but also among those who want to explore the wilderness on a budget.
Very often they resemble tents on wheels, but that doesn't mean they don't pack a punch.
Many of them weigh under 1,500 lbs but can go up to around 3,000 lbs. While they don't have some amenities, such as full-size living rooms, or 40+ inches TV sets, they usually have all of the essentials you would need for camping.
Read also: How Much Can You Tow Without Trailer Brakes? (Explained)
Teardrop campers
Teardrop campers owe their name to their classic shapes from the '60s.
Today they are a very popular budget-friendly option as they don't cost anywhere near the levels of full-size RVs and campers. But they don't skimp on amenities.
Many models are actually tall enough for a grown person to comfortably stand in them and have all the essentials you could need when camping.
Their weight is usually around 1,400 lbs, but many make and models come well under 1,000 lbs.
How Much Does A Camper Weigh?
How much a camper weighs depends greatly on the type. They can range from as little as 500 lbs and can go upwards of 16,000 lbs.
Read also: How Much Do Pop-up Campers Weigh? (3 Small Pop Up Campers)
| Camper Types | Weight (lbs) | Subaru Forester Can Tow |
| --- | --- | --- |
| Pop-up Campers | 1,500 to 3,000 | Yes |
| Teardrop Campers | max. 1,400 | Yes |
| A-frame campers | 1,200 to 3,000 | Yes |
Teardrop campers
Teardrop campers can weigh as little as 500 lbs dry weight, in case it is a small barebone model with not many amenities.
The largest ones can go all the way north of 3,000 lbs, and such are not recommended to be towed by a Forester as their weight greatly exceeds Forester's maximum rating.
A-frame campers
The A-frame campers differ from the teardrop type mostly just in the shape. They are weighing usually in the range between 1,200 and 2,300 lbs.
Because of different shape, which resembles the letter A from the side, they can offer more space for standing up than teardrop campers.
Pop-up campers
Pop-up campers usually weigh just under 1,500 lbs, particularly the models that have walls made of similar materials as tents.
They are very popular for novice drivers as they fold down in a neat little package that behaves on the road similarly to a loaded smaller flatbed trailer.
Read also: Small RV Rentals: Class B, Travel Trailer, Pop Ups (Best Deals)
Other types
Some smaller camper trailers that are under 22 feet in length can be as light as 1,400 lbs, but such is very rare, on average small camper trailers weigh closer to 3,000 pounds without necessary cargo, such as water, gas, etc.
Because of this, they cannot be towed by a Forester.
Larger camper trailers weigh much more, on average 7,000 lbs of dry weight, to which you should add another 1,000 lbs of the essentials.
Subaru Forester Towing Camper Trailer
Subaru Forester towing camper trailer >> Check out the video below:
Subaru Forester pop up Camper
Subaru Forester pop up camper. Turning My SUV into a Mini Camper | Subaru Forester Mini Conversion Setup >> Check out the video below:
Tips For Towing A Camper With Subaru Forester?
When towing a camper with Subaru Forester, very likely you are on a camping trip, and pleasure and enjoyment of such a trip should be first and foremost on your mind.
But if you are not prepared in advance, or have very little experience, such a trip can easily become an unpleasant and frustrating fiasco.
Here are some things you should have in mind when preparing for and during your trips.
Choose a proper camper
This should be a no-brainer, Forester can tow up to 1,500 lbs, so the gross weight of it must not exceed this limit.
That means not only the weight of the camper you can find in the spec sheet, but also any gear, equipment, and consumable; you pack in it.
Some trailers have water and waste tanks, so the weight of their content must be taken into account.
Properly distribute the weight
When you are packing all the stuff you may need on your trip, you should be aware of two things. First, that the hitch weight rating of Forester is 150 lbs.
Second, that the distribution of weight inside the camper greatly impacts the handling.
When you are towing a camper, part of its weight is putting pressure on your hitch. No matter how light or heavy the camper is, under certain conditions it can behave similarly to a pendulum.
The factor that determines how likely it is to happen is how close the center of gravity of the trailer is to hitch.
For making towing as safe as possible it is best to have it closer to the hitch. One rule of thumb is that you should try to load it in such a manner as to have 60% of its combined weight with the cargo in the front half of it.
At the same time, you should be aware that moving weight inside the camper changes the load on the hitch. The closer the weight is, the more load is on it.
You should avoid going over the maximum 150 lbs the hitch is rated for.
Measuring hitch weight
If you have easily accessible tuck scales in your area, measuring the weight on your hitch is very easily done.
What you need to do is measure your Forester, or any other towing vehicle for that matter, the way you will travel with it but without a camper. This means with all the gear and people that will be traveling.
Then you should attach the trailer and do another weighing, similarly with all the gear and people in both of the vehicles the way you plan to travel. But you should be careful to keep the wheels of the camper of from scales.
This way besides the weight of your Forester, scales will also measure the force trailer is exerting on the hitch, but not the rest of the weight of the camper.
Simply subtracting the first weighing result from the second will give you the hitch weight.
The most time-efficient is to actually during the second weighing aim for a weight that is less than 150 lbs higher than the first measurement.
If it is above it, you can right away enter the camper and move your gear around, until you reach the targeted number.
And keep in mind that you actually do not need to sit in your car to include your own weight.
Can Towing Capacity Of Subaru Forester Be Increased?
Unfortunately, not legally. In theory you couldinstall bigger brakes, stiffer rear shocks and coil overs, more efficient transmission cooling, remote trailer brake, or even find a machine shop to make you a European style tow bar.
Detail schematic are available online. But it isn't worth it, especially if you get in some accident, as your insurance will not cover it, nor will you be able to renew it.
Subaru Forester is a compact crossover with a maximum towing capacity of 1,500 lbs. This limits what types of campers you can tow with it.
While you will not be able to tow full-size camper trailers, as they can weigh north of 10,000 lbs, many smaller types are available.
Pop-up and teardrop campers are among the favorite ones among the owners of Subaru Foresters.
References
https://blog.campingworld.com/rv-basics/tips-for-driving-while-towing-a-travel-trailer/
https://www.curtmfg.com/trailer-weight
Recent Posts