Have you ever wondered if a Subaru Forester can tow a boat? Look no more. We´ve got you covered.
In recent years a literal explosion of the SUV/crossover market is happening.
According to reports from New York Times, in 2019 this class of vehicles made more than 47% of the new vehicles market with a prediction that in few years it will reach three-quarters of the annual car sales.
One of the reasons for this expansion is vehicles such as Subaru Forester.
Compact crossovers that provide an excellent level of practicality for every day around the town driving, but also are capable of off-road excursions and towing trailers and boats with ease.
So, can a Subaru Forester tow a boat? Yes, Subaru Forester can tow a boat if the weight of your boat does not exceed 1,500lbs. Because the towing capacity of the Subaru is listed at 1,500 pounds, this vehicle can also tow the following boats, including:
Aluminum Fishing Boats
Fiberglass Fishing Boats
Sailboats – 14 to 20 feet
Skiffs
Sunfish Sailboat Classic
Minicat 310
Sea-Doo Spark
Subaru Forester – Compact Crossover
Subaru Forester is a compact crossover with a length just north of 15 feet. While often it is described as an SUV, that is an incorrect description.
It is based on the unibody description, just like all passenger cars, making it a crossover. It is an excellent people carrier, which can seat five adults.
While many of its competitors struggle to fit three people on the rear seats, Forester doesn't have such problems. Because it is a crossover, it has ample boot space for all your needs.
It's driven by a flat four-banger which is from the family of Subaru's legendary boxer engines, and because of the engine's very low profile, the whole vehicle has a low center of gravity.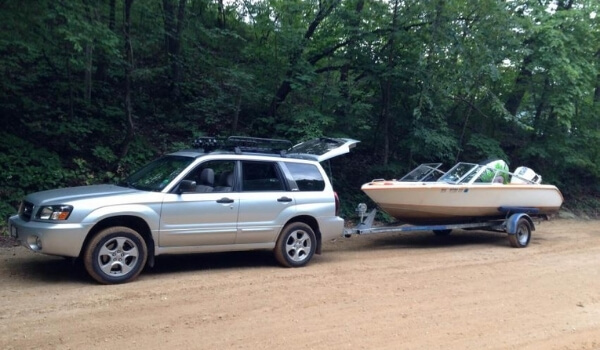 The low center of gravity is the reason why this vehicle has exceptional handling for its class, and almost no body-roll when cornering.
The engine is paired to a CVT transmission which provides power to all four wheels.
"The AWD is part of the standard equipment, and it is what you would expect based on Subaru's legendary reputation. It is the best in class."
With the X-Mode enhancements, Forester can take on snow, mud, and loose gravel; with ease. This makes it very capable of tackling back-country roads in any type of weather.
But Subaru Forester is not a truck nor a full-size SUV. So, there are some limits to what you can do with it and where you can go.
Towing huge trailers is out of the question, and don't expect to go rock crawling with it.
Subaru Forester Towing 24 feet boat. If you want to see if a Subaru Forester 2.5L XT has enough torque to tow a boat, watch this!
How Much Can Subaru Forester Tow? Towing Capacity
The gross vehicle weight rating for Subaru Forester is 4,891 lbs. This means that in the vehicle, all the fluids, passengers, and luggage; shouldn't weigh more than 1,300 lbs.
While this is not an overly impressive number, it is among the top of compact crossovers.
The towing capacity of the Subaru Forester is 1,500 lbs, that mean the Subaru Forester can pull 1,500 lbs and the maximum tongue weight is 150 lbs, whether it is a deadweight hitch or weight distributing hitch, the numbers are the same.
These somewhat modest numbers are due to the fact that the naturally aspirated 2.5 liters four-cylinder boxer engine can produce up to 182 horsepower and 176 foot-pounds of torque.
These numbers are very good for transporting people but are not appropriate for pulling some big weights. 
Read also: How to Measure Towing Capacity, GVWR, GCWR, Truck, Trailer
What Can I Tow with Subaru Forester?
Because the Subaru Forester has a gross towing vehicle rating of 1,500 lbs there are limits on what you can tow with it.
The gross towing vehicle rating, or GTWR, is the maximum combined weight of the trailer and any vehicle, equipment, gear, and fluids; on it.
If you are towing a boat, you need to take into calculation also the fuel you may have in the onboard tanks, along with any gear you might have on the boat, not just the dry weight of it.
In practice, this means that with Subaru Forester, you can tow some lightweight boats, either made of aluminum or fiberglass.
Because the tongue weight is just 150 lbs, you should also be careful how you are distributing the weight of any additional gear on your boat.
The closer it is to the hitch, the more it will be distributed to it.
In the table below you can find some common boats that can be pulled by a Subaru Forester:
| Boat Types | Average Weight (lbs) |
| --- | --- |
| Aluminum Fishing Boats | 300 – 500 pounds |
| Fiberglass Fishing Boats | 1,500 to 2,500 pounds |
| Sailboats – 14 to 20 feet | 400 to 800 pounds |
| Skiffs | 300 to 900 pounds |
| Sunfish Sailboat Classic | 130 pounds |
| Minicat 310 | about 77 pounds |
| Sea-Doo Spark | 405 pounds |
| Sun Dolphin Laguna Pedal Boat | 120 pounds |
| Canoe | between 100 lbs and 400lbs |
| Jetski | around 500lbs |
How Much Does A Boat Trailer Weight?
Boat trailers come in many different lengths, depending on the length of the boat they are intended to carry. The weight of the trailer somewhat does correlate with their lengths, but still, there are variations.
Boats of the same length can vary in weight quite considerably, and because of that, it is more important for a trailer to be able to carry it.
Trailers' ability to carry a certain weight depends on the exact construction of their parts. Sturdier construction is required for higher weights, which in turn necessitates the use of more material.
Read also: Types of Trailer Hitches and Hitch Classes // Towing Hitches (Explained)
Because of this, the trailer's weight is directly proportional to its carrying capacity, instead of the length of a boat, it can carry.
For example, it is not unusual that a trailer for a 20-foot boat weighs more than a trailer for a 24-foot. Some general rule is that a Subaru Forester is good enough to tow up to a trailer for an 18-foot boat.
These on average weigh 420 lbs to 650 lbs and can carry boats up to 3,100 bs.
Smaller trailers for 15-foot boats can weigh around 410 lbs, while even smaller ones can be as little as 150 lbs of weight.
Depending on the type of vessel a particular boat trailer is designed to carry, there are certain usual ranges of weight and capacity you can use for guidance.
Below you can find the average weight of common trailer boat:
| Trailer Boat Types | Average Weight (lbs) |
| --- | --- |
| Trailer for Canoe | between 100 lbs and 400lbs |
| Trailer for Kayaks | between 100 lbs and 400lbs |
| Trailer for Jetski | around 500 lbs |
| Trailer for Fishing boat | 200 lbs and 1,100 lbs |
Canoe
Trailers designed for canoes or kayaks are generally the lightest and depending on how many boats they can carry, their weight ranges between 100 lbs and 400lbs.
Their maximum gross weight can thus range between 200 lbs and 800 lbs.
Jetski
Jetski trailers are similar in construction and performance to canoe trailers, with a difference that the upper range of their weight is around 500lbs.
Their maximum gross weight can be between 800 lbs and 3,000 lbs.
Fishing boat
Trailers appropriate for fishing boats can weigh between 200 lbs and 1,100 lbs on their own, depending on how big of a boat they are designed to carry.
Their gross weight maxes out in the range between 900 lbs and 6,000 lbs.
Bigger boats
Trailers that can accommodate larger boats are mostly inappropriate for towing with Subaru Forester.
While their weight very rarely exceeded the maximum this crossover can tow, any boat that is big enough to be placed on them will push the gross trailer weight above the maximum 1,500 lbs Forster can tow.
Unless they are some lightweight watercraft such as sailboats.
How Much Does A Boat Weight?
How much a watercraft weighs depends greatly on its length and the materials it is made of. They can vary greatly, from 20 lbs kayaks and all the way to 16,000 lbs or more cabin cruisers.
Canoes and kayaks
Canoes and kayaks are among the lightest watercraft, ranging in weight from 20 lbs and going all the way north of 120 lbs.
On average a recreational kayak weighs around 35 lbs, while fishing kayaks can weigh more than 120 lbs.
Canoes weigh in a similar range, with the average synthetic canoe weighing 55 lbs, while the aluminum ones being 65 lbs on average.
Jetski
Jet skies on average weight in the neighborhood of 725 lbs, but many models are much lighter and some are even as little as 375 lbs.
At the same time, the heaviest can be even more than 1,000 lbs.
Fishing boats
Fishing boats are among the lightest watercraft.
A 16-foot aluminum fishing boat without an outboard engine usually weighs around 400 lbs.
Fiberglass fishing boats are usually larger vessels, and their average weight illustrates this fact. They most often are in the 1,500 to 2,500 range.
Sailboats
Sailboats come in many lengths and weight ratings, and only the lightest ones can be towed with a Subaru Forester.
If their length is 14 to 20 feet, their weight is commonly in 400 lbs to 1,000 lbs. Larger sailboats are much heavier.
Can a Subaru Forester Tow a Pontoon Boat
Subaru Forester can not tow a pontoon boat, because the towing capacity of Subaru Forester is 1,500 lbs and the average weight of a pontoon boat is 2,000 lbs.
The table below shows vehicles which can tow pontoon boat:
| Make | Models | Towing Capacity (Lbs) |
| --- | --- | --- |
| Buick | Acadia | 4,000 |
| Buick | Enclave | 5,000 |
| Cadillac | Escalade | 8,300 |
| Chevrolet | Suburban | 8,300 |
| Chevrolet | Traverse | 5,000 |
| Dodge | Durango | 8,600 |
| Ford | Expedition | 9,300 |
| Ford | Explorer | 5,000 |
| Ford | Flex | 4,500 |
| GMC | Acadia | 4,000 |
| GMC | Canyon | 7,000 |
| GMC | Yukon | 8,500 |
| Honda | Pilot | 5,000 |
| Honda | Ridgeline | 5,000 |
| Hyundai | Santa Fe | 5,000 |
| Infiniti | QX60 | 5,000 |
Other types of boats
Other types of boats, such as bow riders, skiffs, wake boats, cuddy cabin boats, and so on; most often weigh well above 3,000 lbs, which makes Forester unsuitable for towing them, as they on their own exceeding its maximum towing capacity.
What Do You Need To Pay Attention To?
When it comes to towing with any vehicle there are several numbers you must be mindful of.
The first and most important one is the towing capacity of your vehicle. For a Subaru Forester, that number is 1,500 lbs.
This is the maximum weight you can tow, while at the same time you can pull a trailer that has maximum load capacity above it. The key is that you must not load it with the maximum weight it can carry.
The second number is the actual weight you are towing. You need to add all weights, of the trailer, boat, fluids on the boat, and any gear you may have on it. This combined weight must not be over 1,500 lbs.
The third important number is the trailer hitch weight. When a trailer is connected to a hitch, part of its weight is pressing down on the hitch, how much it depends on the distribution of weight on the trailer. For Forester, the limit is 150 lbs.
References
https://www.curtmfg.com/trailer-weight
https://www.fredbeanssubaru.com/subaru-forester-towing-capacity-doylestown-pa.htm
Recent Posts